I get a lot of emails on painting furniture, but I've noticed over the last year, I'm receiving A LOT of emails about my style–and how to infuse that into some of your homes.
I have this pinboard, My Style-Home on Pinterest & it's where I keep up with spaces that just scream,  "that's me!"
I thought it was time to write a post on my style–and practical ways to infuse some of that into your spaces–if you'd like.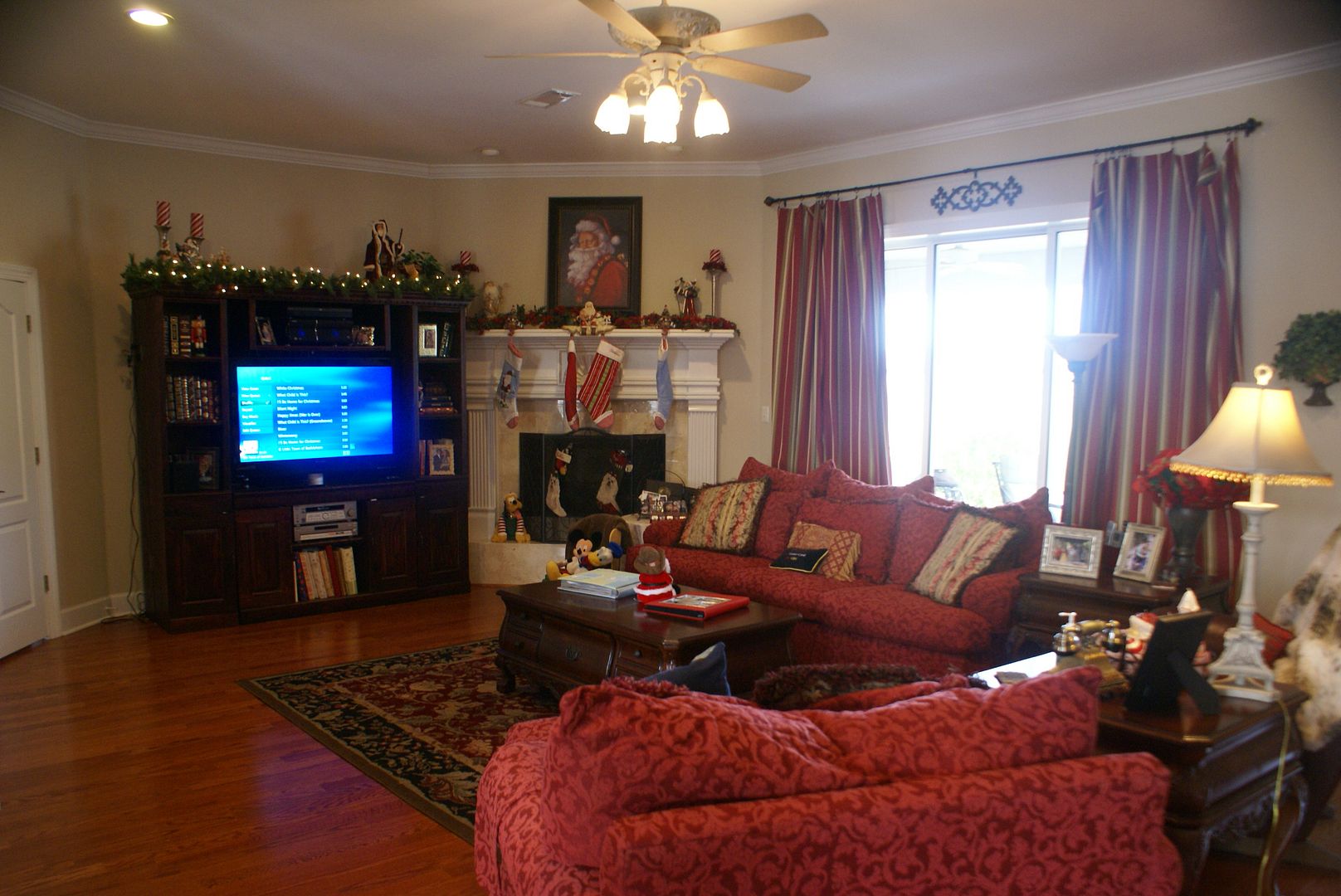 This was our living room a little over 2 years ago–I've written about it before, but I honestly had no style.  We decorated it about 10 years ago, and all of a sudden, it just wasn't cutting it for me.  It's not that I didn't like what we had at the time when we chose it, but I didn't love it.  I didn't think about space planning, or spaces I was drawn to.  I went to the local furniture store & bought a sofa and chair we could afford…and that I liked well enough.
Fast forward a few years.
This is us now.  I realize it's not for everyone…but it is a COMPLETELY different space and evokes a completely different feeling.
As a matter of fact, our whole home is different now.  Matt and I were talking to a cabinet/countertop company the other day (I hope to introduce you to them soon!) about possibly renovating our kitchen a little bit…and we realized our laundry room was the only one we haven't touched at all in the last two years.
There's still plenty of changes that are happening, but we've mostly begun on every room-and completed the projects we could afford at the time.
My style has always been a little difficult to describe, even for myself.  One day I'm digging Layla's cottage & the next I'm craving Kate's elegance.  I'm sooo 50/50 with this, that somewhere along the way, I decided I would stop following rules, and infuse both cottage + farmhouse and elegance in our home.
Our living room, dining room, and guest room are some of the most dramatic before and after's.  That doesn't include our ground-up attic addition of the writing room, playroom, and home theater.
Point being, I know what it's like to want to change it.  And not just change it–but to change it all & avoid bankruptcy in the process.
So, I think we'll have a My Style post once a week until we cover different spaces, and random topics.
To kick us off, I thought I'd share a few of my favorite spaces of all time…and I'm sure you'll see them again in the following weeks.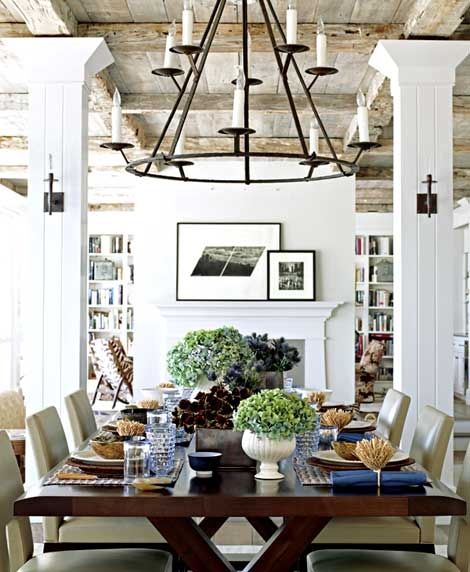 It's probably not difficult to see what I love about this space, but here goes with the gushing.  The architectural interest–all that woodwork, trim, reclaimed ceilings + beams,  columns, built ins….they make for such a captivating backdrop to everything to come.  I love the contrast of more tailored, elegant dining pieces amidst the rusticity of the frame.
I'm a huge fan of contrasting elements.  Period.
This home (this shot in particular) is one of my favorites of all time.  I love (again) the architectural detail of the under-stair built ins & woodwork.  This home is neutral…but colorful.  Color is my favorite done this way–do you notice how your eye moves from the plant/pot in the first built in all the way down the bookcase styling to the coffee table to the throw pillow to the mantel decor & painting?
It's this beautiful, subtle dance of color…I love that.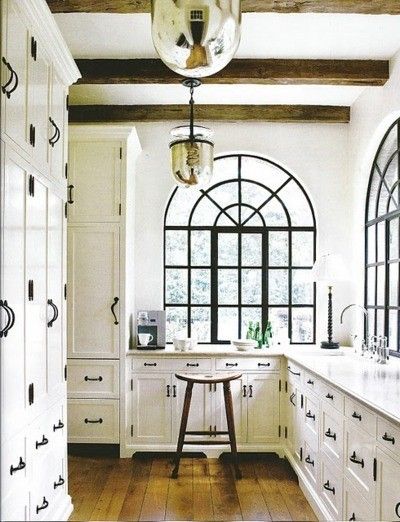 via–source??
Maybe I should stop talking and leave it at architectural detail.  The white space + dark windows…that's one of my favorite combos of all time.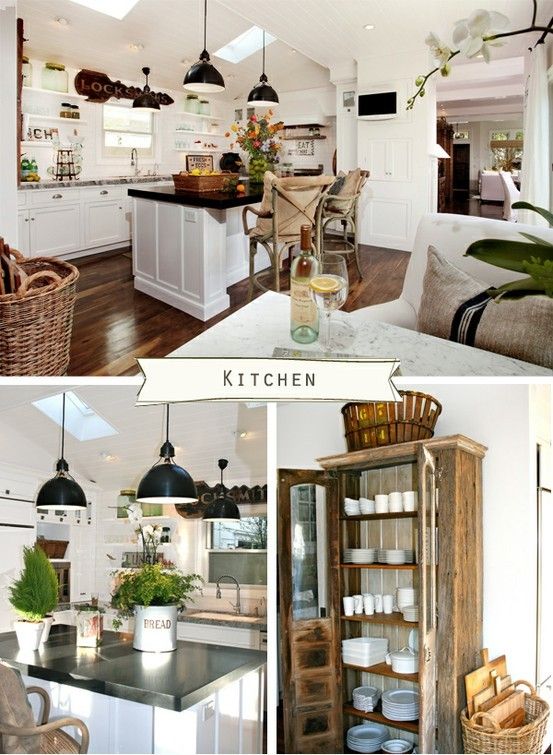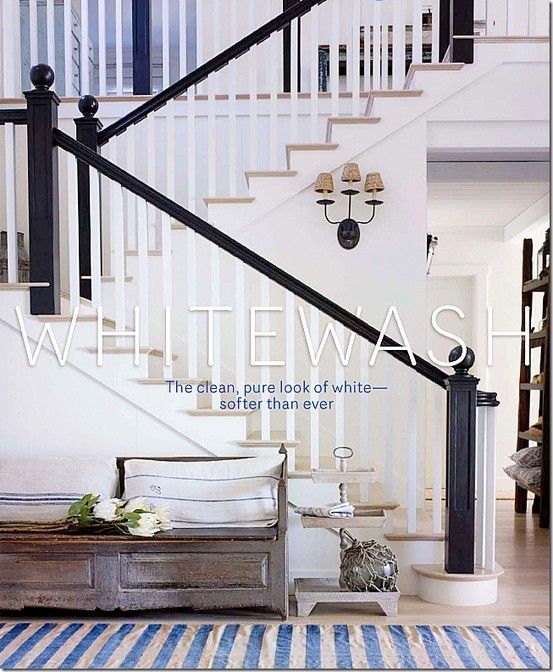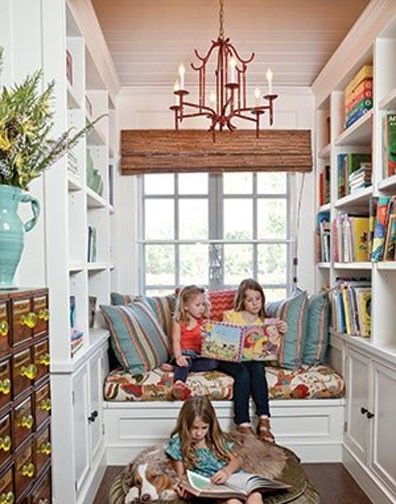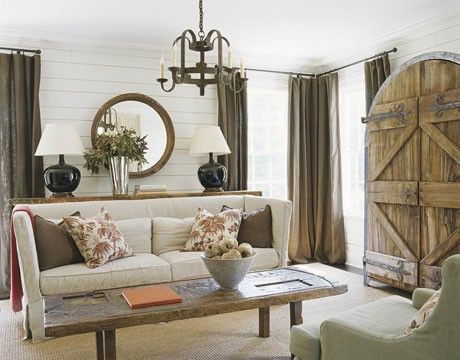 So, in light of the order we began changing our house…and focusing on the major elements that will transform your homes and what worked for us, we'll start our series with the living room next week.
If you've sent me questions in the past via email or you have one today…ask away in these comments–it will be a wonderful way for me to see which rooms you're interested in the most or what specific areas you need the most help in!
Can't wait to chat about lighter and brighter living every week with y'all…