Our living room really is the center of our home, in both physical location & meaning.
I know a lot of people say it's the kitchen–but for me, the kitchen also involves me freaking out about the hot stove + a toddler + a preschooler.
Sometimes disastrous.
So, it's the living room for us.  We picnic there, play there, read there, cuddle there.  It's our place.
I've been up to my eyeballs in projects and inspiration lately, and it was sooo fun to play around in the living room this weekend.
It's certainly evolved over the last few years, and a few pieces have changed even in the last few weeks.
Our style is a whole lotta casual, a little bit of elegant,  highlighting neutral backdrops and small pops of color.  The older I get & the more time I spend in design & DIY, I feel like I'm finally coming home when I'm here.
You know what I mean?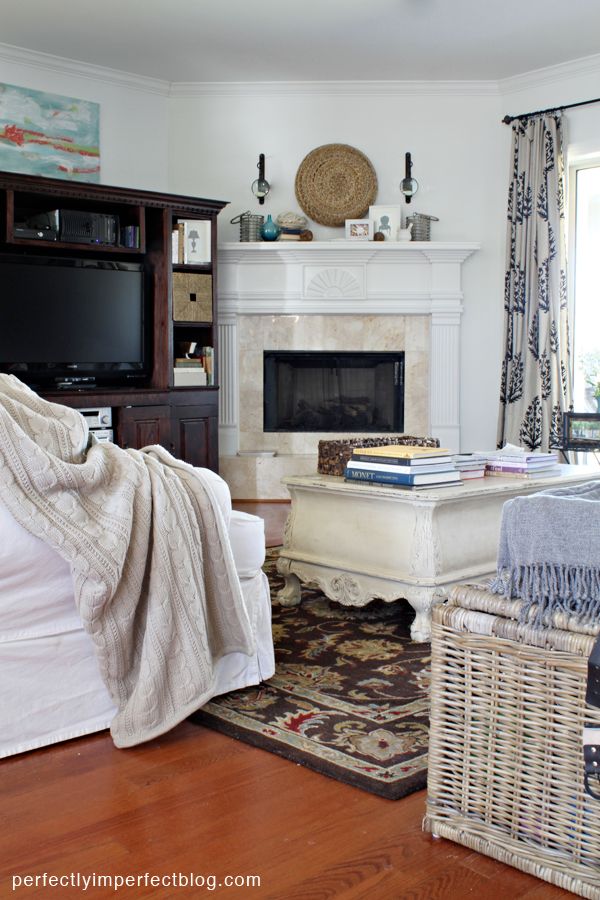 It's all about comfort, and home.  I was thrilled when my mom gave me that Pottery Barn throw for Christmas this year.  And I'm still in love with our Ballard clearance drapes.
I may also be a fan of coffee table books.
Our entertainment center (that Matt built) usually holds many books–by design choice and musts.
We sort of have lots of books.
I love Emily's art prints in here–they are one of the most subtle, stunning Scripture collections I've seen.  Plus, I love that gray lamp silhouette.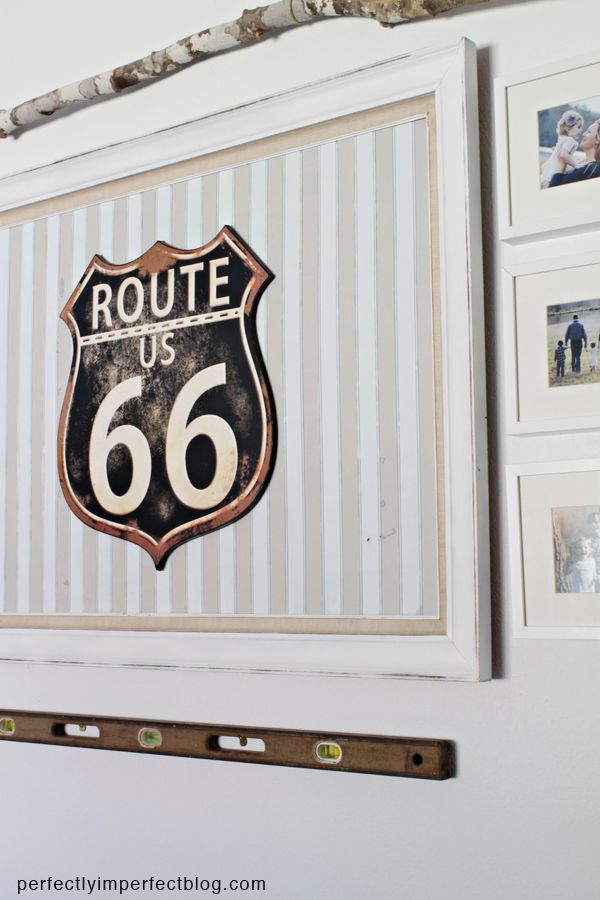 I can't take the old wooden level down, nor can I bring myself to take down the branch I hung at Christmas.  It just speaks to me & I feel no need to remove it just yet.
It's been a ton of fun to sprinkle our family photos around the house, and these Ikea frames are some of my favorites.
I wish I could buy stock in Ikea frames.
The huge vintage frame (previously gold) needed a tiny punch, so I painted some stripes on the bead board with Sherwin Williams Crushed Ice (same color as the dining room coffered ceiling insets are painted).
The Route 66 sign came from WUSLU–it's another favorite of mine.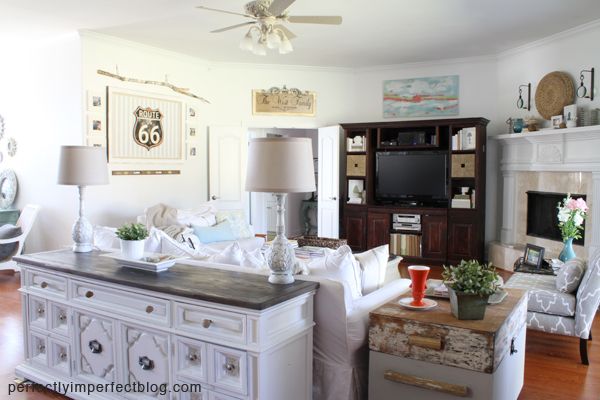 The new trunk side table is still in progress–although I'm liking the shape it's taking already.
There are a couple of other additions (with details coming soon)…and because we play I SPY approximately 3 times a day, can you spot them?

P.S.  I have to wish my baby brother a VERY Happy Birthday today–love you, nerd.
**linking to: Tips & Tutes at Home Stories A to Z, Tip Junkie Tip Me Tuesday, Weekend Wrap Up at Tatertots & Jello