Almost two years ago, I started this blog and a journey certainly began without my knowing it.
We began our own journey at home too…we started the renovation of our attic space.
The attic, when finished, would be three separate rooms: my office, a playroom, and a home theater.
Since a lot of you guys weren't around for the original before and after, (welcome, by the way!) I thought I would give a little background info.
The original space was just a typical attic.  We used it for (messy) storage, and quite a bit would have to be done to create actual living spaces in it.  BUT, we saw the potential there….the lofted ceilings, the odd shape…it spoke to me as a studio, a space for me to create in, to write in.
We hired some folks to do the heavy stuff…moving water heaters, and the AC units, and adding the walls.  We then did the finishing work.  It was exhausting, spending many of our nights painting trim or installing the floors.  All in all, the attic added another 1,400 square feet to our home.  Crazy, right??
I've had this question asked a million times, so I'll address it here…our attic was walled off and converted to three separate rooms….not just one big space. 🙂  On my list is to give you guys a virtual tour of the rooms upstairs.
So, remember the before or have I put you to sleep yet??
This shot was taken a couple of months after the original reveal….it was a ton of work, but totally worth it!  I've sometimes taken a little flack for creating an all-white space, but you know, I had my reasons.  And mostly, I had wonderful feedback from you guys…it's only when it's shared somewhere else that I'll get an occasional stinger…hospital?  Really?
That's the great thing about design….it's subjective, ever moving and shifting.  It moves around our lives as well as trends, and I needed a blank slate to create in.  To write, to spread paint samples all over the floor, to lay out a 250 page book in…etc.
Plus, after completing a massive reno, there wasn't budget for everything like rugs, plants, and other items that would warm the room up a bit.  Over this last year, I found a few key pieces that changed everything about the room.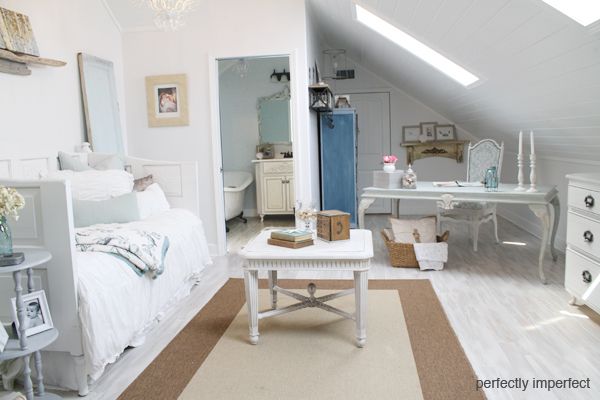 Take note of the few changes…I've only tweaked two areas.
Since the reveal, we added a simple natural fiber rug (Ikea).  No matter the room or color palette, that rug usually brings it home.  ties it all together, and grounds the space.  That little bit of warmth was exactly what the room needed.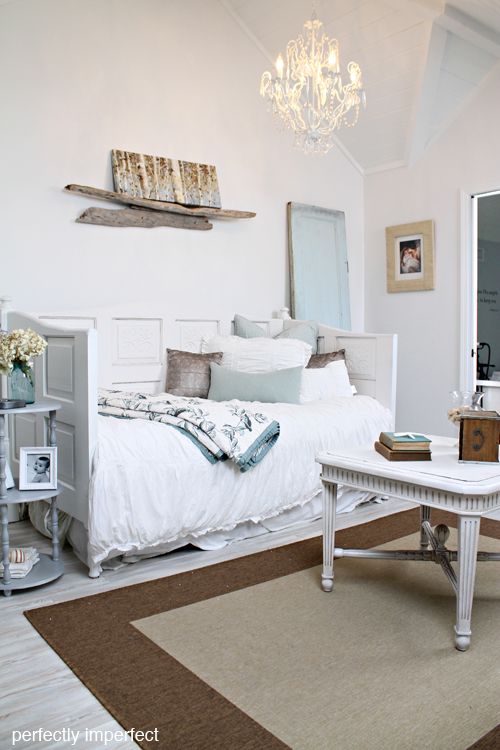 We built this daybed from doors from my childhood home…and hands down, it's one of our favorite projects to date.  Originally, I dressed it with a Simply Shabby Chic duvet and sham.  I was ready for a bit more color and some layers…for now, I have some more bedding from Target and some spa blue throw pillows piled on.  (Euro: PB Pick-stitch , 12 x 14 blue linen: a cover my go-to seamstress, Debbie from Cottage & Cabin, made me with leftover fabric from the dining room seat cushion.)
I'm thinking it's time to add a bit of a graphic punch, so I'll be shopping around Etsy for a few new throw pillows…let me know if you have any favorites or a shop I should check out!
The other area that we updated was around the desk.  You saw the armoire I made over to house paint/supplies/design books/fabric samples.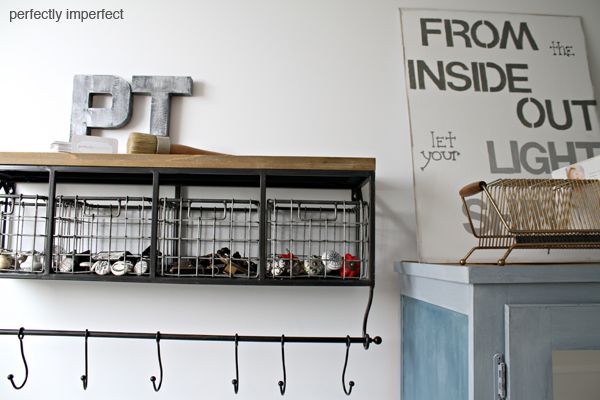 After passing this shelf in Hobby Lobby the other day, I knew it was heading home with me.  Oil rubbed bronze?  Wire baskets for my hardware?  Hooks to hang samples/other junk?  Thick wooden plank?  Sign. Me. Up.
And at %50 off, it was only $40…I knew we couldn't build/weld it for less than that.  And it was ready to be hung.  We've been doing a lot of handmade lately, and I love that, but it felt good to bring it straight from the car to my wall.
A-hem.
I made some more Anthro inspired letters to represent a bit of my blog….we refer to it as "pi" a lot around here, so it seemed fitting.
Just a couple more beauty shots for you…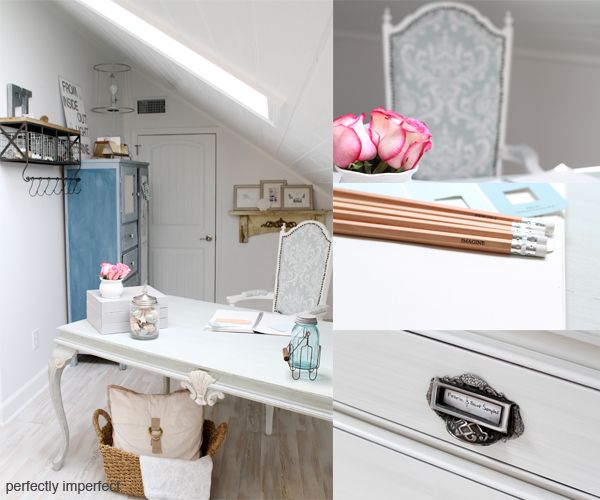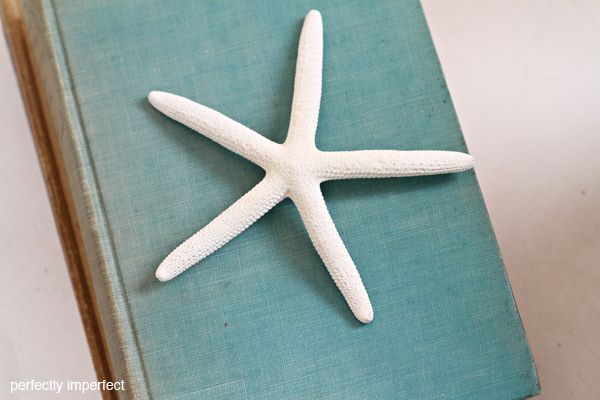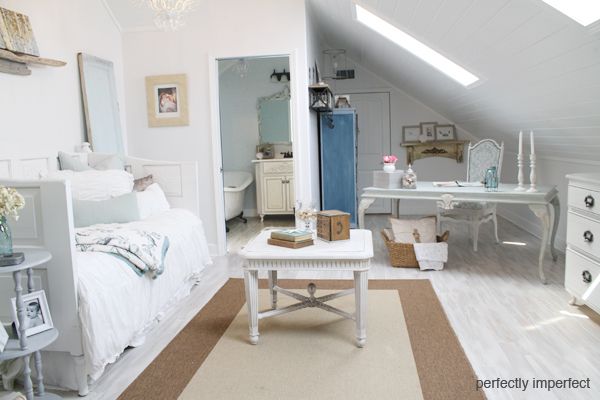 There you have it.  The current evolution of the writing room.
I encourage you to create a little space for yourself.  Whether it's a whole room, a closet, or a corner…find time to dwell there.  To think, to brainstorm, to challenge yourself.
This room is a refuge for me…clean space I can breathe in.
To spaces that will us to be creative, to expand our boundaries.  If you have a space like this, no matter its size or shape,  link it up and let us see it!
🙂