I've been ready for this one.  And I think you guys are ready for the full reveal!
A few months ago, we decided it was time to give the dining room a complete overhaul.
While we loved our furniture, it was the first set we purchased when we were married.  This means two things…it has been used by us and the kids (and therefore was showing some age) and our tastes have changed.
We've worked on creating separate spaces, but one home…one look.  When I mentioned our ideas of farmhouse tables, planks to the wall, and new storage to my good buddy, Layla, she ever so kindly drew this inspiration drawing up for us.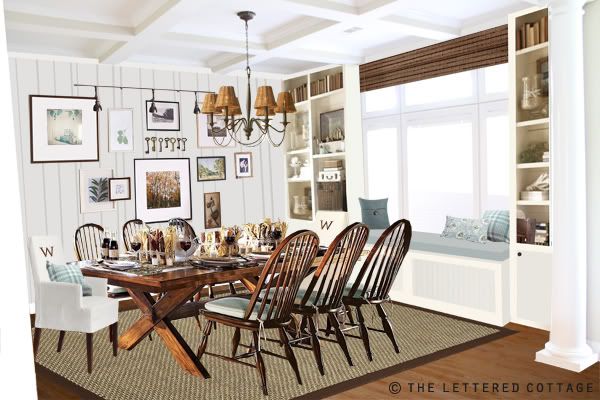 It was amazing to see on-screen what was in our heads…and that was all it took to get Matt on board and get the design-ball rolling.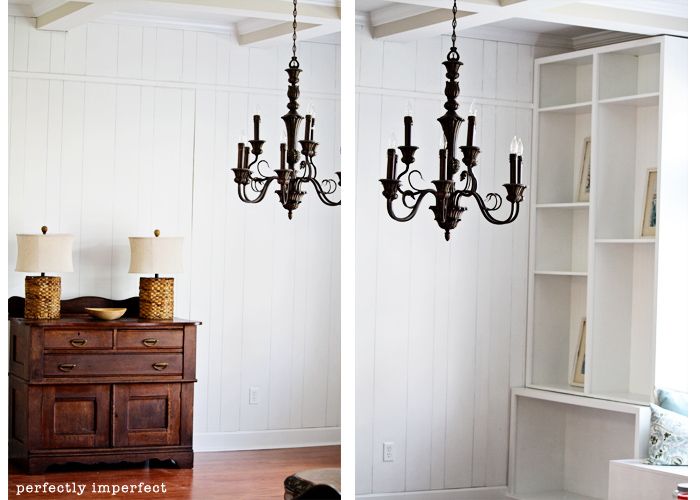 We added cheap wall paneling and painted it to look like white wood planks, and it was a great decision.  I really wanted to draw the eye upwards to the coffered ceiling, so vertical planks in varying widths were dancing around in my head.  You'll remember Layla said, "I know it's crazy, but what if you were to use that cheap wall paneling???"
I was game…and so was Matt.  Less cutting, nailing, measuring, etc.
After a couple of months of working on weekends and occasional evenings, we went from this, to this….
And there you have it.
A brand, spanking new, farmhouse-elegant (which I like to think most of my house celebrates) dining space.  As I mentioned before, this was a complete overhaul.  Because we chose to scrap (store) all of our furniture, and remove everything from the room, we were starting from scratch.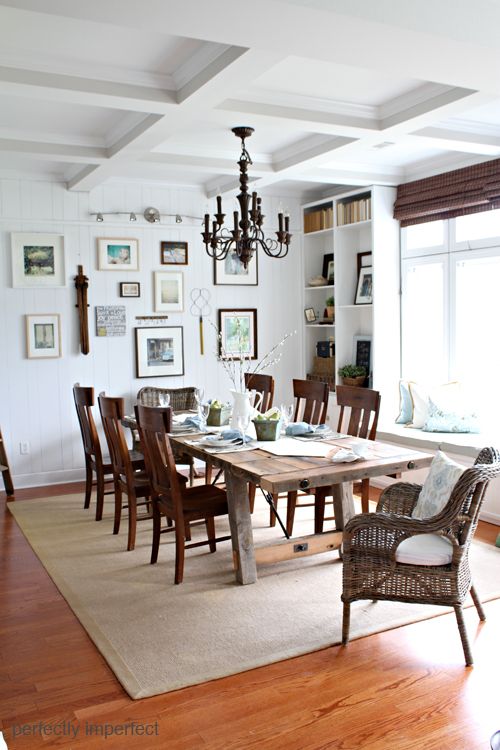 I wanted to add built ins, a bench seat,  a farmhouse table, and after seeing Lay's drawing, a gallery wall filled with photography.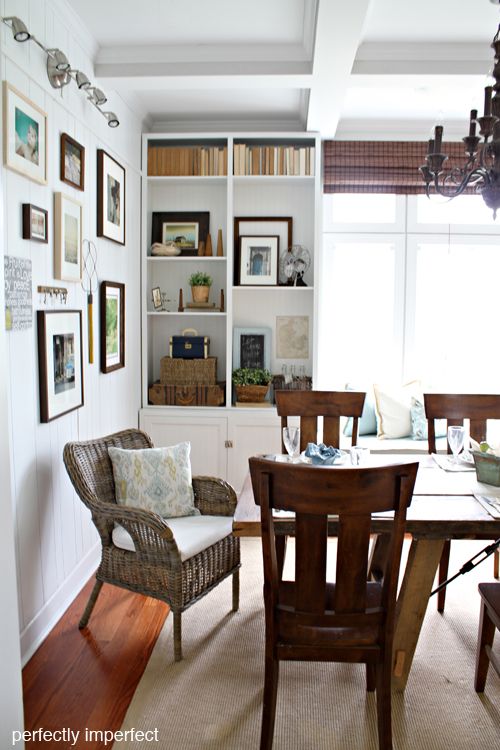 This view from the kitchen is one of my favorites.  I get to see a little bit of everything as I walk out of my bedroom each morning, straight from the kitchen to the new space.
We did build those 9 1/2 feet tall built ins, and that storage packed bench seat.  I'm thrilled with the choice, knowing that we not only have lots of storage space, but that seasons and taste will dictate what's in the open shelving.  And Christmas is right around the corner.
🙂
It was fitting that Layla happened to plop one of the PB pillows (bottom right corner) I already owned onto the bench seat…because the color scheme was already in my head and that pillow started it all.
I still have to make some dining seat cushion slip covers in that cool green graphic print…and at $3 per yard, it'll be another budget-fab addition to the room.
And speaking of pillows….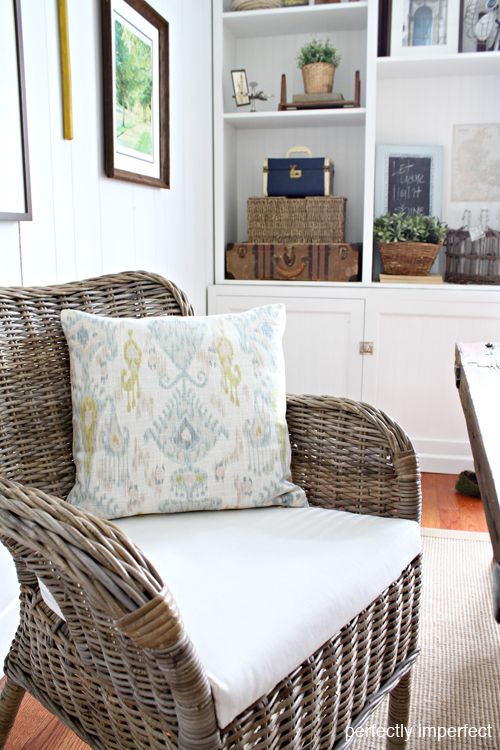 This ikat pillow is honestly my favorite accessory right now…I can't get enough of this Robert Allen fabric.  I think I'll order another.  And maybe another.
The two end chairs are from Ikea…the Byholma collection.  The six wooden chairs were a Craigslist score, and at only a year old and made of solid wood, they were perfect.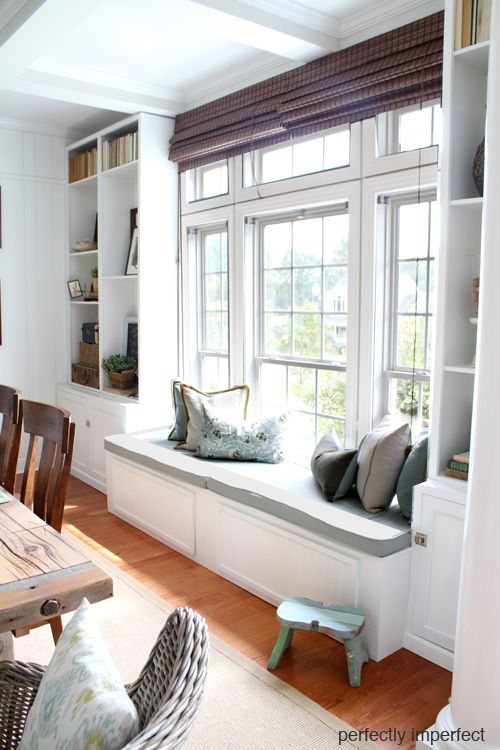 Since the built ins surround the window, we totally loved the idea of adding blinds or some unifying element up top to bring the two sections together and create yet another line for the eye to follow.  We considered a few other options, but at the end of the day, bamboo blinds from Lowe's won out.
We added bead board to the backs and front part of the window seat, and Matt made recessed shaker-style doors inset with more bead board.  Those simple architectural elements pull it all together for me.
Speaking of details, I knew I wanted turn-latch style hardware.  The little detail can be expensive though!  We scored ours on eBay for around $3 each…and we only needed 2.
Styling the built ins could have seemed monumental, but this was the fuuunnn part.  I shopped around the house first, and shopped flea markets for the last few pieces.  I'll do a separate post on these pieces so you know where they all came from, but for now, enjoy the photos I snapped.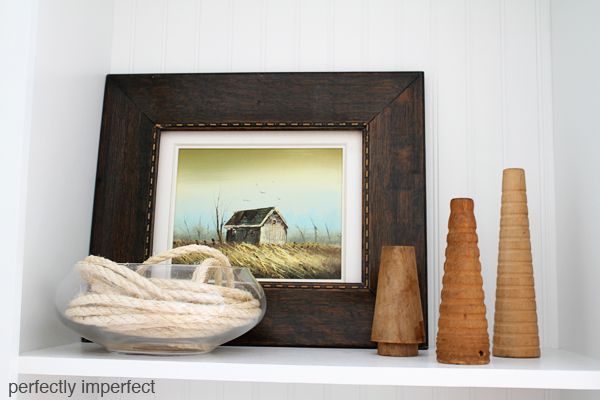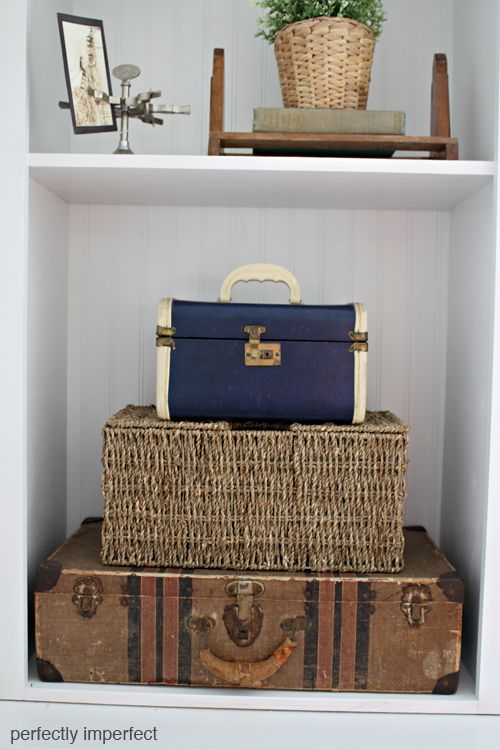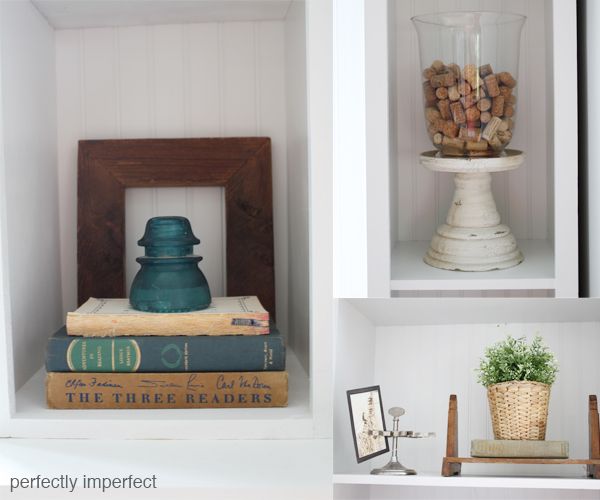 It's also a space dedicated to my vintage books, and I LOVE that.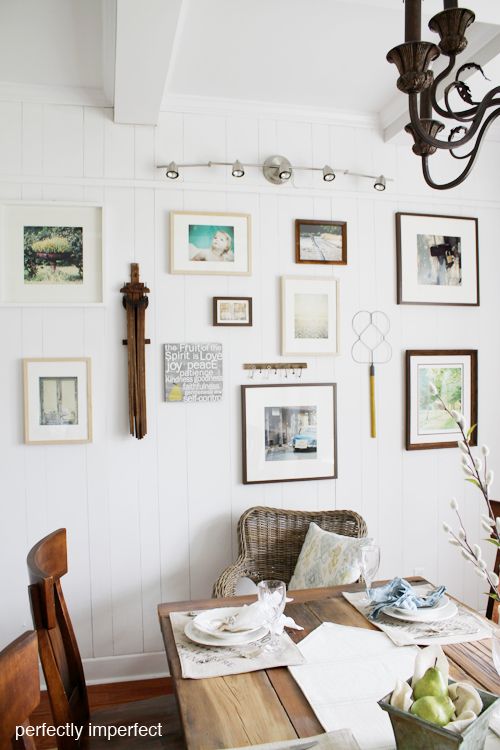 I wanted to showcase some of my photography on the gallery wall, and while I'm no photographer, it's fun, I love it, and I love catching moments of my kids and still moments around town.
I also wanted to incorporate a couple of antique structural elements in the gallery, and lucked out by finding the antique drying rack and rug beater.  Plus, I love that mustard handle and how it plays with the Red Letter Words canvas.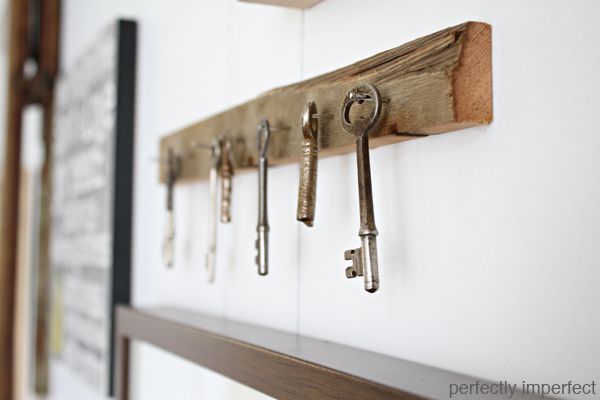 Layla knew I loved keys, so she threw some up on the wall in her drawing, and I definitely wanted to include that!  I found these skeleton keys from one of my favorite Etsy shops, 58 and Grace.  I used a scrap piece of reclaimed wood (that we built the table from) and attached a few nails in it.  Afterwards, I may or may not have simply hot glued it to the wall.
Yep.
I'm not too good for the hot glue.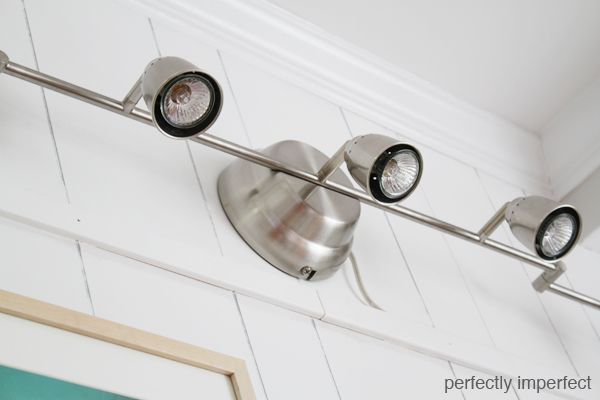 I love all of Pottery Barn's gallery lighting, but a three-light vintage inspired model cost $199.  Whoa.  Plus, they only came in oil rubbed bronze, and I wanted some nickel to have a little conversation with the cabinet hardware.
This Ikea gallery (five) light only cost 49 bucks.  Much better.
I found the herb crates at a flea market in Prattville, and the ladder has become a new favorite of mine.  I've thought about painting it, but can't quite bring my brush to it just yet.
The farmhouse table Matt built is an exact copy of Pottery Barn's Benchwright Table…and let me say, I am in LOVE with it.  He even built it with leaves so we can extend it for entertaining.  (you're seeing it at full extension now, and it will seat about 12 at full length)
There will be a whole post devoted to the table, so don't worry, details soon.  I will tell you we did choose to build it from reclaimed wood we got at Southern Accents in Cullman, Alabama.  With the reclaimed wood and hard to find hardware, the table cost us around $430.  Kinda pricey…but if we had bought the PB version, it would have cost around $1800, and that, my friends, would have cost more than the whole room.
I'll also show you some more details of the table setting I put together.  Because it was too fun not to.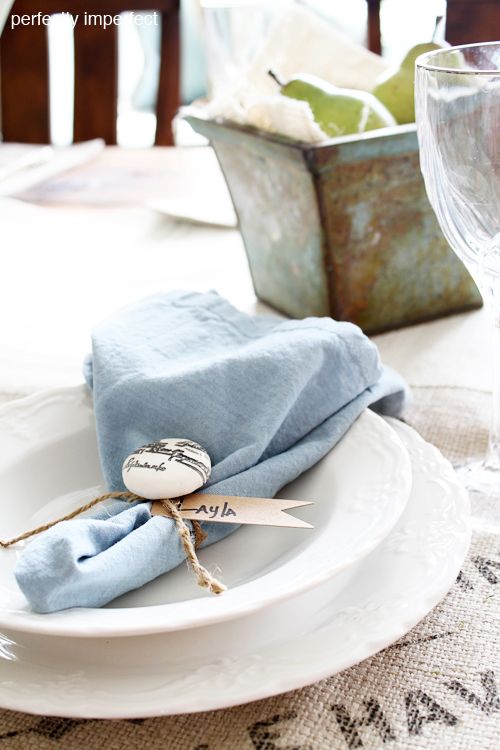 And since she was so helpful and she's my bff, I went ahead and invited Layla to dinner.  And yes, those are some more Vintage Skye knobs you see on the napkin.  I just couldn't resist.
And that's that.  As I said, there's so much to cover it won't all be in this one post, but I'm working on a resource list to add to this post.  I'll link up any additional posts once they're published so you'll have all the info in one spot.  In the meantime, feel free to ask any questions in the comments, and I'll be sure to answer those for you either by replying or in following posts.
We can't wait to hear what you think!!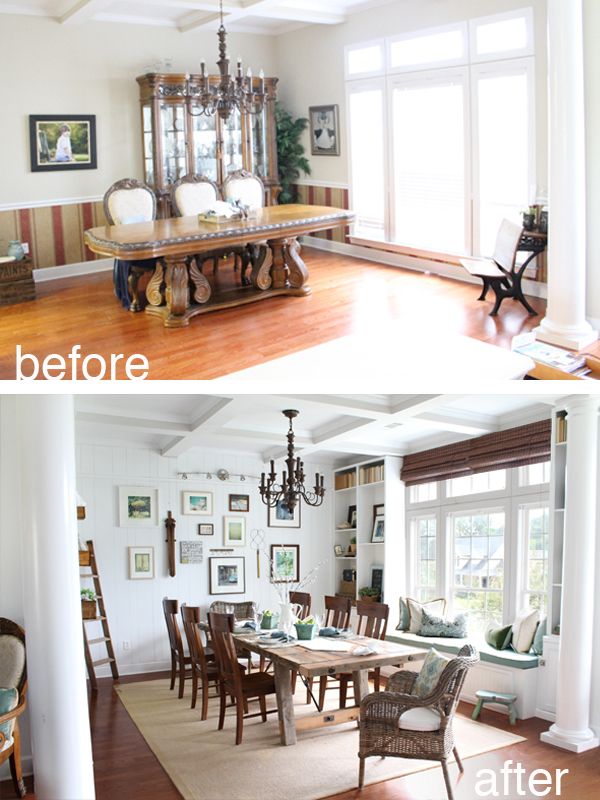 It was definitely the most rewarding redo so far…as I look around our living room/dining/kitchen, it finally all feels like us, like home.
**For the FULL RESOURCE LIST, Go HERE.
*linking to Tips and Tutorials at Home Stories A to Z, Wow Us Wednesday at Savvy Southern Style, Tip Junkie, SAS at Just A Girl, Transformation Thursdays at The Shabby Creek Cottage, Project Parade at the DIY Showoff