To say that I'm overwhelmed with gratitude would be the understatement of the century.
I mean, y'all….you made me feel incredible yesterday.  Your comments and affirmations of things I felt already about the dining room meant the world to me…and lifted me several cheerful feet off the ground.
As stated in my ebook, you guys are dream makers.  And that, my friends, is no fluff.  It's all true.  So, thank you, from the bottom of my heart, for such kind, encouraging, and thoughtful comments and compliments!  They are undeserved and so delightfully special.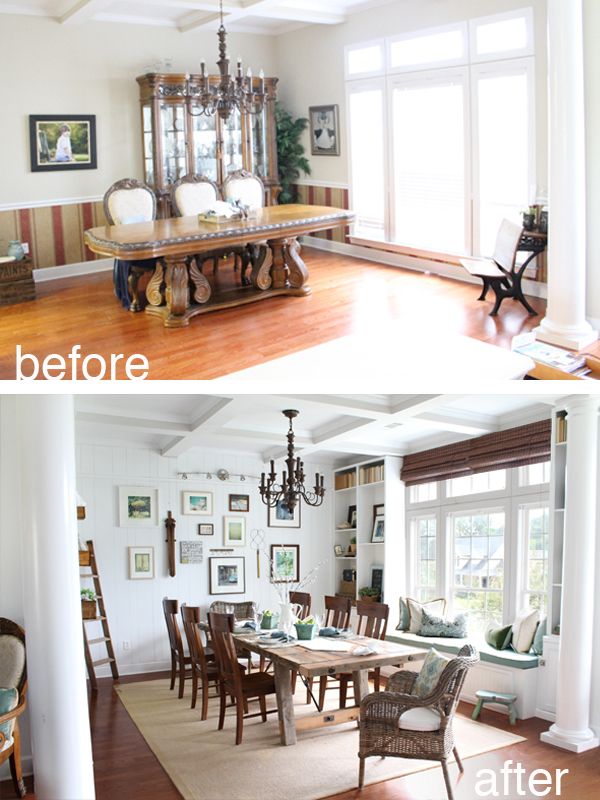 I thought I would create a little resource list in pictures for you today.  We'll be really casual about it…some items will be listed, and I'll go into detail on others.  Okay?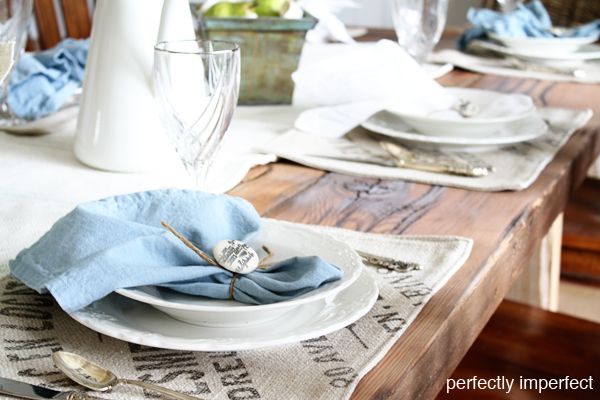 I might share some more pictures on the dining table, but I wanted you to have the resources here in one post.  The dishes, silver, and napkins I already owned.  Placemats and the runner are by French Laundry Home, and I found them on sale at One King's Lane.  You can find more of their products online at Neiman Marcus.
The two little french patina planters came from JoAnn and were $3 each.  I LOVE the patina and color in these…and what a steal!!
Pears came from Pottery Barn, and were $12.99 for six.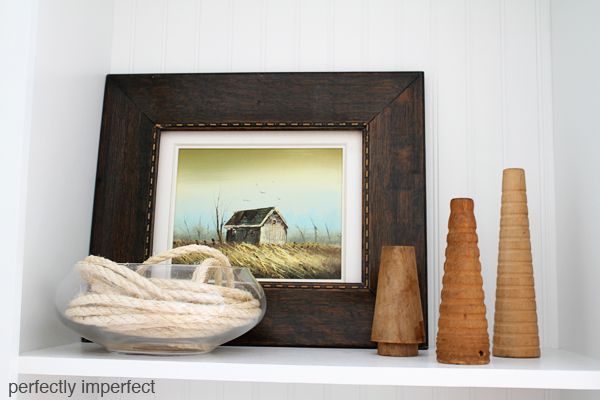 I love seeing the different vignettes and how they are so collected….each of these items was carefully chosen over time.  Each spoke to me at a different shop, flea market, antique mall, etc.  That brings so much more meaning to each little moment throughout the room.
The original painting (on a wooden board) came from J & G's Flea Market in Prattville, and came in a different frame.  It was $3.  I loved the color, subject matter, and most importantly, that it was original.  I didn't dig the frame it was in so I grabbed an extra mat and frame (waiting for the perfect piece of art) that I had lying around and re-matted.  I LOVE how it turned out!
The vintage spools came from Gas Lamp Antiques in Nashville and were $2 each.  They are such a sculptural moment of art to me…and I love that they represent any part of DIY/Home.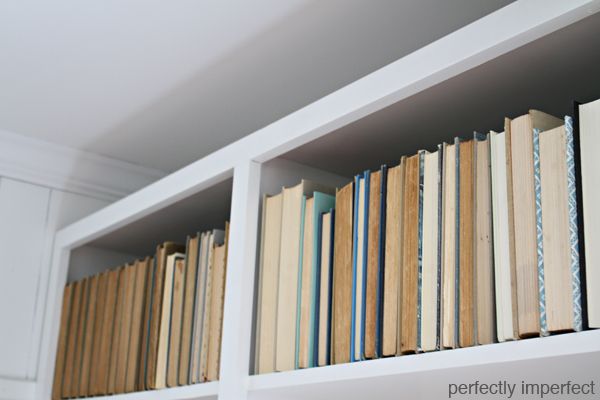 If you've read the blog for a while, you know I am in love with books.  And an avid vintage book collector.  I love having such a focal spot for them…and placing such a collection together is powerful and unifying.  Plus, they're pretty.  🙂
They've come from all over…I usually pick up vintage books when I travel and write where they came from.  I am not only into how they look, the actual subject matter, but the typography, and what the title speaks to me.  One of my favorites is a turquoise hard back from 1930….The Passionate Journey.
Well, hello beautiful.
I also have a rule…pay no more than $5 unless it's amazing, can't-live-without-it-kinda-special.  Then, it's usually no more than ten or twelve bucks for me.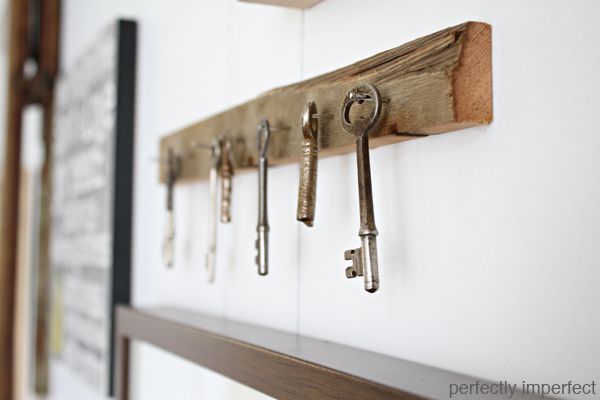 I shared 58 and Grace with you guys a while back.  It's where I found these great skeleton keys, and you should definitely check her out for awesome, one-of-a-kind vintage finds!  LOVE Whitney's taste!
The new matted frames all came from Ikea, where else?  It really is the best place to grab frames for a gallery…they're so affordable and clean-lined.  I want some more just to keep for rainy days.  The canvas is Red Letter Words, and the vintage drying rack and an antique rug beater came from different flea markets.
Block print pillow- Pottery Barn,  Solid Jute Pillows- Pottery Barn found on eBay, Ikat Pillow- Pillowmio on Etsy, striped pillow- TJ Maxx, green and white graphic fabric- Walmart at $3 per yard.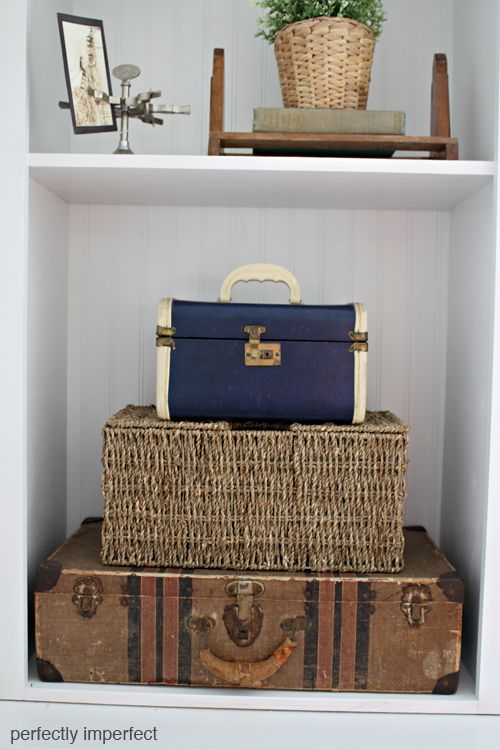 Suitcases-flea markets
Basket- Walmart
Vintage book holder, stamp holder- J & G's Flea Market
Wicker plant holder & plant- Ikea
Plant- Ikea
Vintage-inspired bottle basket- TJ Maxx
Vintage Map- Gas Lamp Antiques in Nashville
Keys- Hobby Lobby
Chalkboard Frame- old frame repurpose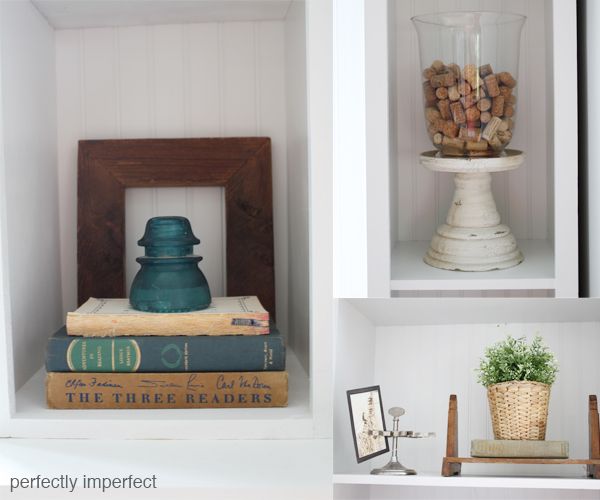 White Chippy Candle Stand- Pottery Barn (clearanced)
Glass hurricane- JoAnn
And those books are some of my favorites right now.  😉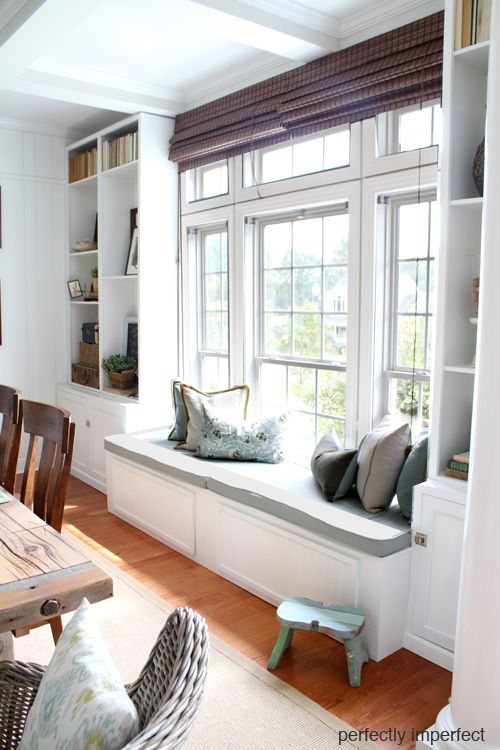 Window seat cushion….I purchased the fabric at 50% off at JoAnn…think Spa Linen by Ballard's.  It's blue/green/gray all at the same time.  I, you know, am not a sewer, so I called up my dear friend Debbie from Cottage and Cabin.
Amazing, that woman.  She did both cushions in a day.  And they're beautiful…AND she sewed me two pillow cushions with the extra fabric and backed it with a gray-sage burlap. A woman after my own heart!!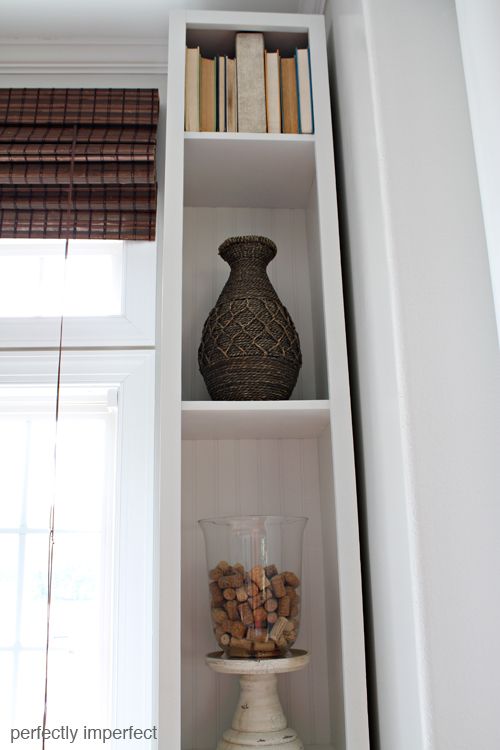 Seagrass Vase- $6 at JoAnn
We painted the paneling and built ins my go-to white–Benjamin Moore's White Diamond, and we chose Sherwin Williams Crushed Ice in Satin for the coffered recesses and right wall.  It was a subtle difference, but the gray is much more taupe, less beige, which has brought such a cooler feel to the room.
That's it.  Listen, I didn't buy all this at one time…these items have been purchased over the last year, and some of them the last few months.  It took looking, scouring, repurposing.  That's why it takes a while for me to complete a makeover in my home.
I'm in no hurry to finish.  It's about the business of creating a home.  On a budget.
And that, friends, can take a little time.
🙂