I'll be honest.
When we decided to redo our dining room, I was really thinking in my head, "oh, sure, we'll just pop a little paneling up, build some built ins and a seat, build a table…you know, won't be a big deal at all."
It's certainly been smooth sailing, fun work, but it's still time consuming and detail oriented.  Finish work can be the best.  It can also take the longest.
Hence…our how-to posts will come in waves, so as not to kill you with picture/instruction overload.
Remember our dining room before?
I remember telling Layla that I was totally over the heavy, weighted down furniture and chair moulding and wallpaper.  I envisioned a light-filled, planked-wall, farmhouse-elegant space.
This is why you need a friend who talks design and house-stuff with you.  We just talked it all out in about 30 minutes.
me: "I really want planks on the wall, but I'm kind of wanting them to hang vertically.  I saw some planks in varying widths as a backsplash and I loved it."
Layla: "Awesome…plus that'll just draw your eye up to the cool coffered ceiling."
me: "I know!"
Layla: "Hmmm.  What if you just installed that ugly paneling and painted it white??"
me:  "Well….I guess so.  That would be way easier (and probably cheaper)."
You get the idea….the whole plan was born in about half an hour, and it was just flat-out nice to have a second opinion on all of my ideas.  Plus, this handy friend can actually draw it all out in Photoshop…so bonus.
I have always loved planked walls (hence–the floor to ceiling planks in the writing room).  Here were some planks that got me going…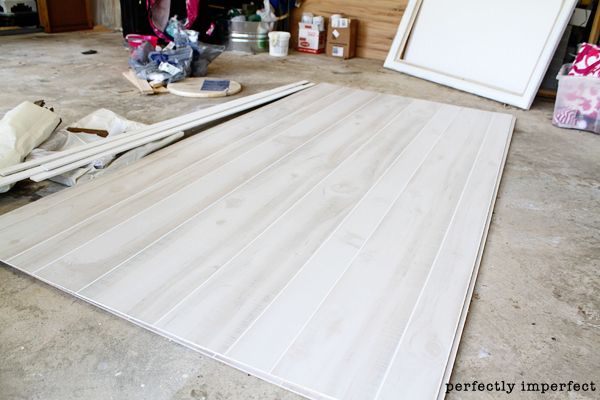 We had fully intended on buying the orange-speckled laminate giant of the 70s, but when we got to Lowes, we found this whitewashed pine version instead.  At $14.98 per 4 x 8 sheet, it was a steal when compared to adding real wood to our walls!
Let's show you how we did it, then.
First, because we had 9 foot walls (from baseboard to moulding), we had to cut a one foot piece to add on top of our bottom piece of paneling.  We simply drew out a 1 foot section with a ruler.
We then trimmed off all the pieces with our Skil saw.  It's my favorite tool.
Second to my Purdy XL Cub.
We also had to work around the coffered ceilings (meaning 6 inches of inset ceiling grids hitting the wall).  To fit it snugly around each ceiling drop, we simply
-measured over 6 inches,
-and down 3.
-marked our level cutting lines,
-double checked our measurements,
-and cut with the Skil saw again.
*That's also the great thing about this paneling: it's super thin, so you're able to rip through it with a circular saw like a butter knife to melted butter.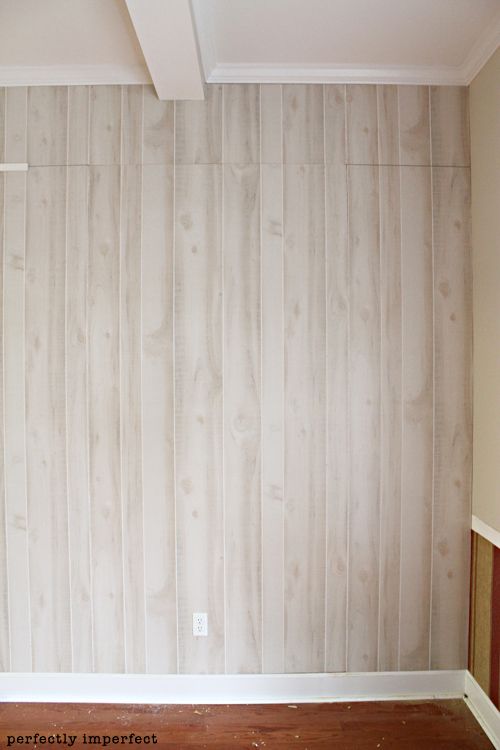 For the hanging…super simple.  You just nail that stuff in the wall.  It really is that easy, but here's some tips we learned along the way.
-Buy 2 inch white paneling nails or 2 1/4 inch finish nails for your nail gun (we used some of both)
-Because studs are begun in one corner of a room, you'll want to find that corner first.  If not, you may end on a wall where the stud is not spread 16 inches apart (a.k.a your paneling edge is flapping in the wind).  I speak the truth.
-If you aren't patient enough to find the starter stud, ahem, like us, then you'll want to heat up your hot glue gun to tack any flapping parts down.  Works like a charm.
-Use a level as you hang each sheet.  I know it sounds crazy, but not all houses or baseboards are level.  Using your level will insure you don't end up with angled plank lines.  Fill in with caulk if you do have to adjust your sheet above your baseboard. (we actually only had to do this once–and once you level your first one, you simply butt each sheet up against the next.)
-Attach the bottom pieces first.  This will allow you to slip your top pieces in easily (and level).
-Simply measure where to cut out your outlet holes.  We were able to use a box cutter here to get a very precise cut.  (MATT TIP: He says you can buy a tiny hand saw called a Sheetrock saw for around 13 bucks that will come with several blades if you want a fancier tool that a box cutter 🙂 )
Now it was time to cover that seam at the top of the wall.  We purchased 3 7 foot lengths of 2 inch lattice trim (which is typically lying right beside the paneling in your home improvement store).
Again, using your level, simply nail it in to your paneling to cover the seam.
Here's where many would have spackled those nail holes, but we didn't.  We didn't even spackle or caulk any edges or corners.  We wanted this paneling to look as much like authentic wood as humanly possible.  The nail heads and breaks in the paneling added to the overall look we were going for.
That's it, my friends.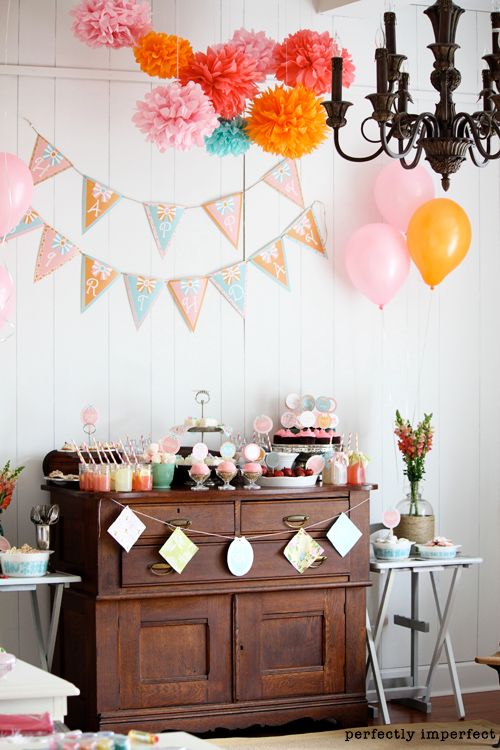 There's the business of painting it, and that's a whole different post.  (Just think–you'll get it all hung and painted and immediately get to stick tape all over to decorate for a party.)
There's also the business of the A-MAZ-ING built ins my uber-talented husband built for us.  He gets more and more talented (and supportive) every single day, and I love working with him.  If only we could do this every day, all day long!!
Kevin and Layla came and shot a sneak peek of those built ins for you…
See what I mean??  He did beautiful, custom work….I'm so thankful for him.  And those built ins.
🙂
(P.S.  Wanna know how to build your own inset shaker-style doors or hidden shelves?  Think I'm going to let Matt take the reigns and write you a how-to.  Sound ok?)
We'll also show you some tips for building your own bench seat, and rumor has it there's some reclaimed wood around here just waiting to be turned into a farmhouse table.
Man, I love decorating.
🙂
*Cost Breakdown:
8 sheets of 4 x 8 paneling ($14.98 each)-  $119.84
3 lengths of 2 in. lattice trim ($5 each)- $15.00
pack of white paneling nails- $4.99
Total=  $$139.83 = Planked Wall Gorgeousness
(I did not include things like the level, box cutter, hot glue or nail gun because we did have those things here already.  Don't forget to budget for those if you don't have them in your existing pile o' tools.)
**linking to: