Walking around the house last week I realized I haven't shown you much of our house lately.
Hardly at all, really.
We've been in shop mode, but we're also in a "finishing things up" phase around here.
Matt and I are notorious almost finishers.  We work crazy hard, knock out the scary hard projects, and then we are sick of it for a while.  We lay Ava's floor and install board and batten on the entire room, and we're sort of done for a while.  Yes, the accessorizing is my favorite part, but again, life and all the moments get in the way of a quickly finished makeover.
We're fine with that–it's just our way.
So, now, we have been making our final lists of projects we'd like to complete this year.  There was a time when I thought we might be building again someday, and we might, but I'm ready to have our home as complete as possible.
It's not that I don't love the changes we've made in the last few years to make our home more like us, but like I've mentioned before, I've really identified my style and am ready to have the little details all tied up.  Wall art, coffee table styling, major furniture pieces, and a few rooms being painted…it's time for those things to be finished.
Sure, we'll switch things up sometimes, but the more I do it, the more I realize how much I love living in our home, not necessarily always working on it.  Does that make sense?
The living room looked like this for quite a while, minus the left wall over there.  It's always been the wall of rotating art for some reason.  The space is mostly done…painted, drapes, accessories, etc. are all done.  I was ready for some really comfortable chairs last year, and in the fall we made our first new furniture purchase since we've been married.
We bought two of these beautifully casual elegant chairs from a local furniture store to go on the left side of the living room.  We needed some height variation in here as well…all the furniture was the same height & it felt, well, flat.
The chairs are sooo comfortable and give us the extra seating we needed.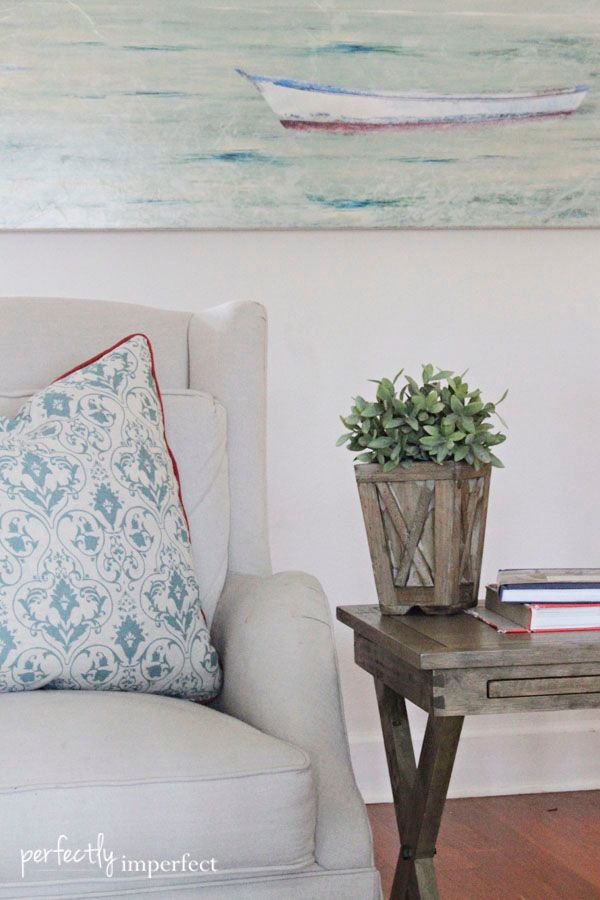 We picked up the little table on sale at World Market, too.  I had been eyeing that collection for a while and I was thrilled to catch the little table on sale.  And the kids love the little hideaway tabletop.  Ava has officially dubbed it her work space.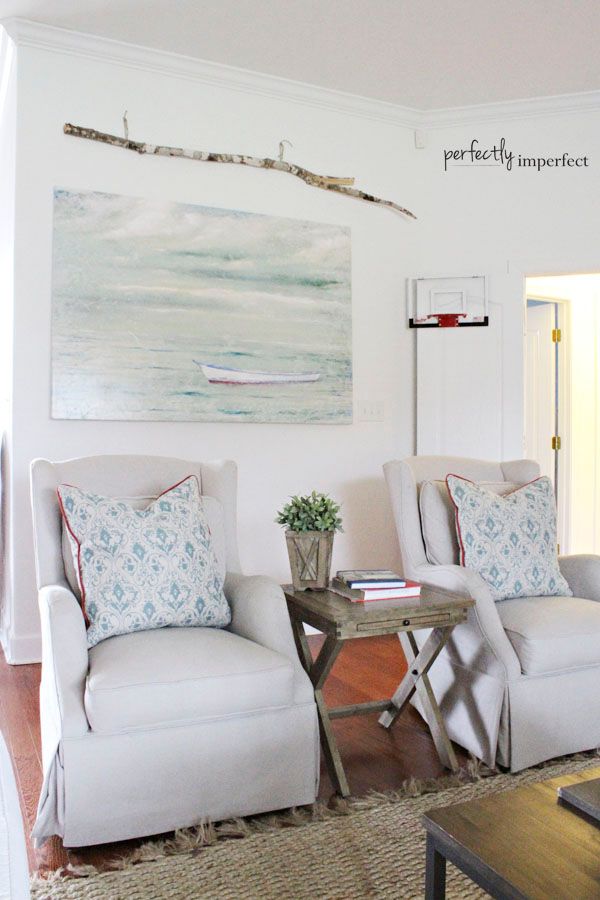 Our rug was swapped out last spring after we sold our previous one at the yard sale.  Mom and dad gave it to us several years ago…it is a Ballard Designs braided jute.  The coffee table is different, too.
We picked it up at a Joss and Main sale, and I'm already realizing we need a table with more storage, so out to the shop it will go.  The pillows and canvas I brought home from our shop.
I adored the canvas and subtle coloring all throughout, and the pillows pair perfectly with it.
The basketball goal came from Toys R Us.

If you follow us on Facebook and Instagram, you know I bought a couch that might find its way home to me when it comes in.  We're not trying to finish the living room updates in one weekend, but I'll post our progress all along.
In addition to purchasing some new pieces that work a little better for us, we'll be:
buying a larger, washable rug (our Dash & Albert shipment is on its way to the shop!)
building/buying a larger, 2 surfaced coffee table
selling the entertainment center & replacing it with a smaller sideboard and fun DIY project involving the TV
looking for one more accent table
picking up a couple of new pillows for the new sofa?
possibly replacing the sideboard (it would be way too large if we keep the new sofa)
So, that's that.  We'll finish up the final details in our most used space in our home…and I'm so looking forward to it and to sharing it with you guys!
Hope you have an inspired start to your week!