Well, way back when in the middle ages, I decided to make over Ava's room.
This was BEFORE we took her crib down, and the plan was to transition straight into a big-girl room.
I've found with both kids this gets them all excited about being in their own big beds–which coincides nicely during the time they start experience I-Can't-Be-Without-Mommy-Even-For-A-Second Syndrome.
It's real, people.
The big beds help.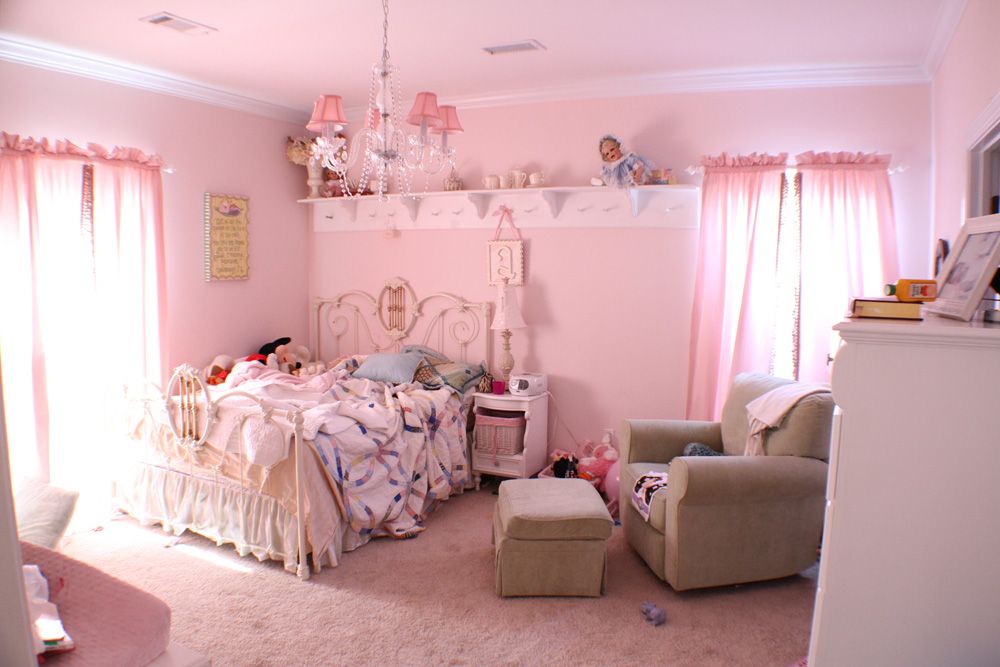 So, basically, we set up the big bed, mismatched bedding and all.  We left the rocker in…well, we left everything in but the crib.
And the room sat.
And sat.
And sat.
Until I snapped and we decided we couldn't take the pink abyss any longer.  We pulled everything out of the room, pulled down the beautiful curtains my mom made (that are staying), and Matt pulled down the shelf he built for the room 6 years ago when a baby named Gray made our duo a trio.
Little did I know, after we painted the room 2 coats of Chalk Paint™ in Pure White, Matt and our good buddy, John, ripped up the (gross) carpet and pad.  I walked into a blank slate Friday morning.
This is where I digress.
When I say, "we," I mean me, Matt, & John with guest appearances by Natalie and Anna Lauson.  Matt truly wanted to finish this project over the weekend, and while that was what we all wanted…it was a little taxing.
Why, you say?
Well, Matt and I decided we hate bending over to work–like rolling paint on the white pine floors we were laying.  Plus, we'd be on our knees cutting in.  Plus…there was the issue of the stripe, so we would have had to paint it all white, then tape off, then paint the gray stripes.
We (brightly) thought we'd save so much time by painting all the boards beforehand.
And maybe we did.
All I know is I'm now conditioned to shed tears when I look at a 6 inch foam roller.
150 + boards later, (well, Matt started working as we painted), Matt began laying the floor.  We chose to lay our unfinished white pine (about $1 per square foot) directly on the concrete.
You'll need to test your concrete for moisture with one of these, and from what we understand, anything that averages out to around 6% will be just fine.  If your concrete foundation has more moisture than that, you'll either have to lay a plywood sub-flooring or stick with laminate.  Ours averaged out between 6-8%, and after talking to the guys at Lumber Liquidators, we chose to live on the wild side and go for it.
Here's a little video we did for ya…
Things got a little tense later on.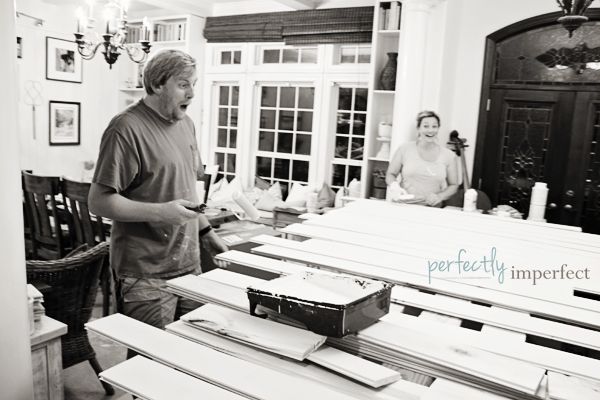 This is John.
John doesn't know much about my blog.  In fact, he probably never reads it.
He does, however, always seem to know that I never mention him.
So here ya go.
Hi, John.
All joking aside, he and Matt worked like dogs on this room.
When it all was said and done, and Sunday night rolled around, here's how the floor turned out.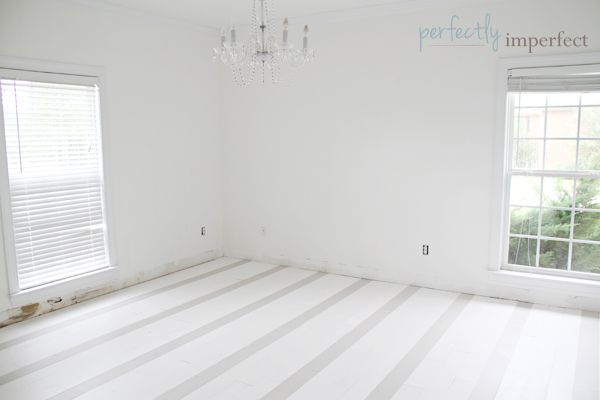 We used Chalk Paint again…why not?  I was really curious to see how it would hold up, and I loved the idea of the soft finish it would lend.  We used Pure White and a mix of French Linen (3 parts Pure White to 1 part French Linen).  I looove the way the gray turned out.  It is exactly what I pictured in my mind.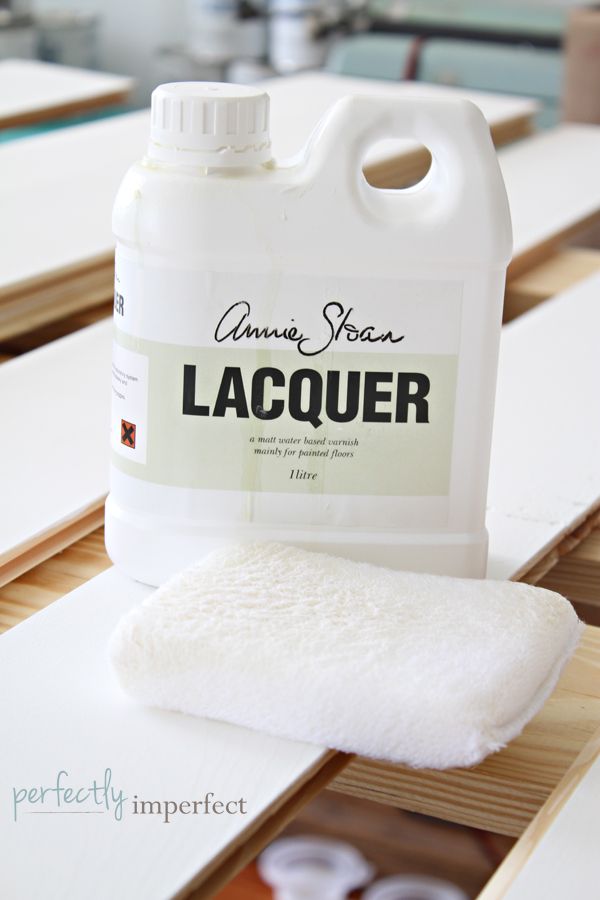 While painting, I also sealed the floor with a coat of Annie Sloan's lacquer.  I've never used this product before, and let me just say, I LOVE it.  It reminds me so much of the varathane I used to use before my love affair with Chalk Paint began.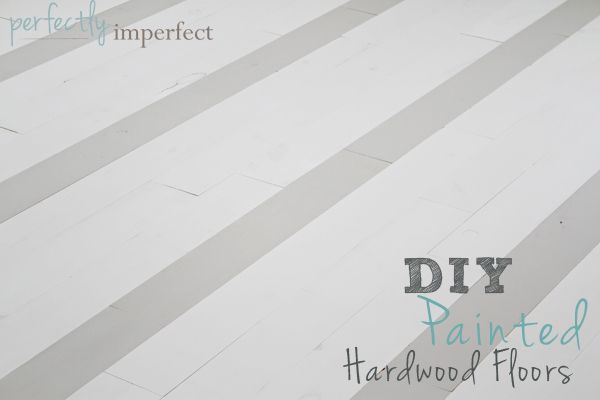 The boards are perfectly rustic, and I absolutely love the way they turned out!
P.S.  We bought New England White Pine Flooring from Lumber Liquidators, at $1.09 per square foot, bringing our total to $330.  There is a lot left to finish before the big reveal, but we are so happy with such a budget-friendly choice and LOVE our new flooring!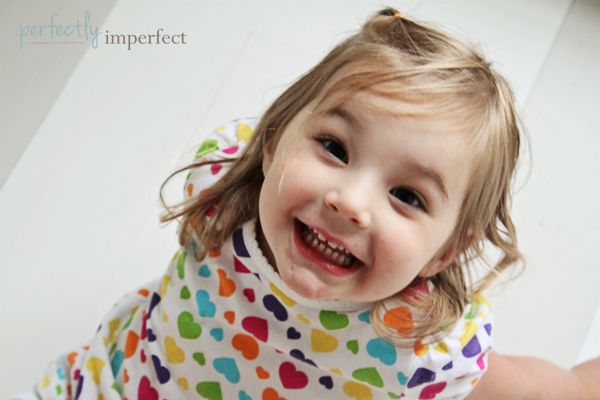 And I've got a little girl who just might agree.