The last time you saw our entry, it was in full blown summer mode, and looked like this…
Well, the other day, I got the hankering (yes, I did say hankering) to switch things up a bit.  I've been feeling quite crafty lately, and hopefully that will stick around to give me plenty of inspiration for the holidays.
Here's what it looks like today…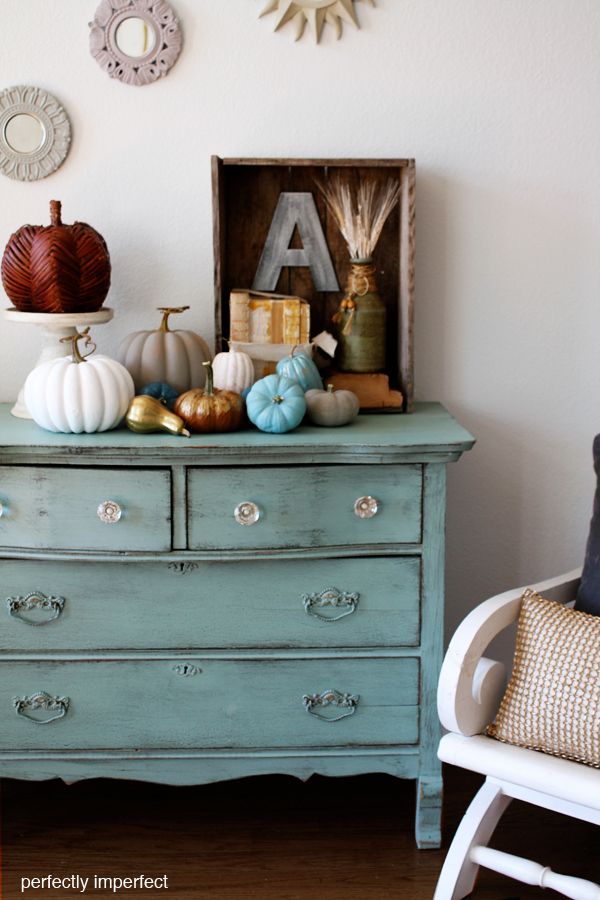 It's kind of like the mantel, simply fall with natural elements and textures.
I started with a few funkins and several small pumpkins that I found on sale at the grocery store.  I am known to paint pumpkins every year, so this year I couldn't wait to try out Annie Sloan's Chalk Paint on them!
I was craving neutrals and a little color, so I broke out my purdy brushes and went to town.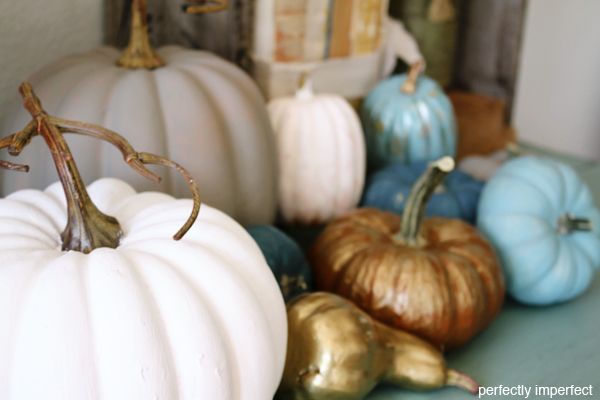 You guys know the deal…I didn't have to do any kind of prep work or priming, so I just painted to my hearts content.  I was dying to try the new chalk paint colors and I chose to use Pure White on a couple of pumpkins and French Linen on another two.  I LOVE these new colors.
I'm soooo excited about a project I have coming up that involves all three of the new colors I got…more on that soon.
I only put on one coat on the real pumpkins…no point in spending way too much time on something that won't stick around forever.  The darker blue is Aubusson (and I love that color!) and the one in the back?  I wanted to try something a little different.
I let Ava paint the base coat of that metallic blue craft paint, and when she was done (only after biting a chunk out of it), I dry brushed some duck egg blue on top.  It left this beautiful mercury quality…I see myself trying this again.
To throw in some fall tones and metallics, I gold leafed a pear and painted one of the pumpkins with craft paint….a brown with some gold dry brushed on the top half.
I bought this wicker-like pumpkin from Target (on sale) a while back…and I've been looking at that thing for a couple of years now.
It was time, my friends.  I needed that pumpkin.
That pedestal came from Pottery Barn–I bought it on clearance a couple of years ago.
The vintage French crate you see usually sits on top of our Byholma toy basket in the living room, holding books and photo albums.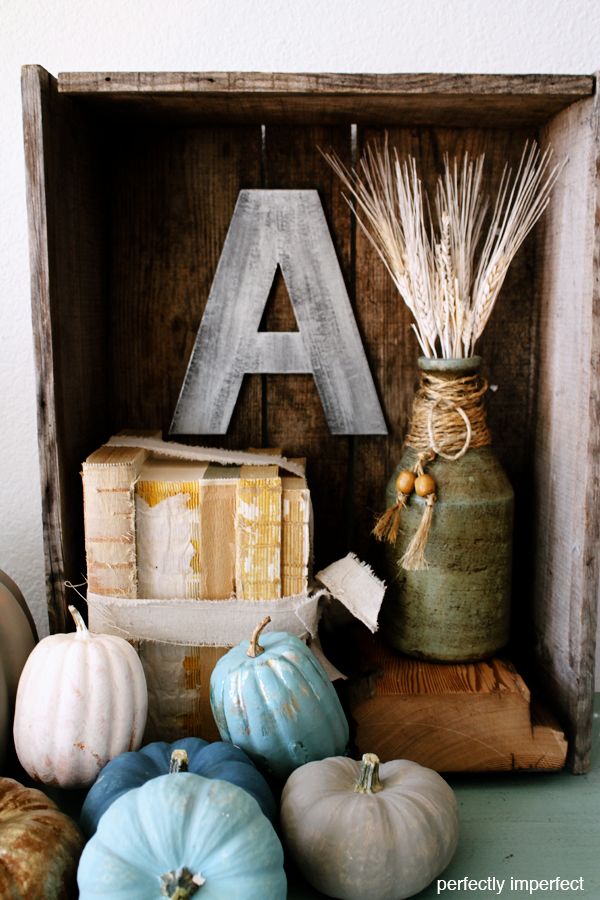 I turned it up vertically to give some height to the arrangement and to balance the asymmetrical arrangement of my sunburst mirrors.
I've had the book bundle lying around, and used a block of reclaimed wood to raise the jar of wheat stalks.  I wanted something else above those books, so I broke out my faux zinc letter and simply taped it up.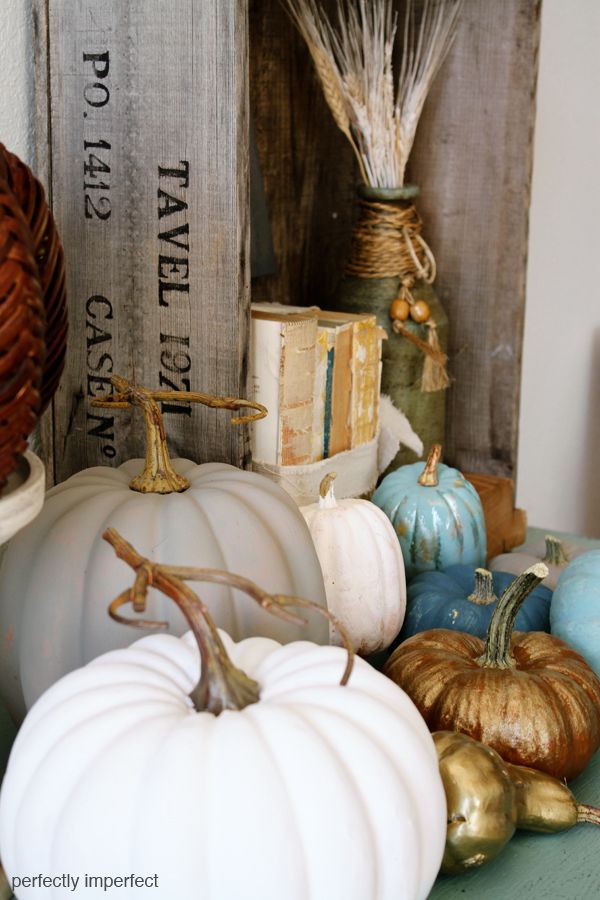 You know I love all things typography, and this crate's type and color are perfect.  I just walk by and look at it.  And I love that little strip of teal on the book bundle.
Lastly, I switched out our throw pillows for a fall inspired palette.  I found the gray velvet at Ikea a few weeks ago when I was in Atlanta, and the gold metal I scooped up at Pier One.
I'm such a throw pillow junkie.
That's that…..have you used Chalk Paint for any of your fall crafts yet?  I'm in for a BUSY week ahead so I may not break out the brush this week, but I can't wait to tackle something else.
Be seeing you soon, friends.
🙂