I'm pretty sure I thought Matt was CRAZY when he decided to build Gray a fort bed & lay new flooring one week before Christmas.
After freaking out for a few minutes (or for several days) about the timing and the mess right before the holidays, I did decide to get out of the way and let him love on our son in his way.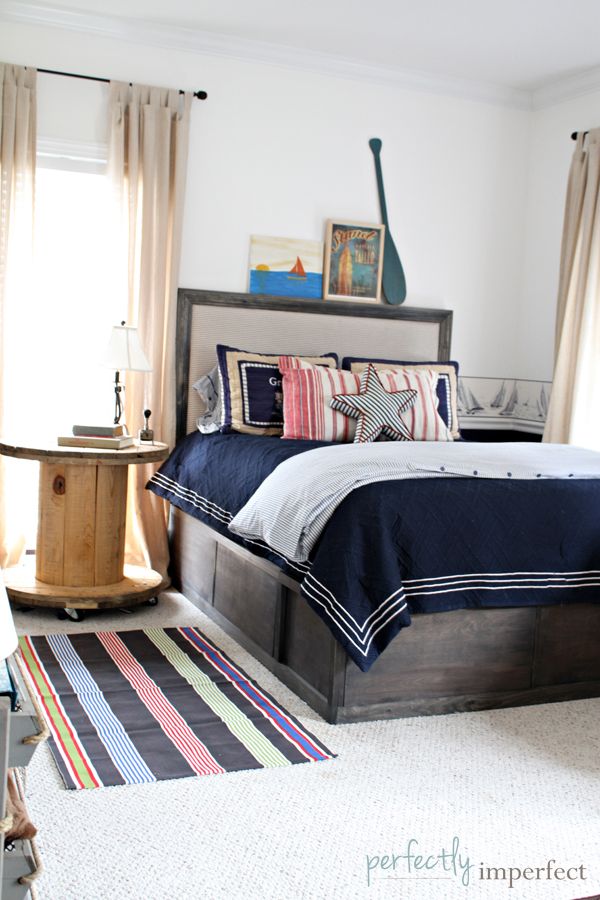 This isn't a fair before….Gray's room started as blank, white, and boring.  We built him a bed, and added a few things here and there.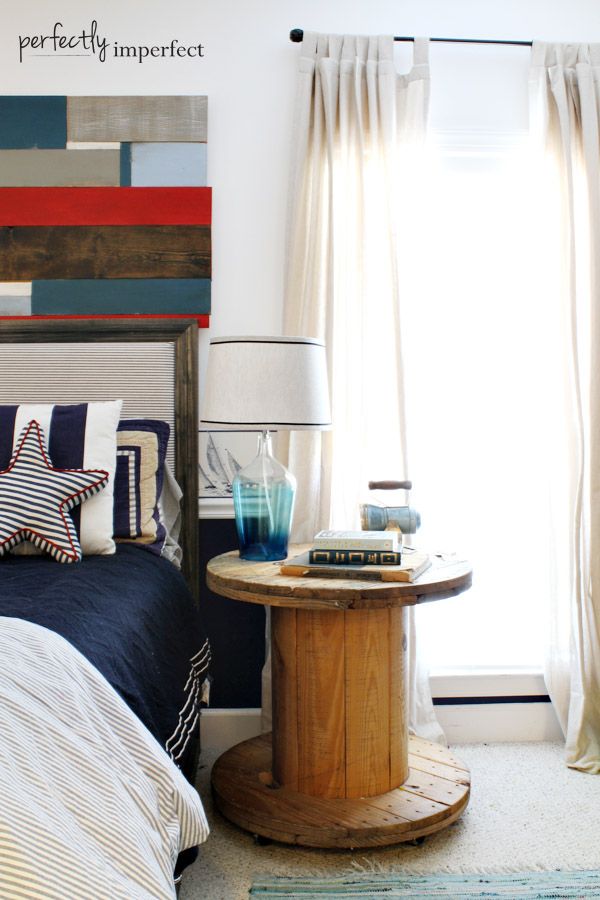 We even worked with Target to promote their Threshold line, and after that, the room just sat.  It wasn't bad, or ugly, but the configuration just wasn't working for him (or for me).  His room is long and narrowish (a 12×18), and the queen sized bed just took up so much floor space.  And the carpet was gross.
He had no room to play, no room to be.  While we love lots of family time in our living spaces, it was time to create a space that worked for him, like we had done in Ava's room makeover.
So while the design plan was important to me, it was more important to create a clean space that functioned well, and gave him lots of room to enjoy his room.
There you have it!  It's so much more spacious now, and he has plenty of room to be a boy in here.  Matt built the bed based loosely on Ana White's plans, so check those out.  If you have specific questions about the bed, just let us know and we'll compile a post for you.
We wanted to keep the room as clutter-free as possible (how possible is that for a 7 year old boy?!?)  Plus, our guy has crazy allergies, so since his fort bed covers two of the three windows, I decided to leave his drapes down for now.  I'll probably swap his standard wood blinds for some bamboo ones eventually, but for now, they're just fine.
We needed most of the budget for his new floors, wood for the bed build, a rug, doors for his Besta storage unit, and a few new accessories.  You can see his painted chest of drawers before & after here.
We updated his ceiling fan because our guy gets so hot at night, which is a mystery to me, but he does.
I'm really enjoying the process of watching his room morph and change with him as he gets older.  He's begun to collect little things here and there and he's beginning to enjoy displaying pieces that mean a lot to him (like his Lego land driver's license & an antique money bank that was his great grandfather's).
On the wall opposite of his bed at the other end of the room is his Besta storage unit from Ikea.  We've had it for years, but recently bought the updated doors and new drawers for the bottom….I LOVE them.  The drawers are a great size to put toys directly in, and the doors make the piece look a little less stark and plain.  A little architectural interest never hurt anyone.  Gray displays his favorite Lego builds up top, along with other things he loves (nutcrackers of all things!).
We created the DIY reclaimed wood wall art for him a while ago, and I recently found an old sign letter "g" to hang on it…love that little bit of vintage flair.  We bought the small scale linen chair from our shop because it was just the perfect size.  I love the idea of him reading in that chair for years to come.  It's an investment piece I hope we can keep and use as his room changes through the years.
I still need some hardware for his RAST end table, but I love all the texture and pattern in this part of his room.  The plaid, stripes, linen, & pops of color play really well together and while it's layered, it's not overdone for a child's room–he can live here and play here.
Probably the most random element in the room is the reclaimed tree box we use on our Christmas tree…it houses Gray's large stuffed animals, toys, and blankets.  Pretty enough to use all year round, right?
This surface is usually covered with a multitude of things, but I cleared them off for 5 seconds to snap a picture of the few mainstays.  Those yellow knight bookends were a funky thrift store find from a few years ago–Gray saw them in the living room and begged for them to head to his room.
We created some simple but fun wall art above his chest by using fabulous prints from these amazing books by my friends at The Handmade Home…I know…second time in a week.  You need to go buy these books right now!  We used some vintage-inspired clipboards from our shop–I think I bought the last ones!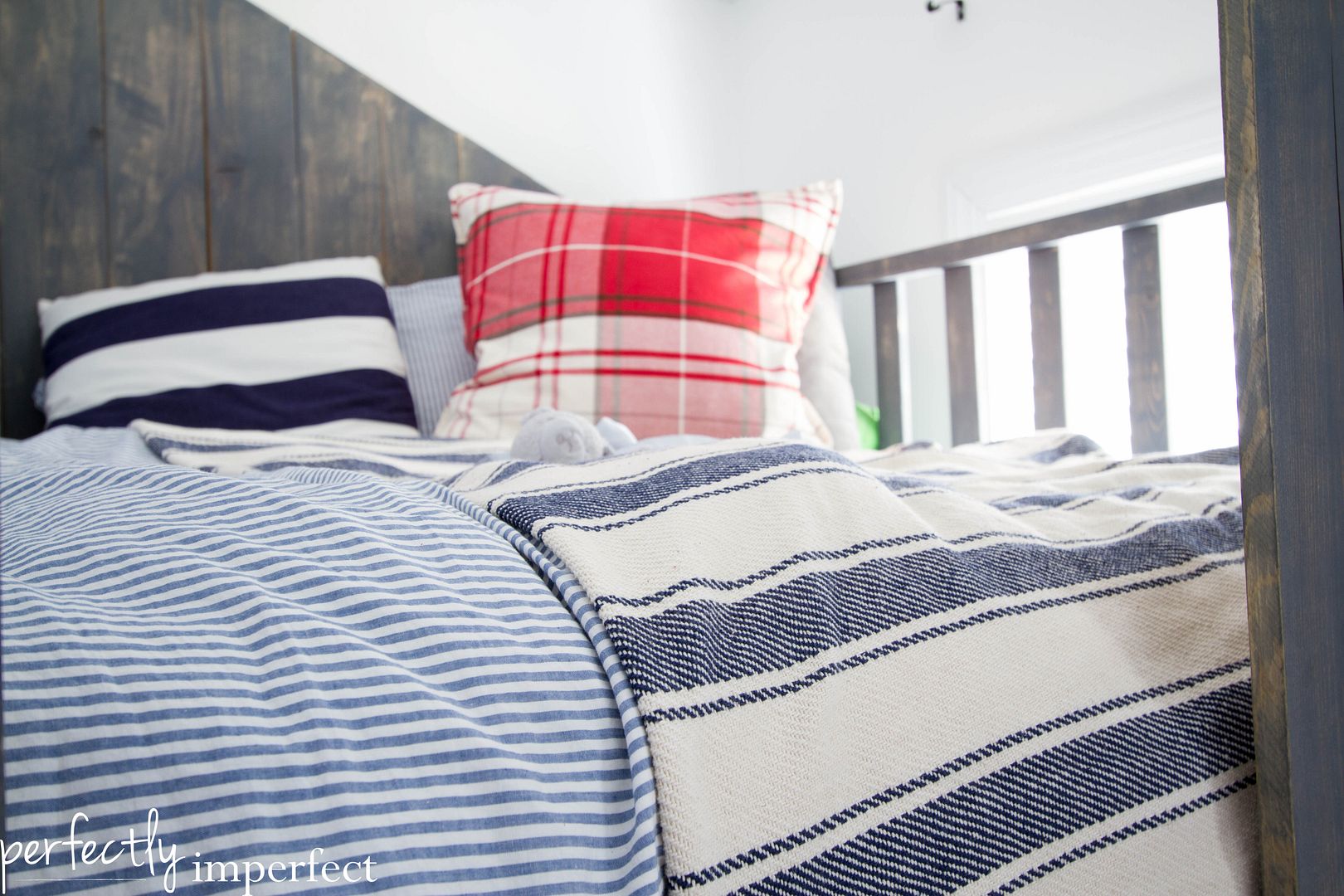 We kept all of Grayson's bedding, and added the Dash & Albert Blue Awning Stripe Throw for his quilt…his duvet just stays folded at one end of the bed, and those blankets are the perfect weight for summers here.  I now have three, and am working on saving for a fourth.  His pillow is also by Dash & Albert from our store.
I painted his steps in Pure White & stenciled some numbers on in red acrylic paint…how about that 3?
Super polished, I tell you.  That's the kind of thing that I'm sure most of you guys would redo, but I'm so happy the room is finished that I don't even care about that ugly ole 3.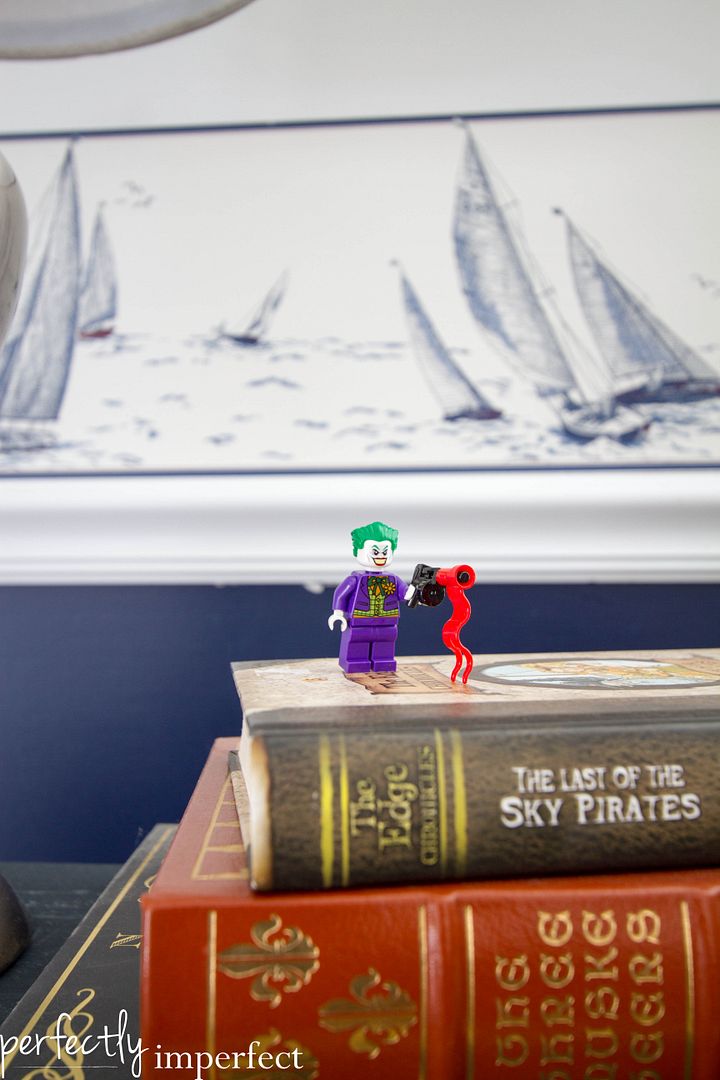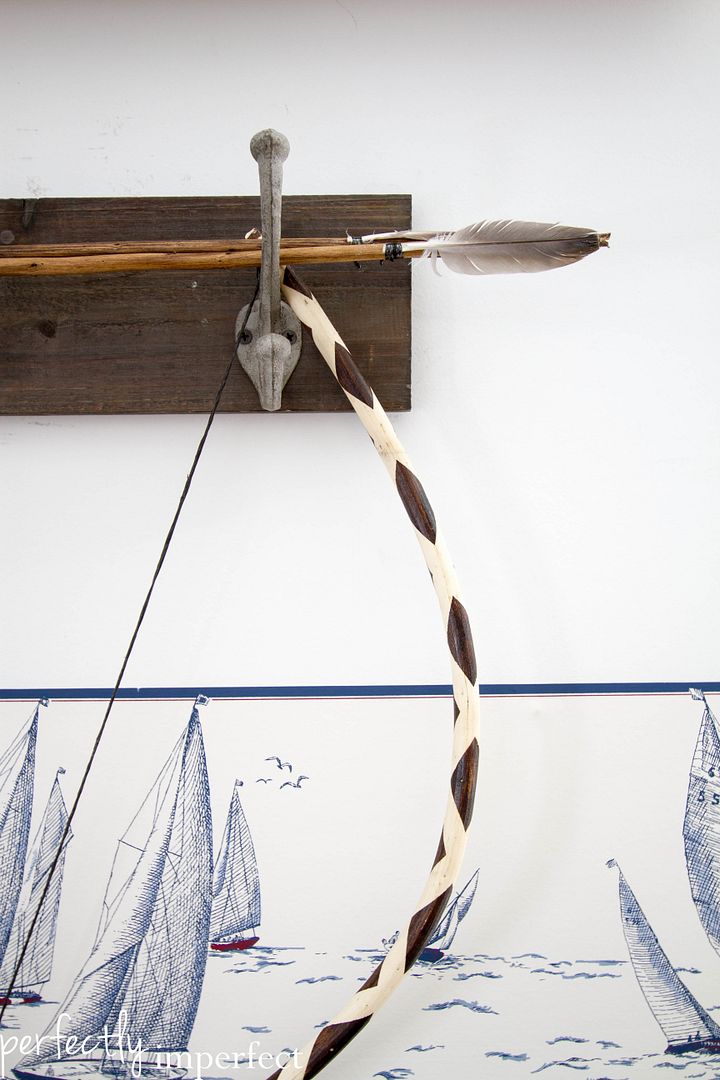 It's terrible to admit I have no clue what the walls are painted in or where to find that sailboat wallpaper…that was all done eons ago when we built and I didn't have half of Sherwin-Williams paint colors memorized by heart.
You can find the reclaimed wood wall hooks here and sadly, the bow was bought in Africa, so I can't really link to that one for you.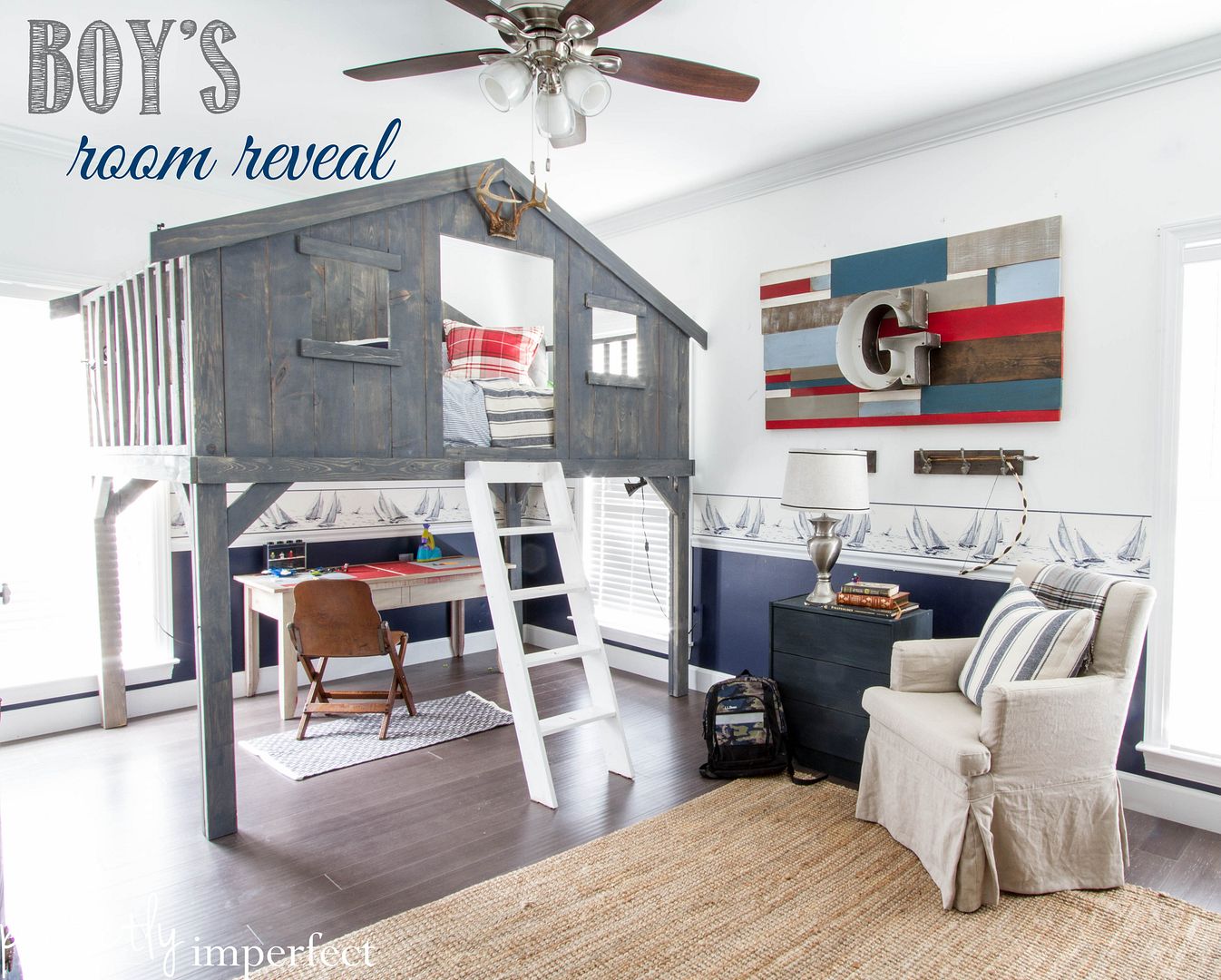 And that's it.  I'll be back with a sources post, floor tutorial, & a mini-reveal of the closet, but feel free to ask any questions in the comments below and I'll get to those first.
Have a good one, y'all!