It's a crafty kind of Tuesday around here!
As I've been pulling Grayson's room organization/switcheroo together, we've collected a few new pieces for the room and are in the process of creating others.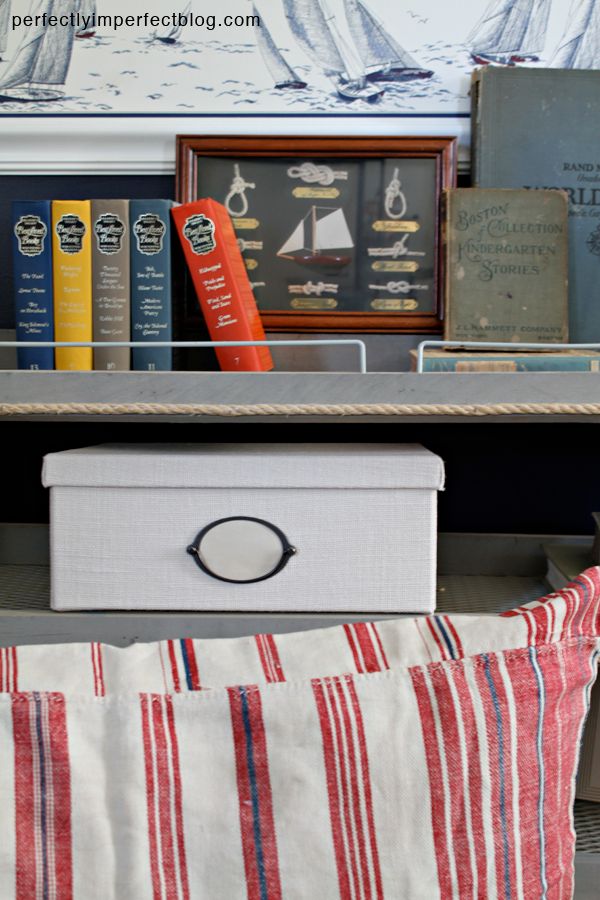 I showed you the perfect grain sack, vintage books, and old shoe cart I found last week, and it's time to show you something we made a couple of weekends ago.
There you have it…our own DIY reclaimed wood wall art.  Ours was basically free, because this was made from wood scraps and chalk paint I had on hand.
Want to know how to make your own?  Well, hang on tight.  This one is beyond easy.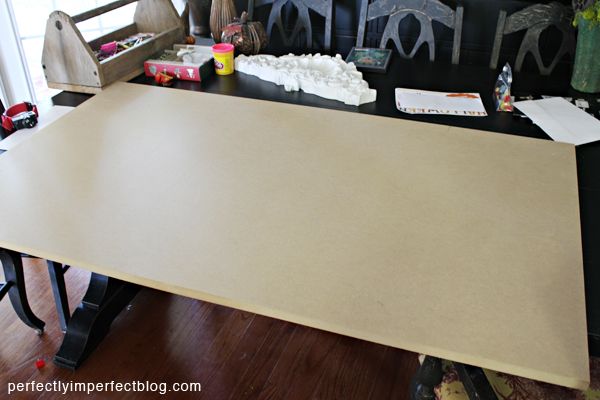 We measured the wall space I wanted to cover, and knew that ours needed to be no bigger than roughly 2 1/2 feet tall x 5 feet wide.
We happened to have a scrap piece of MDF a little smaller than that, so we already had our base. (If you don't have mdf, you can always buy it at your local home improvement store…you can even have it cut to size if you don't have a table saw.)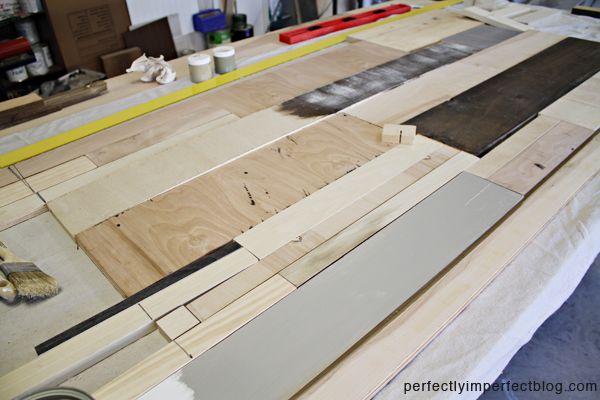 I actually pulled all of my wood scraps together first and then laid them on my board.  I simply threw them all on a table and had fun with it…piece them together varying width and height to keep your board interesting.
I wanted to be able to pick each piece up to paint the facing and sides, so I went to work painting before attaching them together.  I didn't choose a particular pattern, but as I went along, I realized it pleased my eye to zig zag my colors a bit.
We then trimmed that left side you see marked, and carried each piece to our big board inside.
Okay, you got me…this is not this project, but it is the next step.  And…you're getting a peek of other things going on in Gray's room.
I glued each piece down with wood glue, stacked a whole buncha' books on it to help it set, and an hour later, voila!
We attached heavy duty frame hanging brackets (hold up to 200 lbs) to the back.  The kit was $10, but we felt like we had to have it to hold that heavy sucker up there.  Matt then hung it on screws (anchored in wall studs).
I had two boards that I already stained in dark walnut, and the rest I painted with chalk paint I had on hand.  I used Pure White, Emperor's Silk, Aubusson Blue, Coco, Louis Blue, and French Linen.  I waxed it with clear wax first, allowing that to dry about an hour, and then wiped dark wax on and off to finish it off.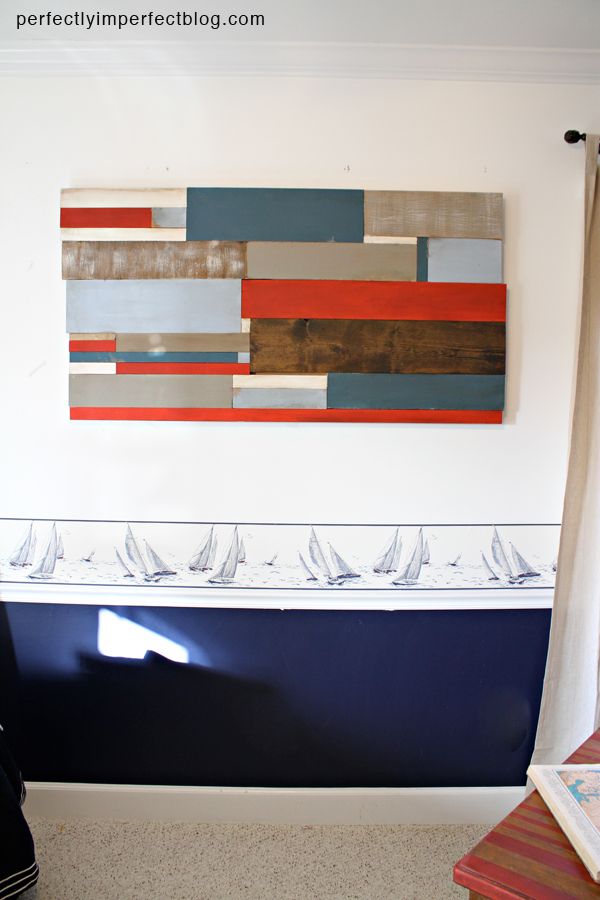 You can see all of the edges don't meet up perfectly.  As I glued it, I just went with it…sometimes it needed to scoot this way or that, and frankly, I kind of like that it's not perfectly straight.  We may trim it a little, but I'm going to live with it a while first.
I.  LOVE. it.  I'm already tackling other walls in my head, and totally different color schemes.  It has huge impact on the wall, and we'll be adding some canvas storage bags to the wall under it to complete the wall art.
One little step closer to a freshened up space for my smarty-pants boy.  He told me today, as I was (still) lying on the couch apologizing for being sick this week– "Mom, people get sick all the time.  You need to be reminded of this lesson: Hakuna Matata.  You know, it means no worries."
Well, touch`e, my son.
😉
*linking to Wow Us Wednesdays at Savvy Southern Style!