Hey there!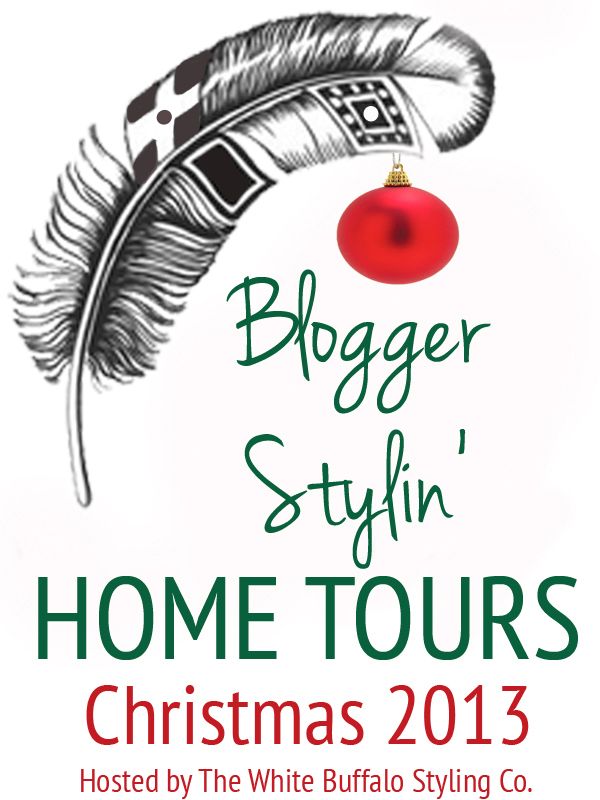 We're so excited to be a part of this awesome Christmas tour of homes hosted by Lindsay of The White Buffalo Styling Co!  We're kicking today's tours off, and if you're new around here, welcome to our little corner of the blogosphere.
This is the kind of place you can sit with a cup of coffee and read about our ramblings/reflections, check out some of our projects, or shop talk posts.  We hope you'll stick around for a while.
This year's Christmas is beautiful for me, after just wrapping up our book.  We made a monster mess decorating, but the house is sort of coming together.  Sort of.
We'll start in our entry, which we already shared.  You can read about our holiday-decorating-with-kid philosophies here.  We kept it simple, using natural greenery and sprinkling bits of sparkle here and there.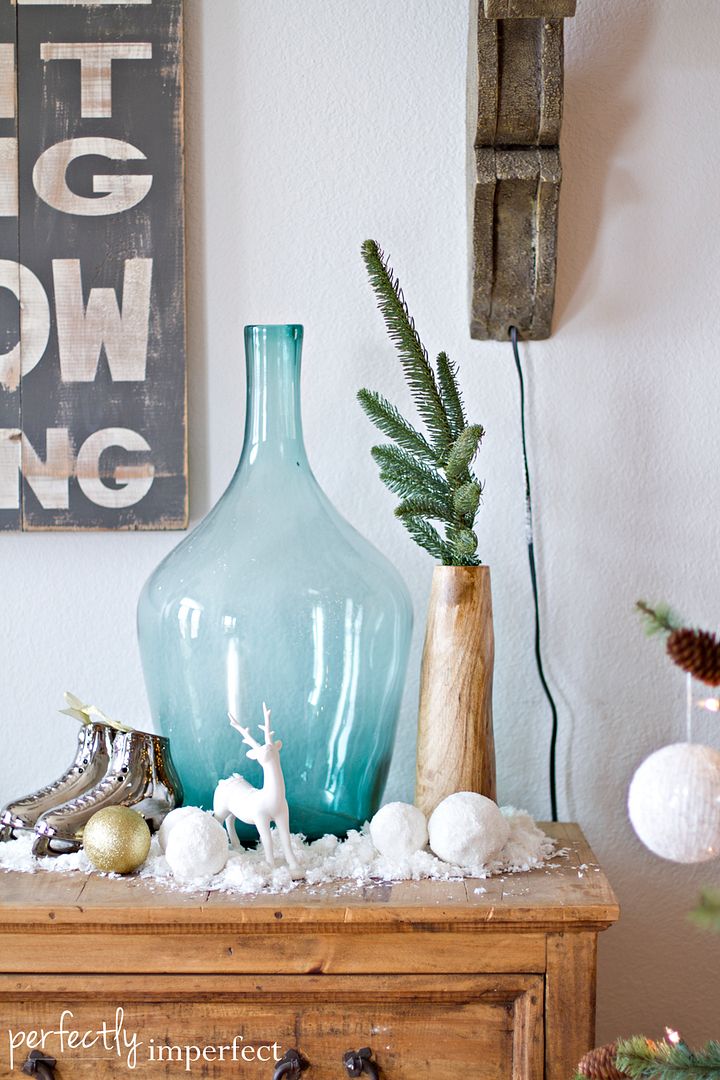 I'm a pretty big fan of artificial snow…we lack that part of the holiday season here in sweet home Alabama.
Our entry opens directly into the living room…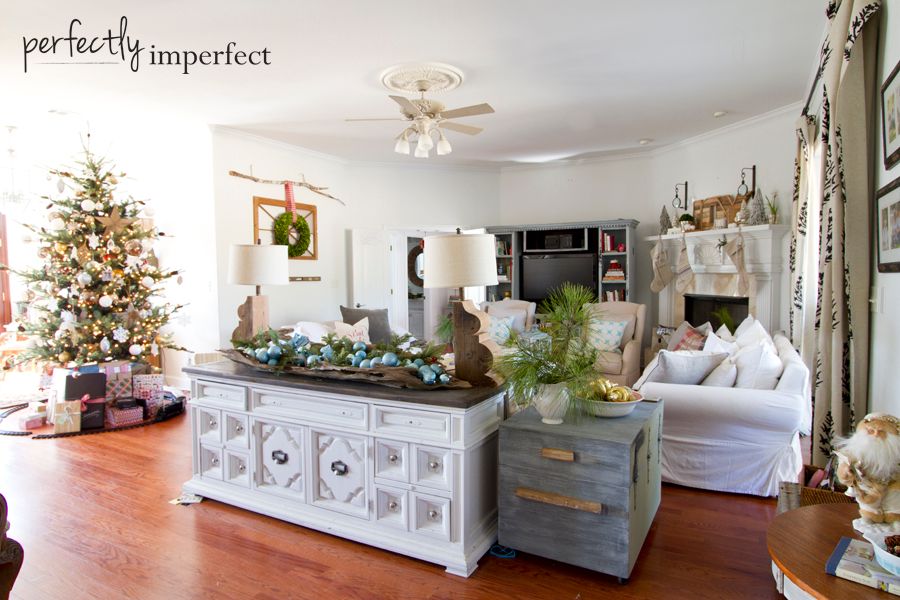 The living room gets the most decorating, with ornaments in bowls and our driftwood, and holds the papa tree.  We stuck to a lot of metallics, but I love to infuse pops of red into our blue/white/gray color scheme during the holidays.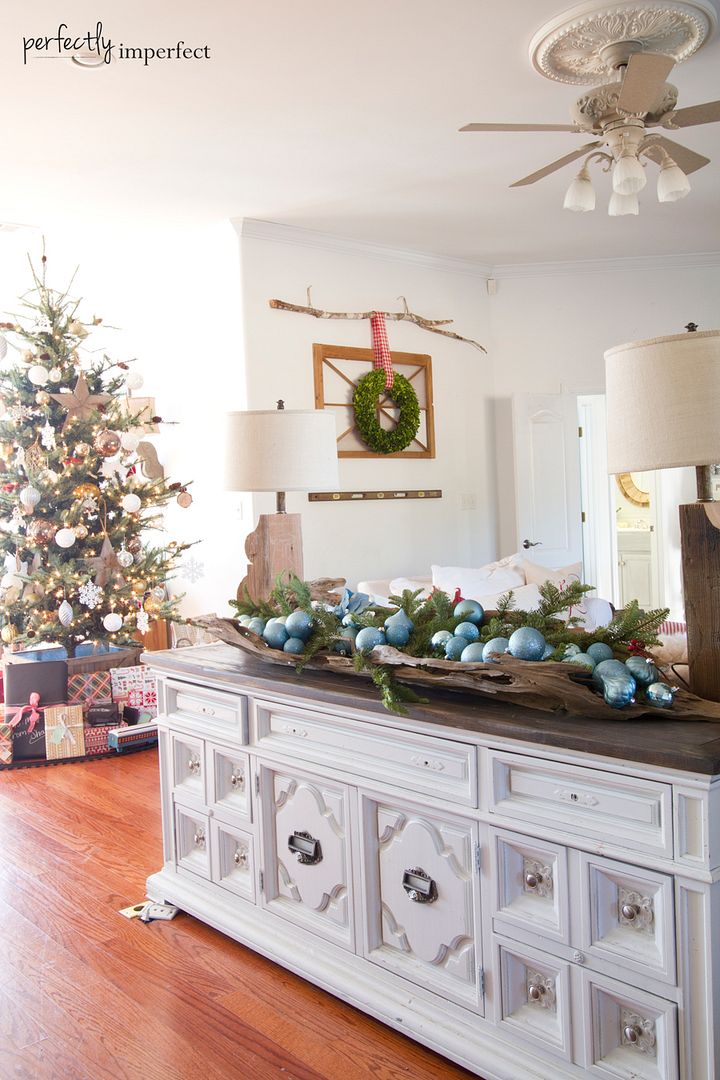 I know this is kind of silly, but this driftwood is one of my most favorite possessions.  That guy gets filled with all sorts of decor seasonally, but it is usually left as is.
This is our living room, left pretty much the way it usually is…minus the piles of toys.  We threw festive pillows on the neutral furniture to pep it up a bit.
I wanted a simple, wintery mantel this year, and it all began with these J-O-Y letters I got from Son of Whale on Etsy.  LOVE these!
I used silver balls, garland, and white accents like the bottlebrush trees, painted books, and snowballs from our shop.  I also brought the grain sack stockings home from our store…couldn't help it.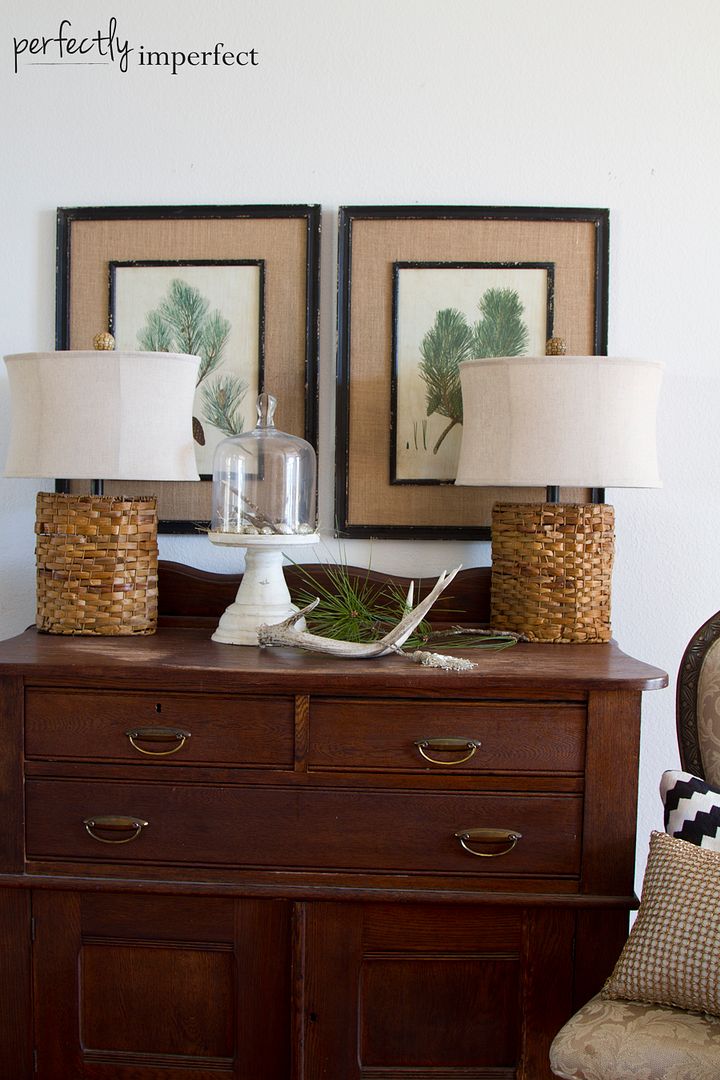 This is probably one of the pieces I'll never paint…maybe.  Plopping some antlers and fresh greenery on it was all it needed.  All this texture makes me oh so happy.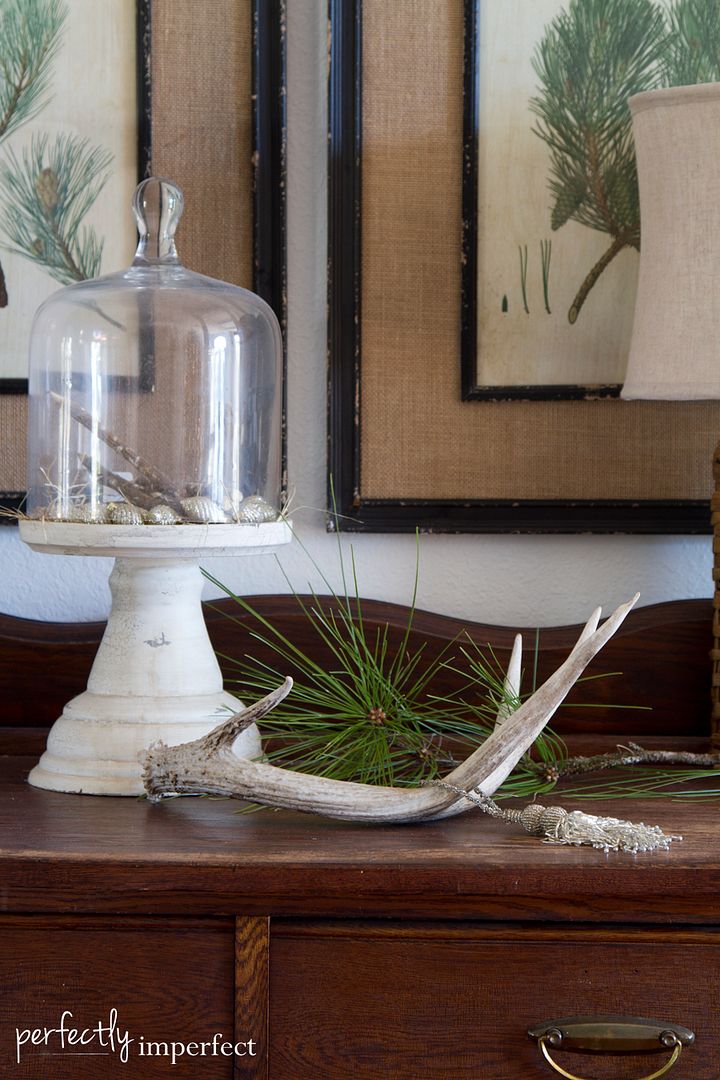 This year our tree has mostly whites and metallics, and white tallow berry stems, with our special ornaments mixed in.  I went for no garland, and I really like how many ornaments we were able to stuff into the tree.  I keep adding more, and might keep going, but it was time to stop and snap a picture.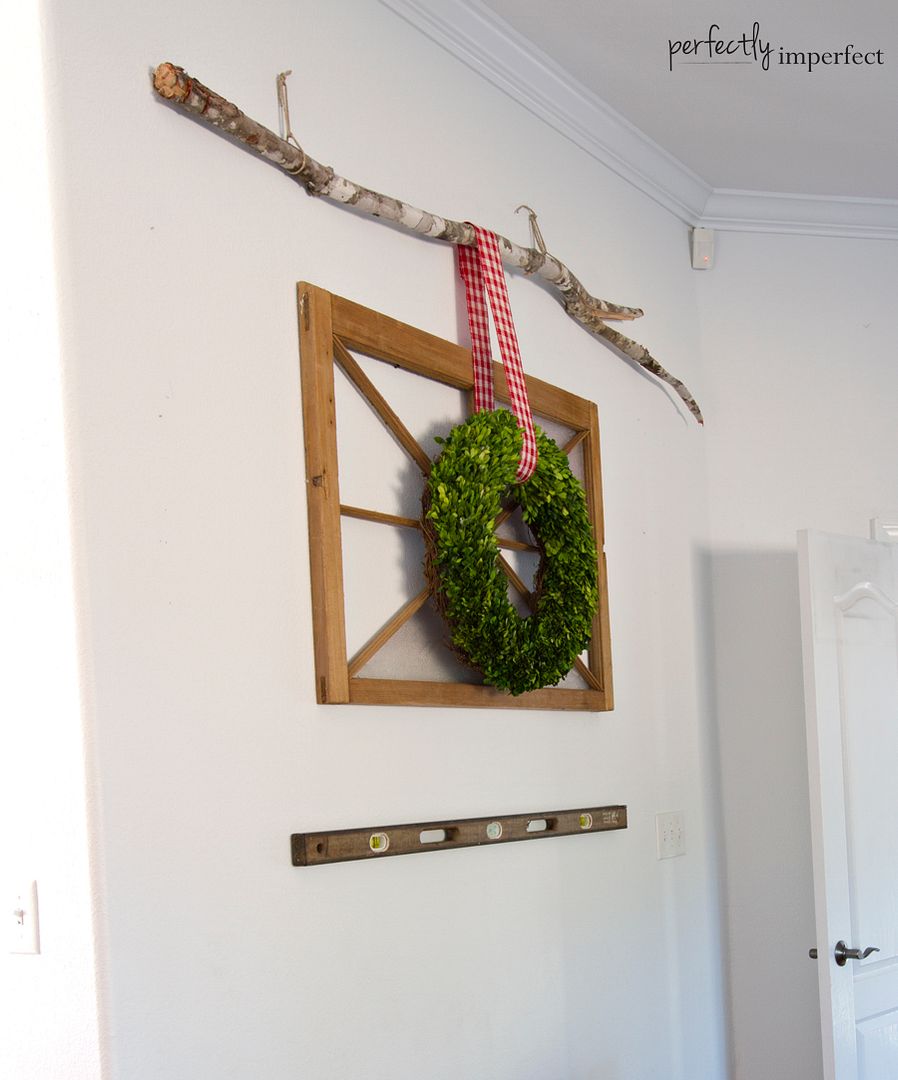 I love using fresh greenery and wreaths, and this old window came from an architectural salvage shop in New Orleans.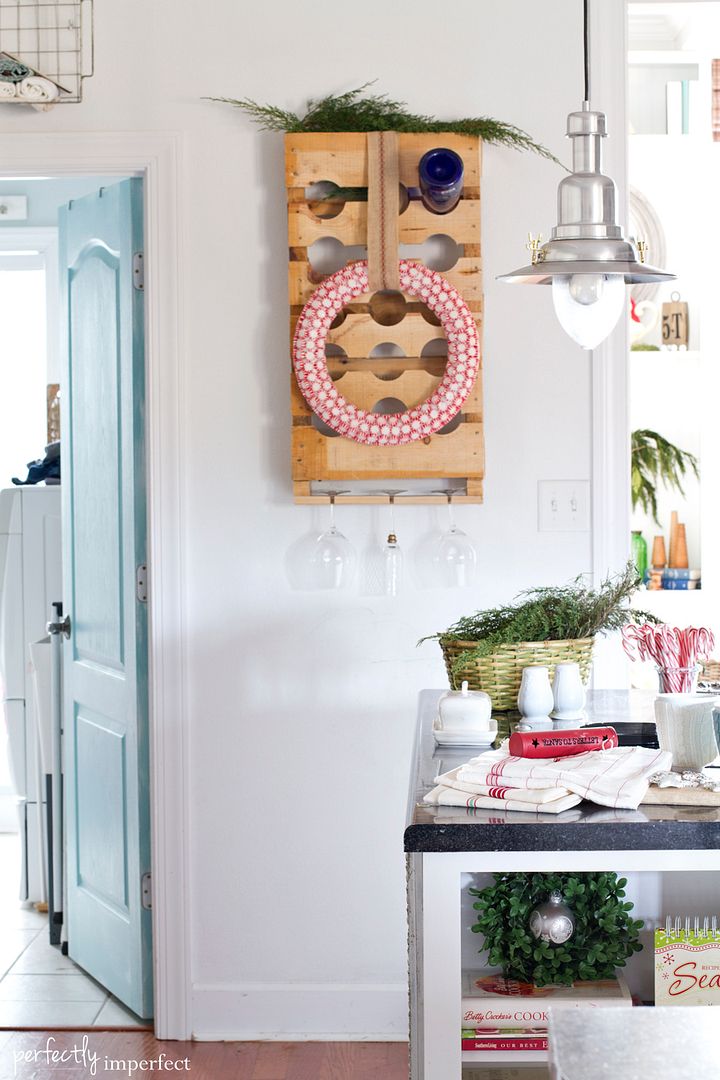 We keep it very simple in the kitchen, limiting most decor to edible snacks and hot chocolate supplies.  Our peppermint wreath tradition continued this year…if you haven't made one with your little ones, do it.  Tons of fun.  Just hang it high enough so they won't lick it every time they walk by.
🙂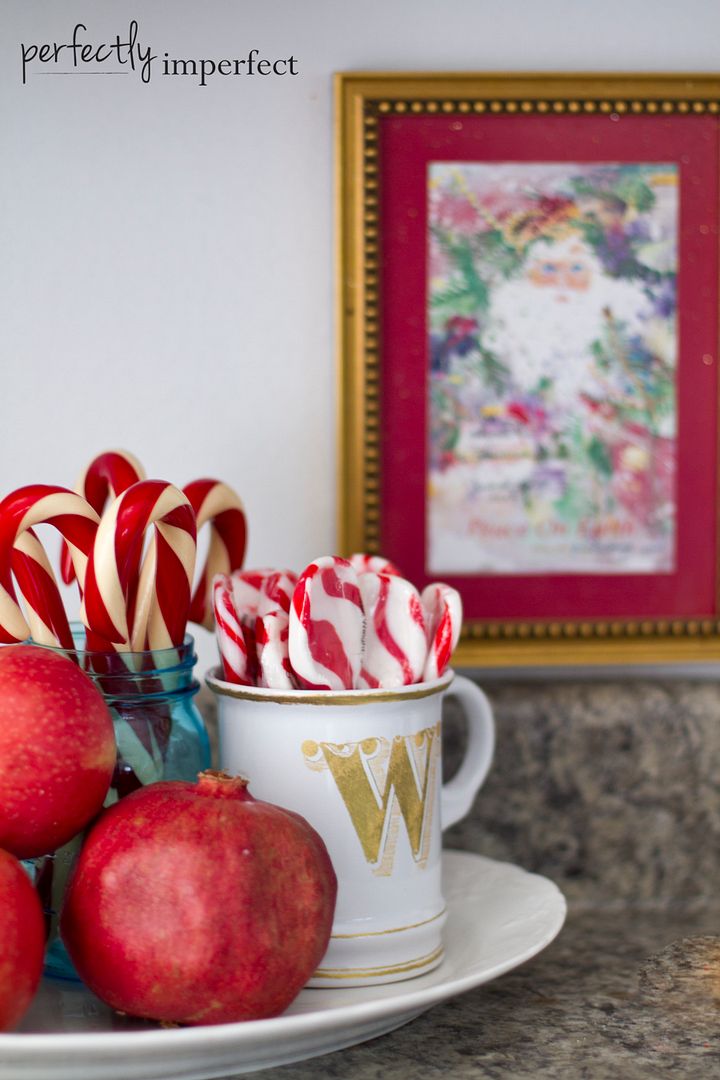 I'm a huge fan of big candy canes and candy cane spoons for decor, and bonus, you get to eat them.  The spoons would make a great gift, too…yum.
Our kitchen opens into the dining room, and I like to keep tablescapes conversation-friendly in here.
And I'm a rule breaker.  I totally mix blue mason jars with silver and fine china.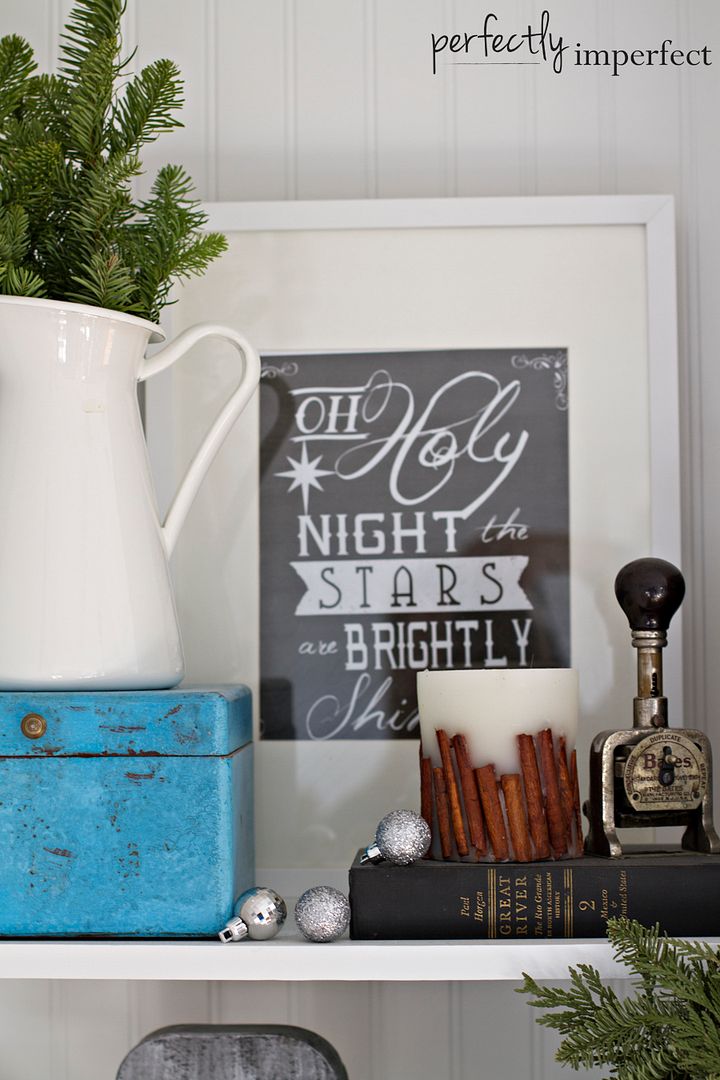 I splurged this year and ordered two beautiful fresh mixed green wreaths from One Kings Lane…they smell heavenly and are supposed to last up to a year if kept inside.  Maybe I won't kill them off too quickly.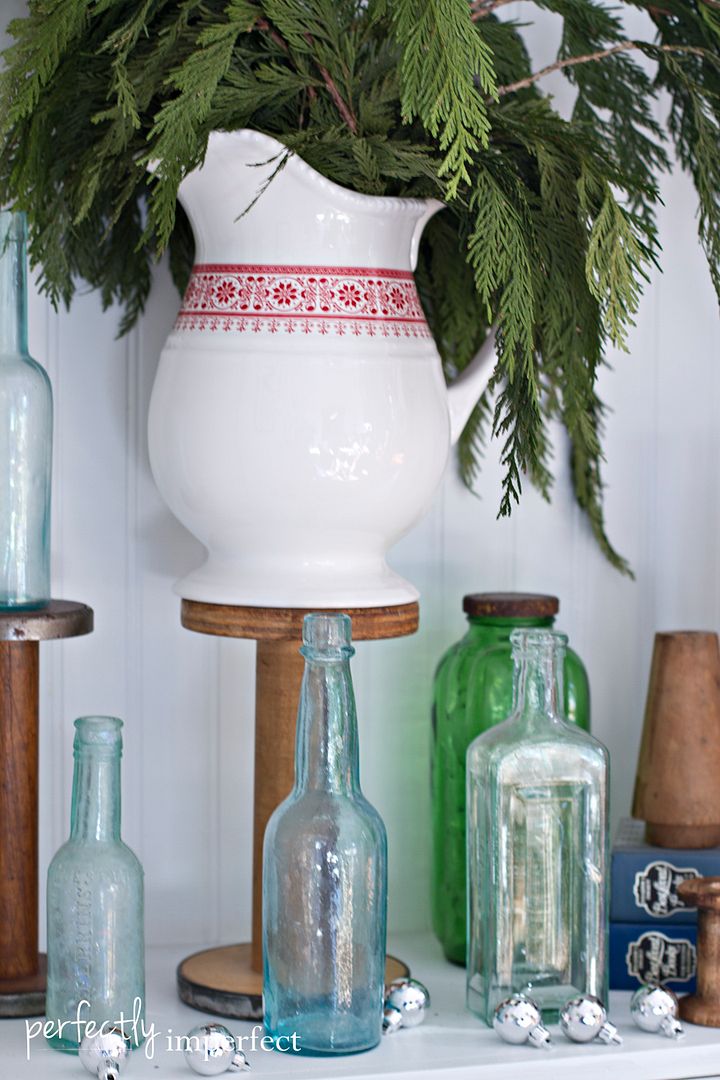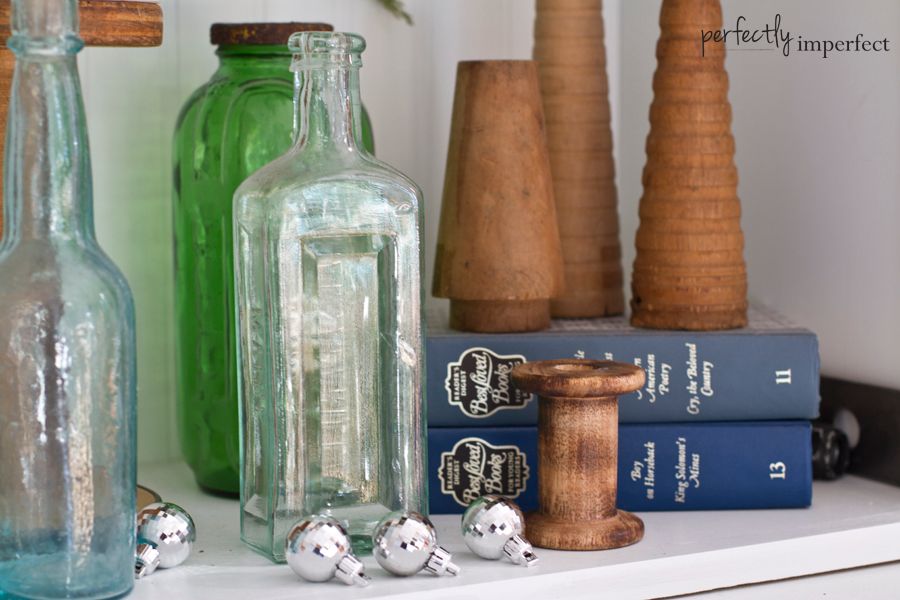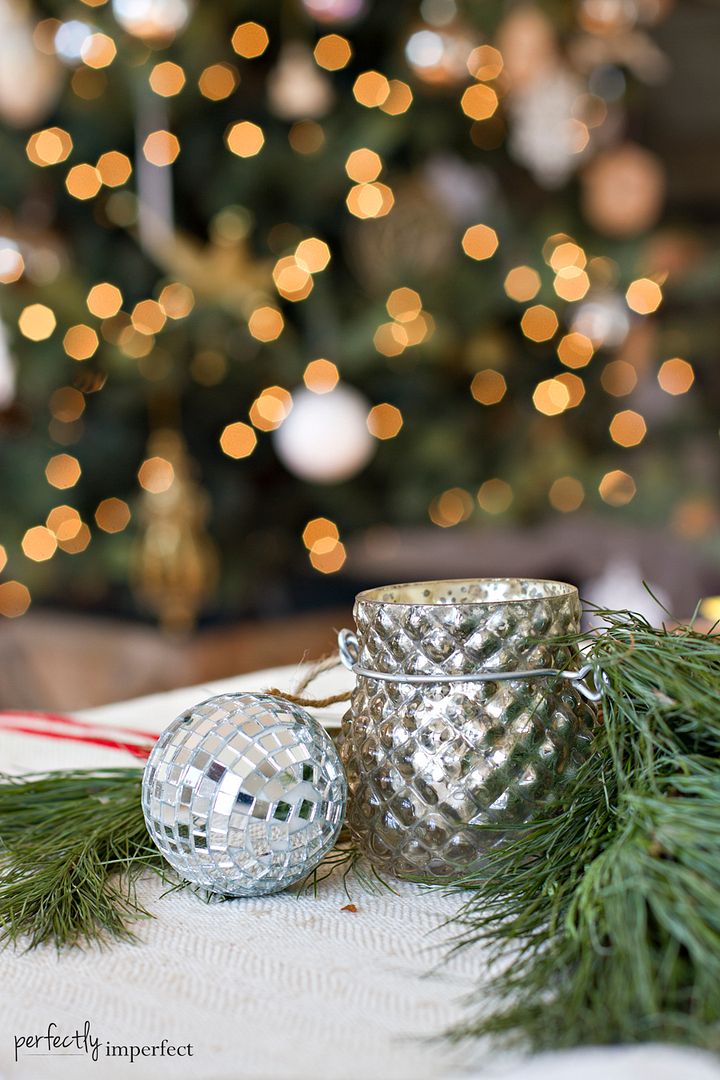 A bit of the holidays made its way into our laundry room…and the rug is crazy wrinkled and that's how it stays most of the time.  #keepingitreal
We recently started working on our back porch in phases.  We've finished the swinging daybed, table, and just had the ceiling finished, so it is still waiting for paint and a new fan, but I couldn't resist a little decking out here…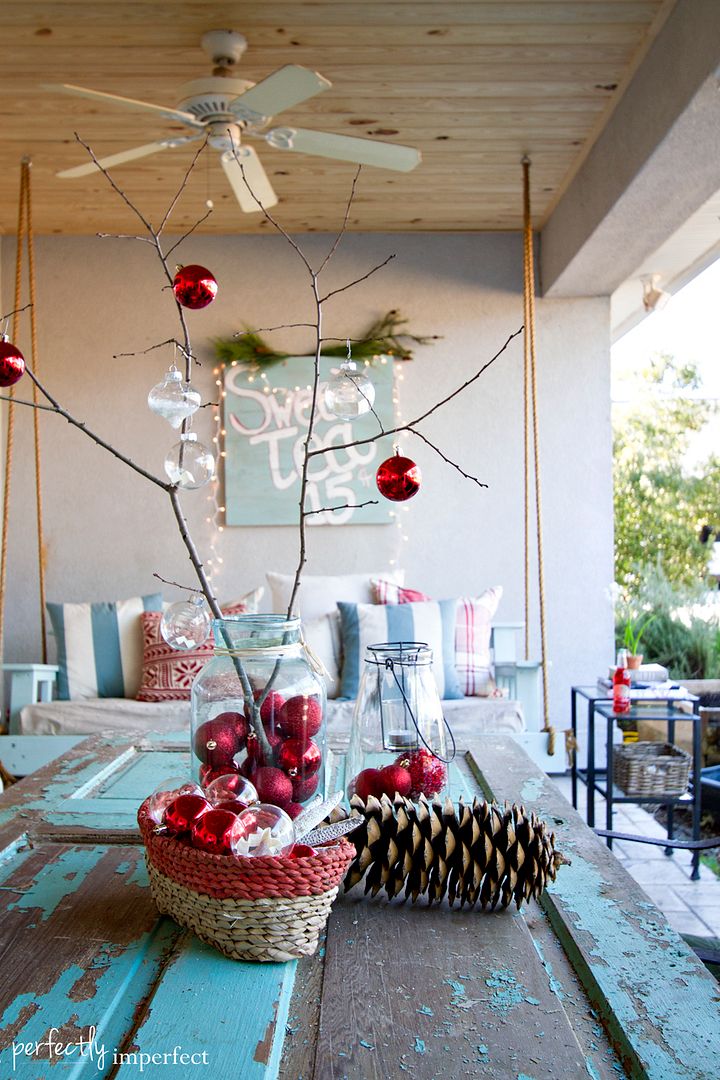 In the playroom/homeschooling room, it's all kid-friendly and colorful.  Homemade ornaments and felt trees mix with some of the kids' favorite trains and Santas.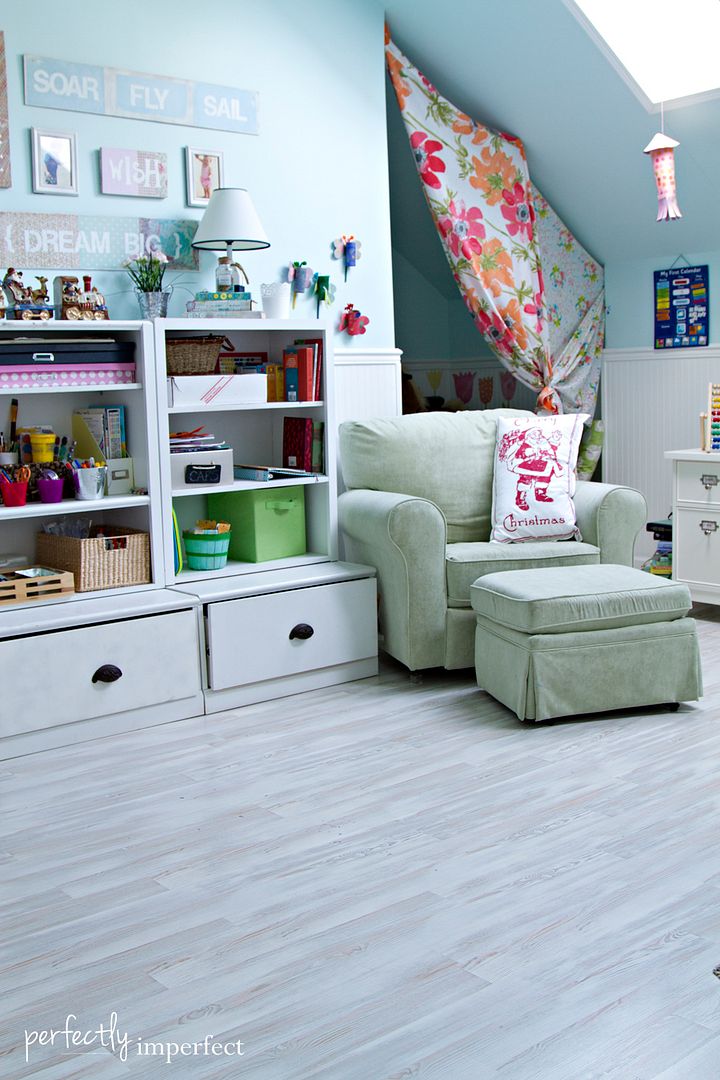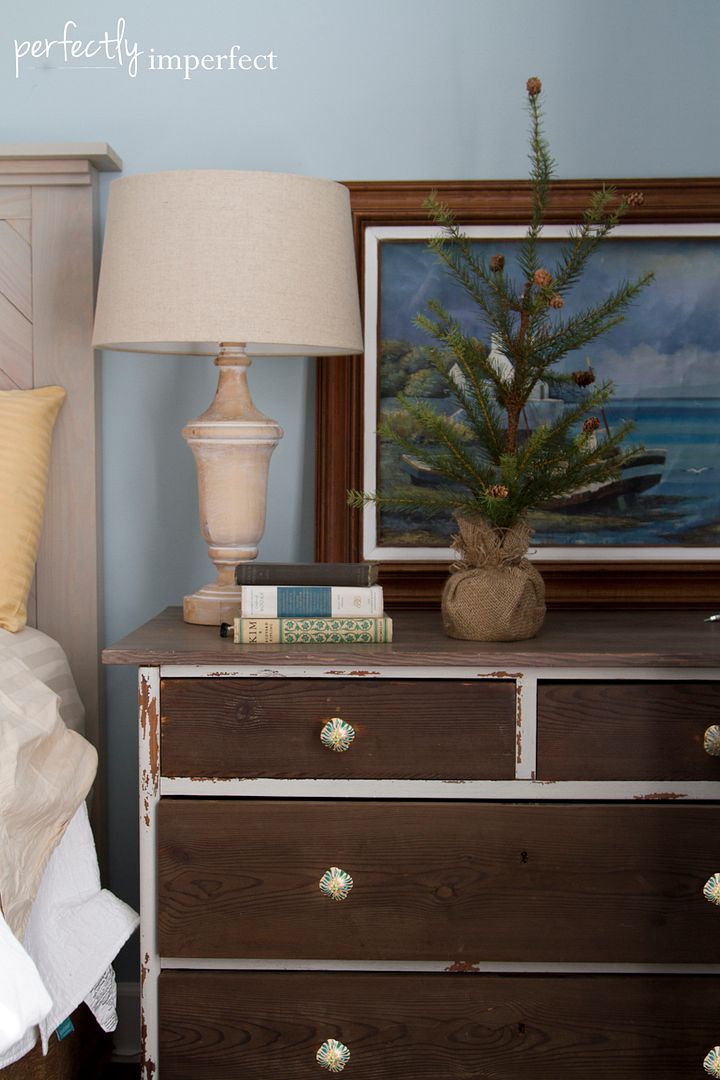 The guest room and bath decor is simple.  A mini burlap wrapped tree sits by the bed and some faux snow on the chest of drawers is as far as we got in here, but I love having just a little touch for holiday guests.
Since I just crammed 50ish pics of our home into one post, I thought I would save the kids' rooms, theater, and office for tomorrow.  I hope you come back to see them, but here are some sneak peeks for you until then…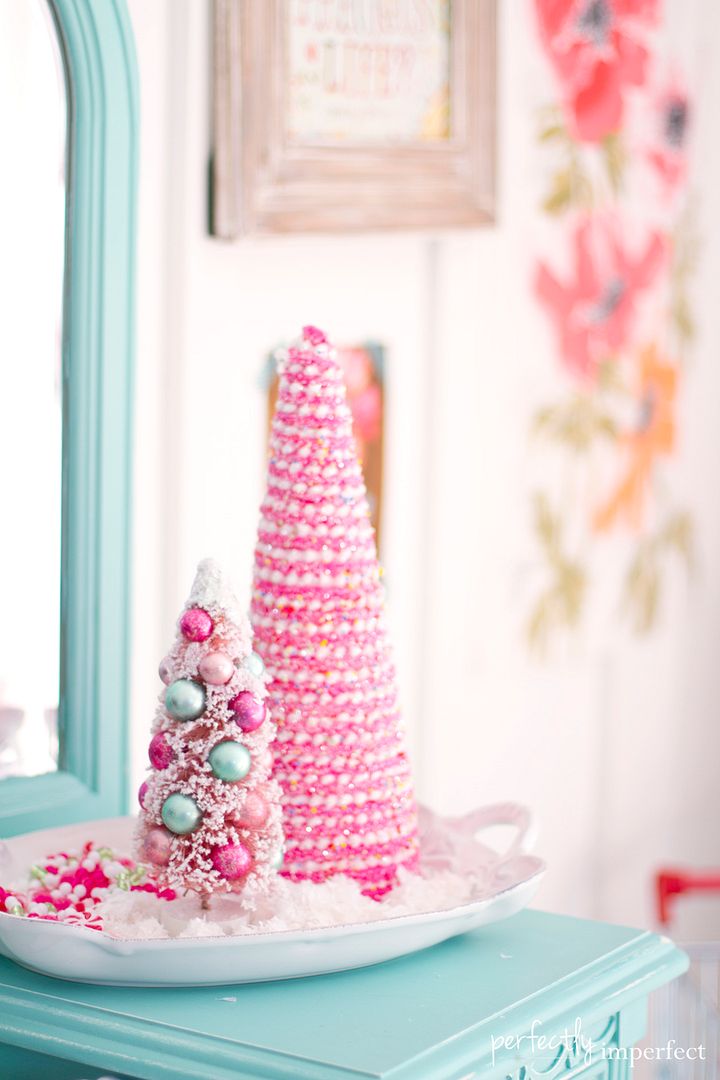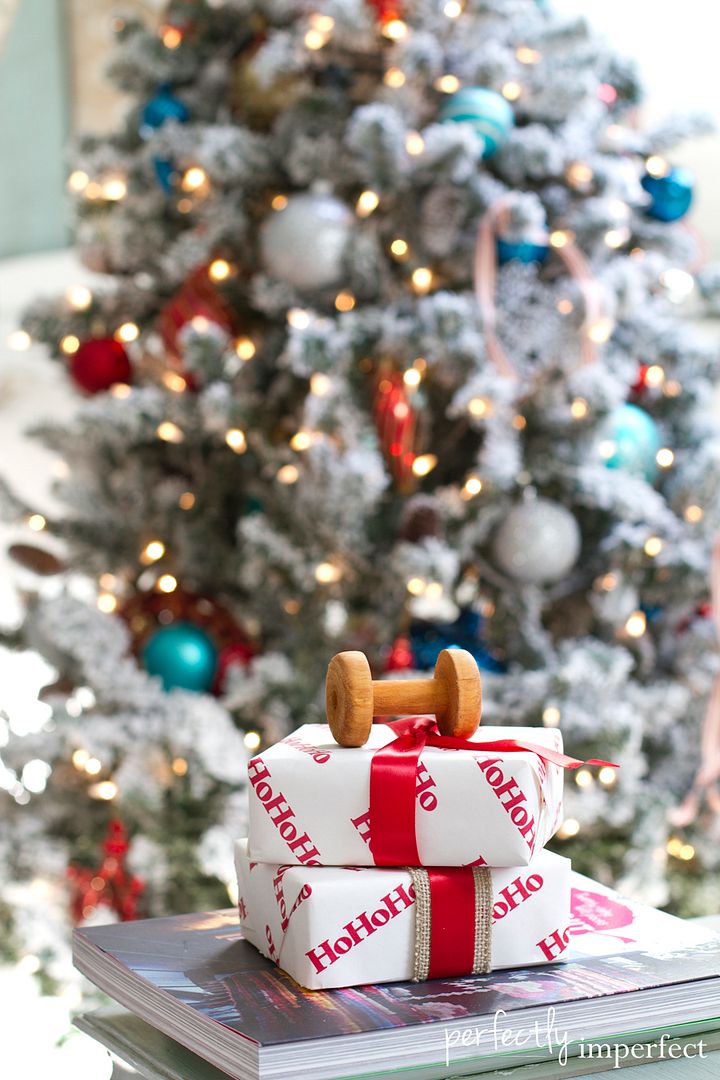 World, meet Stella.  She rocks my socks off right now.
I hope you enjoyed part 1 of our Holiday home tour!  Come back tomorrow for the rest, and Merry Christmas to you wonderful folks from our home to yours.
If you want to see the office, and part 2 of our Christmas Home Tour, click here.
To see Christmas in The Kids' Rooms, click here.
Be sure to continue the tour over at my sweet friend, Traci's, cottage farmhouse, at Beneath My Heart, and follow along the rest of the tour.  I've listed all the homes and days below.  Tons of beautiful inspiration awaits for y'all.

Monday:
Tuesday:
Wednesday:
Thursday: