Hello my lovely friends!
We just made it home from a quick weekend getaway to the beach, but I couldn't wait to show you Ava's room reveal today!!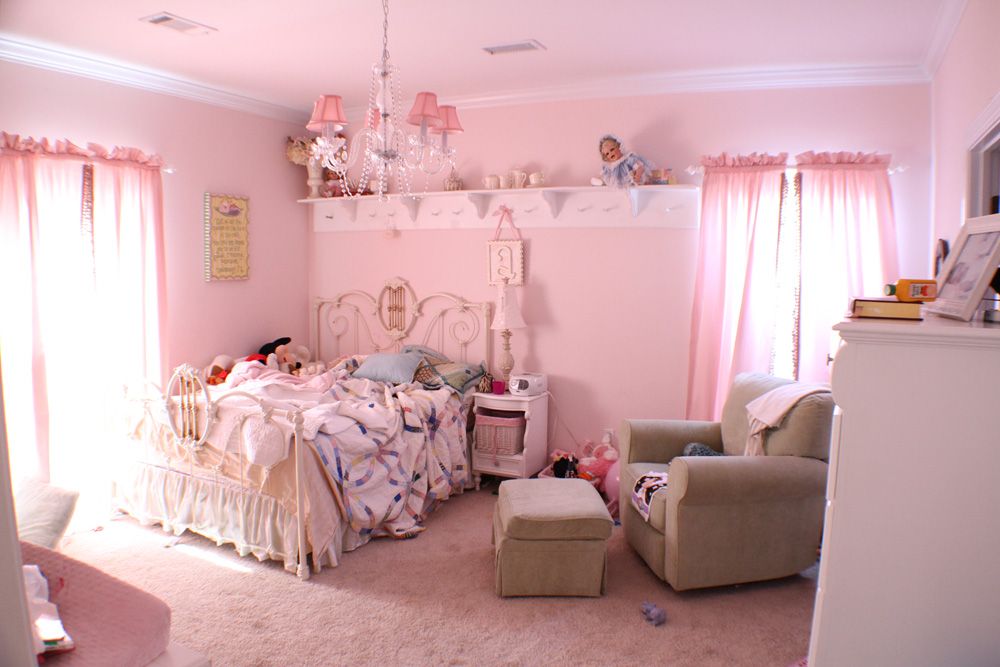 This was little Lou's (her nickname) room a couple of years ago, and honestly isn't a totally fair "before," because this was Gray's room before hers, and this was the hodge-podge stage of converting it from a nursery into a big girl room.
Back last year in September, we painted the walls, ripped up her carpet, laid down pine painted flooring, and added floor to ceiling board and batten.  This project felt like it took us the longest!  After the major rip out/put back in, we were beat and opening a new shop and there was little time to finish up her space.  We slowly collected it all over time, and here's what her room looks like now…
I am in love with this space!  I really wanted her room to be bright and fresh,  with lots of white but loads of pink (her favorite), coral, & orange.
This is what we showed you a little while ago, but we did more updates since like adding natural woven blinds & more.
So that the room felt a little more balanced since we had two weirdly placed windows, Matt built bookcases to flank her window.  We went back and forth for months on the design of these.  We thought about connecting them (but my mom made beautiful curtains for Ava we were keeping), thought about creating a corner bookcase to mimic the window on the back wall (but the storage isn't very practical), and ultimately decided to go with simple flanked bookcases that could be moved around throughout the years.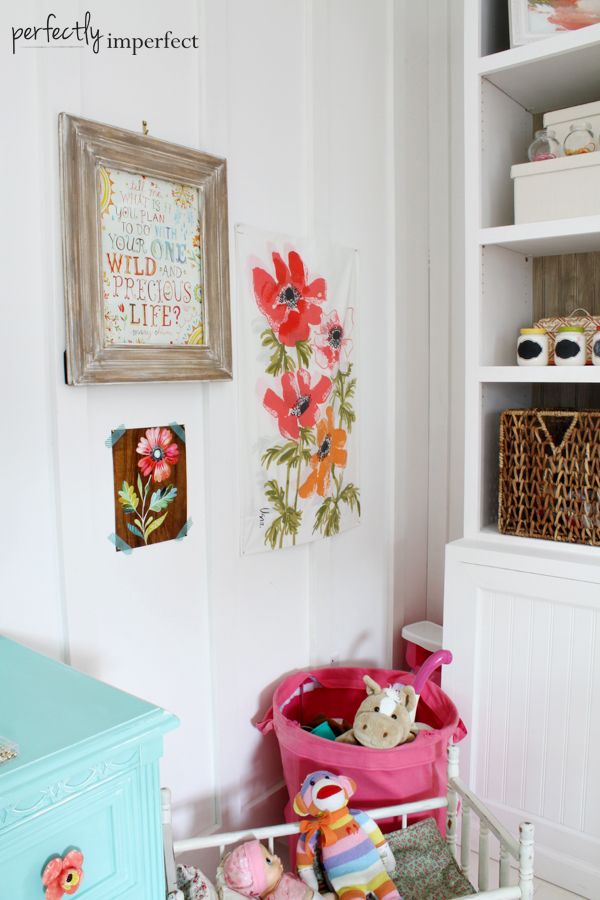 We were going for a cottage vibe with fun vintage touches, and it was so much fun to find different elements to bring into the space (like the vintage pillowcase that's now hanging on the wall & antique baby doll crib).  I'm also in love with Katie Daisy, so you'll see her artwork in Ava's room a few times.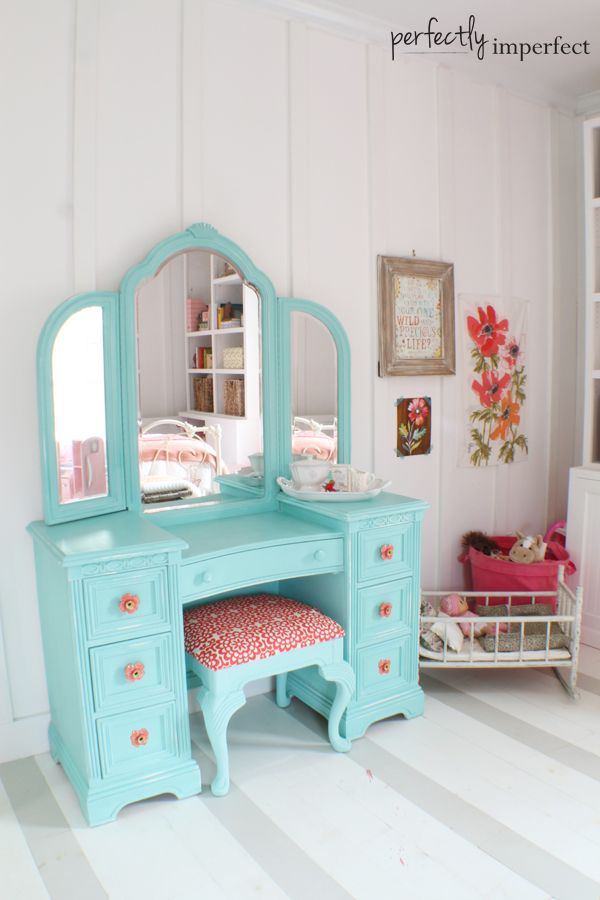 A few of the pieces in her room were mine growing up, and this vanity got a fresh coat of paint and a recovering with a fun Amy Butler coral/orange print.   I love keeping the furniture that I grew up with, giving it new life and keeping it relevant in our home.
I dressed down my old iron bed by making a fun art gallery above filled with inspiring quotes, watercolor art, & pics of our favorite girl.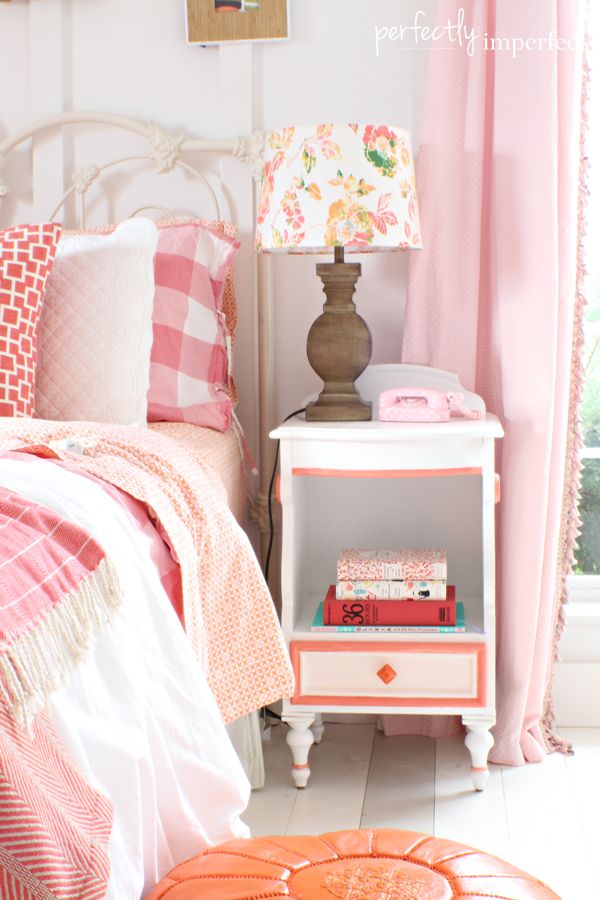 The nightstand was another piece to get a fresh update…and man, am I in love.  P.S.  I also love how that small teacup made its way into the shot, rumpling Ava's bed linens…tis the way we roll.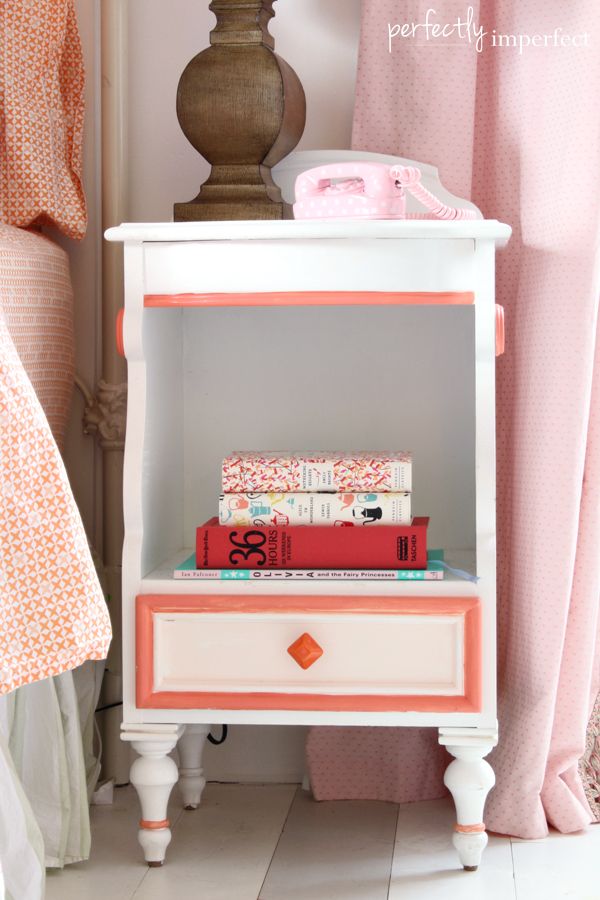 I just painted on 2 coats on the inset of the drawer, then used a outlining brush to do the trim pieces in a bolder color (sources tomorrow!).  I found the melon knobs at Anthropologie, and not only do I love the color, but the touch of brass helps pull the brass in the bed together.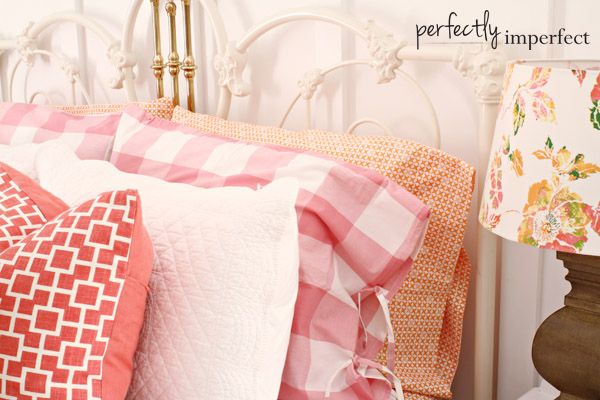 I showed you her bedding back in the spring, and I am so drawn to the happy mix of colors and pattern.  I think she is too…she is a blanket girl, so while she doesn't use all of them that have found their way onto to her hodge-podge bed, she uses them all for baby blankets, playhouses, and the occasional wedding veil.
I took the opportunity to use functional & pretty storage on her bookshelves.  Big baskets & linen boxes from Ikea hold the larger items, while vases, tins, and pretty bowls hold dress-up jewelry, nail polish, and crayons.
I wanted to pull some art into the bookshelves, so I put most of our Penguin Classics & DIY covered books here & also framed simple scrapbook paper and paint chip art.  Simple, cheap, and adorable.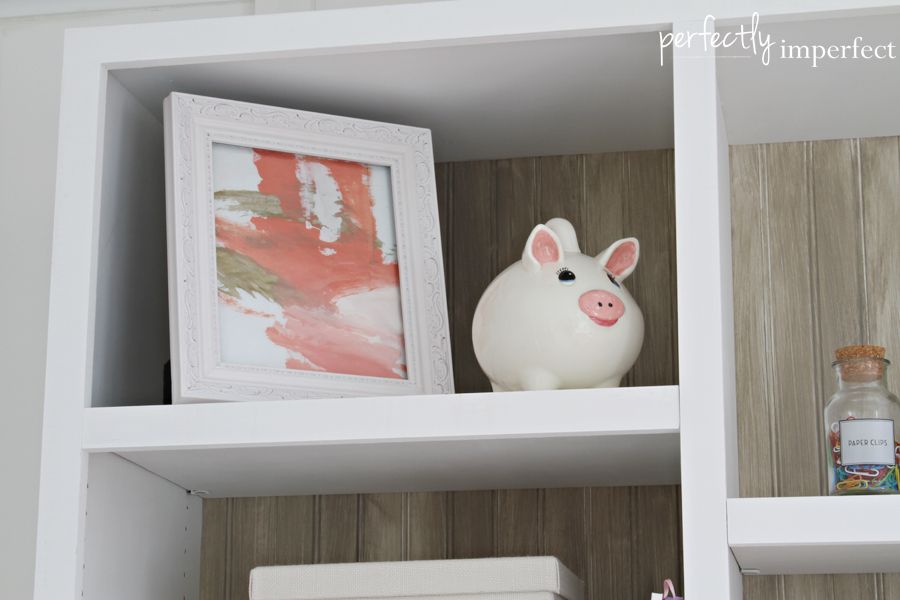 I love encouraging our kids to get creative, and Ava created this art all by herself…I was so happy to see her face when she saw her masterpiece framed in her room!
Speaking of the little miss, she was buzzing around while we were shooting her room, and eventually we couldn't hold her back anymore, but I'm so glad…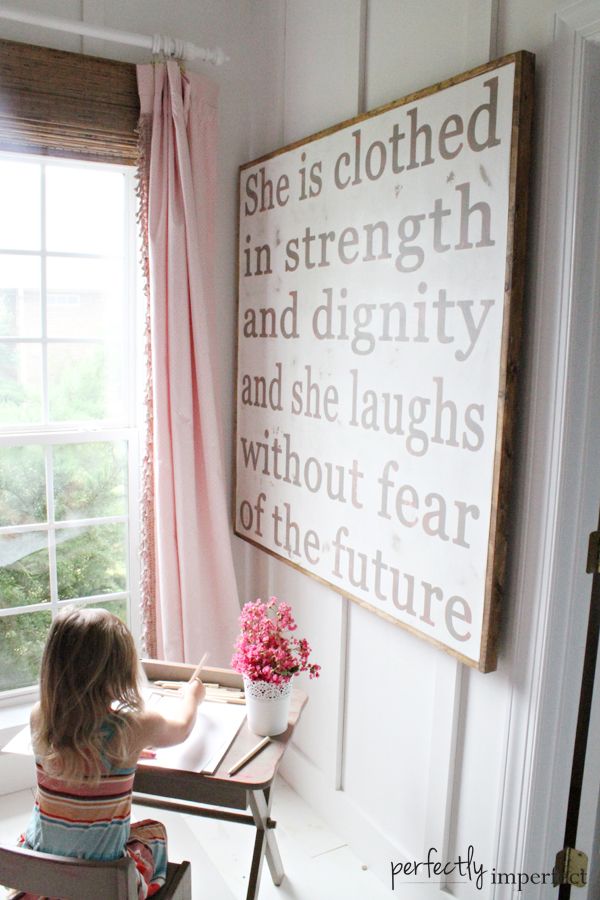 She was SO sweet, and her sitting in front of her sign that Tiffini made her, the moment overwhelmed me in the most beautiful way.  She is such a little one in a big world, and I pray this message is stamped on her heart in every single way.  I can't say enough wonderful things about Tiffini, and she and her girls outdid themselves on this one…this isn't simply a sign, but a prayer & a Message…thank you, sweet friend, for creating such meaningful art for my little girl!!!
This one took a while, but that's how we tackle big projects…a little at the time as it fits with our schedule.
Stay tuned tomorrow for some sources…can't wait to hear what you think & I hope y'all have an amazing day.