Right before Christmas, Matt decided we should rip out Gray's floor and build him a bed.  One week out until the big day.
What the what?
But I got out of the way, and let him love his boy, and well, he built the bed and changed the flooring in enough time to slap a big red bow of Gray's bedroom door.  I kept waiting to finish the room to photograph it (and completely finish the bed), but you guys swear you don't mind in between pictures, so here we go…
How do you like that for realistic bedding?  7 year olds and made beds don't always mix.
We can write an exact tutorial I suppose, but Matt basically changed the dimensions and used these plans.  We already had a queen mattress so there was zero reason to chunk it, plus building a queen fort bed will probably last Gray much longer than a twin would.  (P.S. Our bed is just shy of 8 feet tall at the center point and wide enough to hold a queen mattress.)
After Matt built the pieces, I stained the piece lightly with Rustoleum's Weathered Grey.  The steps aren't finished yet, but I plan on using milk paint for those…probably adding some numbers or something to create some interest.  Without all the decor in place, the room can feel kind of bland.  I'm loving those antlers, though, donated by my brother.
The finishing touches on this room, though, just keep getting put on the back burner, so I just walked in the other day and snapped pictures of my little guy while he was reading.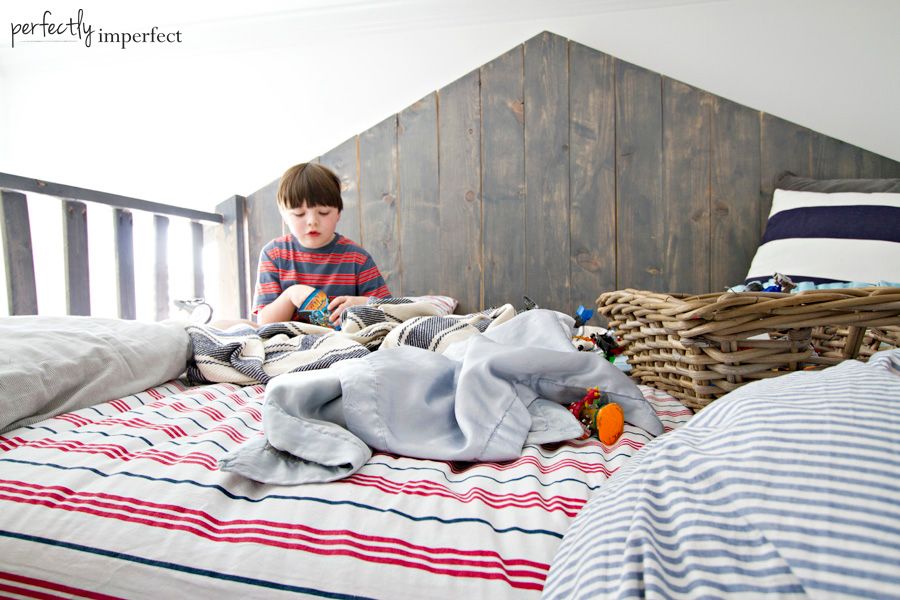 A boy's bed.  Wadded blankets, super heroes, and some form of cheese puff.
We are loving the bed, and more importantly, so is Gray.  Bonus?  It cost about $250 to build, so once he's older we won't feel crazy to take it apart and sell it.  Or hang on to it for some grandkids.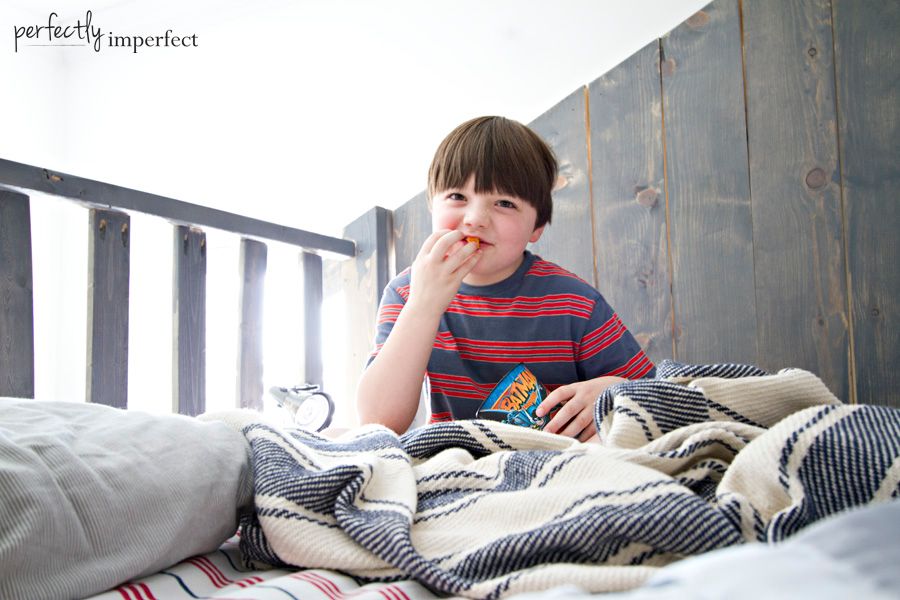 That kid and his snaggle teeth.
As for the rest of the room?
We've got a little ways to go.