You guys know I LOVE Annie Sloan Chalk Paint.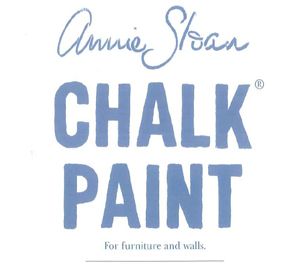 I think you know why, but I want to be sure you do.  I'm not really into anything "just because."  I'm sort of a purposeful, all or nothing kind a gal.
I wanted to break down the costs a little…chalk paint vs. latex costs, plus, I wanted to talk to you in more depth about why I am choosing to (mostly) use it.
Let's talk moo-la.
Okay, we're going to break down the cost of chalk paint vs. latex in dollar amount first.  This is going to be a random, explanation-behind-my-brain kind of post (hello–I'm a creative), not simply one tidy list.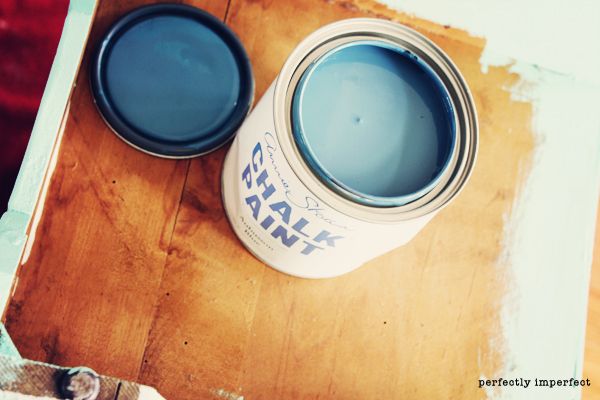 For this, let's consider we're painting one medium sized dresser/chest…one kind of like my entry dresser.  For both supply lists, I'm working with sanding blocks and no electric sander (I realize some of you have these, but we're hoping that if we're re-painting a piece there's no reason for serious electric sanding…if so, let's strip that sucker and be done with it.)  🙂
Supply List for Latex Paint Projects:
2 Sanding Blocks (one fine and one medium)  $3.97 each
Gallon of Latex Paint $27.97-32.98 per gallon
2 cans Spray Kilz (this eliminates the step for major sanding and brushing on primer) $5.48 each (if you just never purchase this, a gallon of Kilz Latex primer is $16.77)
Deglosser (if there is a shiny topcoat or if legs and curves need roughing) $5.48
Top Coat (both Minwax Paste Finishing Wax & Wipe On Poly are close to $10 each)
cloths (again, some of you might have some old ones…but we're approaching this as if we don't have anything in our garage) $2.09
one Purdy (because that's what i use) XL Cub $12.27
Grand Total:  $73.26-78.74 (excluding tax)
I realize that you will use any leftover primer or paint on your next project, but here's the thing I know….a lot of times specific colors will sit in the garage for a while…I know I paint all the time, and ours really does form some permanent hang out spots while waiting for us to reach for it again.  With white and neutrals, this is a little different…we tend to use and reuse those lighter colors quite quickly.
Supply List for Chalk Paint Projects:
1 quart chalk paint $34.95
Purdy XL Cub $12.27
1 Sanding Block $3.97
rags $2.09
Wax $4.99-24.95
Grand Total: $78.23 (excluding tax/shipping–does include Annie Sloan Soft Wax at $24.95)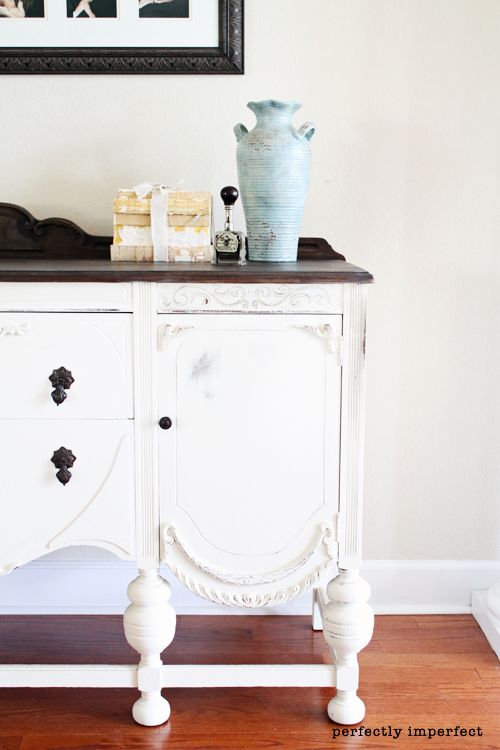 Crazy, right?
Now, I know, I know.  I'm not done.  There's some issues we're going to work through.  I've worked through them with my frugal husband…and I get it.
Let's talk about coverage first.  A gallon of paint covers around 400 square feet and a quart of chalk paint covers around 150 square feet.  When Matt and I first talked about buying some chalk paint, we had a little talk with ourselves.
We decided that most of our gallons of paint (bought for furniture projects) sat in the garage for a while.  For a long while.  I didn't always need a bright turquoise or a gray-white….and so back to the store we'd go.
So, for us the square foot coverage was no big thing…we knew we'd use it on everything we'd need and it would sit in our garage like everything else.  I will say just for those worried about how much it covers:  I don't order it all the time.  Really.  I find that I always have more than I think I will at the end of a project.  I fully believe this is because the paint is not mixed with black pigment (minus Graphite)–this means a higher quality of paint and richer pigment….which means it covers like crazy!
For us, the case was closed on that issue after we used our first 1/4 of a can on a huge table (coating it twice).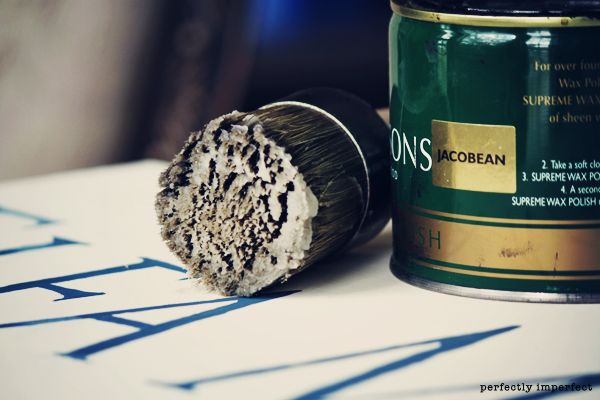 Let's talk top coat…you definitely need one with chalk paint, and really with latex if you'd like to keep the finish very long.
If you love the idea of chalk paint, and really want to save some money…then go for a cheaper wax.  I will tell you that Annie's wax was created to work with the chalk paint, and I find that I can create exactly the kind of finish I want with it.  As you can see from the pic above, I don't have Annie's dark wax (I'm hoping I'll get some soon), and I like this one from Fiddes & Sons…but I LOVE her clear soft wax.
I mostly love a more matte to lustrous finish, rather than glossy…however, I wanted a shiny lacquer-like finish on my barstools (pic above), and by buffing more, I achieved more sheen.  That's the beauty of furniture wax–you have more options.
I'll definitely still use a poly or a varathane, but I mostly use those on dining table tops (I used Varathane on our dining table).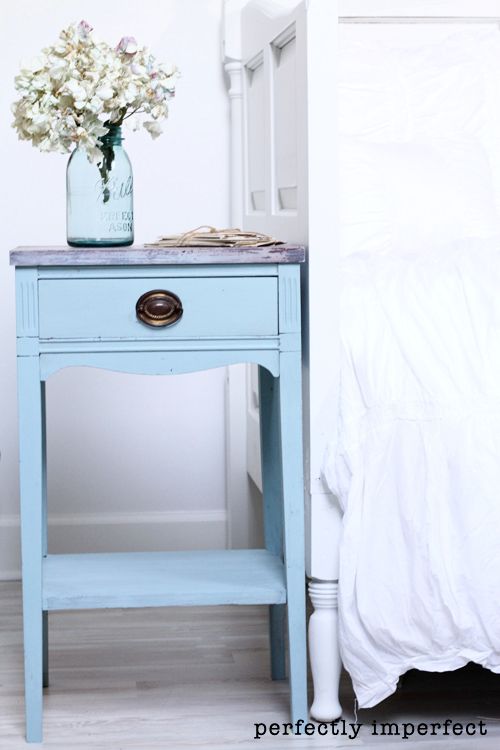 Once I established that we were talking about the same initial costs, it was time to weigh time vs. (some) money.  Let's talk about the time factor…
Y'all know the drill…no prep.  Straight to the fun stuff.  That's not to say you'll never have a piece that needs some sanding…but the only reason I sand before using chalk paint is to smooth a rough edge on a corner, etc.  We're talking a minute of sanding versus (sometimes) an hour or more.
The image above is from my ebook…there are many tips and tricks on creating beautiful finishes with latex paint.  Now, don't get me wrong, I still firmly believe that those finishes can be created with latex or oil-based paint.  I know I'll use it again.  I also know that chalk paint is simply easier to apply for me and for the beginner.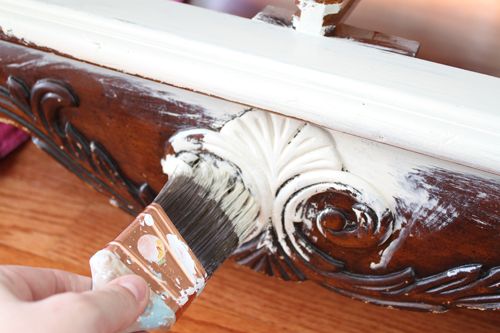 This was my first attempt at chalk painting.  I just slapped that stuff on…really testing the "no brush strokes" claim.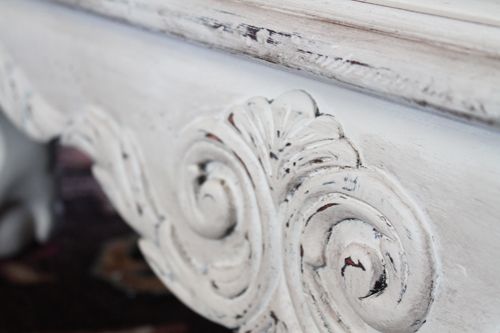 And there it is…our newly finished coffee table (that had layers and layers of furniture varnish on it…still beautiful, by the way).
The lighter colors like old and pure white have a little more texture to them…they're a little thicker.  Because of that, you might notice more texture or "strokes."  But…for me, chalk paint creates a look (even if there's more brush strokes in the whites) that feels natural and artistic.  The more saturated colors have more pigment and are a little thinner.  If Old or Pure White feels too thick, simply add a little water to it.
*By the way…my photos of each chalk painted piece have only been retouched for sharpness and color accuracy.  What you see is whatcha get on the brush strokes (or lack thereof).  🙂
More reasons why we took the chalk paint plunge:
It dries SUPER fast–I love completing a piece in start to finish in one afternoon with no worry that the paint will adhere properly.
Eco-friendly–plus, it's totally safe to use around our kids.
Cleans up with water
Cleans out of our brushes WAY easier, extending their "life" a lot longer
Comes in gorgeous, original colors (that mix to so many more…and the pigment, hence quality, never dilutes)
Distresses beautifully–it was just made to use on furniture.
Adheres to any surface–see our chalk paint pumpkins below.
More than anything else, you know from my ebook, Creating Your Masterpiece, I believe painting furniture should be fun and a relaxing, creative process.  For me, chalk paint supports that experience most…and it's awesome for beginners too!
There you have it in a nutshell, folks.  Why I'm in loooove with chalk paint.
For more info on where you can find a local stockist, visit here.
I featured several gorgeous chalk painted pieces yesterday, and here's a few more of my favorites from around the www.
Louis Blue & Old White Buffet from Miss Mustard Seed (be sure to check out all of Marian's Chalk Paint posts!)
Paris Grey/Old White Chest of Drawers from Centsational Girl
Layered Chalk Paint Hutch from Savvy Southern Style
Paris Grey Vanity from Hueology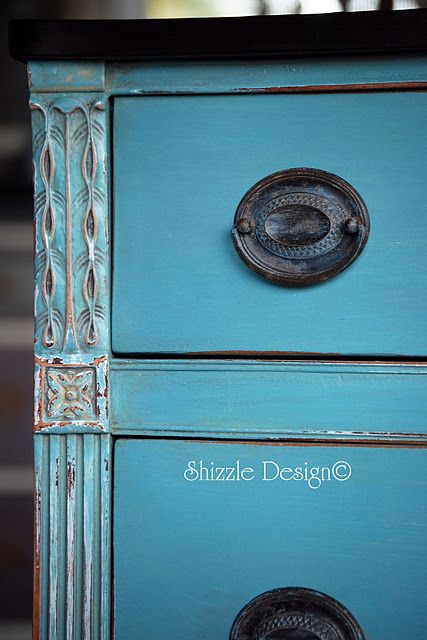 Provence Buffet from Shizzle Design
Coco & Old White Hutch from The Shabbiest Chick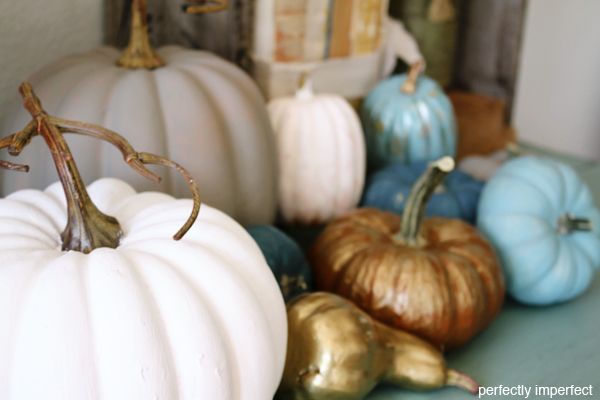 Okay, these are mine, but I do love the chalk paint pumpkins!
🙂
I hope this forever settles your mind on the chalk paint debate–there's not one.  GO FOR IT and have fun with it!
Feel free to leave any questions in the comments or leave us some links to your projects!
**Disclaimer:  The opinions in this post are 100% mine.  I was not sponsored or compensated in any way…I just love this stuff and want to share this info with you.  I am not a certified Annie Sloan Stockist, and I highly encourage you to attend one of their awesome workshops–I'm going one day too!  Visit AnnieSloanUnfolded for more info!
*linking this post to:
Tip Junkie, Weekend Wrap Up Party @ Tatertots & Jello, Sunday Showcase @ Under The Table & Dreaming, Tips & Tutes @ HomeStoriesA2Z, Show & Share Day at Just A Girl