Y'all know how I am about crafting.
I love the results, but I'm not so into the folding of tiny papers or the stamping of handmade linen towels…I'm so impressed with the folks that are.
There's a whole section of my book dedicated to the semi-handmade, the quick and easy projects tackled in an hour.  Those are sort of my thing…sometimes.
I'm just getting into the official fall kick off in the shop and now in our home…just a little.  Between the book writing and holiday shop season, I'm a hot mess.  I'll keep it simple, but I did begin pulling out a little fall decor yesterday.
Remember those Chalk Paint (fake) pumpkins I painted two years ago?  They were SO simple and easy, and still remain one of the most clicked posts of our blog…see, some of you are simple crafters like me?!?!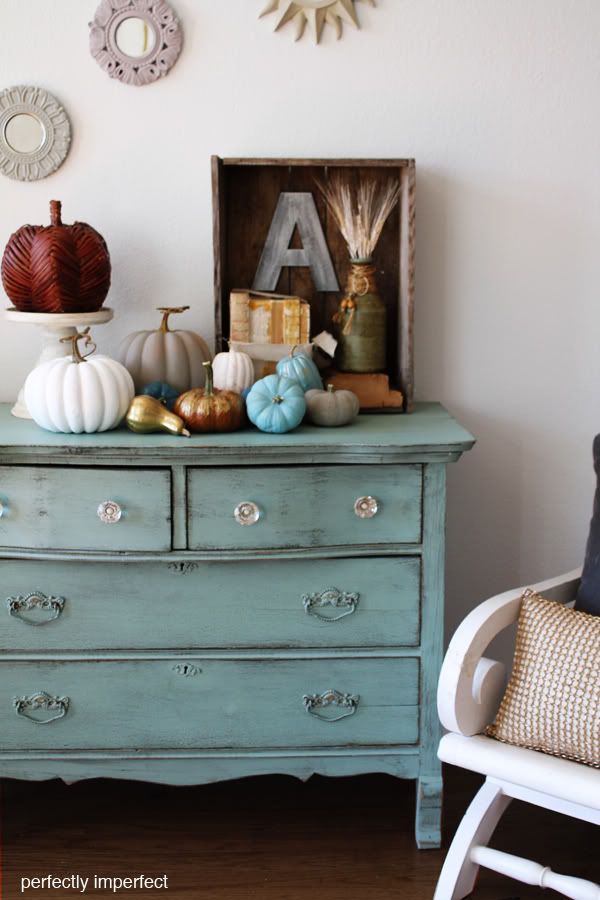 I didn't do much fall decorating last year since we were opening the shop, so I thought I'd share the post again in case you were around then.  P.S.  Funny to me now, but this was also the shot that was featured on The Nate Berkus Show when I was on…and it's the one piece in my house I didn't paint.
Back to pumpkins…like I said, it's fall in the shop, and we're gearing up for our big Fall window displays (i LOVE creating the seasonal window displays–i have this fun goal of making our holiday displays super anticipated like Macy's at Christmas. lofty goal? nah.).  In the name of the fall window, I'm back up to my old tricks again.
Something tells me this simple pumpkin painting might take more than an hour, though.