We are home from hanging in the room on the gulf coast, and while I wish we were out in the sun, the rain there forced some pretty special couch-cuddling, game-playing, lego-building moments.  We hope you and yours had a happy 4th, too!
Since December 2009, when I started this blog, certain projects and posts stood out more than others, and we've been getting lots of questions and new readers lately, and they want to know about 2 spaces of ours in particular:  the writing room & the playroom.
For those of you who are new(er) around here, we hope this post puts lots of project links and answers in one place for you!
Right after starting our blog, we began tackling an attic renovation–technically, an attic addition.  You can see from the before pic (of the writing room) we had built our home with the intention of finishing the attic one day by sub-flooring it & adding a stairwell for easy access.  When it came time to finish it out, we hired out the framing, sheet rock, water heater relocation, & installation of AC.  We then finished out the spaces with paint, trim, flooring, and adding all the furnishings…many of them built by us.
It was a long (5-6 months) process, but I have to say, it was really neat & inspiring to know we did so much of the work ourselves.  Many of the projects and posts we wrote during that time are what got our blog growing, and much to our surprise, turning it into an actual job for me.
I love unexpected surprises like that!
The space started out as more of a guest room space, with the daybed as more of the focal point.  P.S.  The daybed is one of the most featured, visited projects on our blog, and yes, we did build it from the doors of my parents' home.  It is one of my most favorite and treasured pieces.  You can read the reveal & the how-to posts.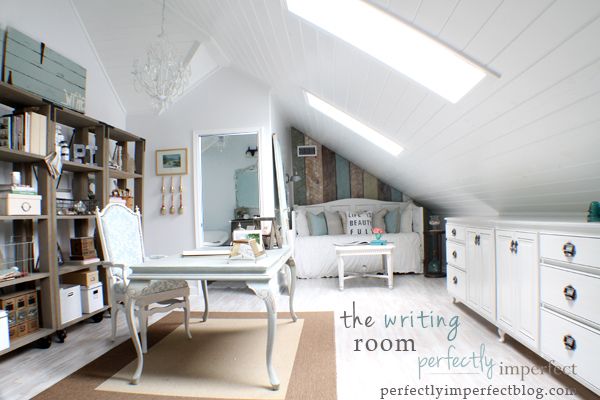 Over time, we needed the space to serve as more of an office/inspiration space first, guest space second.  We then did another redo of the writing room, adding shelves, swapping the desk & bed around, and building a removable plank wall to create a cozy nook for the daybed.  You can read all about the resources on those posts.
The space is filled with pieces that inspire me, like this $15 vintage table…complete with an old jar.  It is one of my favorite pieces in the house!  We went with my go-to white for the walls/ceilings, White Diamond by Benjamin Moore in a satin finish.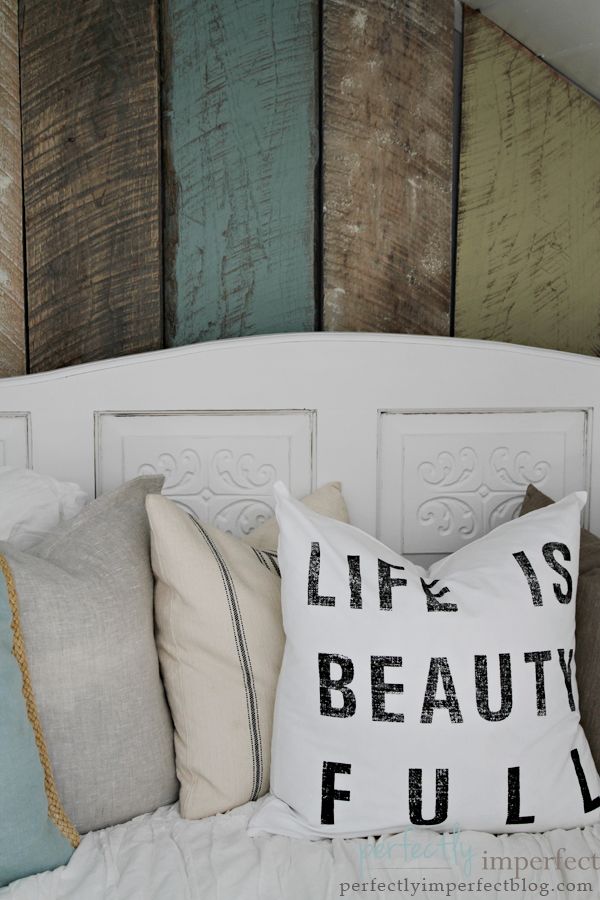 After the daybed, we are most asked about our floors upstairs in the writing room and playroom.  They are laminate and were from a discount lumber liquidation center in Montgomery, Alabama.  They were on clearance & discontinuing and we've never been able to find them again.  We LOVE the laminate floors up there…perfect for the kids.  Even though we can't share a link for our exact flooring, here is a similar choice from Lumber Liquidators.
On to the playroom…this space we created with little imaginations in mind.  I wanted it light and airy, but full of color to invigorate and spur on their creativity & dreams.  It was finished at the same time as the writing room (and theater), but this room has changed over time, too.  In the beginning, it was wide open for baby play, but as the kids got older, we needed a table for art and (now) school.  Matt built the x-table as a modified version of Ana White's kids picnic table.
We made the word art hanging over the playroom storage with wood scraps, scrapbook paper, craft paint & mod podge.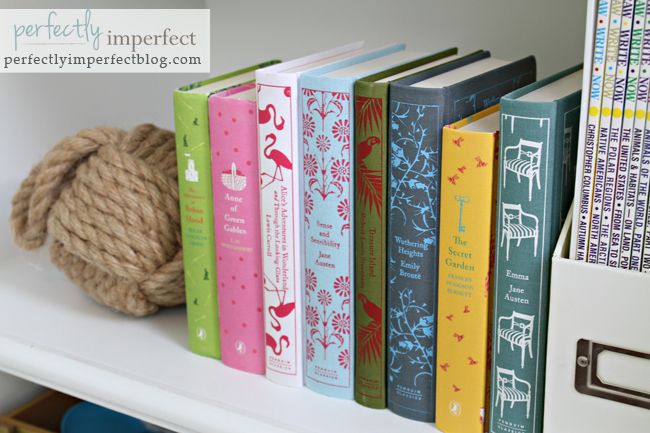 The room is painted in Valspar's Sea Breath, and let me say, it is the perfect airy aqua, bright and fresh, but not too saturated…love it!  The bead board, trim, and beams are again painted White Diamond by Benjamin Moore.  (P.S. Books are Penguin & Puffin Classics & I order on Amazon)
Matt built the storage inspired by this Pottery Barn Kids set, but we made it taller and deeper to suit our needs. Speaking of Pottery Barn Kids, we also partnered with them for a study space challenge–and as shocking as it was, actually won!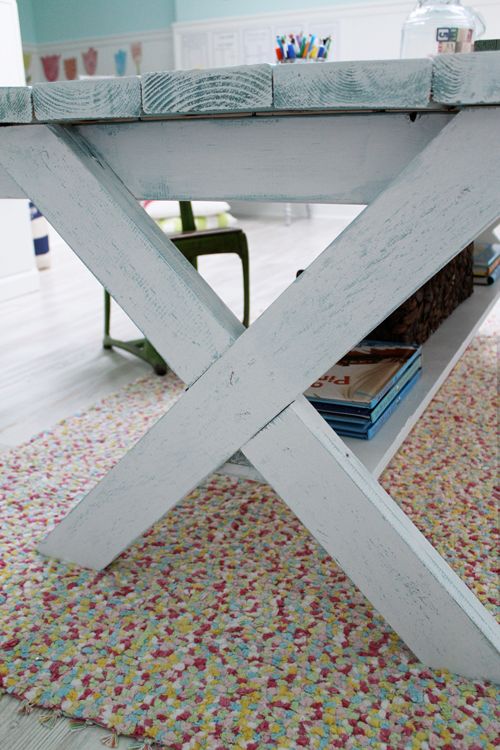 We wrote about the finish on the x-table in my ebook, and it's one of our favorite pieces still to date.
I hope this answers some questions about these spaces that work so hard for us and inspire us, too.