Happy Monday to you, friends!
You guys have been so kind in your comments and emails about our little writing room redo…thank you!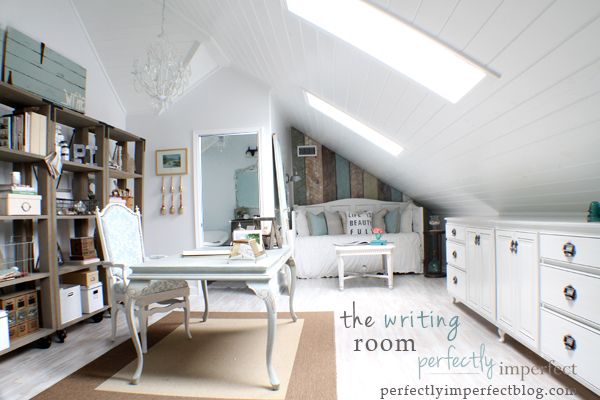 Today's the day we start answering your questions, so let me know if I leave anything out.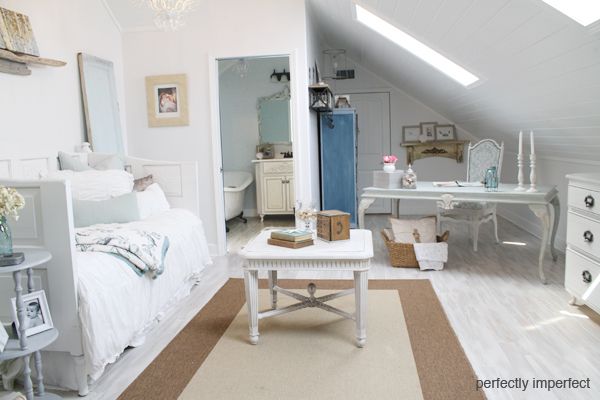 To create more space for the office portion of the writing room, we knew we had to swap the daybed for the desk, making it center stage and using all available space for shelving and storage.  Not a hard solution.  But the daybed, well, it didn't really fit.
Anywhere.
We had considered putting up planks on the back wall for some time, and after chatting with our friends at The Lettered Cottage, my mind was made up.  We decided we'd cut the finials off the daybed so it would slide snugly in our nook, appearing as if it were always supposed to be there.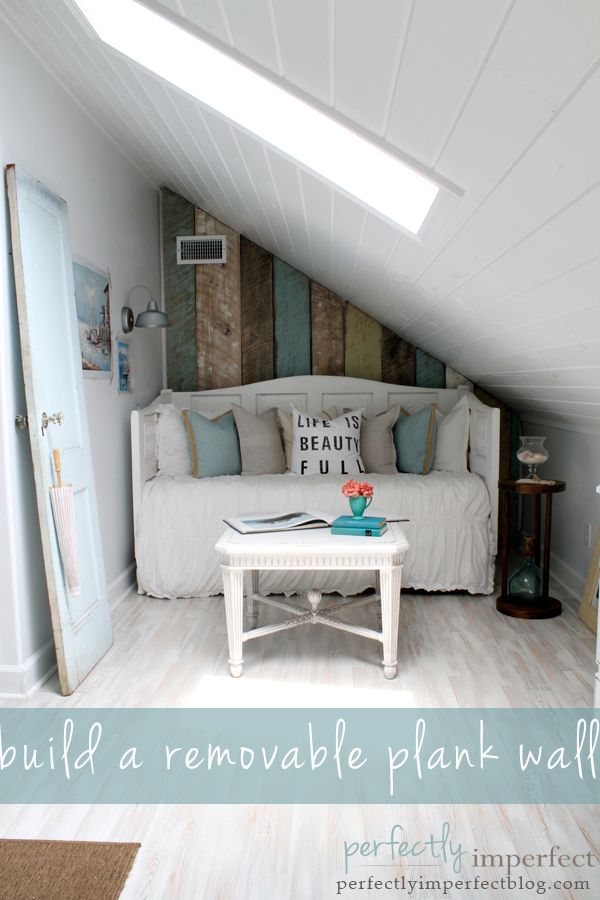 Wanna know how?
It was one of the easiest afternoon projects we've ever done!
We set up our miter saw & stand in the actual room, knowing it would be easier to chop away upstairs than going back and forth.  We started with old wood in varying lengths.
Matt says this is so simple that we can't really qualify it as a full tutorial–and he's sort of right.
It was sooo easy!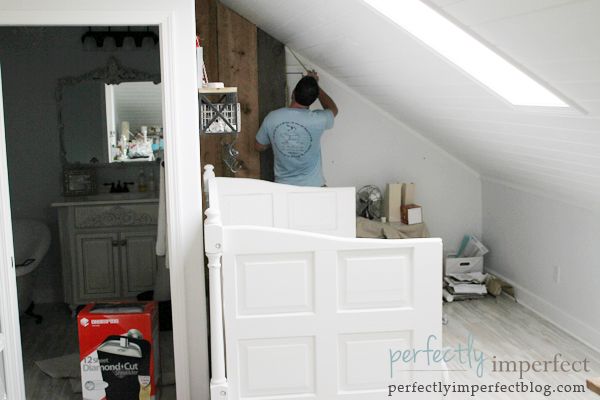 Because we used reclaimed wood, our planks were very sturdy and dense.  We simply measured each board/spot on the wall in two places.  From the left corner to the right.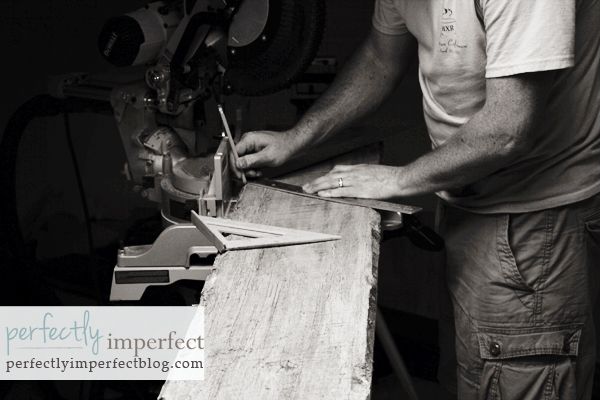 For example, we would measure to the height of the pitched ceiling, and over 8 inches (width of the board), to measure the next height.  This would determine our angle.  We drew off a line, and zip!
That's it, folks!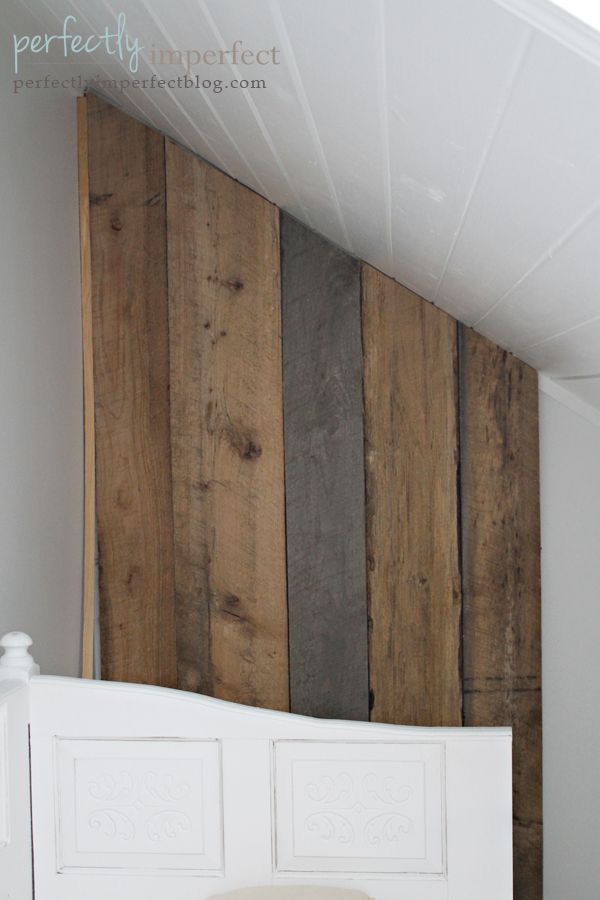 As far as securing the planks, we needed our wall to be removable.  There's still a door back there we need to get to once a year.  As long as your measurements are correct, the planks will slide in snugly to the wall.
Because we were placing the daybed in front (and it will always be there), we didn't attach them to the wall.  They fit so tightly, and the bed is in front, so there's no worry of falling planks.

The only other thing we did was address the air vent.  We simply cut out a hole, and added the plate over our planks.  The air is still able to get to us that way.
See?  Easy-peasy makeover.
We were dying for a little color back there, so we dry brushed Chalk Paint™ on some of the planks, applying it more heavily on some than others.  The colors are Duck Egg, Old White, & Versailles.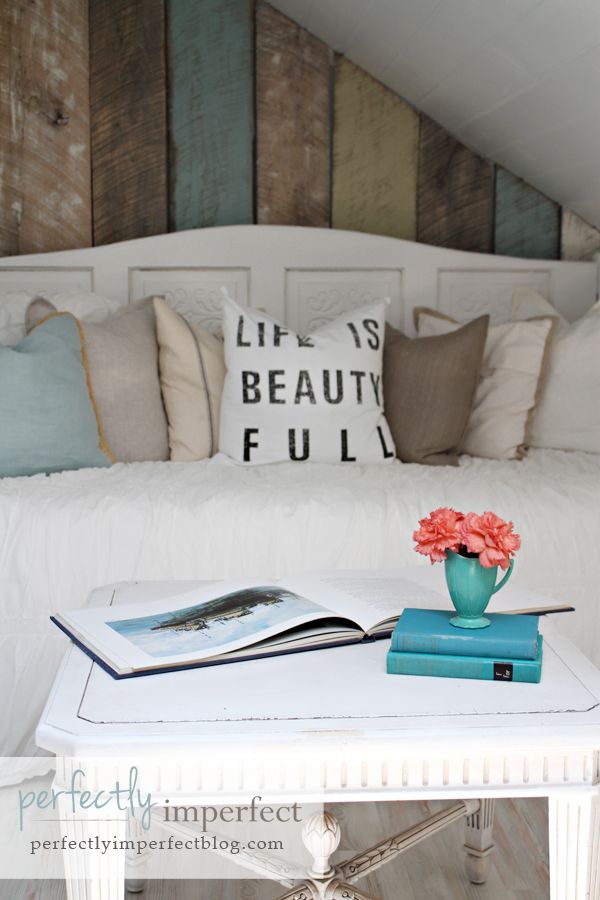 It was a really simple, affordable project that transformed our little nook.  Don't be afraid to go for it on a wall in your home, especially if it's temporary!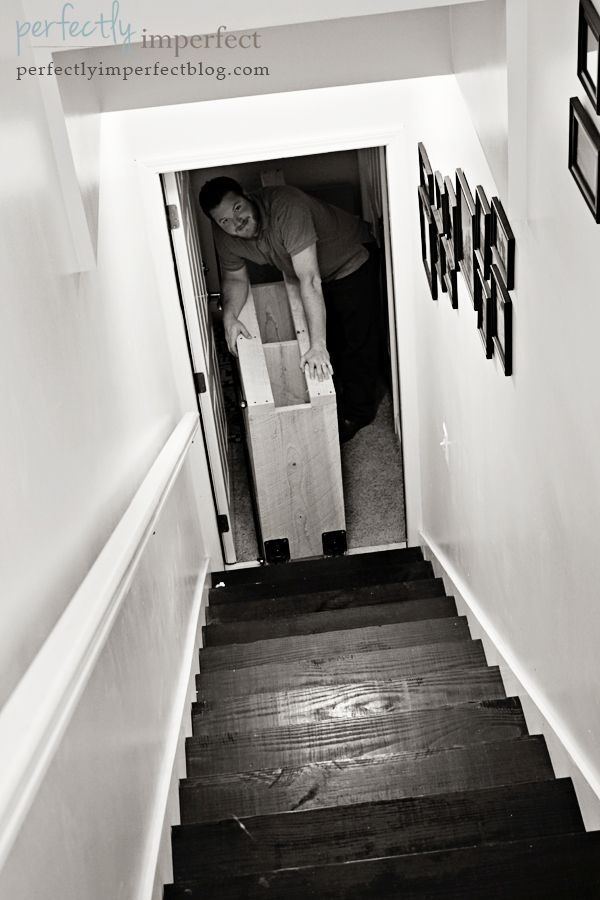 I think it was a pretty good idea to take the miter saw upstairs, because moving those bookcases in was quite. a. chore.