I knew it would happen.
You guys would blow me away with your requests, and I continue to go back to the comments section from yesterday's post, praying and crying and smiling.
I BIG heart you folks.
Maybe this will be my last Christmas decor post of the season…maybe.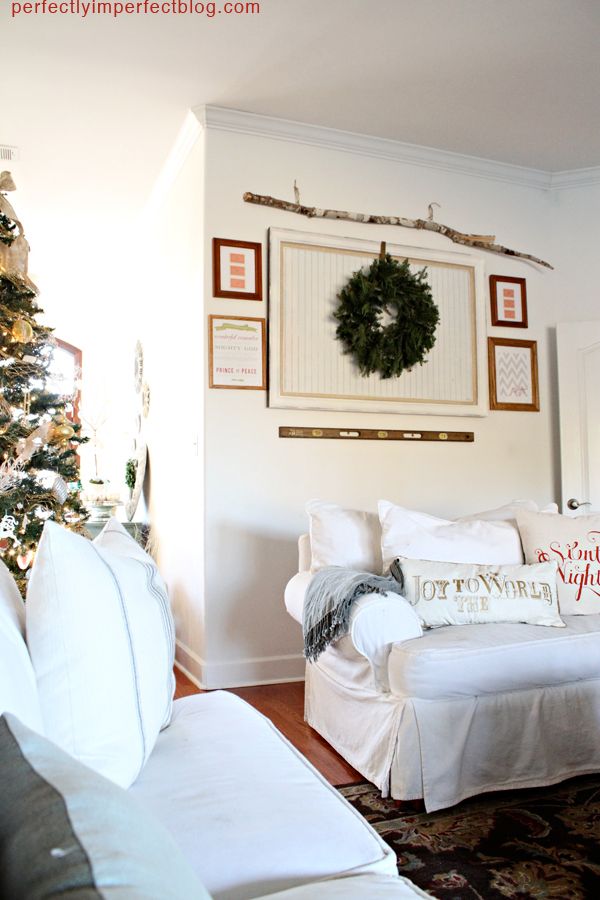 I wanted to give you a few resources for some of my new favorite Christmas things.
The pillows!!
The Joy to the World lumbar pillow came from Pottery Barn.
The Silent Night & Holy Night pillows came from Jennifer at Dear Lillie.  LOVE that girl, her style, her blog, and her products.  I'm thrilled to have these to add to our holiday decor.
She was sweet enough to throw this sweet drummer boy bag in with my order…I love it and have a feeling it will serve as an extra stocking this year!
I really wanted to pull out less decor this year, and yet fully deck our halls.  I decided to change our wall decor accordingly, and adding the fresh wreath (which still smells amazing) was just the beginning.
The prints came from Emily at Jones Design Company–love, love her designs and I finally bit the bullet and joined her monthly printables club.  Thanks Emily, for making this mama a little more organized and for the beautiful Christmas cards (we've yet to mail out).
The red vintage playing cards came from one of my favorite Etsy shops, 58 and Grace.  Whitney sent them for Lauren's nursery, but remember how they didn't make it in time? They are definitely put to good use, though!
We plopped plenty of fresh greenery from our yard around the house, and sprinkled ornaments throughout.  I did finally purchase some mercury glass from Pottery barn…it was on sale last week and I just couldn't stop myself.
And as my dear friend, Jenny, kindly pointed out, those scrolls are more of an independence day decoration, really.  Declaration of Independence and the Constitution.
Thanks, Jenny.
I also ordered the scripture collection art prints from Jones Design, too.  Love them sooo very much.
I'm sure you noticed branches everywhere.  My husband came back from a trip to the farm with tree branches in tow.
That man loves me.
And DIY.
Which makes me crazy about him.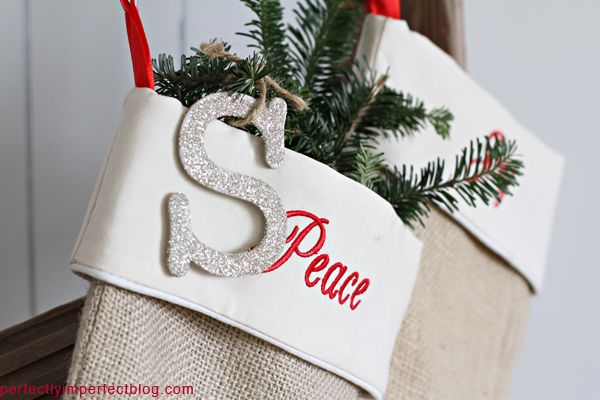 The burlap stockings Lisa sent me are still some of my favorite decorations this year–thanks again to my sweet friend for such a beautiful gift!
The rosemary swags lasted a few weeks, but I've taken them down now.  I was impressed the clippings lasted so long!
Speaking of those swags–remember how I told you I made them for a special someone??
I'll be making a little appearance on The Nate Berkus Show again on the 23rd!!!
I was so honored they ask me to create something holiday for them.  We bounced ideas around and settled on using greenery from my yard to create some holiday swag.
Literally.
So check your local listings and set your DVR for Friday–it'll be a short video of me here in our home, but I'm thrilled all the same!
Be sure to head over to my friend, Ashley's, today–she's writing our December Present Family installment today.  I'll be back with mine tomorrow.
Until then, I'll be up to my eyeballs in wrapping paper & Starbucks Christmas blend.
Probably too much Christmas blend.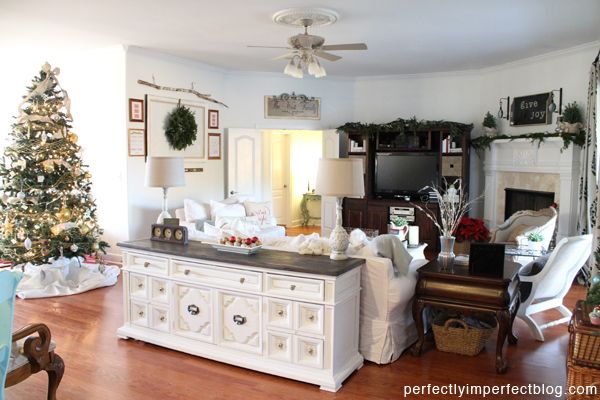 Thank you very much.