When Lauren, one of my college buddies,  contacted me and told me her story, I was so compelled to help her get a nursery done for her baby girl.  Ryann will be arriving any day now, and I'm thrilled we were able to get a space completed for her in a day.
Our budget was $500, and we had to get everything but furniture.  I began collecting random fabrics/pillows on clearance…anything that I thought might work.  We would edit later.
In the end, the $500 was spent on queen bedding, pillows, the rug, some accessories, a lamp, paint, curtains, and fabric.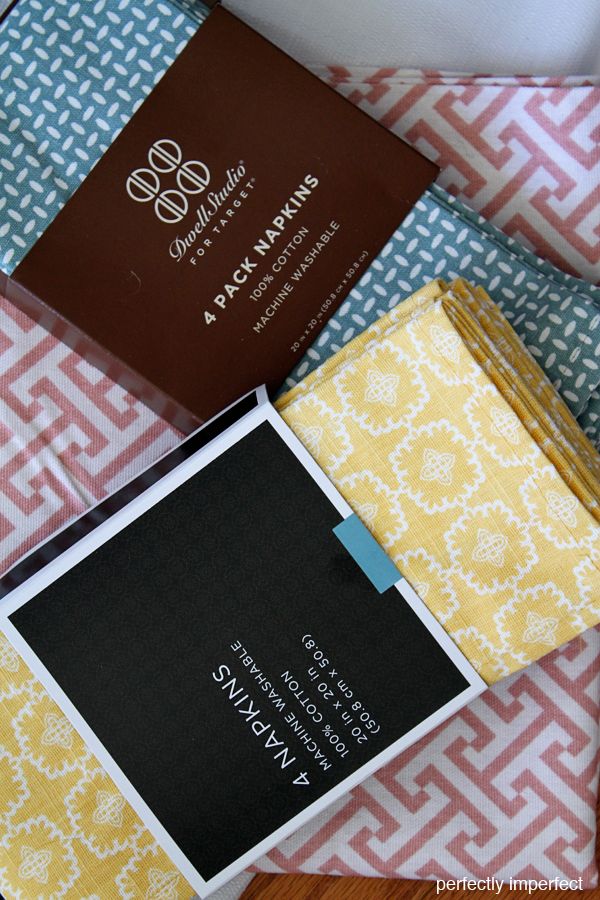 I found this beautiful pink trellis fabric first, and when I passed these napkins in Target, I knew we'd be making some pillows from them.  (Thank you, Myra!)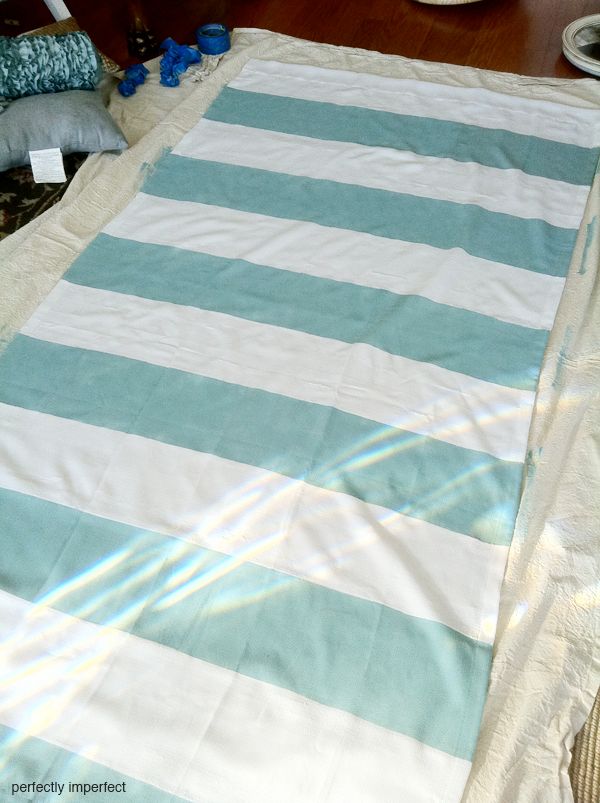 I began painting stripes on the curtains with Annie Sloan Chalk Paint in Provence.  They turned out beautifully, and I'm itching to do the same in my home!  (Remember from that post, those panels were $9.99 each.)
Here's our before….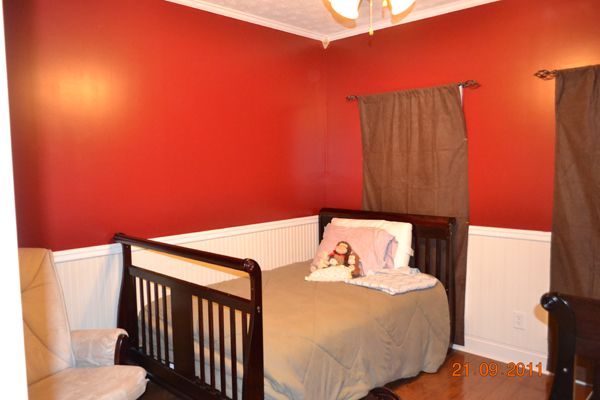 And after…..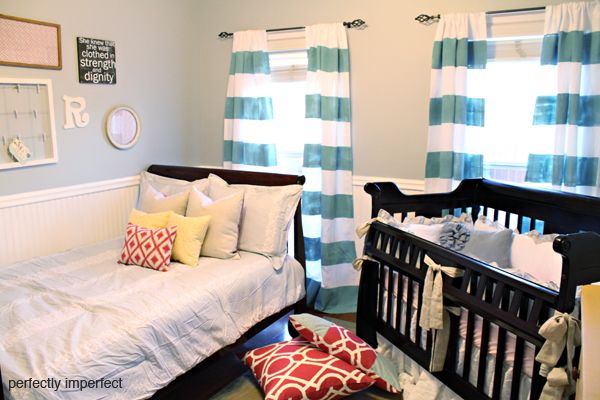 Check out the other side…before….
And after….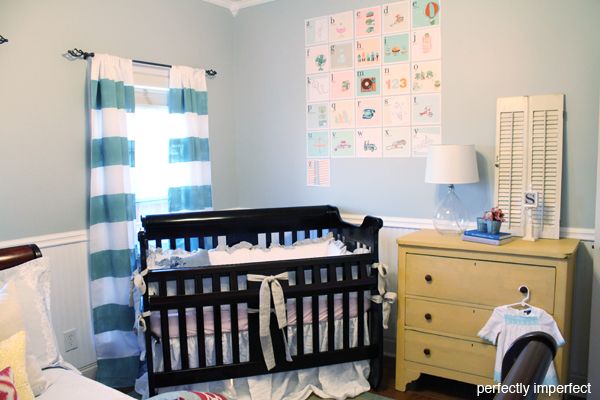 Before we go into details, you can check out this iPhone video to see some of the process and why we chose the furniture arrangement we did.
Make sense? I know, not much….but we were tired at that point.
🙂
That bed is large for the space…since there has to be a crib in the room as well, but like I said in the video, you sometimes work with what you've got.  This arrangement made the room feel so much more intimate and I feel it pulls you into the space, rather than to the walls.
 (you know, I thought about going back to reshoot some proper pictures for you, but at the end of the day, Lauren is getting ready to have Ryann and what crazy lady would go back there with her tripod??  always fight the urge to be crazy.)
Speaking of the bed, let's break down the bedding.  The pale gray damask comforter and shams are Target's Simply Shabby Chic.  The down filled pink velvet pillows (with shimmery linen on the other side) came from Pier One at $6 a piece…including the inserts!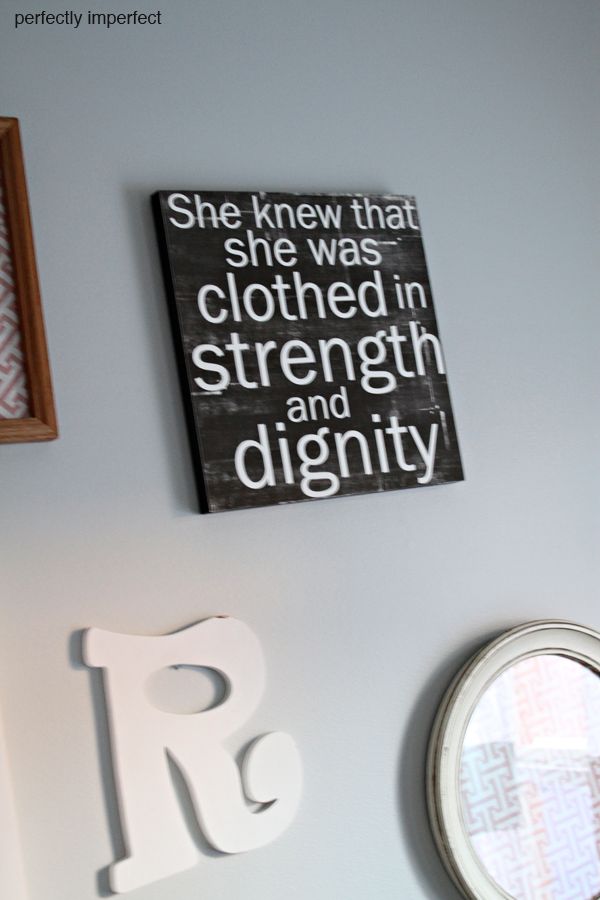 I knew we wanted a gallery wall Lauren could fill with photos of Ryann, but we wanted to include other architectural objects to create some interest.  This is where my LOVELY, AMAZING, GENEROUS, & TALENTED SPONSORS come in!!!
The talented Dee from Red Letter Words sent one of her famous "She Knew" gallery wrapped prints.  Love it.  Love her. Love Red Letter Words.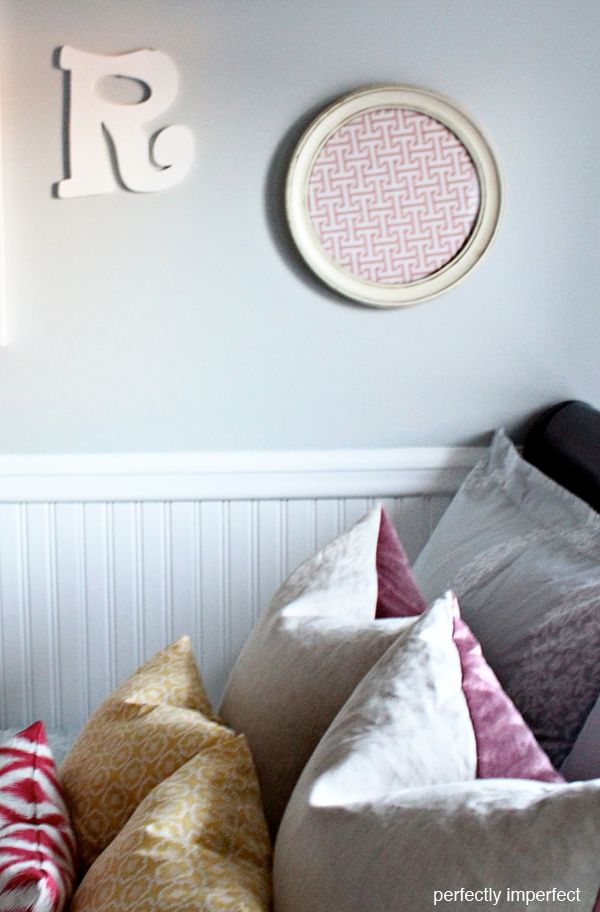 Myra (and we'll get to how much I love her in a minute) brought the cute "R", along with many other things, including her time and talent.
The beautiful round cottage frame came from one of my new sponsors, Cottage Coastal Store.  I love almost everything in their shop…you must check out the driftwood letters and well, EVERYTHING!
We backed all the frames with the pink trellis fabric, and they'll all be filled with photos of Ryann quite soon.  Here's another view…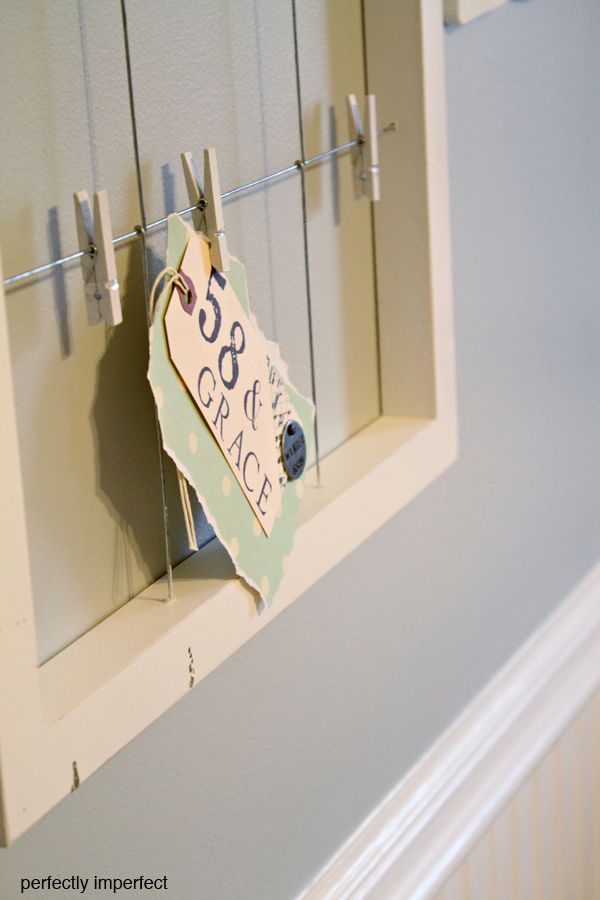 I had a couple of sponsors send things that didn't quite make it in time for the work day (such a bummer because they worked hard to send things for Lauren–trying not to frustrated with the postal service).  Whitney from 58 and Grace was one of those…and I'll be writing a post soon to show you the beautiful vintage goodies she sent for Ryann.
The amazing Leen the Graphics Queen was another…she is SO talented….have you guys checked her work out???  If not, GO THERE NOW.  She has the most amazing variety and intricate vinyl work out there.  Beautiful, beautiful designs.  You'll be hearing more about her and Whitney and one of my favorites, Vintage Skye,  very soon!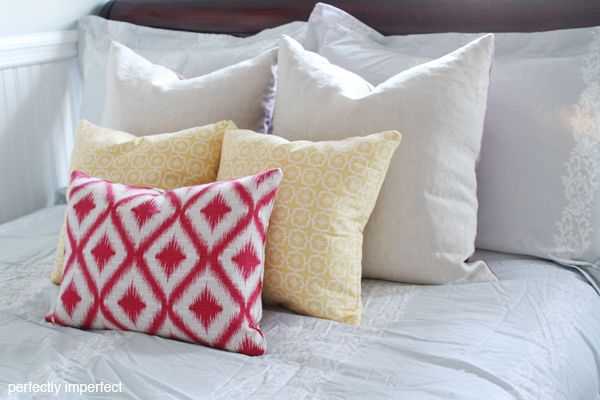 I chose to focus the palette on gray and pink, with pops of provence and yellow to keep it fresh and not too sweet since this is also a guest space. The yellow pillows (previously napkins) were a Blessed Life creation.   Myra brought her sewing machine and got to work immediately.
Can I just say something?
It takes a special, giving, sincere, and lovable person to drive 3 + hours to work all day with their crazy friend.  Thank you, from the bottom of my heart, Myra, for all the work you did…and for being so awesomely talented!!
That exquisite Raspberry Ikat Pillow you see on the bed is another gorgeous creation from PillowMio….remember my Ikat pillow I ordered from Auralee on Etsy?  She graciously sent this raspberry beauty for Lauren, and in truth, this is what sparked the design for the whole room.  Visit her shop to check out her amazing fabrics and beautifully sewn pillows.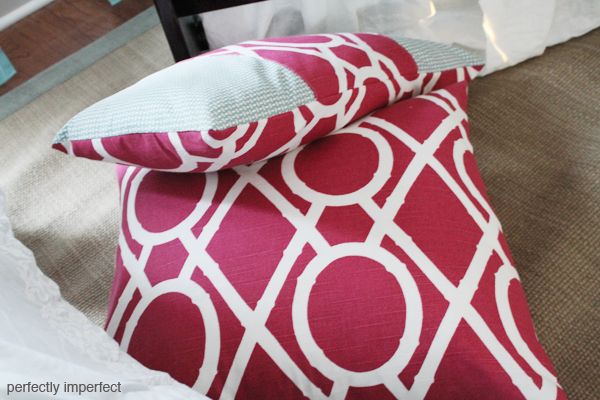 Myra also donated the fabric for these pillows, and she snagged a great discount from the awesome folks at Willow Tree Fabrics.  Go check out their Facebook page to learn more about them and see their beautiful selections!!
Let's check out the other side of the room…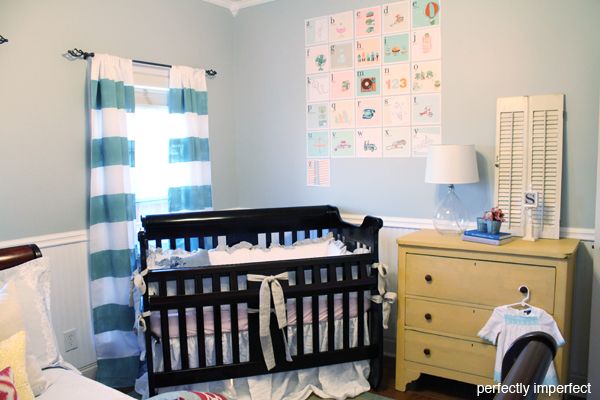 The crib is lovely to begin with, and when we added in the gorgeous linen bedding from Debbie at Cottage & Cabin, it literally made me levitate for a few glorious seconds.
Isn't it exquisite???  Debbie donated the white linen, oatmeal ruffled bumper and lush bedskirt.  Just look at those details…those ties.  ~Sigh.
Thank you, Debbie for donating this lovely bedding, and for making it just as beautiful as the rest of the items you create for your shop.  (For those of you who don't know, Debbie is my go-to seamstress…she made our white slipcovers and new window seat cushions, and rumor has it, she'll be on my call list in the near future for a new chair slipcover.  She owns Cottage & Cabin with her hubby, and together they tackle gorgeous DIY projects and she dresses the town with gorgeous pillows, bedding, and textiles.  Love you, Debbie!!!)
The little gray pillow came from Target.  I snagged it on clearance for $4.
Those adorable A to Z printables were a free download from my amazing friend Ashley at the Handmade Home.  Check out her Freebies page to see all the cool printables she's created for us…for free!!
I refinished the chest of drawers in Arles Chalk Paint and you'll see the before this afternoon for All Things Furniture.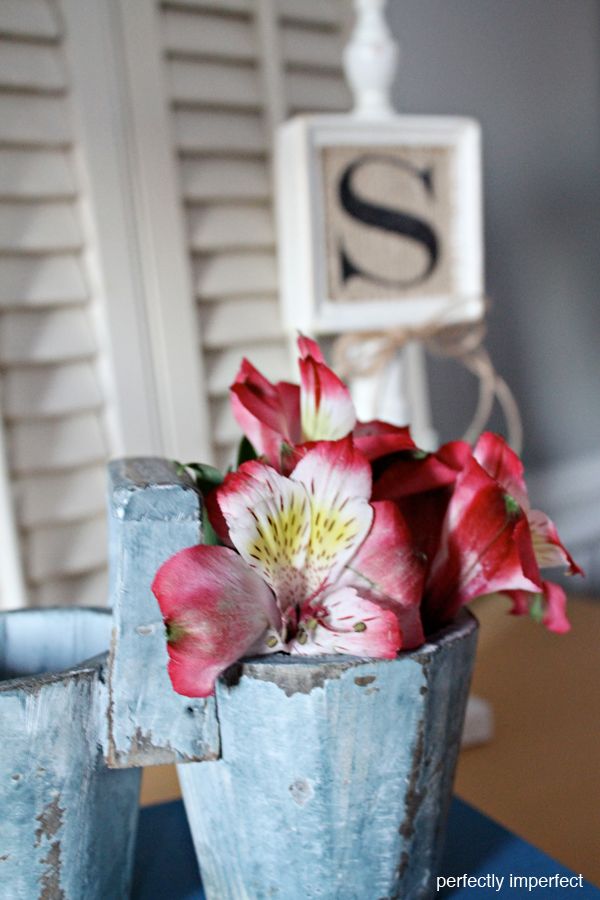 I grabbed the cute little caddy for the room at Hobby Lobby, and that unique, monogrammed spindle back there is from Lisa at Shop 24.  She is such an amazing woman (she just visited mid-roadtrip & we met last year at Blissdom) and I wish you all had a couple of days to sit down with her and have a cup of coffee.
Or if you're me, a few cups of coffee.
Anyway, go check out Lisa's shop to see her original creations, and definitely stop by her blog for awesome child-training tips and beautiful DIY projects…she's quite the handy lady!!!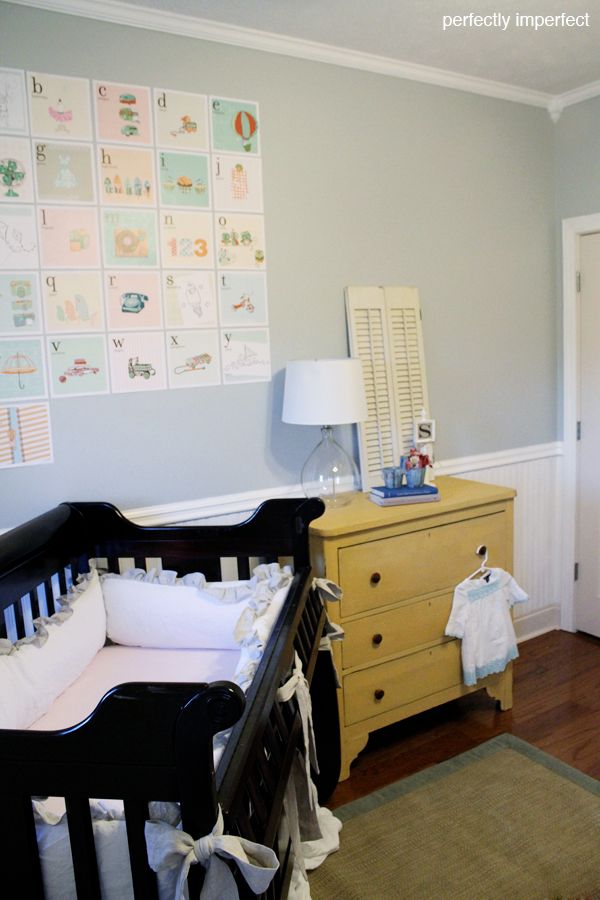 The shutter you see on the chest was another item brought by Myra and the lamp and rug both came from Target.  That little dress will be on Ryann's little body soon, but I just couldn't resist hanging it up so we could stare at it all afternoon.
I think that mostly covers it.  It was a whirlwind of a day, and I am so thankful we were able to pull it off.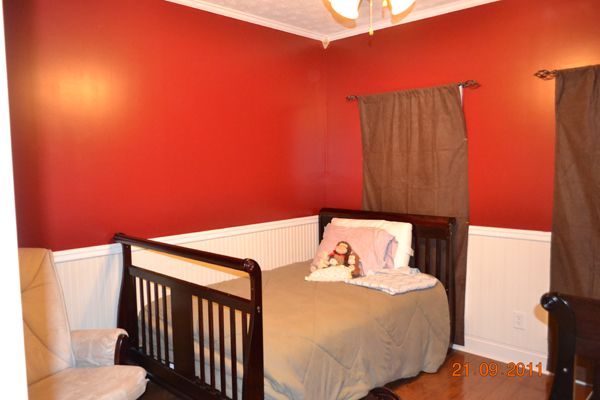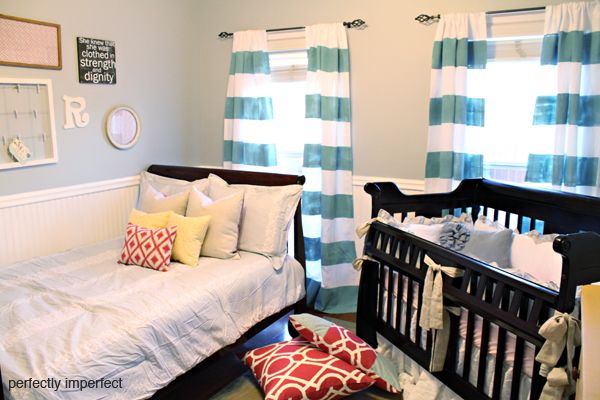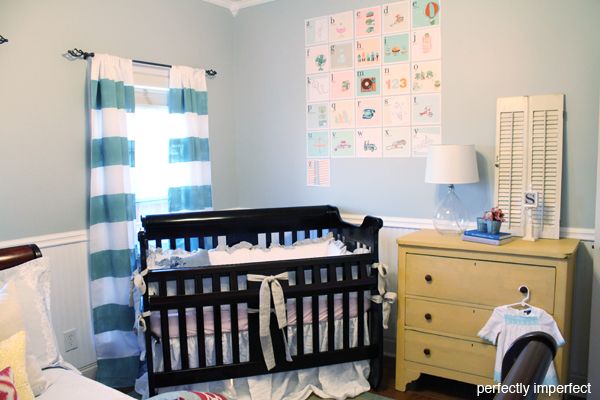 I hope Lauren and her family get to bring baby Ryann home very soon, and this room can be a blessing for them all.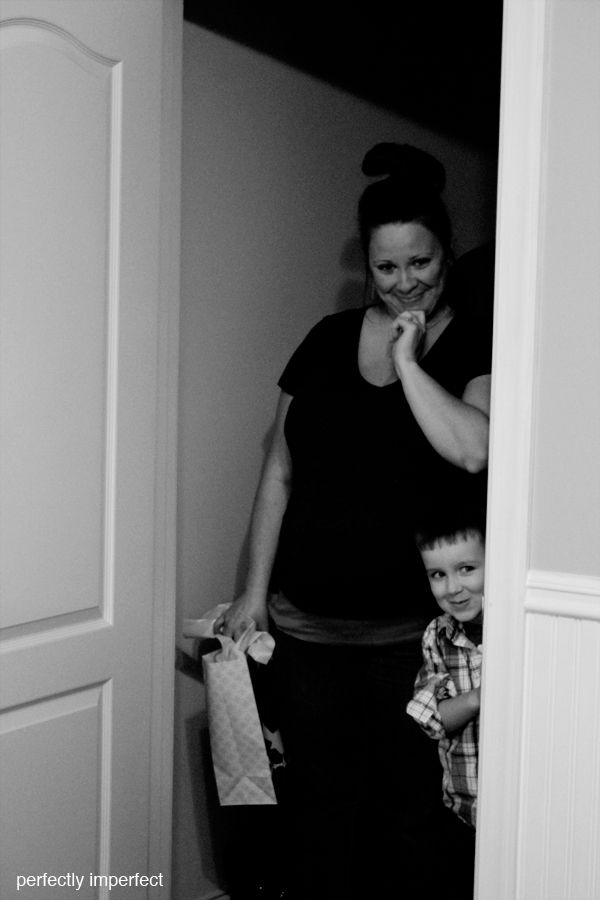 Something tells me she liked it just fine.
🙂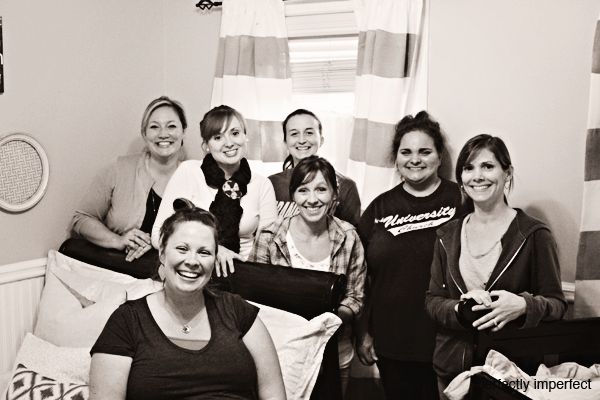 Here's the crew with Lauren…you guys see me?  I'm the one in the corner with the massive grin and squinty eyes.  And bad hair.
Then there's Myra, and my awesome best friend for life, Carol Leah, and our friend from college, the sugar-sweet Hope, and two of you awesome readers, Lori and Jenny!  They all came out and worked all day…I know I speak for Lauren and myself when I say we couldn't have done it without a single one of you…how precious you are for giving of yourselves in that way.
And again, words can't express the thanks I feel to my sponsors…not only do I love your work, but I love your hearts.
Here's to baby Ryann…
**I hope this holiday season we can all take steps to support shops like these and buy handmade for the holiday's.  Not only will get one of a kind items and support women and men like us, we'll get to start shopping now!  At home.  In our pj's.  I'm ALL IN.