When we got ready to makeover Lauren's nursery, there was much excitement, a small budget, and many accessories to buy to fill the room.
This is a tale of how we came up with some cabana-striped curtains…
Without further adieu, here are the striped curtains in their glory…
(I wasn't going to say anything, but I just can't help it…I had no tripod with me the day of the makeover, so I'm hoping beyond all hope I can get up there and take some proper pictures for ya!! 🙂
I absolutely love the wide cabana striped curtain…I love it in a living room, in a playroom, in a bedroom…just love them.  I knew they would be a classic, yet playful pattern for baby Ryann and they would grow with her and the room as it changes over the years.
When making the final decisions when the budget became tight, I chose to go with more expensive rug, bedding, and fabric for pillows and use less expensive window treatments.  The rule is…touch it, spend more on it.  If you're not going to lie down in it, dry off with it, roll on the floor on it, don't feel like you have to make major investment there until the time is right.
Our panels were from Target and at $9.99 a piece, they were within our budget.
Wanna paint your own cabana stripes??
You'll need:
panels (we had four)
edge-lock painter's tape
drop cloth
pencil
tape measurer
chalk paint (we used Provence)
Start by laying your panel out on the floor.  You'll definitely want to place a drop cloth underneath just in case any paint seeps through your panel.
*Note: It's much easier and does less damage to your back if you can set this up on a table…you'll just need to let the material drop to the floor as you tape each section.  All up to you…and your back.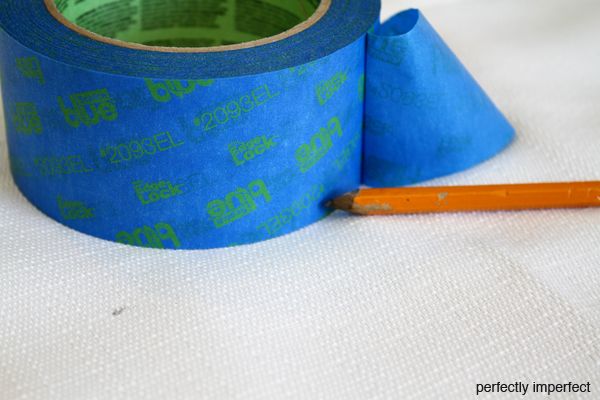 Get your tape out, and it was easier for me if I measured across the entire width of the panel, making marks with my pencil as I went.  I was then able to ensure a straight line as I taped.
Here's where the mildly tricky part comes.  I wanted my stripes 7 inches apart, so I measured down from the top first (I also wanted white at the top…if you'd like to start with color, simply measure your painted stripe first)
Now, notice the stripes are different widths once taped off….That's because you have to account for the correct width each time.  For instance, measure down 7 inches from the top of your panel.  Using the bottom of the tape as your line, tape off along your pencil marks (measured 7 inches down all along the width of your panel)
That gives you the top white stripe.  Next, measure 7 inches down from the bottom of the tape.  Make your pencil marks along the width.
Here's the tricky mind game…now place the top of your tape along your pencil marks.  For the next white stripe, you'll measure from the top of the tape again, make your marks, and place the bottom of the tape along the line.
Basically….after the first wide white stripe up top, all of your white stripes should be a couple of inches wide (because you're not painting those), and your other areas will show the full 7 inches (because that's where you're adding color).
That's why it'll take you approximately 2 hours to complete your first panel.  Because you'll psych yourself out more than once.
Then, if you're smart, you'll find a talented, super cool friend (insert Myra) to help you finish the panels.
Nobody wants to do four of these alone.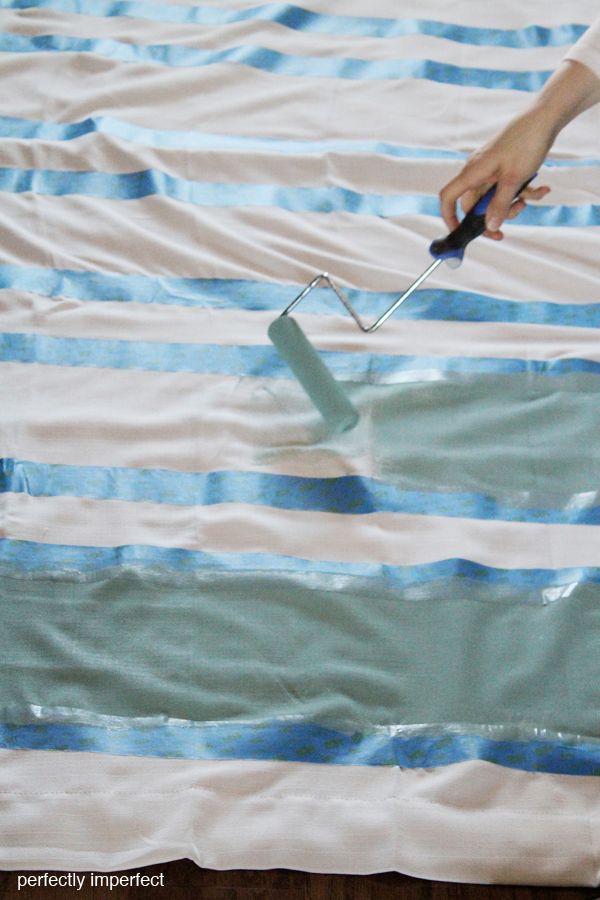 Then, simply paint the wide stripes with chalk paint.  I chose chalk paint because it's safe for fabric…it applied like a champ and produced beautiful color on the curtains.  Since our panels were originally sheer, we painted one coat so that some sunlight could still get in. We didn't want solid paint stripes because, well, then it would look like painted stripes.
 I love the way they turned out, and I love knowing that one day when Lauren and her fam grow tired of these, it's no big deal to take them down and try something else.
The painted stripes were a little tedious, but they pumped up the pattern in our nursery makeover, and the look really won me over.  I'm already on my way to painting more stripes at home.
Hope to show you Lauren's full nursery makeover soon…all depends on my type A photography nature.  You'll see it this week if I can relax just a little.
🙂
*I also have to give a shout out to Alathia, who came to our rescue when we ran out of paint…she met Myra on the interstate and gave us a can–thank you bunches, Alathia!!!