The Beginning
I started my blog on a whim on Christmas Day, 2009. I was surrounded by crumpled wrapping paper and piles of mess and the joy of it all just pulled at me.
I've written since I was a little girl, but never could have I imagined that this medium would take me some of the places it did. That first post was simply an outlet for me, and the following months I began to share bits and pieces of our life. I had begun painting furniture as a hobby, but also for a few clients. We were working on an attic renovation, and somewhere around the spring, the blog began to gain traffic. And then some more traffic. People were reading other than my mom.
My business brain (that's what my degree is in, after all) kicked in, and I decided. I was going to make this thing work. Perfectly Imperfect was really born.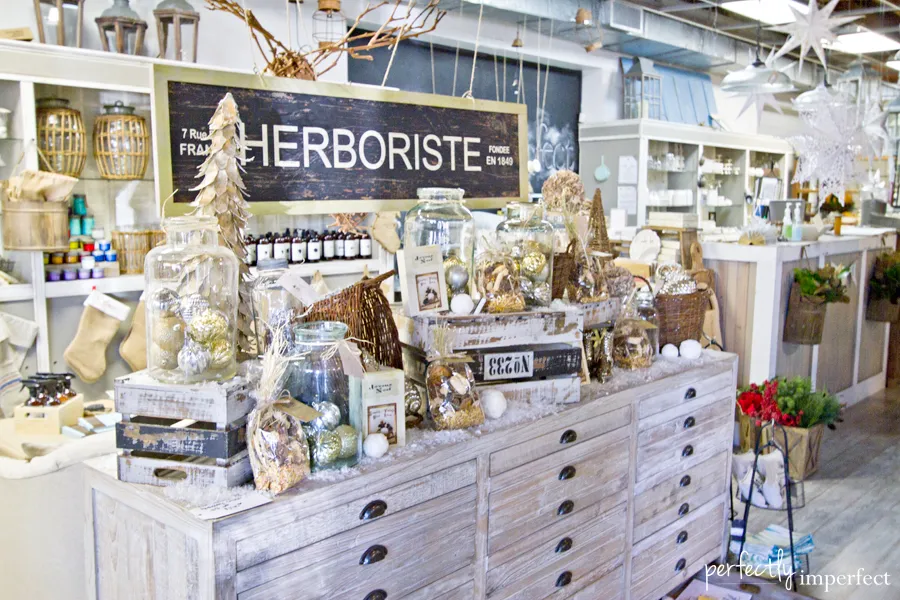 Growth
Fast forward a couple of years, and the blog had been featured in numerous magazines, the largest design websites, and on The Nate Berkus Show. I was speaking at conferences and filmed a pilot for HGTV. Best of all, I published my first book in 2014. Wanting a physical representation of the blog, I opened a store and it was what one would call "very successful" from the start. We were shipping out more than we could keep up with, and people drove from all over the country to visit us. Sounds great, right?
Don't worry; I'm not bragging…there is a plot twist.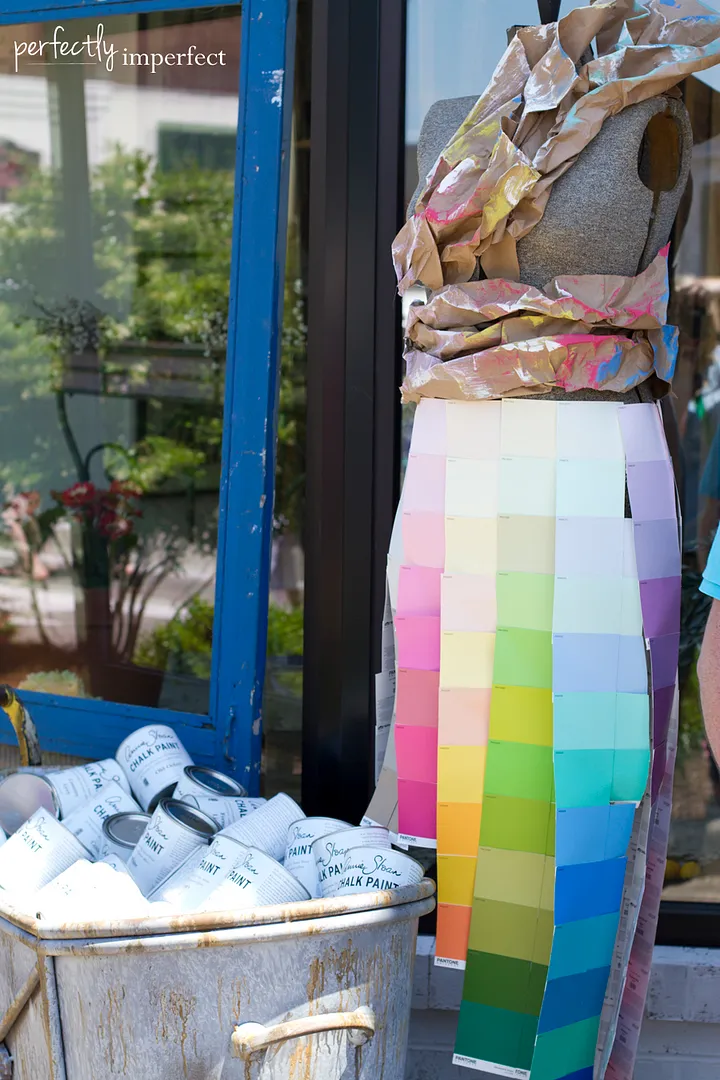 I opened a second location, a blended brand named Factory South, and that location didn't hit the ground running quite like Perfectly Imperfect, but I loved it all the same. This work of writing, designing, decorating, and sharing here had become a thing. It was a brand. I even have the words "Perfectly Imperfect" trademarked, for crying out loud. At one point my team grew to around 20 folks, some part time and some full time, and it felt like I was doing the work I had been meant to do.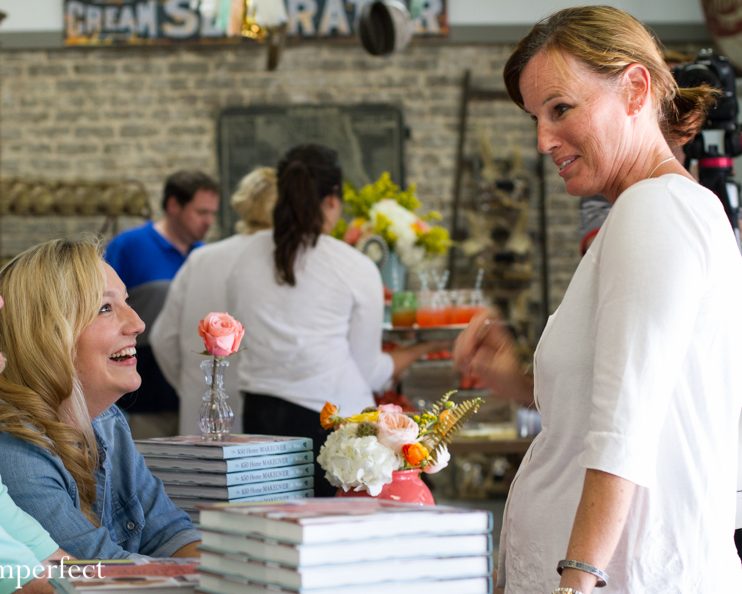 It was becoming big, though, and my ability to avoid burnout was becoming more difficult. I set some boundaries around work/home time, but I was always thinking about work and where we would go next.
The Plot Twist
And then…life fell apart. My life, the thing that encompassed the work, fell apart. This was not due to overworking or being obsessed with career, but a painful relationship trauma and reaching an impasse to move through it. Divorcing for me was devastating, and it was a death, and the grief that came with it was consuming. It was shattering me. While work was still good, it was just not that important anymore. My very core was shifting, and I was unlearning and relearning how to do life. I didn't have anything left to give my readers, a team, or really even customers. I needed all the emotional currency I could get for myself and my kids. I spent all my time meditating, in counseling, in a new, simpler form of prayer, pondering life and looking for joy in the brief corners, alongside my children.
After a lot of back and forth, some tears and also some resolution, I decided to close one store, then the flagship store. I all but stopped blogging. Essentially, I walked away from all of THIS I built.
For the next several years, I began contract working with some friends in Opelika, Alabama, transforming communities through design, community intention, and coaching. I was able to work with a variety of businesses, and a variety of people. My work was fulfilling, and for once in a very long time, I didn't have to talk about it one bit. No sharing on social media, no promoting it like crazy. We did the work, we had great relationships, and we went home. Our values aligned, and that was enough.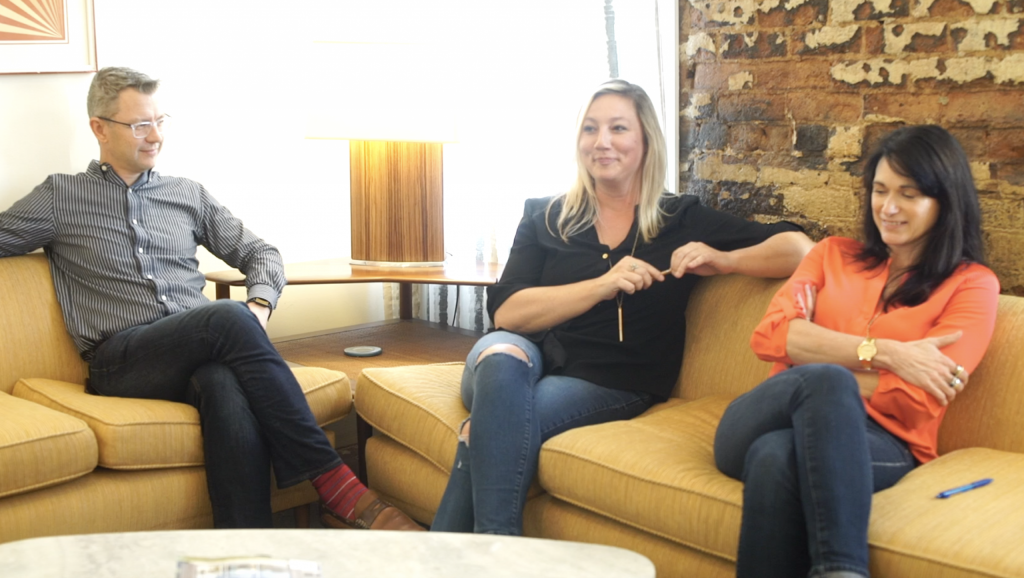 A few years in, I found myself consulting and investing into a social-good fashion brand, and became a full time member of their team, and eventually their CEO for a time. This work, while absolutely fulfilling, was draining for me. My days were filled with meeting after meeting and while I left Friday's for art direction and creative planning, my head (and schedule) were spinning. Eventually, the time came for me to step away and resume my responsibilities in Opelika. That season taught me so much about the culture of work we, as leaders, create. It taught me to have strong boundaries around work and home, and it taught me how to have difficult, direct, but neutral conversations in a boardroom.
Things were shifting in Opelika, and the work began to look different. I was wearing many hats, and while I wanted so badly to do the things I was meant to do, it felt more like busy-work and less like I was moving in the ways my body and brain and heart were meant to move.
Another Plot Twist..Can I Share Online Again?
That season ended, and I was again, left with a choice. Go find another job where I didn't have to share online so much, or go back to my beginning and reconnect with you, here, and on social media? It was an arduous choice.
I just couldn't talk about decorating again. Not constantly. I'd grown accustomed to a life where the pretty place settings or delicious dinner or room I redecorated was simply ours, and I didn't think I could bring myself to constantly document that entire process. I had grown to love how home was "home," and nothing to do with work. I came alive, not in decorating our home, but building myself and my relationships and this connection to the universe I had found in my darkest place. In the quiet and peace of my own mind. How in the world would move back into a "share everything/do more" world?
After a couple of months of soul searching, it finally came. I would show up online again. I missed Marian, I missed blogging, I missed the connections I'd made here. But I would pivot. My work would become about storytelling, which led to my pursuit of art, and still, coaching other creatives. I would do it my way, and whoever came along to be here with me, would be the ones meant to connect with me, and me with them.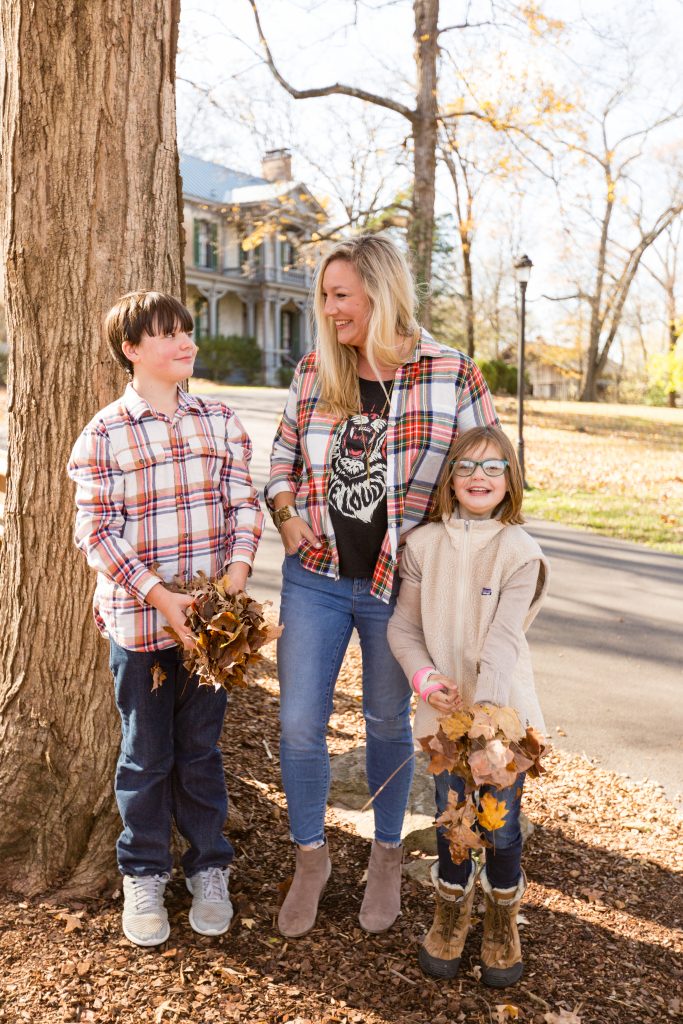 Slowly, it grew again. Still, slowly it grows. My Facebook audience was large, but my Instagram audience was "small," at 6500 followers. Here we are two years later, and the follower count is at 8500.
It did not take long for me to recognize the constant struggles of sharing online, of comparison, of constant inundation of other peoples' work in your face, and my clients expressed the same. I remembered why I loved the quiet of my non-online life.
The Question That Came to Me
And the thing I told my clients, and the question that came to me in my years offline was simply this: What if good enough work is just enough? Is the goal really fame? Is the goal a salary of $500,000? Is the goal to be totally insta-famous? Is the goal to win some prize for best designer online? Is the goal to only worry about work, how our work is perceived, and how far those numbers reach?
The answer for me is a resounding NO.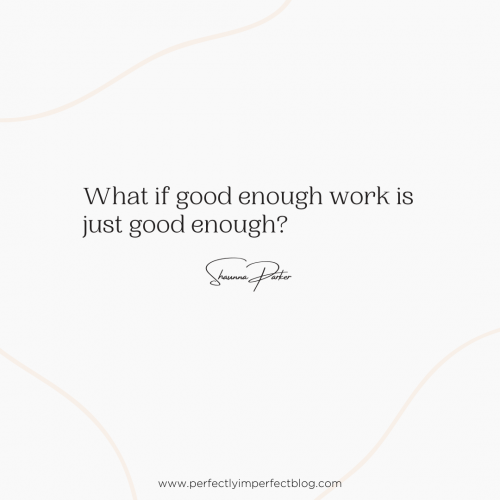 What if doing good enough work is just enough?
What if no one ever recognized your (or my) work again? What if I was simply doing good work, selling it (whatever the it is), and that was all? What if I made a decent salary, and enjoyed what I did, and had plenty of margin for myself and my family?
This changes how I approach the work I do now. Good enough work is just good enough for me. I don't have to be the most popular, I don't have to run an empire, I don't have to make piles of money. I don't have to get the most (or even many) likes.
Doing good enough work is just enough. What if I don't want everything that comes with the next steps, the huge numbers, and the persona of being an online presence. What if I just want to be a human loving the work I do and the life I'm building? It's why I share here more than anywhere else online. This is my place, you are my people, and this work is good.
Do you ever ask yourself these questions? Do you ever tell yourself your work is just enough, as it is, small or medium, growing or not? Do you keep some things for yourself? Do you remind yourself that you don't have to be social media famous to love your life, to be filled with joy and margin, and to know your worth comes from what you feel inside of you, not what is produced by you?
I hope you do, friends.
I practice everyday.
Good enough work is just good enough.