If you're hopping over from Brooke at All Things Thrifty, welcome!  I'm happy to be joining in this blog hop today to chat up Haven Conference happening in Atlanta, Georgia, on August 5-7.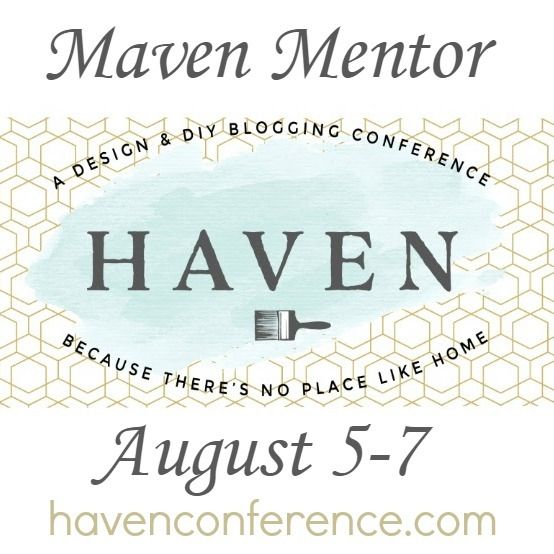 For those of you who don't know, Haven is a DIY/Design bloggers conference packed with loads of great classes and speakers, covering everything from blogging and business to DIY to design trends, for the new and old bloggers alike.  I've been lucky enough to speak at Haven two years, and am thrilled to be going back this year, too.
This year, the Haven girls have added another cool feature…haven mentors.  We'll get to break into small groups, and actually get to know each other.  You know, sans the awkward everyone-stand-in-the-middle-of-the-room-while-silently-sweating-until-you-see-your-one-friend-moment.
Check out the awesome lineup of folks they've got to mentor this year…
In going to conferences of all kinds in years past, I find the best information (and fun) happens in small groups anyway.  I can't wait to get to know some of you really well, and find out what works for you.  And if by some small chance I can help out, well that would be great, too.
In other armpit sweating news…
This
lovely lady
and I will be giving the opening keynote at the conference.  If you know me well, you know speaking doesn't make me nervous, but I do have this really overwhelmed introvert thing that happens in large settings like this.  I'm half extrovert/half agoraphobe.  Should be fun.
I'll also get to speak in a panel style class on turning your blog into a business and brand…this is honestly what I'm most passionate about, so I can't wait to hear what the other speakers have to say.
So you can get to know all the mentors a little better, the Haven girls asked us to answer these questions for you.  Here we go…
1. How many years have you been blogging?
I wrote my first blog post on December 25, 2009, so a little over six years.  I had no idea that starting this blog would lead to all the awesome work and opportunity it has.  There has been a
book
and
HGTV pilot craziness
and
stores opening
and
online shops
.  I've met some of the coolest people on the planet, and it all started with me writing about the mess in my living room after Christmas that year.  Funny how life works.
2. What is your favorite DIY project you've completed? 
That's a toss up for me.  This blog began in the time we were transforming our attic space into an office, a playroom, and a home theater, so in the beginning, there were loads of projects.  As we began that process, I fell in love with turning my home into being a place that was fully my own, for my family.  So, yea, the
work bled into the downstairs
. 😉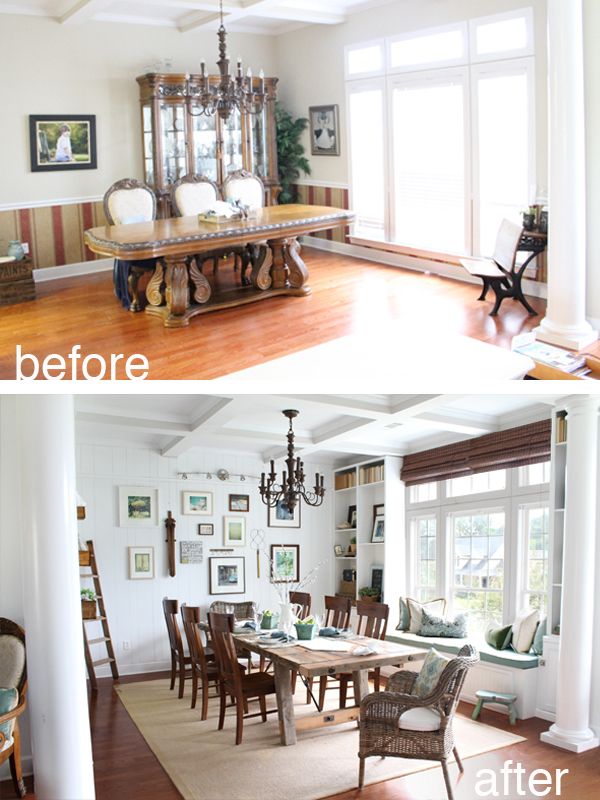 The dining room transformation is still the most popular project on this blog, and running a close second…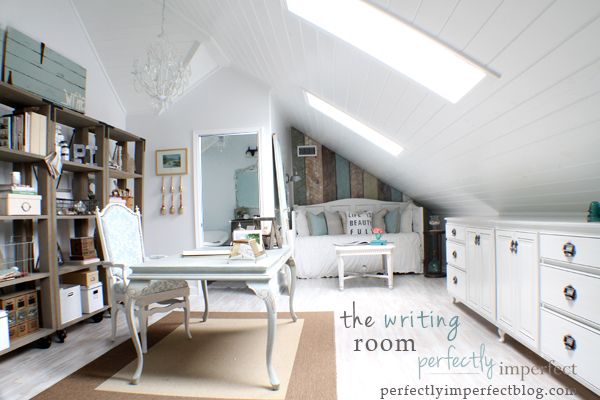 The upstairs office/bath.  Both spaces are places my family has used and re-used, and that's why they are my favorites.  Home should work for you and with you, and both of these makeovers allowed this home to do just that.  And.  If I'm honest.  I think they're sorta pretty.
 3. What is something significant you learned from a conference? 
I went to my first blogging conference in 2010…honestly, a couple of my friends and I just went up to hang out.  We didn't actually attend the conference, but I learned so much on those hotel lobby couches, meeting experienced bloggers and a few that became friends for life.  A few years later, Haven was born, and I was lucky enough to speak/attend it as well.  I got to come back and see the same friends I'd made before, and meet some new amazing folks, too.
The thing I take away from those conferences always has an underlying tone…you can learn so much from everyone.  Everyone has a voice.  Everyone has things that work for them.  Creativity is magic.  And when we're open to learning from others, we never stop growing and adapting…and neither does our business.
yea, uhh, that's me. with the stomach flu. and 4 classes to teach at haven.  and the nester's shoes are still cute. ahem.
4. What is one piece of advice you would offer a blogger–new or otherwise–who is going to Haven?
I'm the kind of person who immerses herself.  Whether that's home and family or business or blogging.  So go.  Don't sit back.  Ask questions.  Listen.  Learn some new things.  Be open to other people's ideas.  Make some friends while you're at it.  Have a glass (or 10) of wine.  Laugh.  Dance at night.  Pack your cute shoes and some chapstick.  Take a bottle of water to sessions.  Wear red lipstick.  Bring your laptop.  Don't miss anything.  Immerse yourself.  Be right there with you.
Trying not to sweat in the corner.