Well here we go.  This post is the one you guys have been asking for since the airing of our pilot, Sweet House Alabama, on HGTV.
This will be quite lengthy, but this project was a huge undertaking and I want you to have all of our sources in one spot.
We were so excited Nikki and Jason chose the Murphree Street house…it was certainly in need of some work, but the potential was there.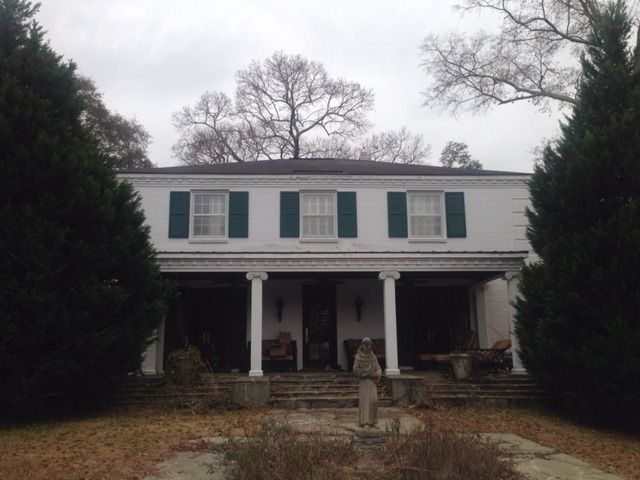 We wanted to keep the integrity of the colonial style color palette so we updated the paint to a bright white exterior and chose to paint the original shutters black.  This is such a timeless look.  Can't beat a white house with black shutters.
We asked our friend (and my business partner for Factory South), Bryant Smith, to design the landscape for us.  We kept it simple and classic, and we all loved how it turned out.  Losing the massive (and diseased) cedar trees & adding flower beds pulls your eye to the gorgeous front porch now.
I asked Matt to build 2 flanking daybed swings to the porch…it's just too good of a spot not to enjoy.  Adding the swings created an outdoor space the Herndon's can use for entertaining and hanging with their family.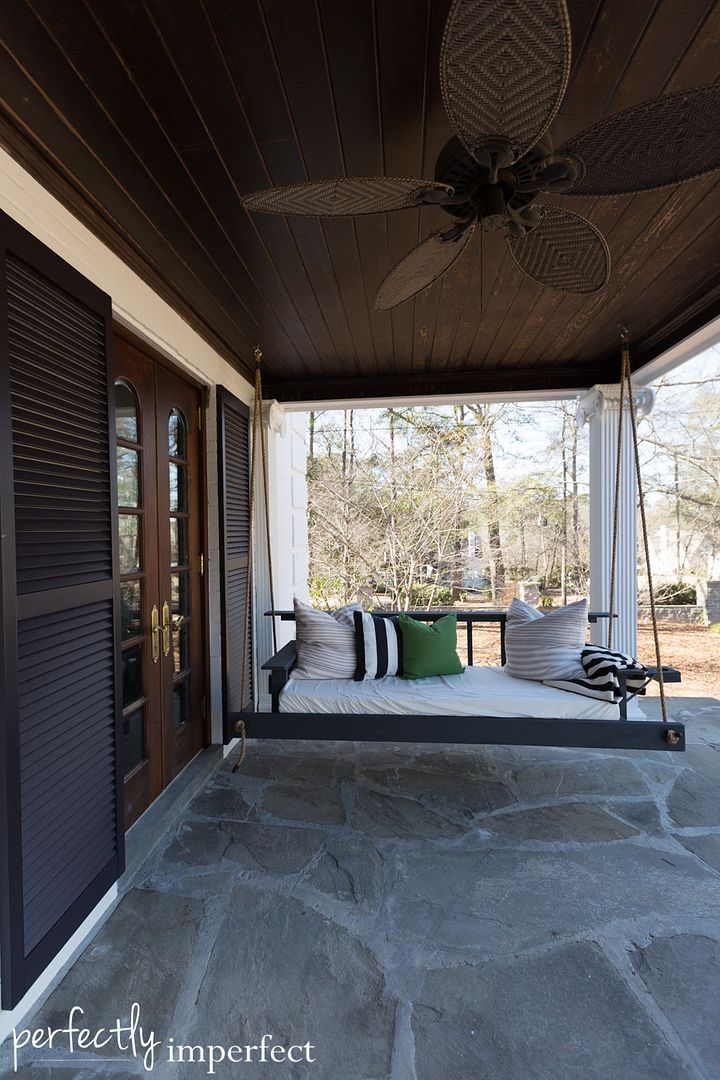 We didn't touch any of the gorgeous woodwork/mahogany doors (that we found were valued CRAZY highly) on the exterior.  I love the warmth of the wood paired against the crisp white/black color scheme.
P.S. Didn't Matt do a great job with these??  Love our swing, and am happy to pass this along to Nikki & Jason.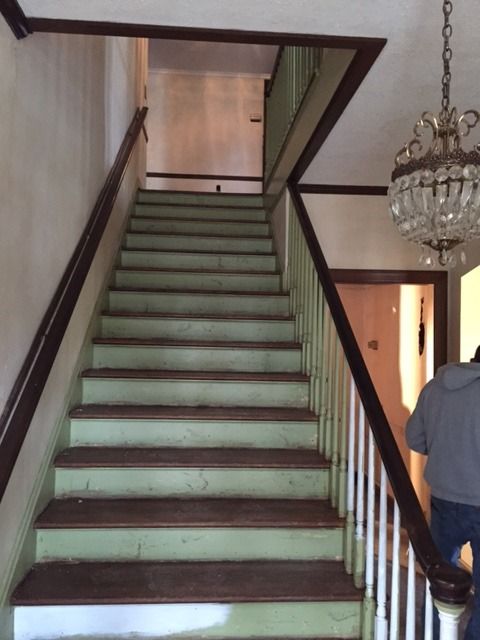 The entry was tired and dark, and the steps were covered in old green paint (yikes).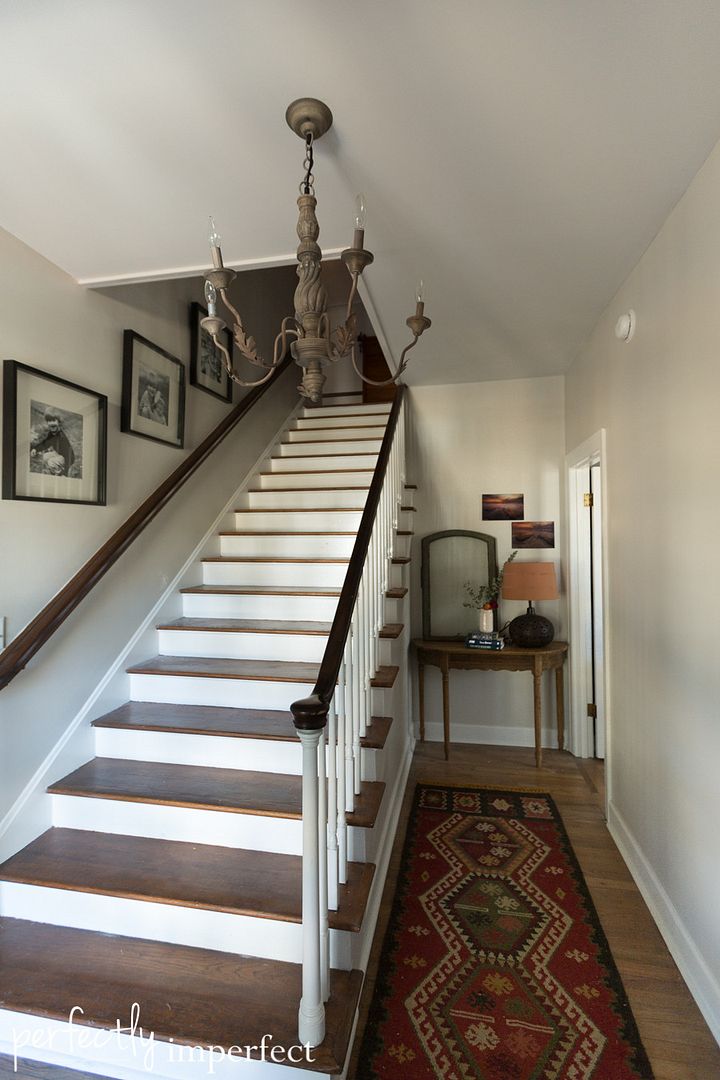 We removed all the old wallpaper, gave the walls a fresh coat of paint, and updated the stairs with fresh white paint, too.  There isn't anything more classic than a dark stained tread and a white riser.  We added a little spunk and pops of color with our rug (World Market) & accessories like the coral lampshade.
Even though we loved the original light fixture, it didn't put out much light and hung too low.  We replaced it with a washed chandelier and moved the crystal fixture to the guest bath (not seen on the show).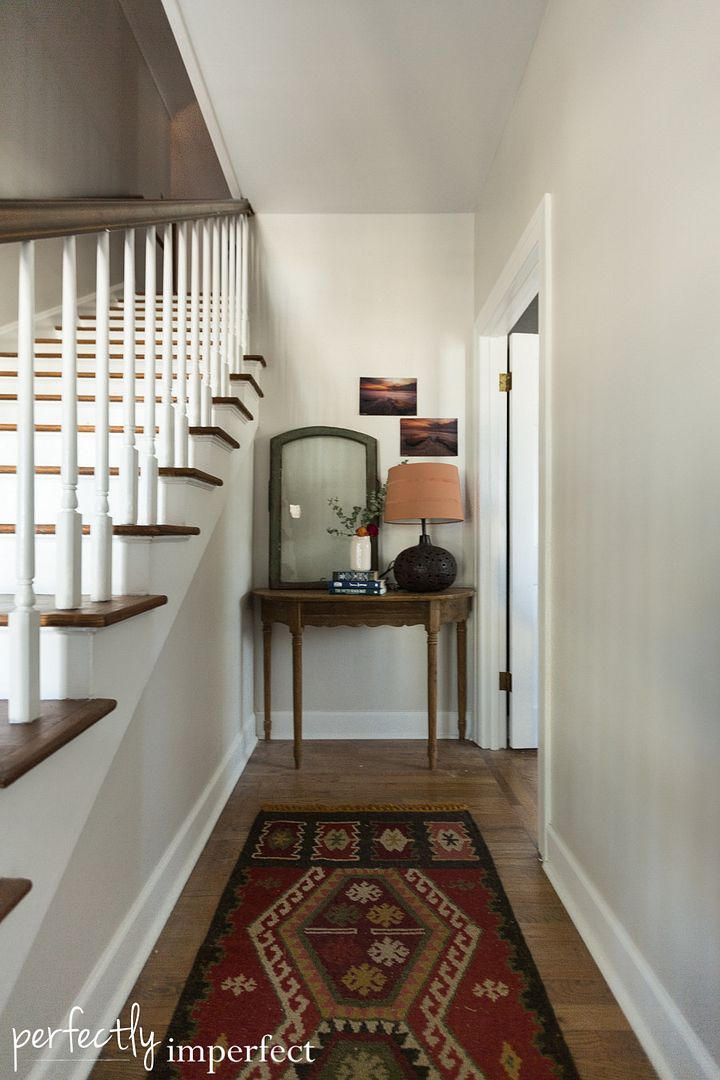 I couldn't help but feature some of my brother's photography in the space, as it pulled out the bits of coral and peach in the rug/lampshade.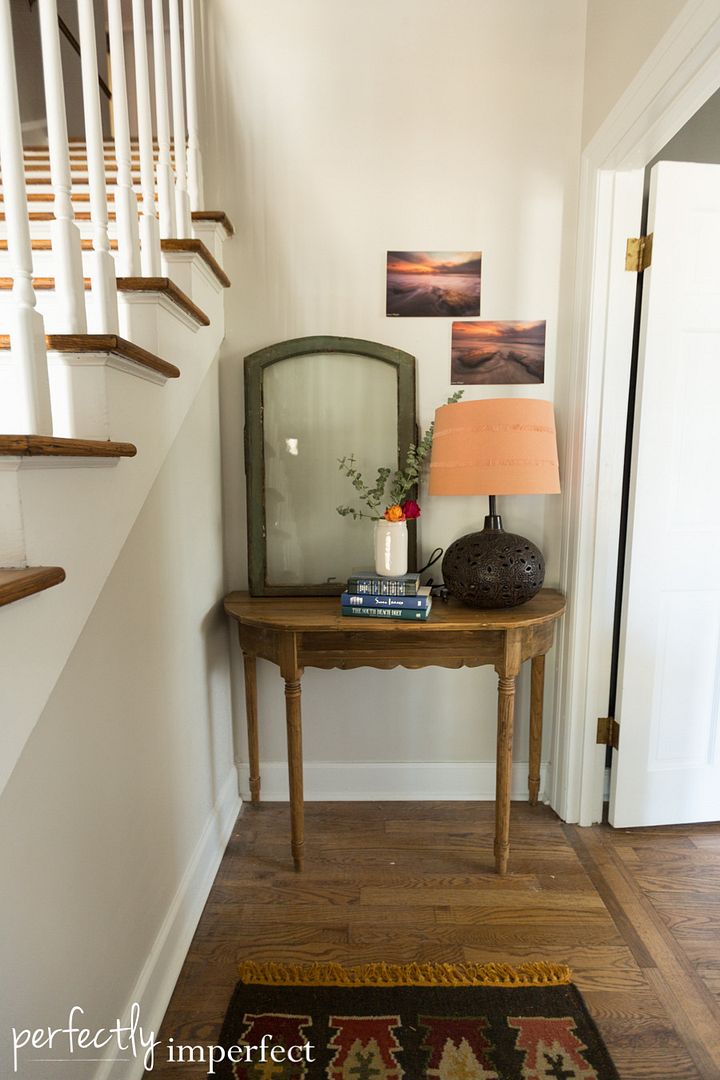 The entry table came from Perfectly Imperfect and while we don't list furniture online, we can order furniture for you.  I'm including a list of all PI sources at the bottom of this post, but if you see furniture you're interested in, just call or email us!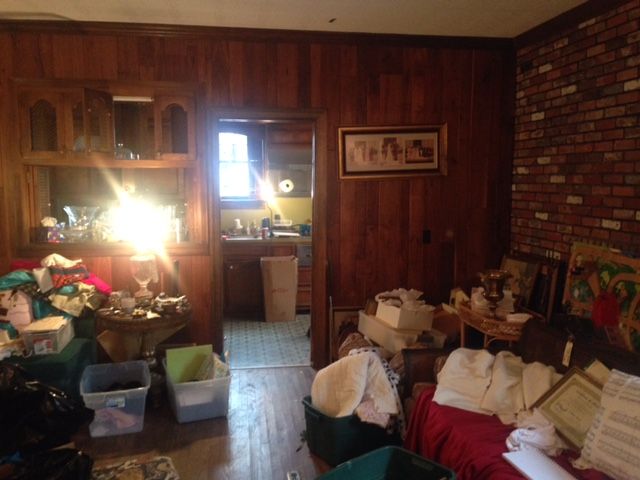 I don't have a full room before of the dining/kitchen/living, but y'all.  It was so, so dark and cramped in there.  I honestly forget how bad it was…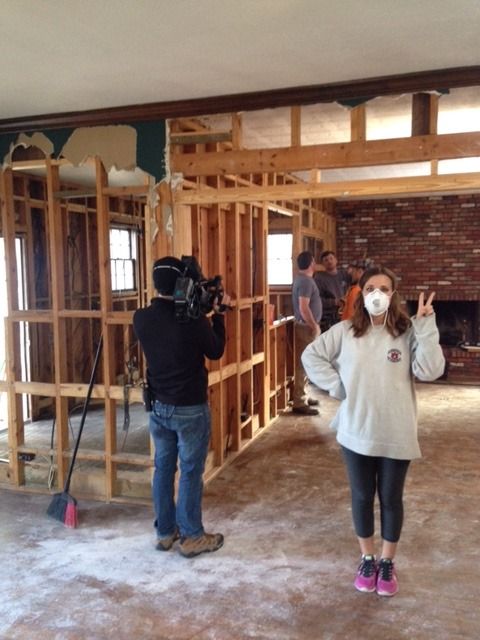 You can see the walls have been stripped but aren't pulled down yet in the pic above.  And that Kaitlyn was practicing on site safety.  Good job, Kaitlyn, good job.
We did a couple of things to totally rework the space.
First, we removed every single wall in the place.  This created a huge footprint to work with and gave the Herndon's a completely open floor plan.  Secondly, we asked Nikki and Jason if we could use the former dining room as the living room.  This gave them more room in the living room, and created a nice sized eat-in kitchen and dining area.  Hands down, this was the best decision we made.
We kept the color palette soothing, using a nice green/gray on the walls (Sherwin Williams Comfort Gray), and going with white cabinetry and built ins.  Rather than listing every single source in this large space, just ask away in the comments and we'll tell you where we got everything!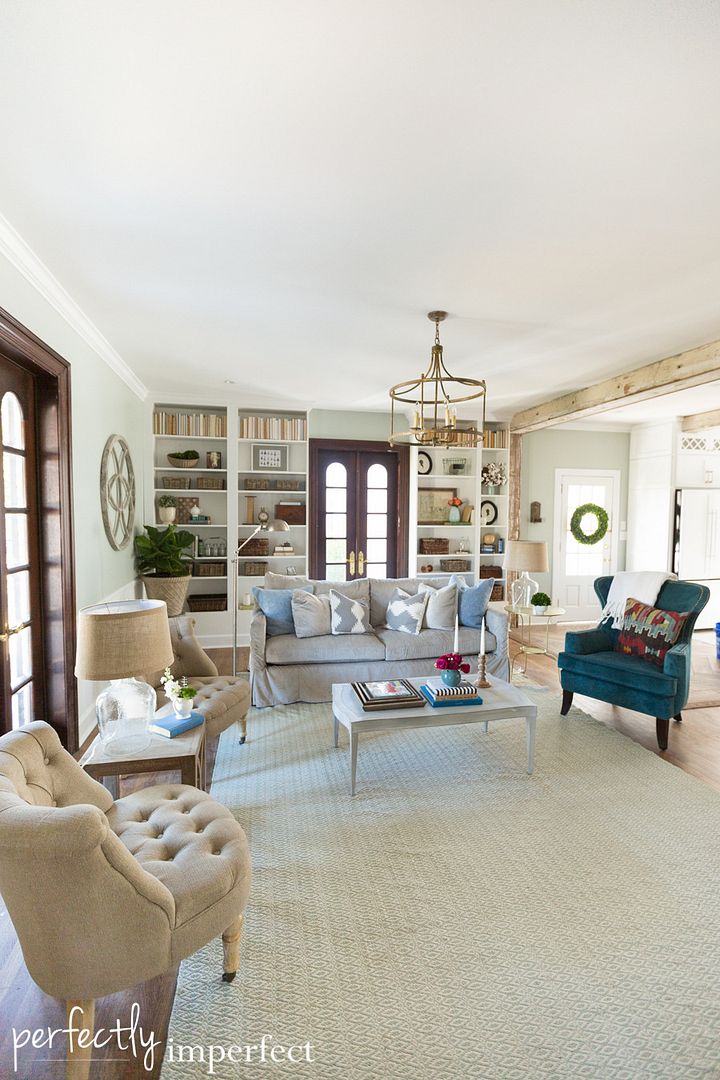 Matt used Billy bookcases from Ikea to create built ins along the back wall in the living room to give them loads of storage and to create a bit of symmetry along that wall.  Seeing that one long wall of white cabinets from the living room all the way to the kitchen is pleasing to the eye, and anchors the space well.
The sofa is drop. dead. gorgeous.  We custom ordered it for Nikki & I love the modern take on a traditional shape.  We slipcovered it in a gray velvet to add a little wow factor…it is a showstopper for sure.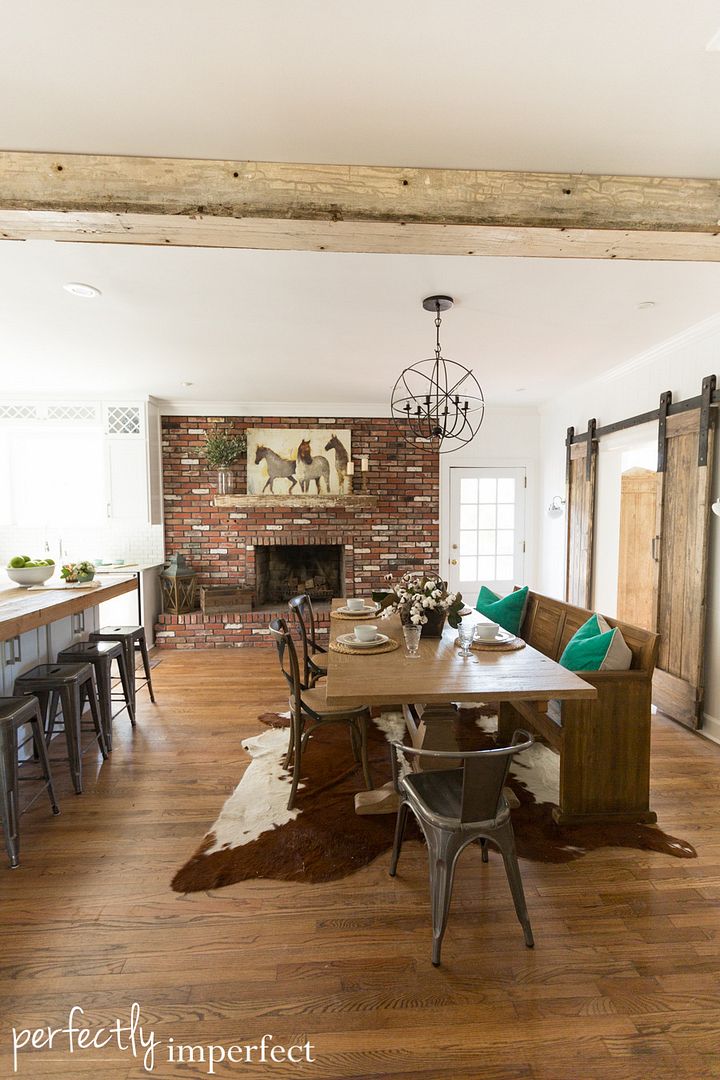 The brick fireplace (previously the living area) stayed original and we simply added a (massive) reclaimed beam to create a mantel.  We used the same wood from the beams in the living room…which are my favorite element in the design.
Mixing fun elements like galvanized chairs/stools with Nikki's cow print rug was fun way to incorporate some modern/funky touches into the classic farmhouse style.  The light fixture was one of Nikki's favorites in the house and came from Ballard Designs.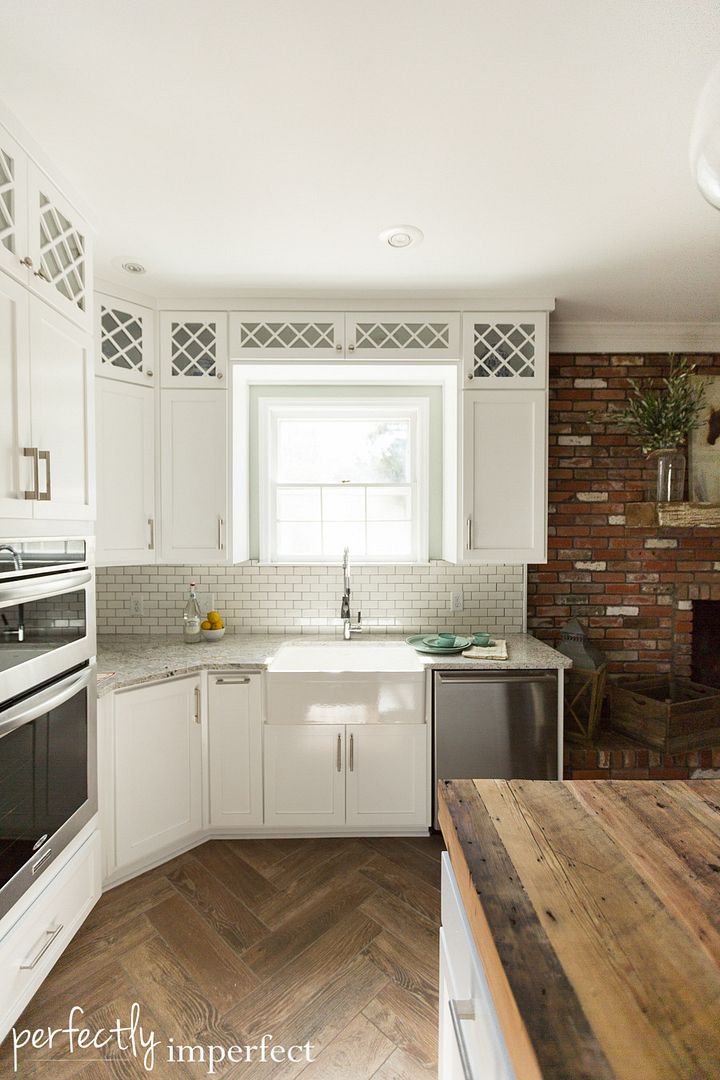 In the kitchen, we went with white cabinets at Nikki's request (and let's be honest, I'd have gone with white anyway).  Adding the lattice design to the top was perfect (thanks Mitch!) and visually broke up all the white in the room.  We also grouted the subway tile with gray grout to add a little visual interest and pull out the grays in the new granite (Bianco Romano).
We kept the original hardwoods in the house, sanded them down, and restrained them with Sherwin Williams Pecan.  The kitchen, though, had pine sub flooring under the linoleum.  We chose tile floors that look like wood, and laid them in a herringbone pattern (the tile guys hated me for this).  They look wonderful, though, so all's fair I say.
Of course, that island top is majestic.  Literally.
The boards are 100 year old floor joists…and Matt had them made into a top.  It is a stunner, for sure.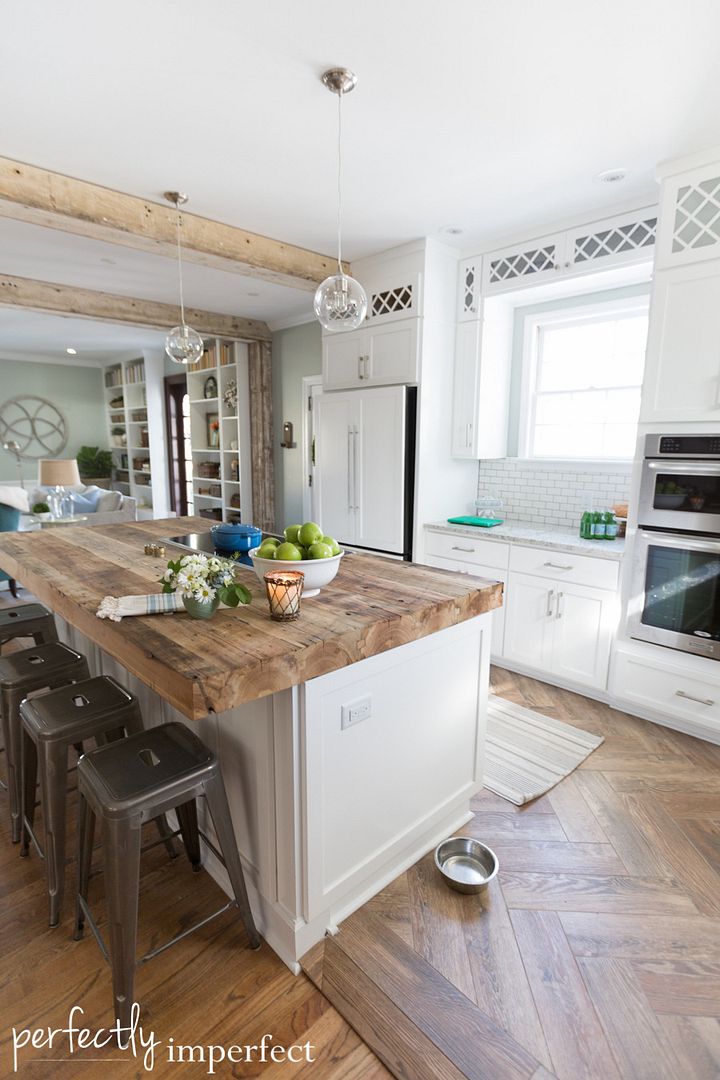 The master bathroom was tiny before we got started.  This pic above shows you the space about halfway through the renovation, when we realized that there was about 3 feet more we could squeeze out of it.  Matt's trying to convince my mom of our plan (she's equally into space planning).
And we think Kaitlyn's angry about something.  We're not sure what, though.  😉
We kept the bathroom design simple and clean, going with white walls and white tiles.  Using the gray grout on the tile floor changed everything (did anyone see it done in white on the show?! Hospital room for sure).
And even though Matt just knocked that wall out (crazy man), I'm thrilled he did.  I love having that original chimney exposed in the space.
To save a little money, we went with a ready made vanity from Home Decorators, and painted the mirrors in Graphite to pop off the white.
Because a bathroom is such a personal space, we kept accessories to a minimum so Nikki & Jason can add what they'd like and keep the space neat and organized.
I was thrilled we were able to give them a large walk-in shower (we knew Jason would appreciate this!) and went with classic subway tile.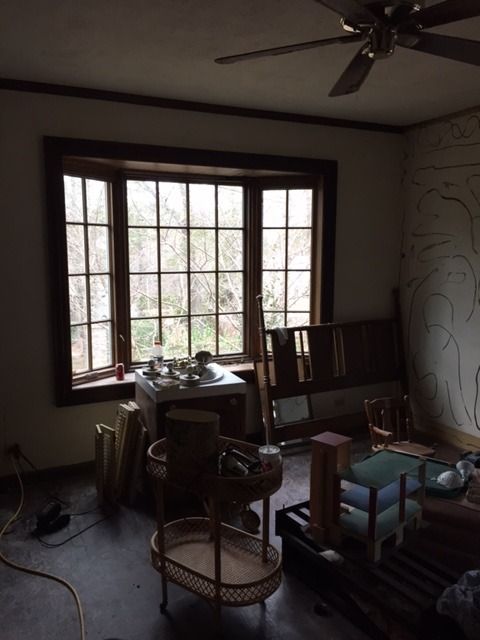 The master bedroom was pretty much a cosmetic fix…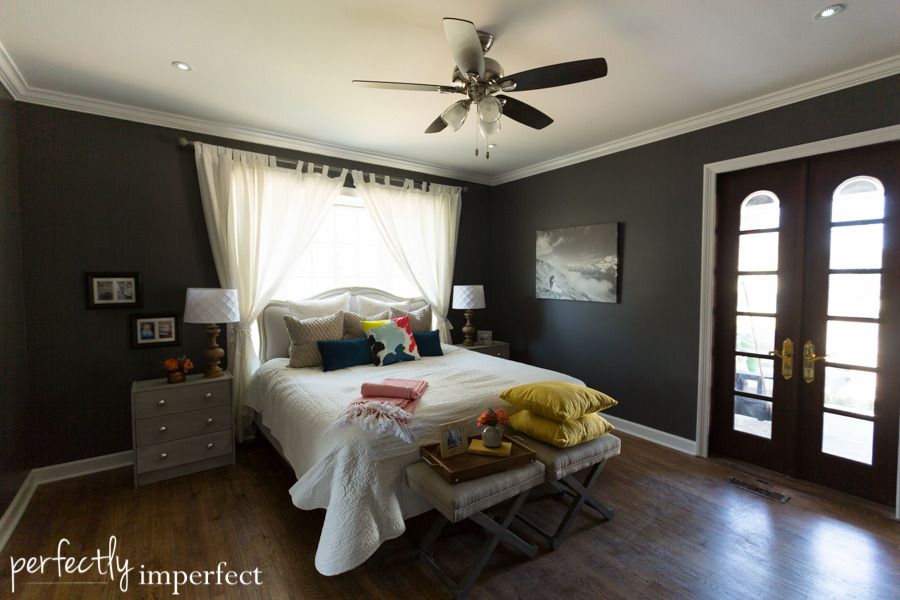 We went a little funky and used a moody charcoal (Sherwin Williams Peppercorn) on the walls.  We kept Nikki's headboard and updated her bedding with a classic white quilt and gave her loads of fun pops of color.  They wanted the space simple and clean and even asked for no dresser since we were designing a master closet.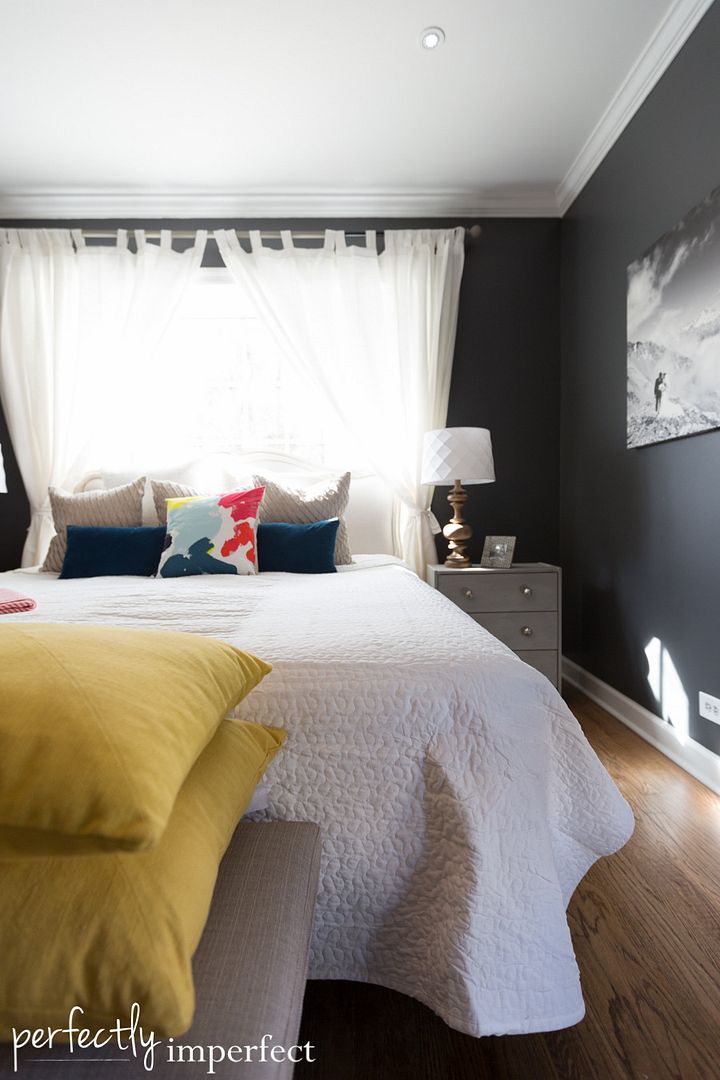 They asked for light and bright all over, so it was a little risky going with such a deep color on the walls.  I'm so glad we did, though.  Nikki and Jason loved it, and the natural light from their huge bay window is plenty to keep the space feeling bright.
The master closet was previously "the piano room."  What you didn't see on the show is that we also added a laundry room right off the kitchen before stepping into the closet.
You can get a better idea here…
I designed the barn doors (and Matt graciously built them for us) so that Nikki can be in the laundry room if her family is in the kitchen/dining, and she can just slide the doors closed when company is over.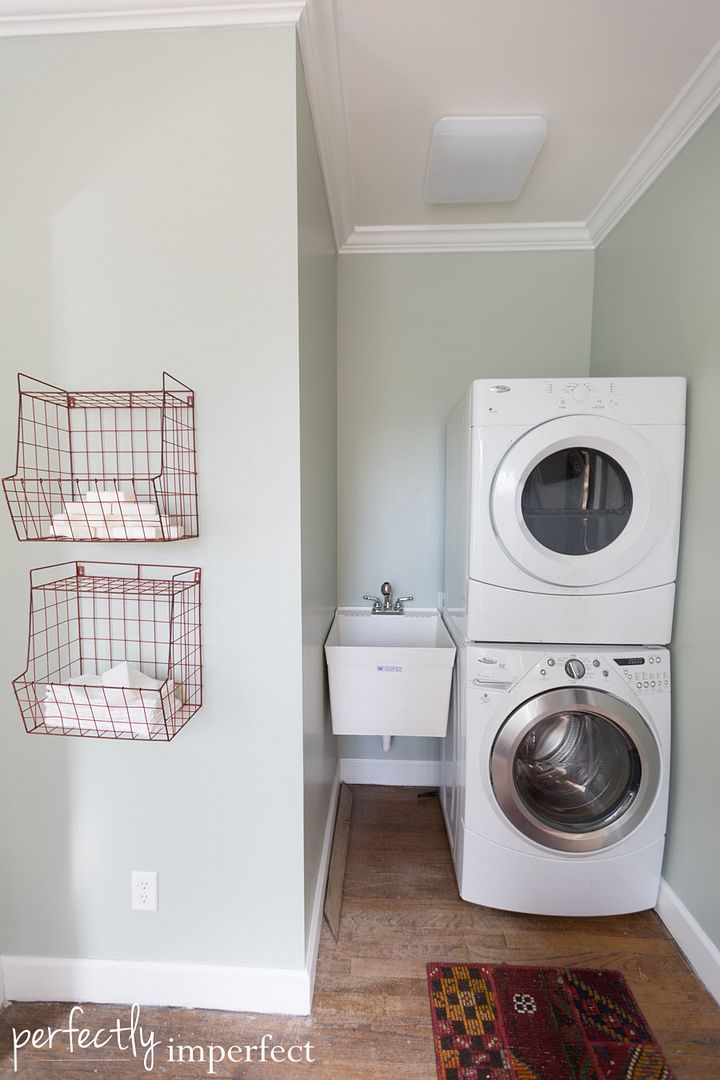 You walk straight from her laundry room (or their master bath) into the closet…
We designed the closet with ready made solutions from Ikea and they look wonderful.  In fact, Matt got all inspired after working on this project and surprised me with a closet redo of my own (coming soon).
Nikki & Jason plan to refinish these floors in the same Pecan stain we used on the rest of the downstairs.
The chair was another find from the house (just like the living room's coffee table) and we gave it a coat of Aubusson.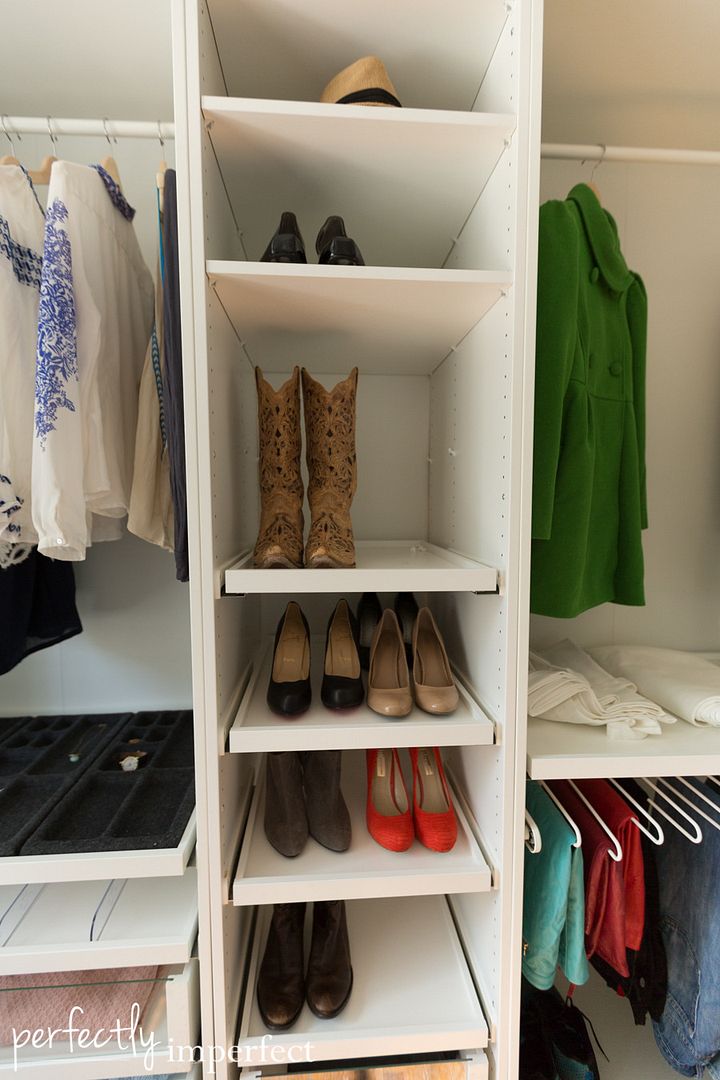 And that's the gist folks.  I'll leave you with a list of sources below, and am writing a separate post to list every single paint color used in the house.  In the meantime, though, let us know if you have any specific product/design questions in the comments!
Oh, and psst…don't forget they are re-airing our Pilot this Thursday at 11 p.m. EST/10 p.m. CST on HGTV.  Be sure to tag HGTV & us and use our #SweetHouseAL if you're tuning in or recording.  That's been my favorite part, by far, is hearing what you guys think.
Thanks again to the folks at HGTV, Leftfield Pictures, & especially to the Herndon's for letting us take over their home!!
Sources
Porch/Exterior:
Dash & Albert Rugby Stripe Platinum Pillows 26″- Perfectly Imperfect
Green/Black & White Stripe Pillows- Ikea
Landscape/Plants- Terra Cotta Home & Outdoor Market
Foyer:
Rug/Lamp/Lampshade- World Market
frames- Ikea
cathedral window- Troy Antiques 
Coastal Landscape prints- Lance Wheeler Photography
Living Room:
Savannah Pendant Light- Perfectly Imperfect (request this by phone or email 334-482-0215/ orders@perfectlyimperfectblog.com)
Sofa- Perfectly Imperfect (request this by phone or email 334-482-0215/ orders@perfectlyimperfectblog.com)
Rug- Perfectly Imperfect (request this by phone or email 334-482-0215/ orders@perfectlyimperfectblog.com)
Chairs/Console Table- World Market
Round End Table- Ikea
Set of 3 Reclaimed Wood Square Trays- Perfectly Imperfect
Boxwood Balls- Perfectly Imperfect
Milk Bottle Flower Holder- Perfectly Imperfect
Cotton Stems- Perfectly Imperfect
Wooden Candlesticks/Clear Glass Lamp- Target
Baskets- Ikea
Kitchen/Dining:
French Tea Towel- Perfectly Imperfect
Boxwood Wreath- Perfectly Imperfect
Hardware- Ikea
Sweet Tea Candle- Perfectly Imperfect
Bottle Opener- Target
Horse Canvas- Ballard Designs
Pillows- Perfectly Imperfect
Table/Pew- Perfectly Imperfect
Galvanized Chairs/barstools- Target
X Back Dining Chairs-Perfectly Imperfect
Blue Vintage Jar (mantel)- Perfectly Imperfect
Magnolia Stems- Perfectly Imperfect
Wooden Basket Centerpiece- Perfectly Imperfect
Olive Stems- Perfectly Imperfect
Island Pendants- Home Decorator's
Orb Chandelier- Ballard Designs
Dishes/Chargers/Glasses- World Market
Master Bedroom:
Nightstands- Ikea
Natural Pleat pillows- Perfectly Imperfect
Blue Velvet/Yellow Pillows- World Market
Watercolor Pillow Cover- West Elm
Lamps- Target
Master Bathroom:
Vanity/Mirrors: Home Decorator's
Flush Mount Vintage Style Pendant/Vanity Lights- Lowes
Wooden Display Ladder- Perfectly Imperfect
Turkish Towels- Etsy
Closet:
Cabinets/Vanity- Ikea
Accents- Target and World Market
Pendant Light- Ikea
*Special Thanks (and bless I know i'll forget someone)–  Our amazing crew, Eddie Powell (plumbing),  Shannon Cox with Elite Homes,  Advanced Electric,  Mark Olds (floor refinishing), Extreme Heating & Air, Keith Smith, Spurlock Metal, Robert Boswell, Elegante Countertops, Sherwin Williams, Campbell Cabinets, Cabinet Components, Herndon Homes, Rob Drinkard (flowers), Terra Cotta Home & Outdoor Market, Troy Antiques, Ricky Thomas, Johnny Stephens, Lucille Blair, Roy Granger, & The City of Troy.
And to our team and friends–we couldn't have pulled it off without you all & your late night/last minute saves–Nathan Capps, Eric Longmire, Adam Vinson, Julie Money, Kaitlyn Franklin, Amanda Hardin, Bonnie Money, Kay Franklin, Lisa Wheeler, Marchell Arnold, Sara Sherman & Lance Wheeler, Rob Drinkard, Lori Spears, Bryant Smith, Logan Baird, Kara Henderson, Garrett Lloyd & Charlie Senn.