Spring is finally here!
How do I know?
My eyes are puffy & watering, and my good friend, Layla, is having a Spring Mantel Party!
You've seen our mantel already when I showed updates to our living room and my diy abstract art.  I still wanted to link up to the par-tay and show you some closer shots.
I pretty much keep books of some sort on our mantel…they are my most basic building block for vignettes.  I mixed it up this time adding a stack of magazines on one side.
I bought the magnifying glass sconces from Pottery Barn around last year's spring mantel.
The seagrass floor cushion came from Ikea.  It mostly resides on our floors, but I'm diggin' on the wall.
I got the blue glass vase from Eastbrook flea market in Montgomery & the shallow glass bowl from TJ Maxx about a year ago.  The wooden spheres were a Southern Living at HOME freebie back when I was a consultant.
I framed (Ikea) a couple of prints–one Jones Design art print & a watercolor greeting card.  I know, it's a greeting card that says "thank you."  I just love the colors and graphic pattern.
The wicker lanterns were a Target clearance find last Fall.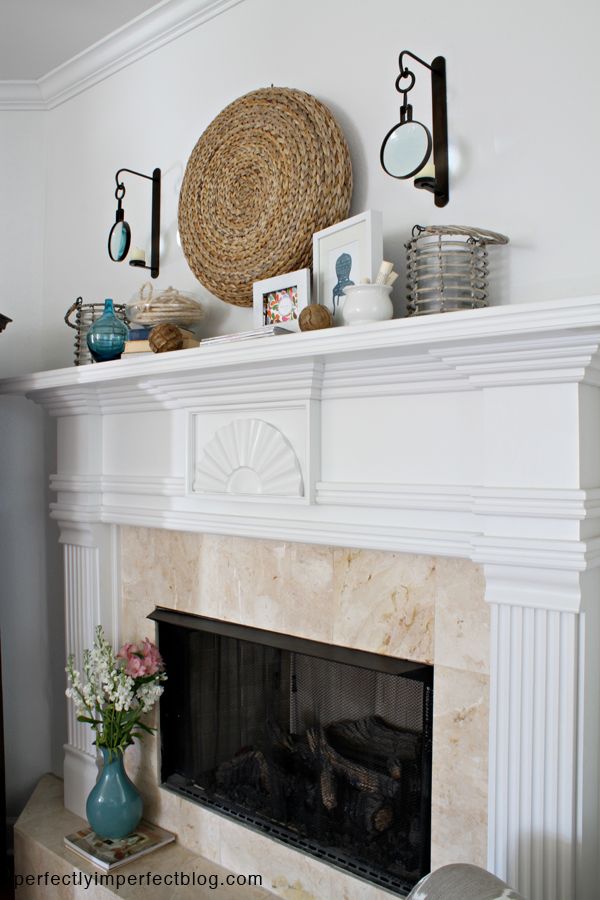 Just a few simple touches–that's our spring mantel this year.
Can't wait to see what everyone links up!
**also linking up to Tips & Tutes at Beth's