Y'all, I'm loving Christmas decorating this year.
Don't get me wrong.
All these simple decorations are beautiful, and make me happy, but have no fear.  I'll be pulling out the dancing Santa's and colorful ornaments to sprinkle throughout the house for my little ones' enjoyment.
In the meantime, here's our simple Christmas mantel.
Just a few elements were pulled together to create a simple, fuss free Christmas mantel.
I knew a while back I'd be incorporating the wooden serving tray.  It was an orange-y/red, and I love red at Christmas–but it's gotta be Christmas red.
I painted it with Annie Sloan Chalk Paint in French Linen and added a little gold leafing to the edge for a little sparkle.  I then painted it with approximately 8 coats of magnetic paint, then chalkboard paint.  It's STILL not working.  I've never seen such a sight.
And yes, I totally followed all directions.  It wasn't meant to be.  I think I'll cut a piece of new plywood to fit to size, and we'll be in true chalkboard business.
I bought one more piece of cedar garland (20 feet) from The Home Depot for $12.95!  I have so loved having fresh greenery in our home this year.  I don't think I'll ever look at Christmas decorating the same!
I plucked ornaments in here and there…as with most of the house, we're sticking to a white, silver, and gold color scheme + greenery.
The small trees also came from Home Depot.  I took them out of the cellophane packaging and added some white burlap and twine to customize my mini-trees.  I love them!
I've been going a little crazy with the glitter this year.  German glass glitter, that is.  I used mod podge and glass glitter to amp up these chipboard letters.  "Give Joy" seemed like just the right message to keep front and center.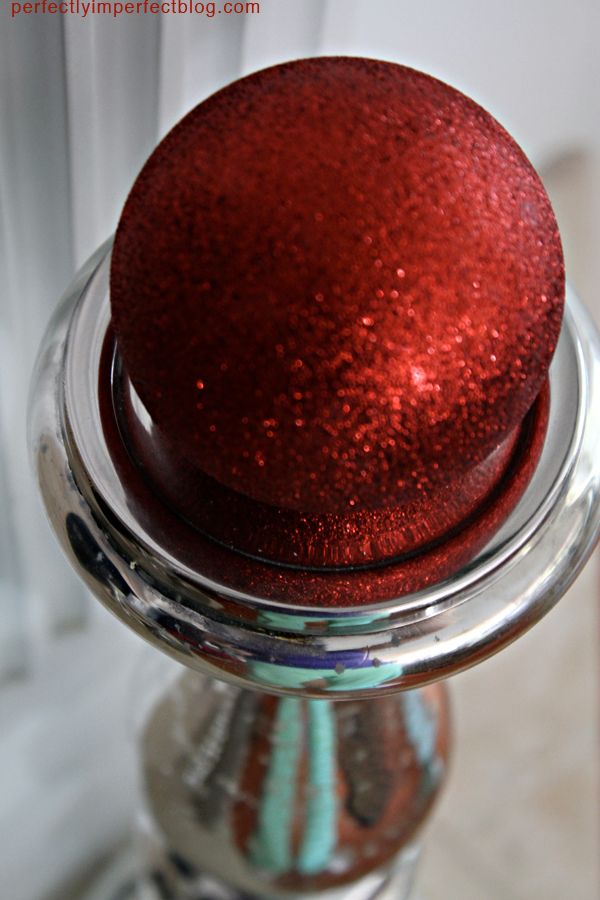 I'm definitely known to replace candles with ornaments around Christmas, and this year is no exception.  I'm still in love with the set of mercury glass candlesticks my sweet mom-in-law got me last year.
That beautiful poinsettia came from our friend, Julie–we bought two to support her mission trip to Malawi.  They are HUGE.
And unmistakably Christmas.
Want to see more of our simple Christmas decorating?  Head here:
dining room holiday table decor
christmas advent tree w/ 25 family activities
I'm linking this mantel up to The Holiday Home Mantel Party at Rhoda's & to Beth's Mantel Party!
It's getting merrier by the minute~