Unless something drastically changes or little elves begin making shoes on top of it–beating it up a bit– this guy will never get touched with a paint brush.
Never.  I think.  I found it at Troy Antiques, sitting perfect as is, and all but screaming, "PUT ME IN THE DINING ROOM.  YESTERDAY!"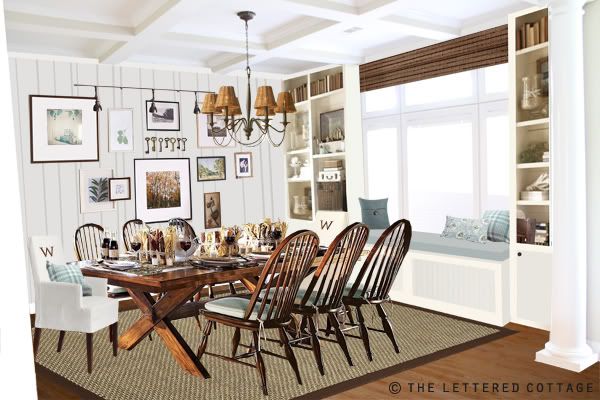 While the original plan didn't call for any furniture except the built in's, in reality, the wall is a lot larger than this inspiration drawing.
I think it will sit perfectly in the middle of the wall, the gallery art surrounding it and these gorgeous seagrass lamps.
I just could NOT pass them up at TJ Maxx the other day.  In fact, after spotting them, along with all my other finds, I headed back up front to grab a buggy.  I thought I saw someone picking them up and checking them out (there were only two) and I all but sprinted back to that aisle just in time to calmly place them in my cart.
(for the record, the nice, unsuspecting lady actually picked up 2 other lamps.  I didn't steal these from her…I'm not that crazy.  Yet.)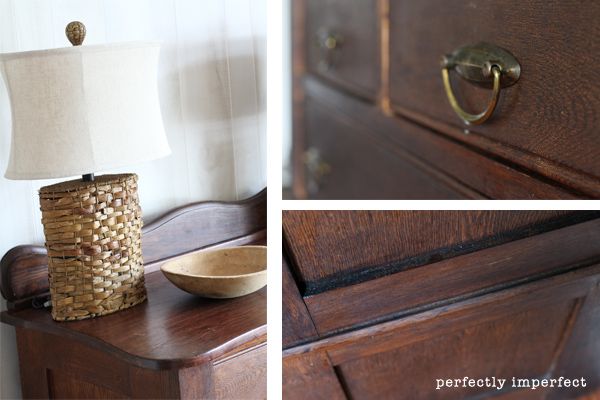 I love the texture against this antique buffet…and man, is it a beauty in my book.  I love the old, tarnished brass hardware, and the planked sides…I'm in love with every nook and cranny, really.
So while the dining room is not finished, we're making some great progress and pulling things together.  I'll be painting the paneling tomorrow, and let me just say, there may be a magic marker involved.
Stay tuned…but until then, what do you think???