This weekend was pretty amazing.
We, and by we, I mean my team and I, headed down to the beach condo in Florida for the first ever PI Creative Leadership Retreat.  It was heavenly: by day, we met and did creative work and brainstormed and planned and by evening we laughed more than is necessary, but I enjoyed it so.  More on the weekend soon, but today I thought you and I would talk creativity.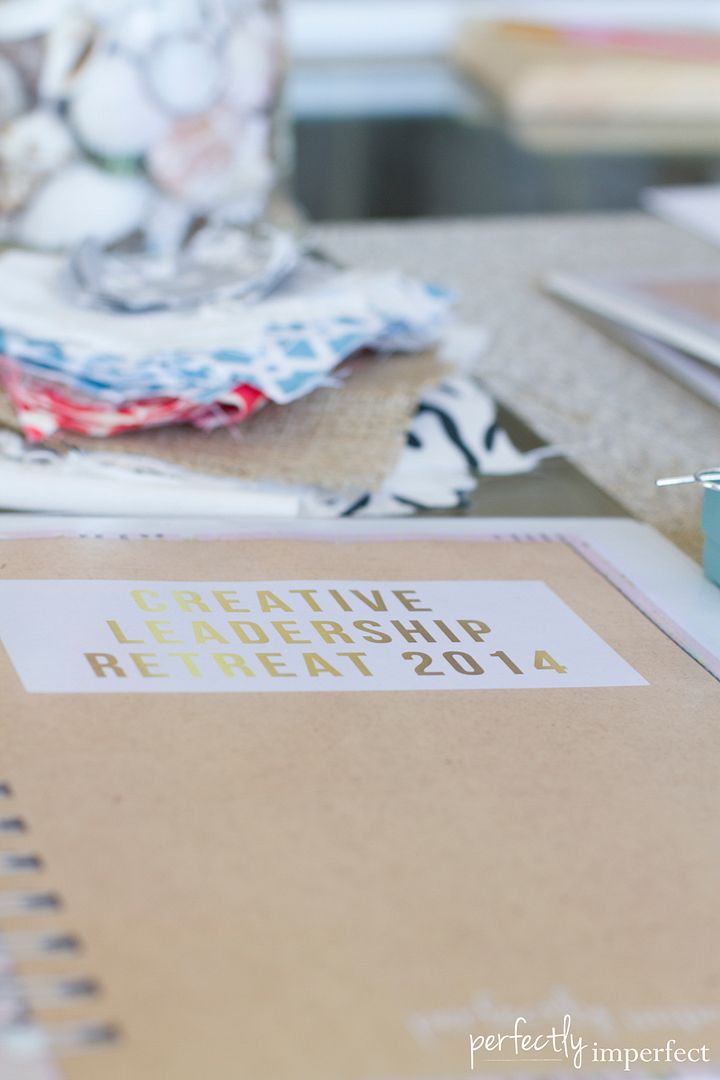 Doing creative work can be tough, tricky, exhausting, energizing, and even overwhelming if you don't figure out how to tackle it in your own way.  For example, we're working on a million projects at once right now, both for the blog/newsletter/online store and for the shop, plus we're trying to homeschool our children, and I just planned this retreat where, at the core, I was supposed to motivate others creatively.  #drainingbutwonderful
So how do you tackle creative work?  Especially when you are drained and tired?  How do you recognize when you need recharging so you can get right back at it?
A couple of things we talked about this weekend…
Creativity is a discipline & can be learned
There is a misconceived notion that only the brilliant can create.  Sure, there are those in the world that begin their creative journey sooner than others, and maybe some are predisposed to do creative work.  But…the great ones, the creative geniuses of the world, know that discipline and routine is as important as inspiration.  I am a prime example of the late-blooming creative.  I have written for as long as I can remember, but I didn't sketch, paint, design, watercolor, decorate, style a store, or anything else until I was in my mid-twenties.  I painted my first piece of furniture when I had to for my son's nursery, and from there, a creative streak was awakened.
Because it was fun, and instantly space-changing, my painting became a hobby–or for a better, more disciplined word–a habit.  I would paint once a week or so (sometimes more) for the last few years because it was mindless, artful, and I began to crave the time.
Find Your Routine
With writing–I need to wake early and pen late in the evening to get a mix of strong, eloquent words.  If I'm going for random-thought journaling, well, mid-day works just fine.  I like to work with the bolt of inspiration, but I've learned in the last few years, sometimes you have to sit down at the keys when you have absolutely nothing to say.  Sometimes you break out the paint when you feel like lying around.  Sometimes you write a new chapter when you can't form a toddler-sized thought.  It takes routine, practice, commitment, and discipline to actually live out a creative work life.
We get a ton of questions about this– "I love to paint furniture, I love the idea of opening a shop…but I am not business-minded."  That's the statement/question in a nutshell, and I see two flags with this.  First, you have to want to tackle the details—the list–if you want to run your own business and run it well.  Secondly, though, you must recognize there will be times when your creative side runs a little dormant.  What then?  Will you paint when you have no inspiration?  Will you Do Work and Work Smart when you feel depleted and empty?  Everyone must takes breaks (don't know if you noticed, but i just took two days 🙂 ), but the creative business owner or person knows to take a second, but quickly get back on the proverbial horse.  So how do you do this original work…over and over again?
Identify Your Window & Your Creative Mood
I think there are 2 factors in carving out creative time in our lives.  One, when does it physically coordinate with our schedule, and two, when do you feel energized and ready to do work?  Do your kids go to school?  Do they nap?  Are you single and working until 5 p.m.–and are you tired at the end of the day or ready to tackle a creative task?  Identify what time you have that you could possibly save for creativity and then you must evaluate whether or not you are energized at that time.
For instance, we homeschool, so there's not really a "great" time for creativity.  Kids are running amuck all day, and they are older now, so nap times are few and far between.  So, they've become part of the creative process for me.  They are my music, my background noise, and I accept it because I have to.  I don't have a quiet studio in a Tuscan village where I open a new bottle of pinot every night–I have my messy house, filled with laundry and life and noise, and so this is where I create.  The quiet is nice, and I do enjoy it, but I've found that my routine is so accustomed to the noise that when I actually steal some quiet moments, my mind wanders and I become distracted.
The other task is to find your magic hour.  When do you get excited to begin work (because creativity is work–it is thoughtful, purposeful, beautiful, fun, but it is a task)?  For me, the magic hour for writing is early morning, but the magic hour for painting is usually mid-day or early afternoon.  I have no magic in the evenings.  I don't want to write, paint, drill, redecorate–anything creative dies past 7 p.m.  That's probably the opposite for a lot of people with small children, but for me, if I don't create before evening, I wait until the next day.  Find Your Window & Your Magic Hour and you'll be on your way to sticking with creative work–promise.
Make a Decision to Believe in Your Creativity
Say it with me: I am creative because I was made by the most creative Person ever. Amen.  Truthfully, though, you were.  You can do this.  You can tackle anything you put your mind to.  I find that a lot of practical business people do not want to accept that magic is a part of their business–the intangible, the cheesy, the intrinsic.  And so it is with people–"I can't do that; I'm not creative."  "She is so creative; I could never be that way."  So you believe, and by the way, 9 out of 10 times, that's the result you see staring you in the face before you even begin.
Believing you can (do anything) is more than half the battle.  It turns problem-finders into problem solvers, and who wants to be the one only identifying the problem??  There is magic in creating, in creative work.  You can't see it, but it's there, and if you're purposeful, embracing that magic will take your work or your business to places you only dreamed existed.
Just ask Mickey Mouse.
I know, I know, but Practice Makes Perfect.
So you've figured out when you can do creative work, when you come alive to do creative work, and you believe you can do creative work.  What now?  Well now you have to do it.  You have to commit to it.  You have to practice.  You set an alarm or one of those twinkly sounding ringtones, and you walk upstairs (if you're me), and you get to work.  You open a can of paint every day or open your laptop or begin to move (any dancers out there??).  You do work.  You brainstorm, you pen, you plan, you paint…you commit.  Through the good, bad, and the ugly.  Self-discipline has to be the most important part of a creative person's work…inspiration and mood come and go, but you and your ability to get started?  That never goes anywhere.  You are with you every day and the attitude you have towards your work sticks and propels it forward, or lets it settle (which is ultimately sliding backwards).
I think we'll certainly have a part 2 of this post, so feel free to leave any questions in the comments.  Oh, and Pssst…thank you for your feedback on the running a creative business series!!  Today is last day to head over here and leave a question for me as I prepare to write the whole series. I'll draw the winner of the gift card to our shop tonight!
Do something creative today, friends.