Let's start with this.
I am not magical or have the world of business figured out.  I am not a Wall Street tycoon nor will I be on the cover of Forbes magazine as "businesswoman of the year."
I will tell you, though, that this topic has been on my mind for some time now.  So much so, I'm considering writing a whole series of posts or even creating an entirely new online class for you folks.  About running a creative business.  About dream-making.
Just a bit of back story.
I grew up in the grassy fields of a small Alabama town, running through the woods and being allergic (literally) to them at the same time.  My parents worked hard, played hard, loved us richly.   Without going into dreary detail, I grew up around the wholesale tire industry, and I have to tell you, it taught me so very much about working with people and running a business.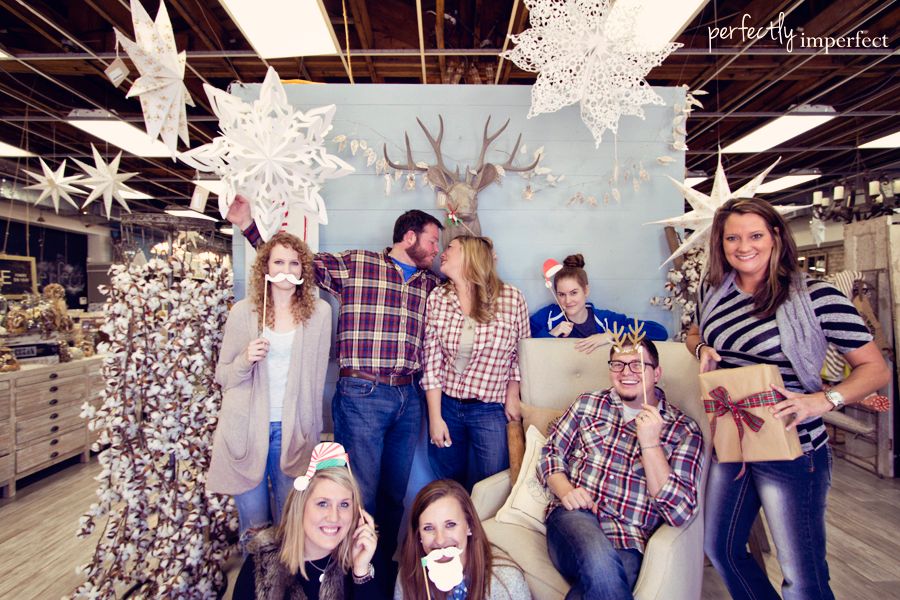 our motley crew at Perfectly Imperfect…yes, we are kissing and everyone else is Christmas posing
My dad probably doesn't realize how often he would be on a phone call, using his "business voice," as I liked to call it, while I held my breath to hear what he would say and how he would say it.  I remember very often being so impressed with him, and I loved to listen in and gain his perspective.  I wish you could hear how deep his voice is and see his commanding presence–it's sort of humbling.  I realize I'm biased, but I would venture to say most who have dealt with him would likely say the same thing.
So the years went on and I became more and more confident in my leadership skills.  They encouraged me to not only try new things, but learn to lead in my own way.  Random, but I served on the youth board for the national Palomino Horse Breeder's Association as treasurer, president-elect, and as president my senior year of high school.  (That's right, there's a whole board and Robert's Rules of Order with firsts and seconds and motions and the whole shebang on the back end of quarter horse showing.  Who knew?)  I served in various organizations, and I just loved business.  I loved working with people and the business of making it happen, whatever the "it" happened to be.
Fast forward to college.  I wanted to pursue a degree in creative writing and journalism, and honestly, my dad would have none of that silliness.  At the time, I was excited about the business admin degree I was working on, but I was also frustrated.  Shouldn't I be pursing my passion??  Shouldn't I be spending my days pouring over Emerson and my nights glued to the click of the keys?  Little did I know that this, this writing, wasn't the skill that needed to be honed.
I graduated Magna Cume Laude with a Business Admin degree, minoring in English, and of all things, wound up immediately teaching and coaching at a private school back in Troy before I had even graduated.  (We were crazy and got married right out of school–and technically "in school" since I was graduating early.)  Oddly, one of my favorite classes was an eighth grade "career skills," a previous dud, but one I was pumped to tackle.
The story goes on, and I continued teaching/coaching for 3 years before I found out I was pregnant with our first child.  While I didn't mind working, it was time to move on, and I wanted a little time with my fella.  I should have recognized this pattern in myself then…when I got antsy the moment he was three months old.  I loved being home with him all day and that being my work, but I did crave a little creative outlet.  I found myself at a Southern Living at Home (now Willow House) party, and before I knew it, I was selling the stuff and building a team.  Within my first year, I earned two trips, and by year two, I was a Director and leading/helping other women start their own businesses.  It was an odd feeling, to say the least.  I loved everything about it–the connections with other women, the business building, leading trainings, even the direct sales (which is really just about reading cues & being good with people).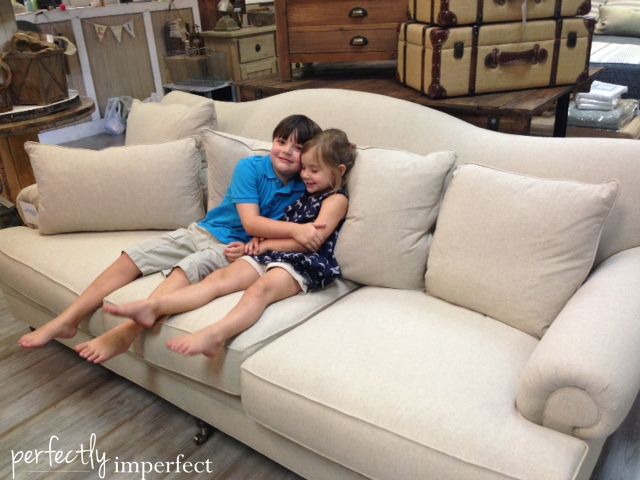 After 2 years of pushing hard, I realized that while I loved the work, I was spending a LOT of time traveling, and when I became pregnant with Ava, and all the mother hormones started coursing through my body again, I knew it was time for a break.  I needed to be home, and not have to work so insanely hard all the time.
We had Ava on a blazing hot morning in July of 2009 (and another story), but my epidural didn't take and I couldn't move my legs.  I was so happy for that little nugget to be on the outside of my body that I could barely think of eating much less what my next "work" would be.  The weeks after her birth really were bliss (most of the time).  I treasured being home and going from one to two kids really wasn't that big of a deal to me (this could have been the protective mother hormones).  I loved my place here.
Around the time she turned 5 months old, though, I started writing again.  Mostly journaling to myself, or pulling out creative exercises.  I even wrote 7 chapters of a fiction novel.  I was addicted again.  I had begun a family blog just to share photos of the kids with my in law's and family members, and all of a sudden, I just wanted to write–for me, and for others.
And on Christmas day of 2009, Perfectly Imperfect came to be.  I remember begging my sister-in-law to follow along so someone could say they were reading (thanks, Lara!)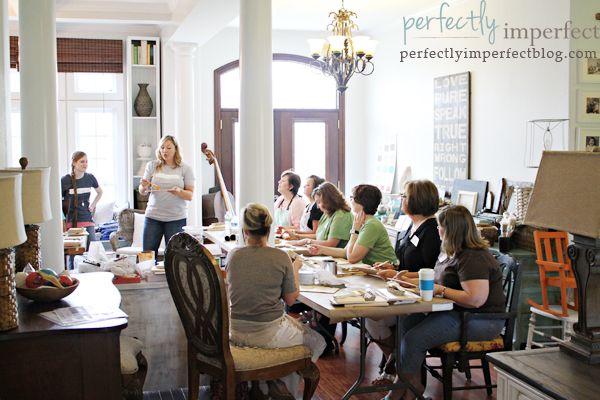 I had no idea that Perfectly Imperfect would become a brand, and not just a quirky name for a mom turned hobby blogger.  I had no idea I would teach workshops in my home, and in my store.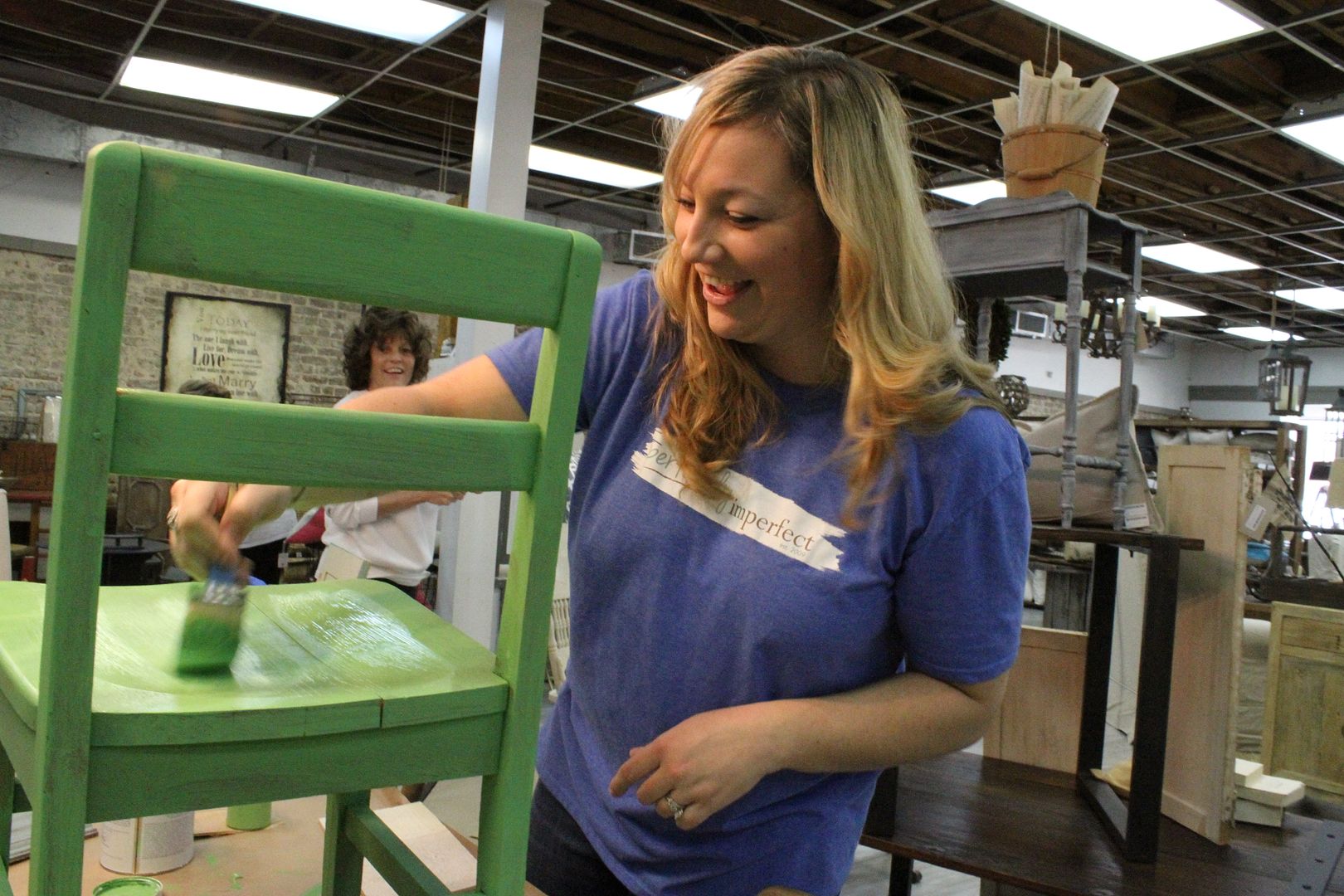 Or that I would have a store, for that matter.  I had no idea that the store would be a thriving business and the online store would become a separate business, entirely.  I had no idea.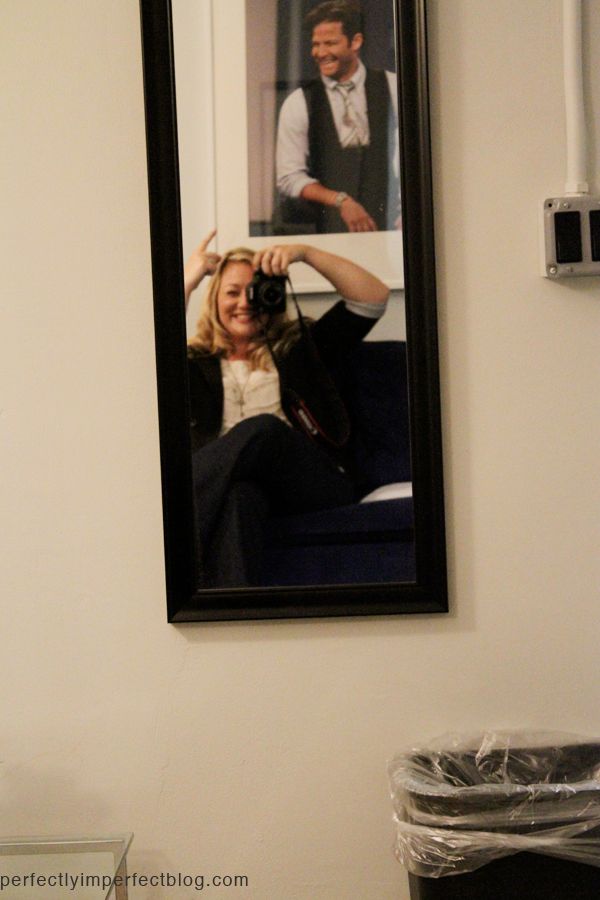 We got to be on TV, and in magazines, and now, even our store has been featured, and I'm writing a book for heaven's sake.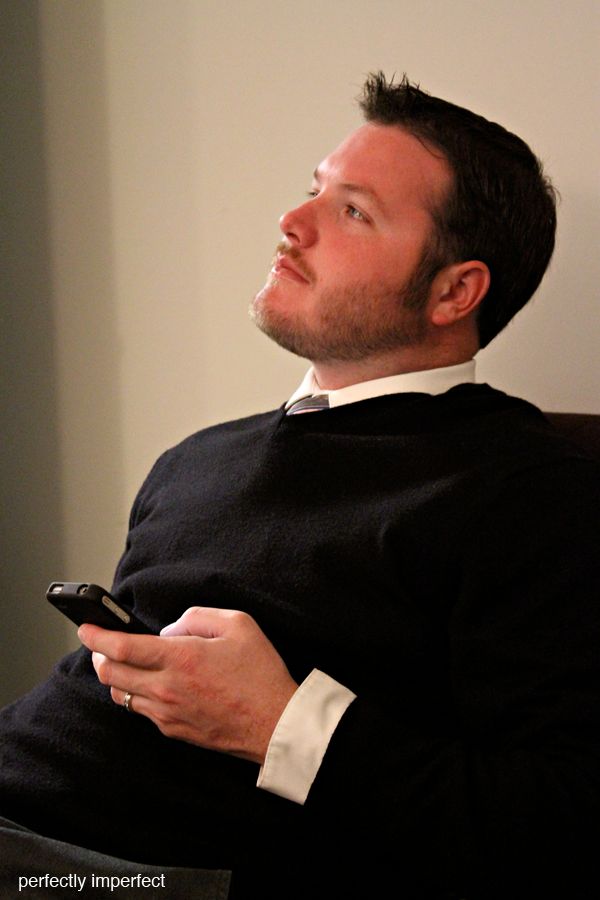 I had no idea this man (whew, handsome as he is), would be so good at this work.  We were meant to do this together–good days and bad.
I had no idea.
But you better believe I ran with it.
So while the blog posts come, and you see the projects and tutorials and happenings around the shop, we (and our 8 employees) are working away behind the scenes–at all the things that make our quirky name a brand.  We spend hours and hours every single day dreaming up new ways to further the brand, serve you better, know you better, run this blog and our shops better.  There's talk of second locations and buying buildings, and so much that I can't even share yet–and it is beautiful business at its finest.
Not because of me or how amazing Matt and I are (although I like us just fine), but because Someone knew that I needed to shape my business & leadership skills.. now all those random jobs make so much sense.  The degree makes sense.  I am most positive God knew the dreaming and writing would come naturally, and those could be perfected on a whim.
It was the dream-making He needed to shape, to give me the ability and the desire to dream, and actually do something about it.  That's what I like to call us–Matt and I.  We are dream makers.  Not believers or hopers or wishers…I want us to make it happen.  To be the kind of business people that take calculated risk, that push.  I want to use what has been given to us for good.  I want to train new leaders because while it's more headache to work with others, my two hands can only do what they can do.  And 8 sets of hands are better than one.  Plus, those 8 folks need to be dream-makers, too.
They may not know it yet.  You may not.  But within the walls of your life, there are steps and boundaries and invisible lines you need to cross when the time is right.
Here's to making it happen.
**P.S. As I prepare to make write this series/online class/book/who knows? do me a favor and leave me a comment asking any question you'd like to know about our business (yes, anything!) or running/starting a creative business of your own.  Every entry/comment gives you the chance to win a $100 gift card to our store!