With all the rain at the beach, we got a lot of little projects done at the condo last week.  Remember what our bedroom looked like before…
Some of the furniture was beautiful, just a little orange and dated, so it was staying with a little updating.  We have several steps left, but we're on our way to a brighter, happier bedroom.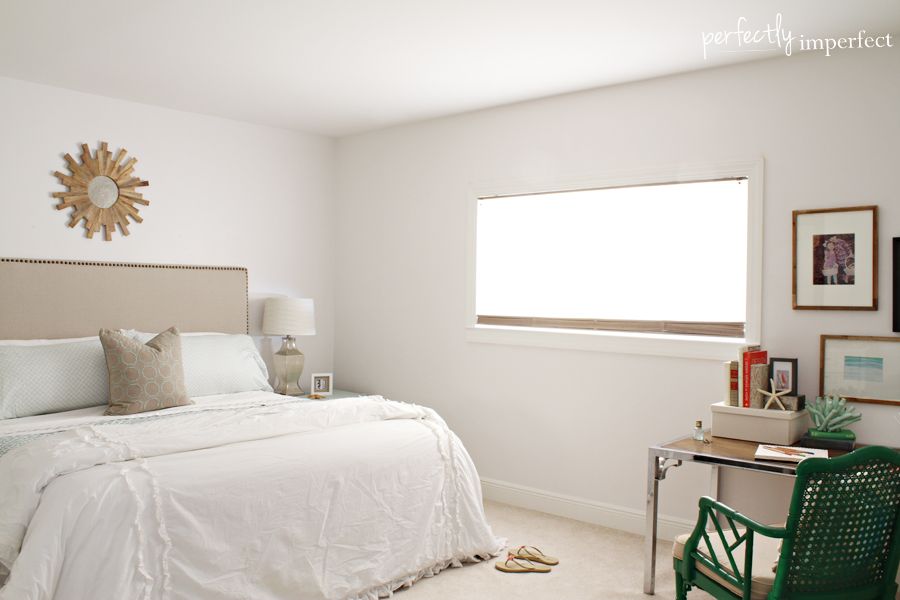 Major improvement, right??  We still lack things like wall sconces, swapping out the blinds for woven shades, and a little more wall art, but we are already loving this space!
The main challenge is the lack of light in the room.  There is no ceiling light, and little outlets.  I knew the first thing we had to do was paint this room white.  It's almost pitch-black in the space at night, even with lamps on.  We went with Snowbound by Sherwin Williams, the palest gray/white…it is a new favorite for sure!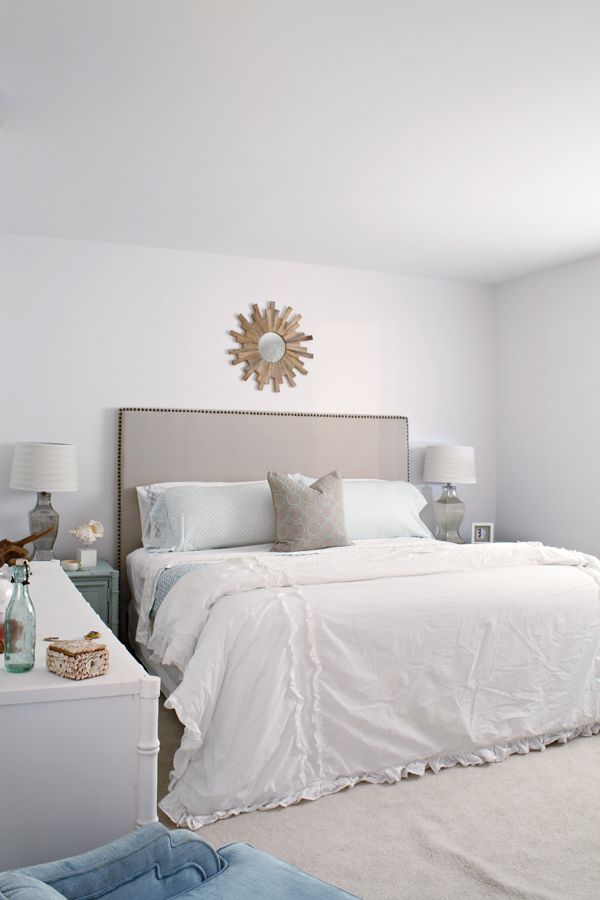 I loved the vintage bamboo-style furniture in the room, so we kept that and gave all three pieces a fresh coat of Chalk Paint® (Pure White & Duck Egg mixed with Old White for the side tables).  I waxed the two night stands with MMS clear wax, but still need to seal the dresser.
Speaking of, I'm sort of in love with how crisp and white it is…has me itching to repaint some things at home.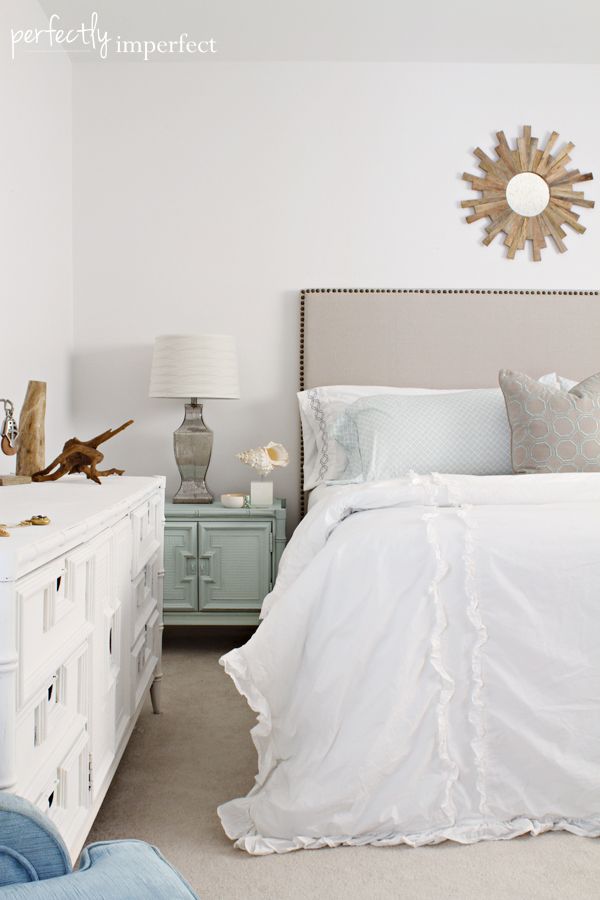 A lot of the accessories were found around the condo (see: shell/enamel stand above), brought from my house, and picked up locally at Target.  We still need some wall art for the wall to the right of the bed, but we're keeping things minimalistic to encourage lots of room to breathe and relax…clean space.
We want this space to feel like us, but we also were working with a twist with all of the regency-styled furniture.  To balance the two, we pulled in things like simple white frames, wood tones, and an upholstered headboard (from our shop) with loads of texture to contrast with the glamorous desk, chairs, and lamps.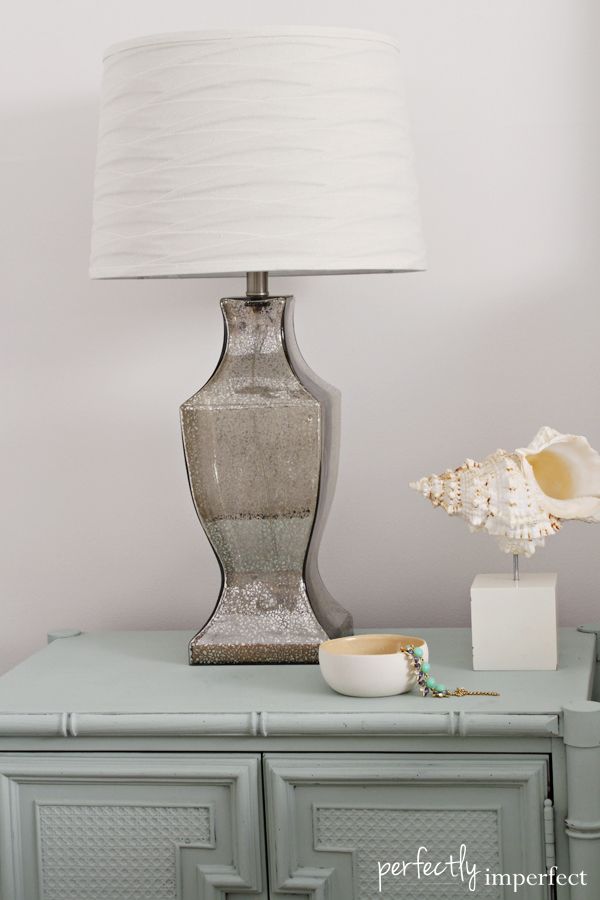 The lamps mimic the chrome desk on the other side of the room, and help the eye wander around the space.  Plus, they're sparkly mercury glass.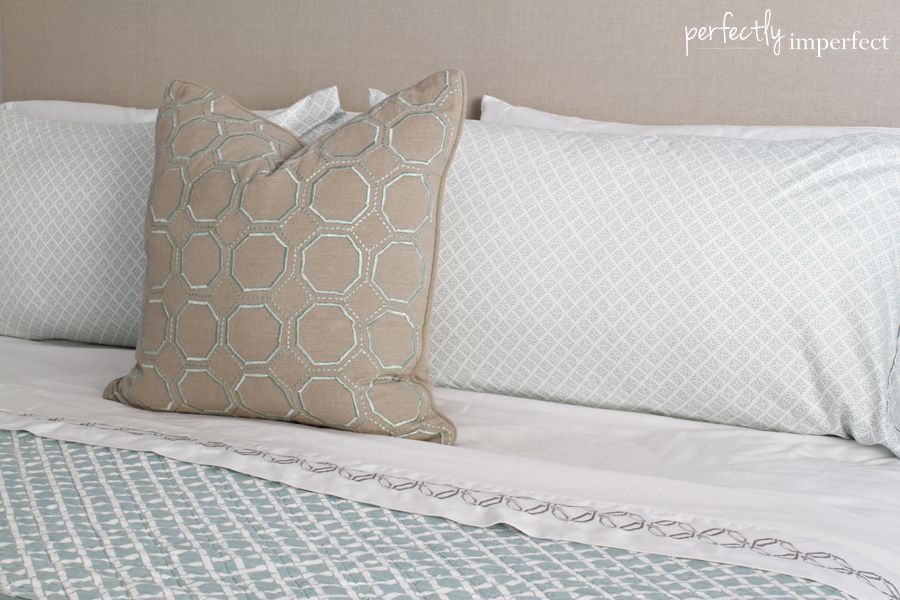 The bedding, again, we kept simple.  We already had the quilt (Dwell Studio for Target) purchaseed several years ago, and the bedspread at the foot of the bed, so we purchased sheets to coordinate.  I love how all the shapes are different, yet mirror one another.  We might go for some euros eventually, but for now, this casual setup suits us.
The other side of the room isn't finished, but you can see how different it is already…
I plan on putting some wall sconces on either side of the mirror.  We'll love the look and the light even more…especially at night!
Here's a list of resources:
Paint: Snowbound by Sherwin Williams, Chalk Paint (furniture)
Headboard & throw pillows: perfectly imperfect (our shop)
bottles: flea market
wooden pulley, wooden vase, reclaimed sunburst mirror, lamps and shades, sheets: Target
Quilt & bedspread: Target (several years ago)
white frames & jewelry bowl: Target
I'd love to hear what you think about this mini-makeover…just goes to show what you can accomplish with a lot of white paint!

P.S.  Stay tuned for the desk area makeover next…i'm in looove with how it turned out!