So, my mom and dad recently bought my grandparent's beach condo in Panama City Beach, Florida.  It's a 3 bedroom, 2 bath, with a great living space, small dining room, a huge Master dressing room that we plan on converting to a kids' bedroom, and a decent size kitchen.
The good news is that the spaces are great with lots of potential.  The other good news (for probably just me) is we have lots of decorating to do to make this space more cozy for our family to enjoy.
For instance, the kids' room…
Mom, Tiki, & I drove down last weekend to give the place a deep clean and I hoped beyond all hope that I could do a little painting & decorating.  We don't have a major budget for these redo's, but we all know the power of paint, & a little junk-diving, right?
I brought a couple of things, and made runs to an antique mall & Target the two days we were there.  We are by no means done, but definitely on our way to a brighter future…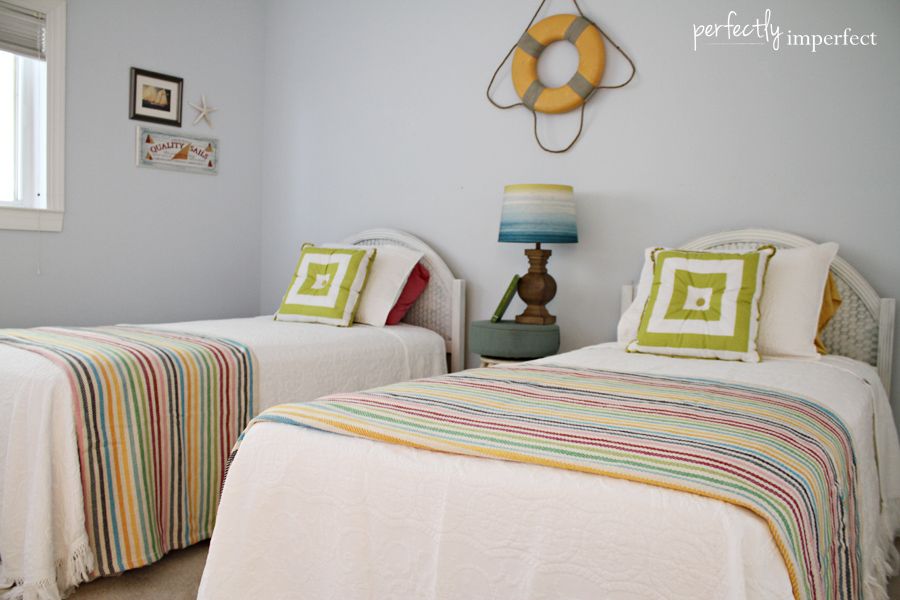 Right?
The bedding is where the room began…I wanted to keep the room light & bright, but I added shots of color to give the kids a fun, energetic space to enjoy when we're there.
I found the two white vintage twin quilts on Etsy a while back, and knew they were the perfect backdrop for any bedding choices.  Next, when our rainbow stripe throws (which are more like twin-size blankets) came into the shop, I knew they were the perfect choice for a shared space.
Because, of course, Grayson wanted blue and yellow & Ava wanted pink (see different color sheets).

We actually hopped on Pinterest with the little ones, and looked at a ton of spaces to see what they were drawn to the most.  They LOVED the rooms with a strong nautical theme.  They're both obsessed with Peter Pan (we read J.M. Barrie almost every night & Jake and the Neverland Pirates is a household hit).  I decided this room would be the only one I'd probably go very themed, so we're going for it in their space & celebrating things they love.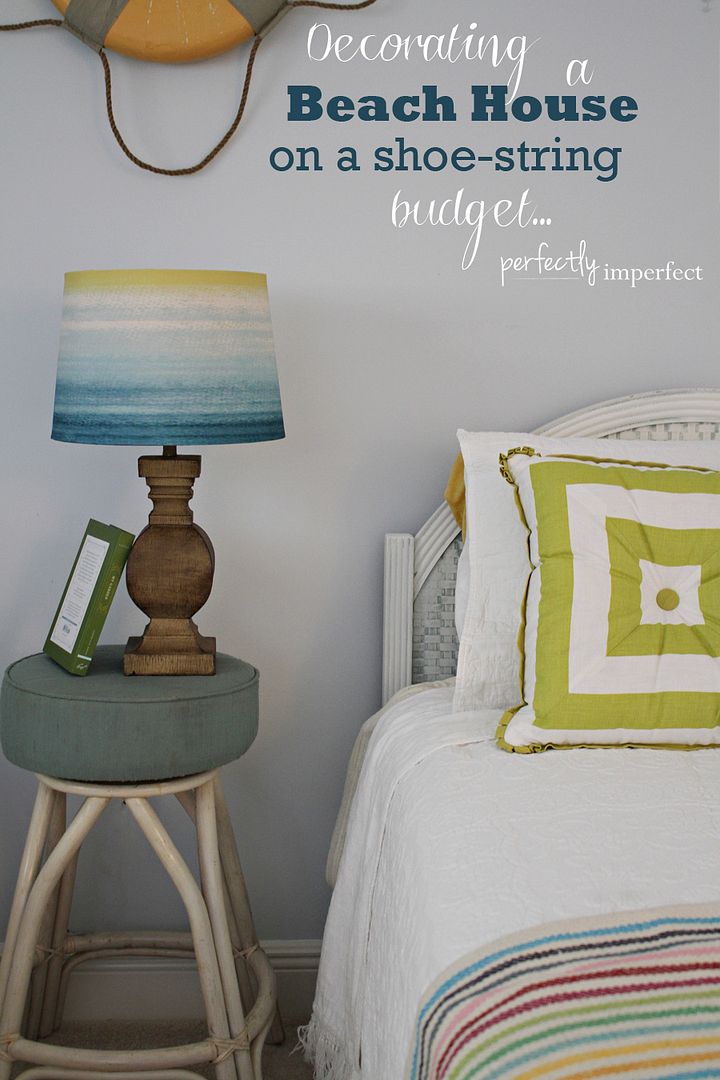 While we're updating the condo, we'll create a series of sorts out of it, sharing our sources and tips and makeovers along the way.  P.S.  the stool isn't staying, but I'm on the lookout for an inexpensive end table/small chest of drawers to put between the beds.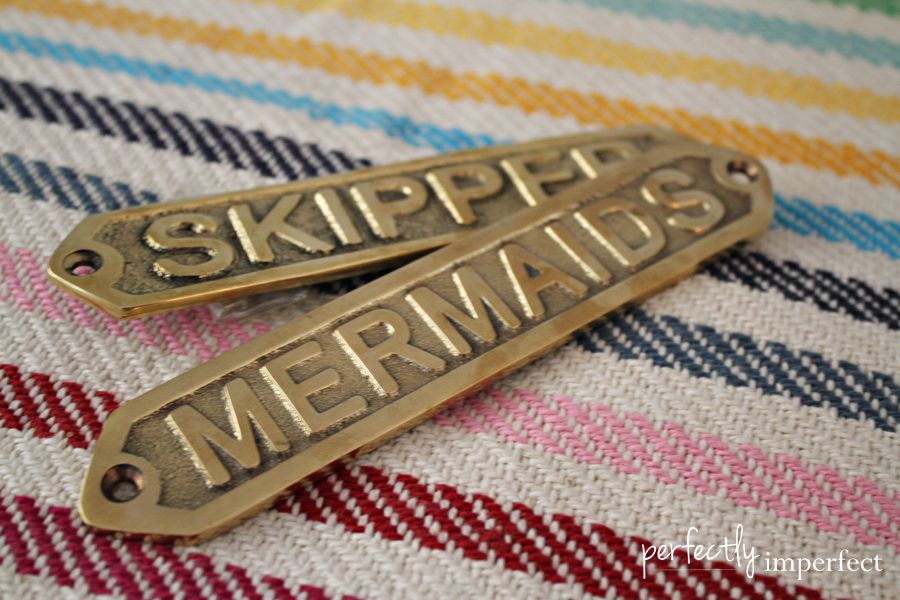 I found these two plaques we'll use to create some art over the beds, one for a mermaid & one for a skipper.
Mercy, between that and the stripes I can hardly contain myself.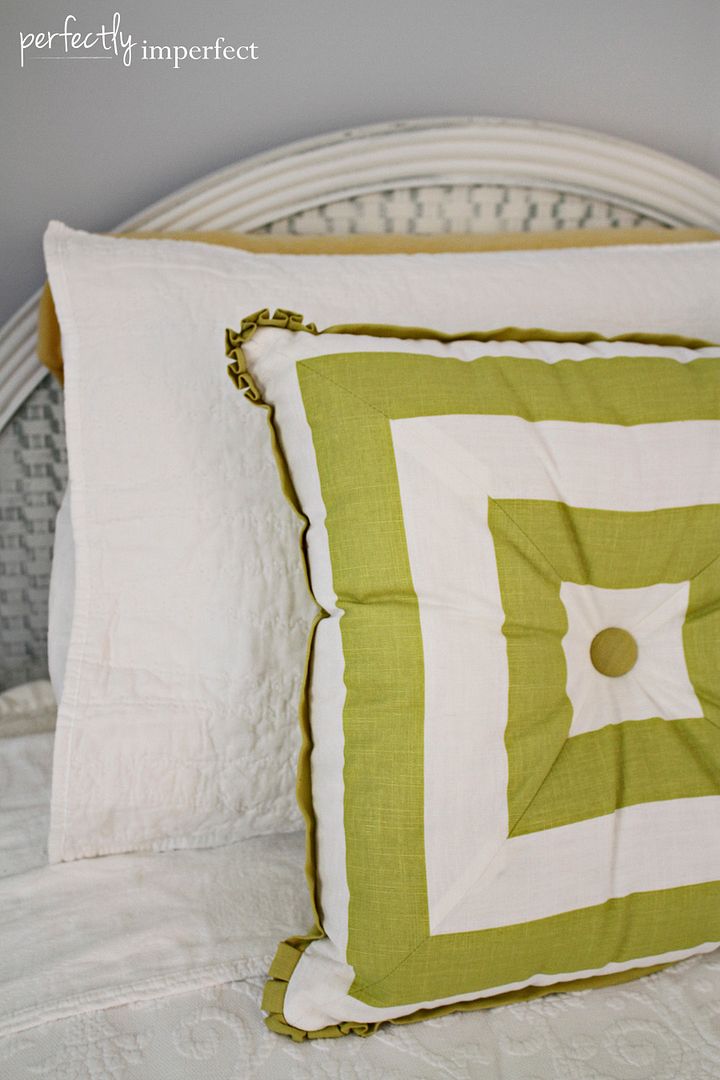 We hit a great sale at Target the weekend we were in town, and the quilted shams & decorative green pillows were some affordable (and cute!) finds.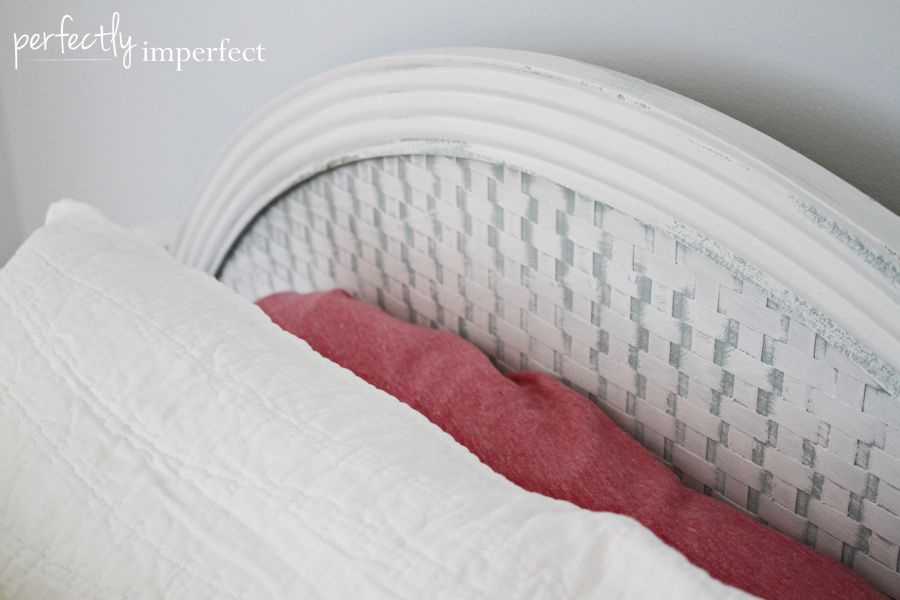 I painted the previously peach twin headboards with Chalk Paint(R).  I brushed on a thick coat of Duck Egg on the base, and dry brushed 2 coats of Pure White on top.  I love how it brought out the texture in the basketweave detailing…and certainly amped up the cottage in the room for very little $$.
I've been eyeing that Smith & Hawken basket from Target for years, and when this one was on sale, I picked it up to store toys, towels, shoes, and anything else that winds up in their space.
The pillow came from our shop, and we'll be using it in a chair that needs recovering in their room…
Kermit is vintage.
He is staying forever.
The wall art were antique mall finds that totaled $10 & I brought a starfish from home…I see filling this wall with treasures from our beach combing & special shots of our family enjoying this new adventure.
Next up…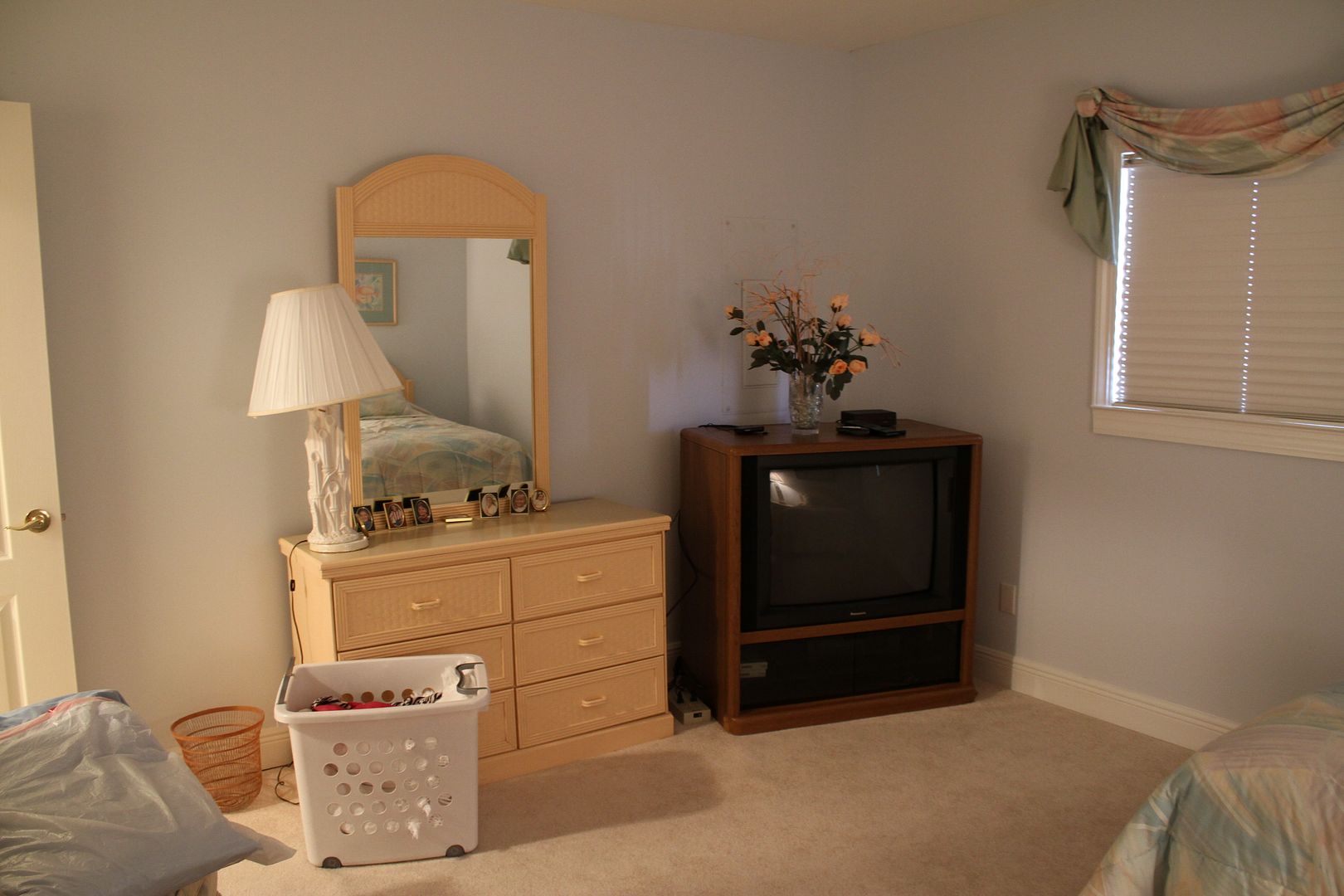 Painting the walls (they are a bit too baby blue for me–I'm thinking Sherwin Williams Sea Salt mixed at 50%)
getting RID of that massive TV box…and maybe a little Ikea expedit action plus TV, going on here on this wall above
painting the dresser & moving it into the closet to create room for more practical storage out here.
new window treatments (I'm leaning toward Ikea panels because you can't beat the price)
possibly new bamboo shades, too (my mom has a serious aversion to them since they aren't the best for privacy 🙂 )
New shade for that weird/kinda cool bamboo lamp.
And after that?
The bedroom that Matt and I and my brother will call "ours."
Clearly, not all at the same time.
It's already looking soo much better, but the peach walls make this one a bit of a wait for the after's…we hope to start painting in the next month.
I'll give you some peeks of it really soon.
Wow, so much peach.
And after that….
Our (you guessed it) peach bathroom…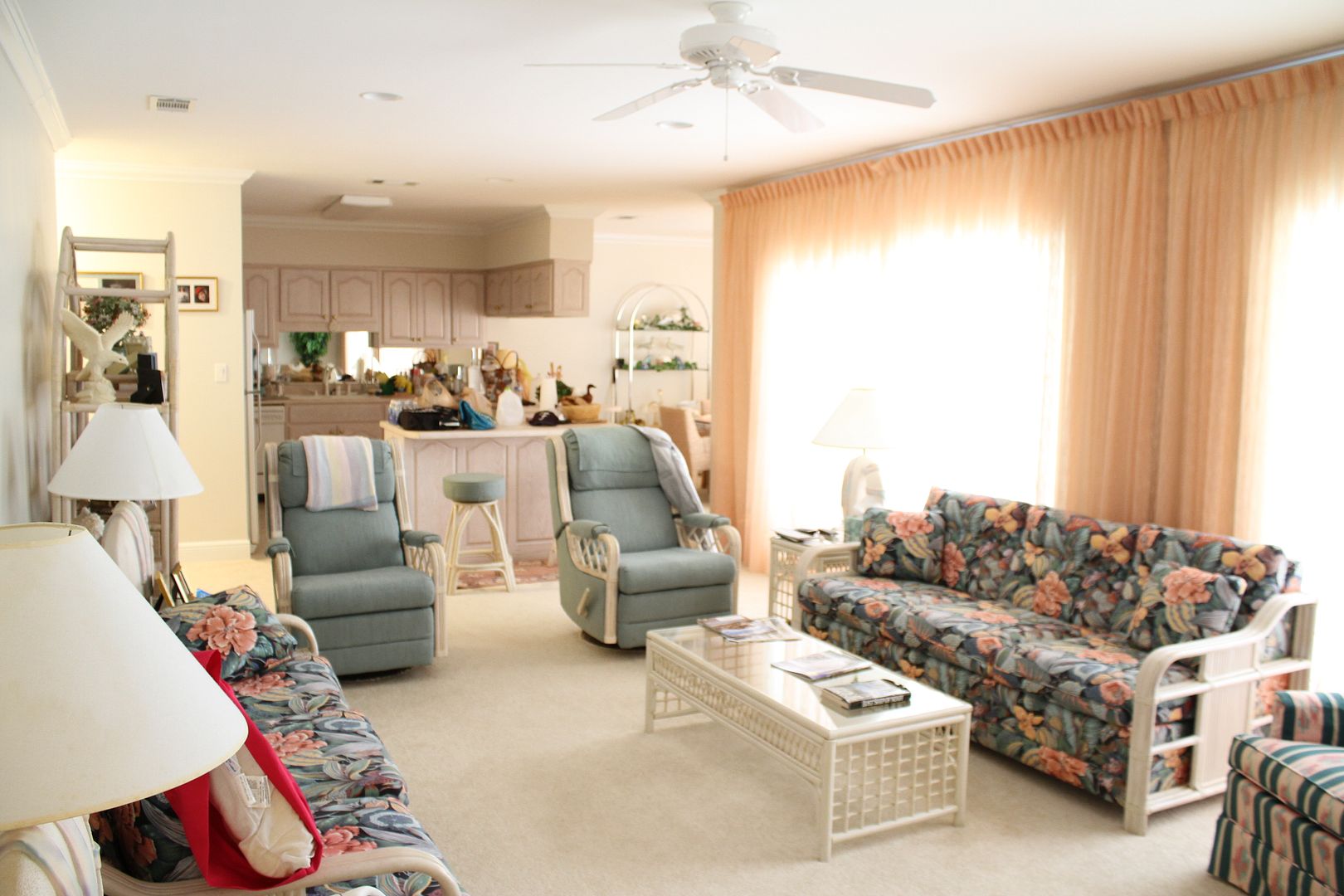 And finally the living room…not everything in here will go, but if it stays, it will probably be repurposed in some way or another.  Crazy tropical print…probably not staying.
This makeover will take plenty of time since we're not here every weekend, but I can't wait to finish…so that we can enjoy this little retreat & create a home away from home.
Hope you'll follow along our progress as we tackle one space at a time.
Have an inspired day, friends!