A new house post!  And better yet, a living room design board.  I know, I feel the same way.  It's exciting to be writing again, on Instagram, and here, and sharing the progress of our new house build is a sort of delectable icing on the cake.
As we began our build, I knew we would have some limitations on certain finishes.  In case you missed it, this is a semi-custom build…you can read the first post here.  While some pieces like light fixtures, countertops, cabinet finishes would be more limited or chosen in a collection, I knew we could add a ton of personality and style into our home with, you guessed it, paint.
I knew I wanted a few things in our entire home and in this living room design:  light floors, white walls (not a surprise for me), and I wanted to incorporate black.  I've worked on so many design projects over the last several years where dark and moody was celebrated and I wanted to marry my beautiful white with strong, contrasting black.
As I began my search, and began building our living room design board, I kept coming back to this image first…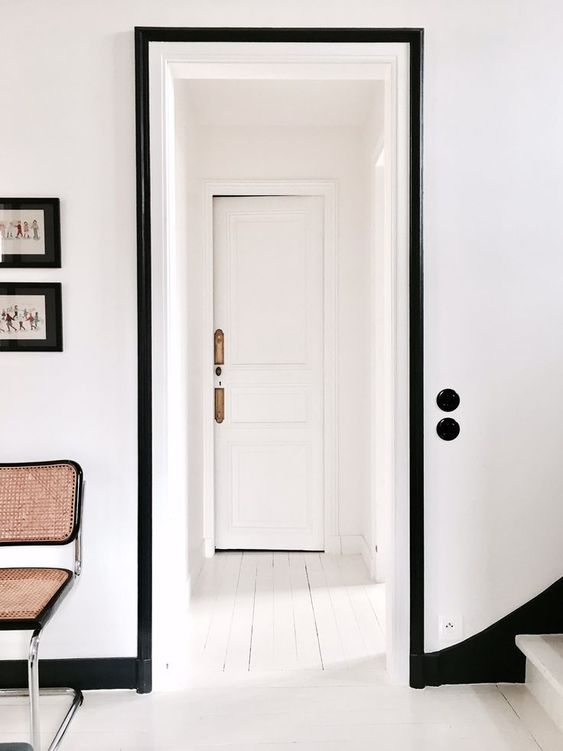 source unknown
I love how much it feels like an art gallery.  The walls framed by the black casings and baseboards but clean and ready for everything else to POP.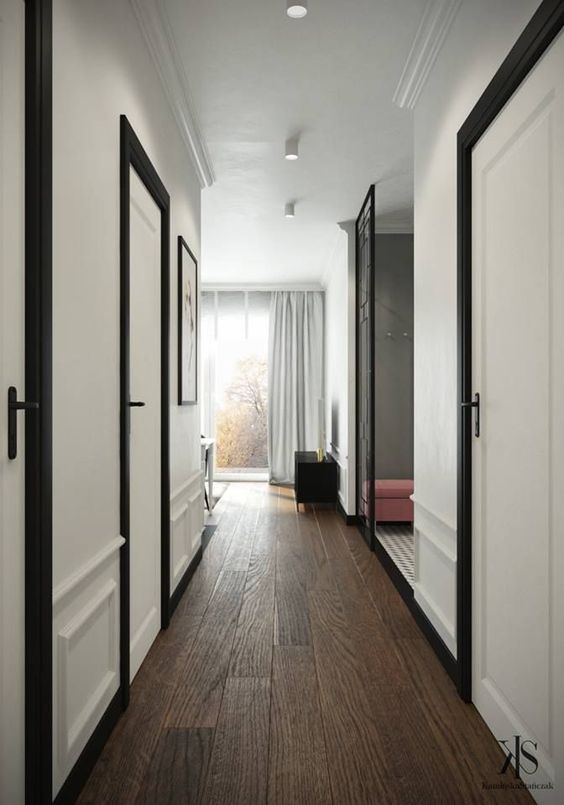 Living Room Inspiration
After MUCH internal debate (and driving my sexy husband crazy, I'm sure), I decided to go with white walls, black casings, white doors, black baseboards, and white crown.  That confusing enough?? I love the way the black door and window casings frame the walls and details, but keeping the doors and crown white makes the room height soar and stay light and bright.
Win, win.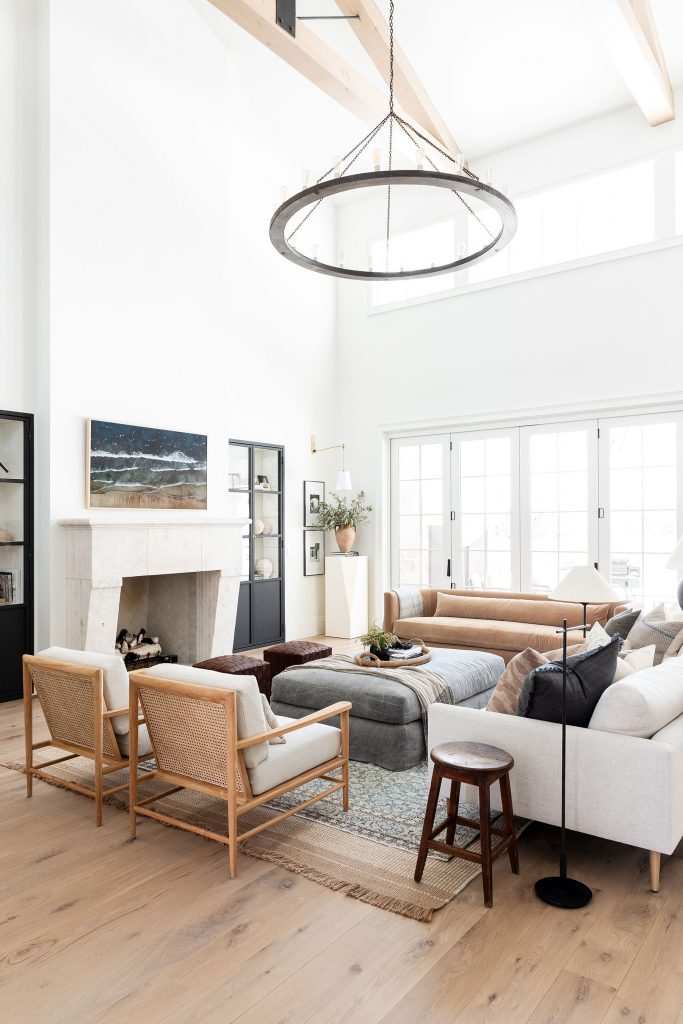 Since I stopped blogging full-time, my style has shifted quite a lot.  I would have classified it as traditional farmhouse or classic mixed with farmhouse in the years I blogged here everyday.  Now, though, it is certainly a little more of a modern take on classic style, with a little farmhouse here and there.  I still love a vintage piece thrown in, and I still love natural wood, but I've found I prefer more refined textures and finishes now.  Where I would have chosen a chunky barn wood a few years ago, I'd look for a planed down piece of raw oak now.  Not too different, but definitely not the same.
I've also grown pretty dang fond of pops of color thrown in and I'm most certainly open to wallpaper and dark walls now….can't wait to decorate this house!
Living Room Design Board
After finding my favorite inspiration images, I began pulling together living room decorating ideas by building a living room design board…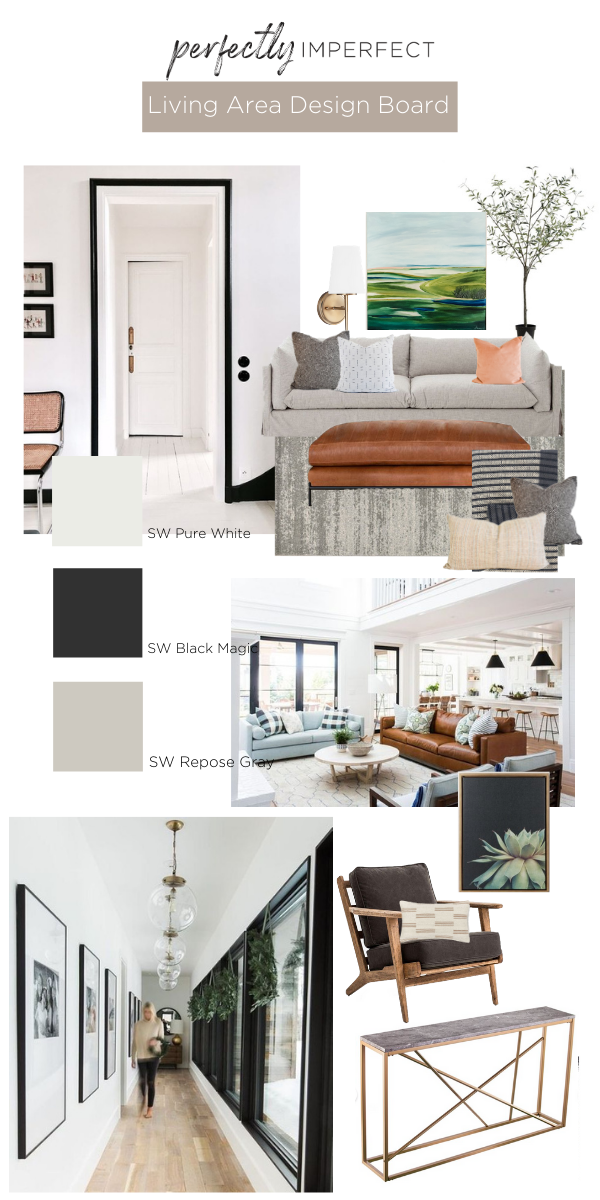 Oh, my, I'm in love with it.  I'll share sources later when we choose our exact pieces, but for now, the living room design board started with the paint color scheme (SW Pure White for walls, SW Black Magic for baseboards and window/door casings, & SW Repose Gray for the living room beams).  From there, I plopped in a sofa that looks almost identical to ours (Ours is by Moss Studio in Abram).
The other elements that we'll pull in to our living room design: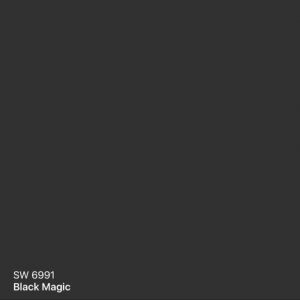 Strong contrast with the use of white and black walls/trim…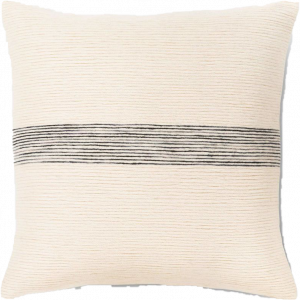 Layered texture (and a couple pops of color) with our throws and pillows.  I snagged some great ones from Collective Co. and West Elm (exact sources coming), plus some colorful original art of mine.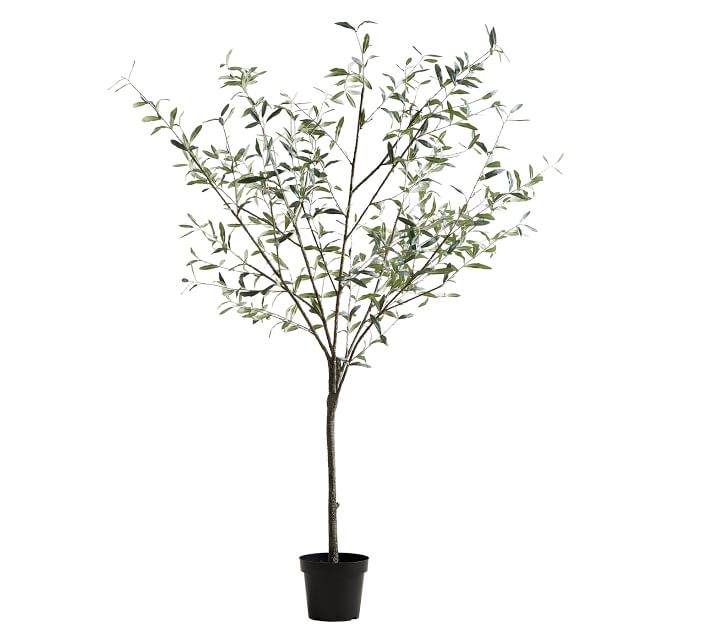 I'm looking forward to pulling in one or two plants…this is NOT normal for me, but I love the idea of airy green in a space with so much white and black.  Plus, living things (and even pretty artificial pieces) literally bring life into a space.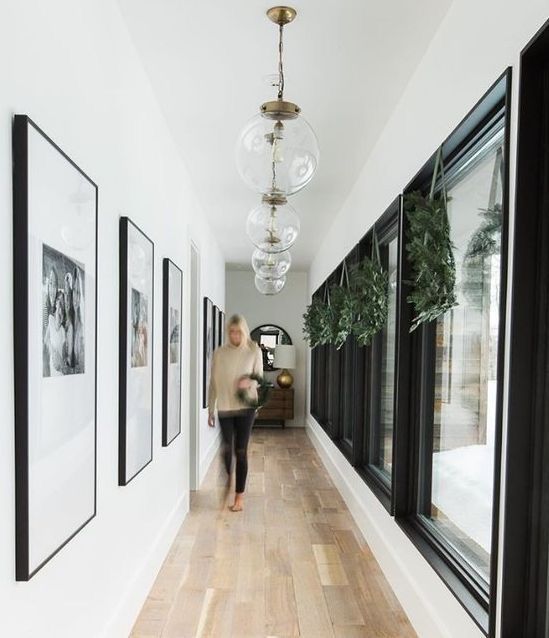 I hope you enjoyed seeing some of the elements we'll pull together for our living room design! Can't wait to see it all come together, but I'm not in a huge hurry.
Gone are the days where I feel pressured to make over a room in a weekend, unless I'm just in the mood.  Creating a home should be done with intention, time, and love, experiencing it all along the way.
**I haven't located original sources for the inspiration images in this post, unless notated…let me know if you know of one! 
For updates in between posts, follow me on Instagram!