It has been a hot minute since I posted a design post on this blog of mine. Make me quite happy to see it come full circle.
While PI won't be solely a design blog again, I am so excited to share the process of building our new house here with you.  I announced it on Instagram not too long ago, and I want to be able to share all the details and design boards, too.
So, as I shared on Instagram, we are building a semi-custom home.  We had some constraints in location and timing, and this neighborhood was the best fit and in the best school system.
While it is by no means a real problem, building a semi-custom home is a little bit of a push and pull for me.  After designing so much, I found it a bit odd to have 5 or 6 choices for each selection…and that was it.  But the way I see it is this: we all have some constraint whether it's budget or size or selections, and sharing the process of making our choices will be fun.  And this home will be loved and will provide us everything we need (and of course, way more).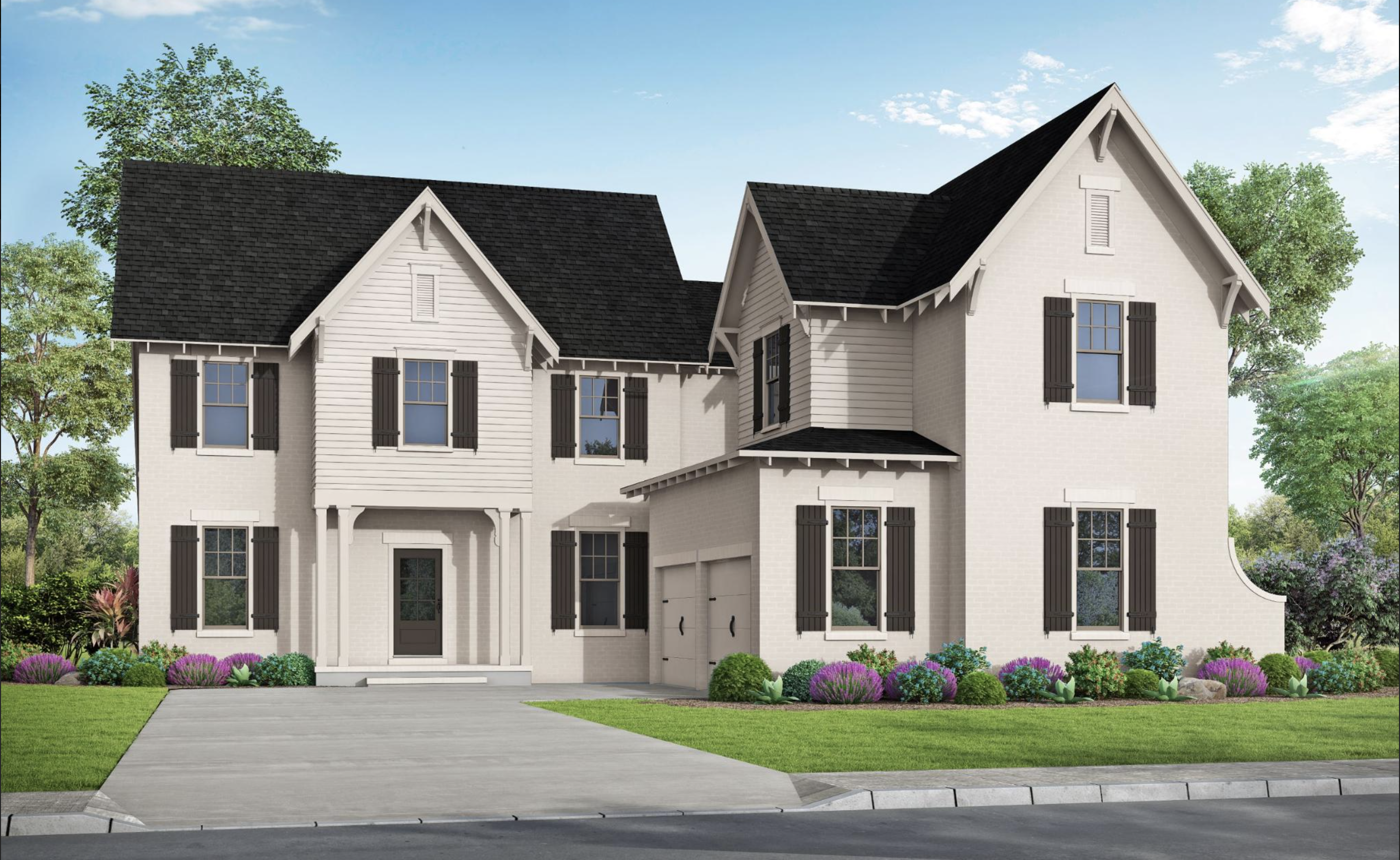 We are working with the builder, Harris Doyle Homes, and selected one of the plans offered…we landed on this beauty above.  This mock up gives you an idea of layout and roof elevation (there was another option in this set of plans, but this one fit our style much more, and bonus, the roof elevation added a little more square footage in each of the kids' bedrooms (upstairs).
In case you've never built a semi-custom home before, this is how it works:  You buy your lot, choose your house plan, make your deposits, and then set up a design meeting to choose EVERYTHING.  Down to the knobs.
I know, right??!  Everything at once.  Which I'm actually a fan of; it is so nice to knock it out and get the big stuff decided.  But I also know exactly what I like and what I don't, so that kind of process worked just fine for me.
(Side note here: We'll talk more about my suggestions for selecting within packages like this…which things to upgrade on, and which to pick standard if you see yourself replacing them.)
After selecting our house plan, we worked on the exterior colors first.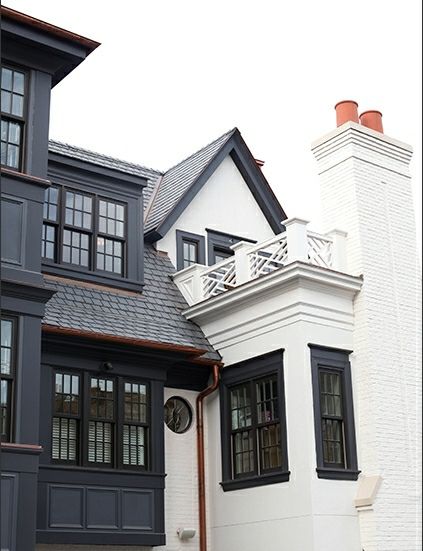 original source unknown
We made it to the design meeting, and I had my heart set on a mix of white brick with black siding.  Or mixing each section of the house like the image above.  One white section with black trim and one all matte black.
I was, let's say, severely disappointed to learn I couldn't paint the house white.  There were too many white houses in the neighborhood already.
"Even if we mix the exterior colors?"
Nope.
"Alright.  What about going all black then?  Like this…"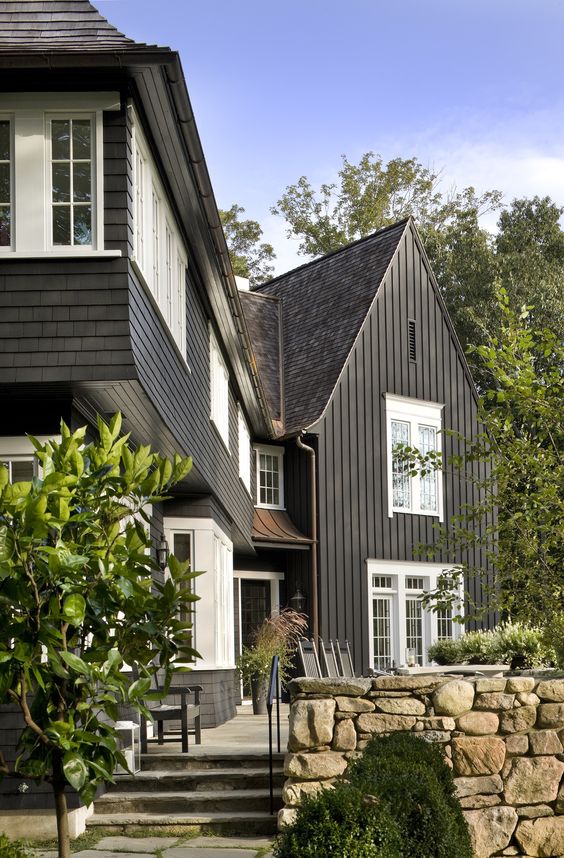 "No, we don't do any black exterior paint colors."
Sighing.
"Alright.  What are my options?"
And in the end, I think I'll be happy with it.  I know it will be beautiful.  And you bet your sweet rear end, when the paint is fading and it's time to repaint, that puppy is going all black. 😉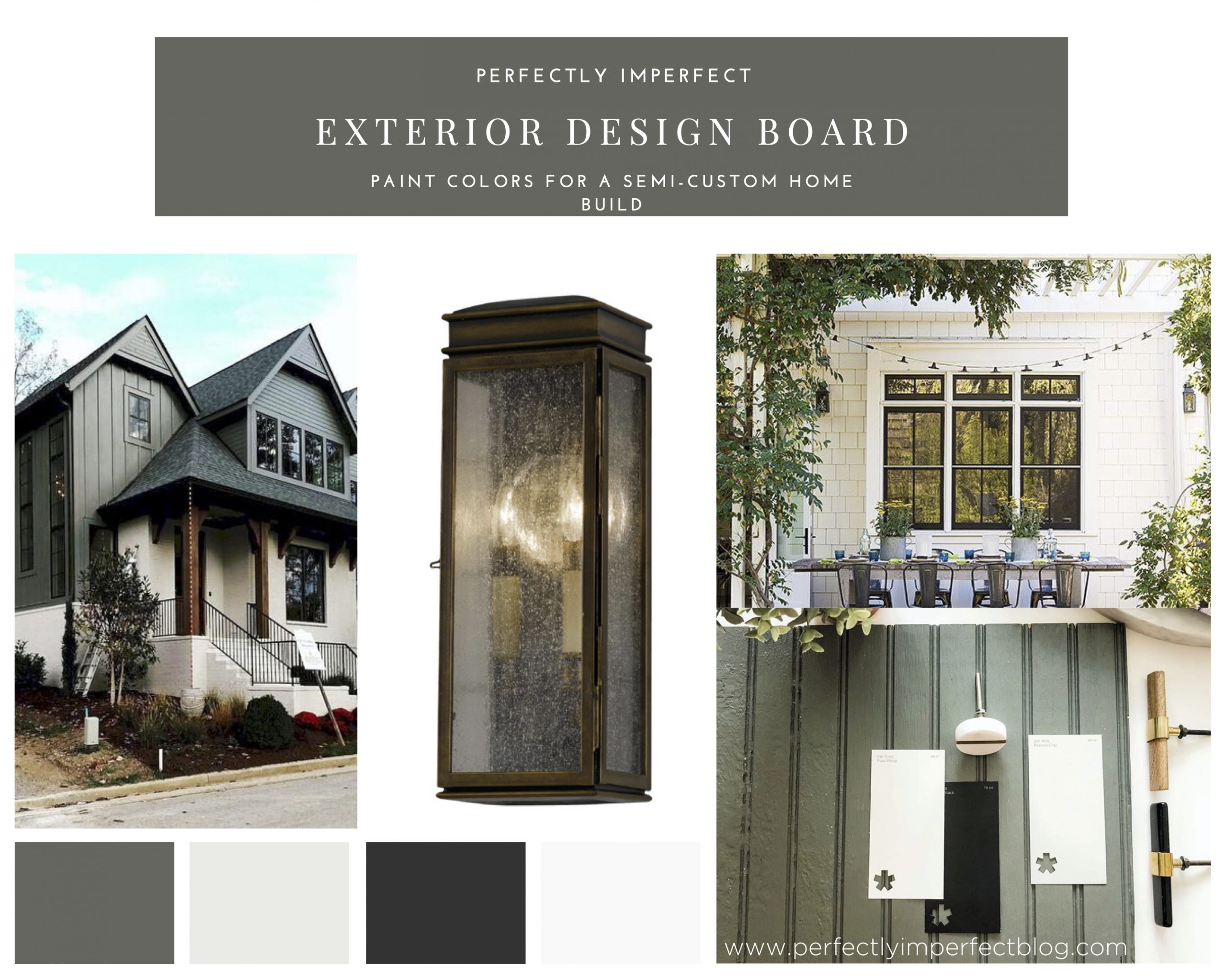 Our house is a mix of painted brick and siding, and I was able to snag using SW Pure White on the couple sections of siding.  For the majority of the house, and the painted brick I went with the darkest option available with the builder, SW Night Owl.  It's a dark, moody, green-gray.  It will feel pretty similar to the house you see pictured in the design board.
Since we were not able to go fully black on the brick, and to deepen the moodiness of the house, I chose to go with SW Tricorn Black on the front door, shutters, gutters, AND I chose black windows.  Some of the trim and the siding will be SW Pure White.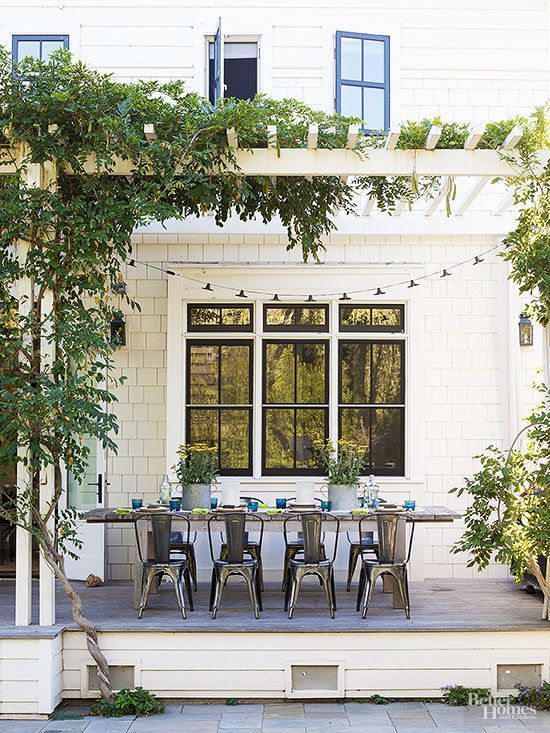 It's so interesting to see how much my style and tastes have changed through the years.  While I still love classic and traditional design, I definitely lean much more contemporary than I did back in the days of designing on HGTV.
So the outside will be dark and moody, and the inside will be bright and feel like an art gallery of sorts…I'll share more on that soon.
We'll have a nice back porch, which Andrew and I are both looking forward to, and I'd love to figure out a way to grow some manageable creeping vines as pictured above.  I've always longed for a bit of magic in my house, and I think this is the house, and this is the time to try lots of fun, new things.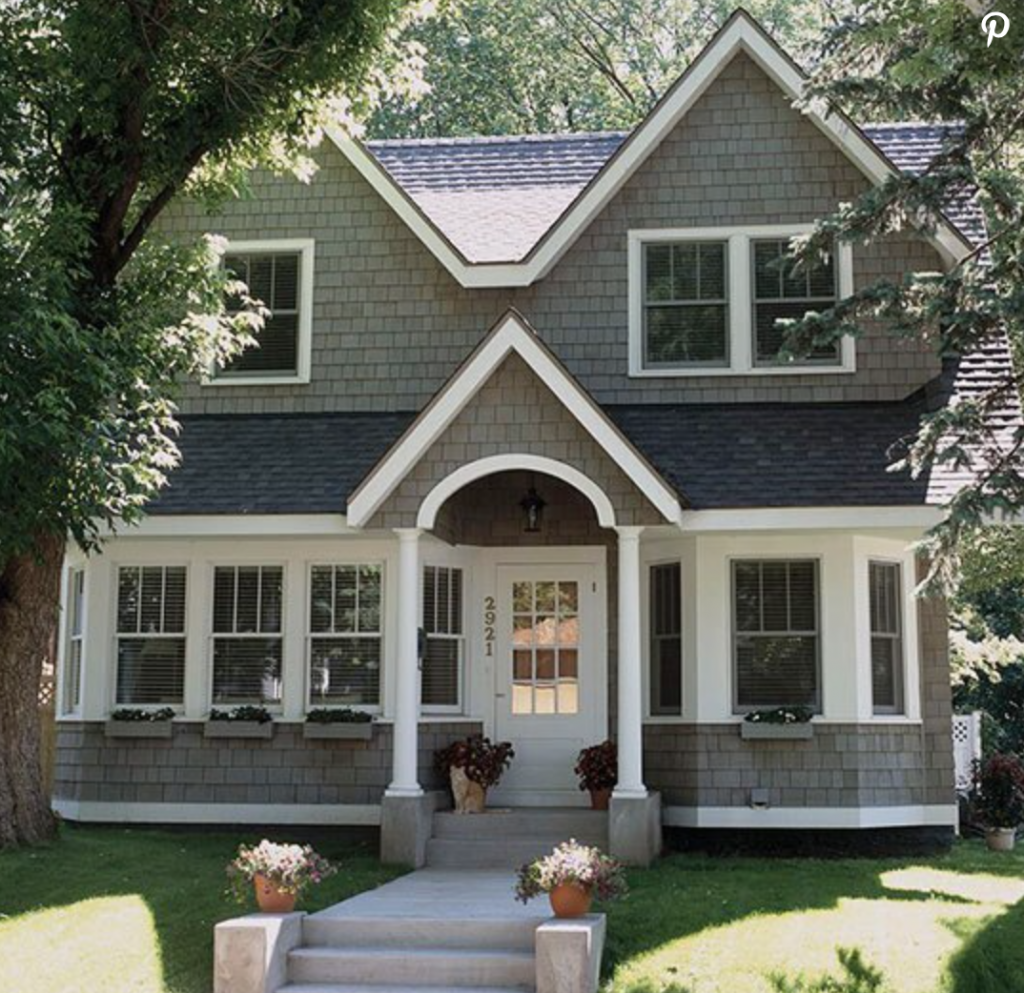 And just to give you an idea, here's a house painted in Night Owl with white trim.
Long live unexpected color choices and moody design moves.
I'll share more on the house soon, and be sure to follow along on Instagram to see the stories I share on the process and on the build site. 😊
**I had trouble finding original sources for some of these images; if you know of any, feel free to share!