Hey friends!
We're back home in the states and the trip couldn't have been more amazing.  I'll be posting the photos soon, and sharing more about the trip.  It was truly an amazing experience that I have to record here!
Thank you for your comments and tweets and questions about Julie's Room Reveal!  We worked on her room last month and it was killing me not to share the transformation with you…
On to the before…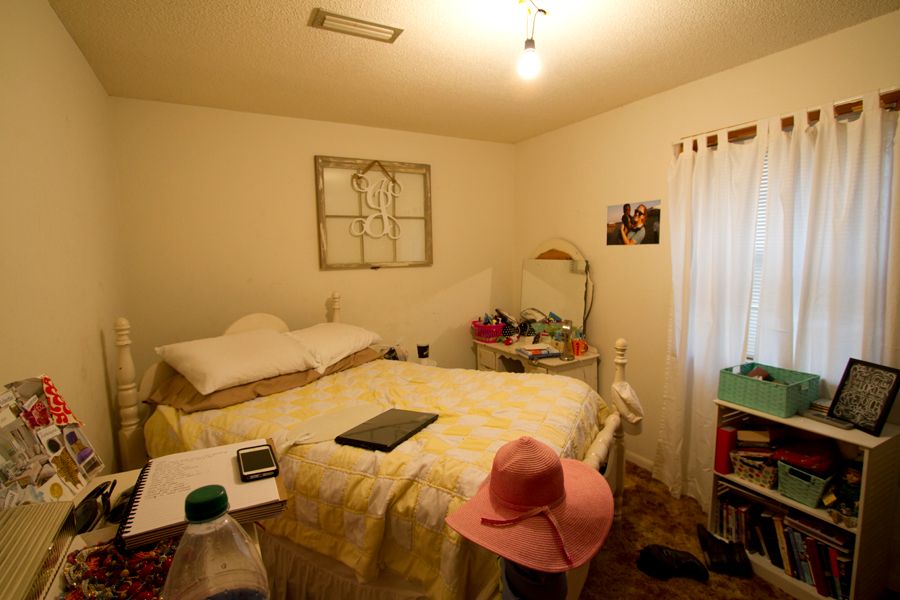 And after 4 hard days, and a whole new room later…
I worked with Sherwin-Williams on the launch of their new color line, HGTV HOME by Sherwin Williams.  This new palette is appropriately dubbed   Softer Side and it was right up my alley (and Julie's!).  The colors are amazing, and this makeover?  It's a stunner.
Now that we're back home, I wanted to share with you the full details of the makeover.  We worked so hard those days, and it was a room FULL of projects and work!
To the right of walking in the door, you see the wall of closets.  Here's the before on that side…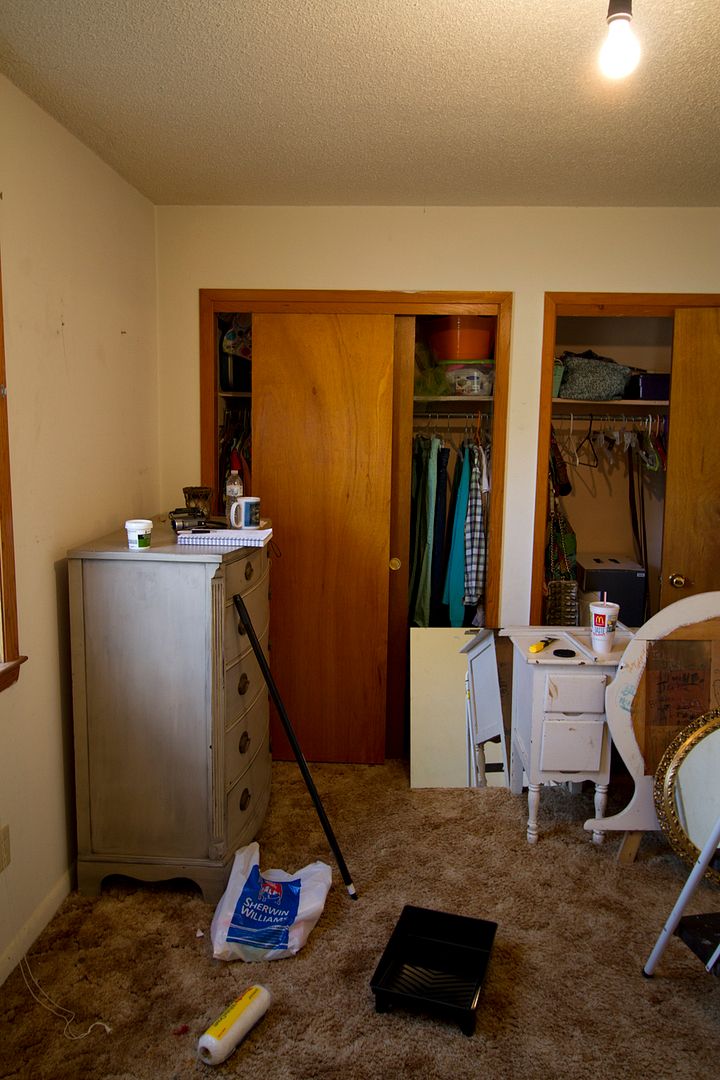 And the after….
This room was so much fun to put together.  The color palette centered around Peppercorn, Porcelain, and a pop of Mellow Coral.  We had a couple of goals for this room:  make it light & bright, get it organized, and make it fresh and youthful.
We did just that, I think.
Julie loved the reveal, and so did we!  Just like with Lisa's space, it is a lot of fun for me to push outside my own style and help someone achieve a feel that's not quite my norm…it pushes me creatively to appreciate so many styles.
In short, the project list included:
paint the walls

paint the trim & closet doors
build built ins and paint
spray paint bed gold
spray paint chair silver leaf
install new ceiling/wall lighting
add wall to wall curtains (simple sew!)
clean out one closet & create a small closet office
build closet desk
make DIY Art
wall gallery
new accessories
new bedding
rip up old carpet
paint and seal concrete floors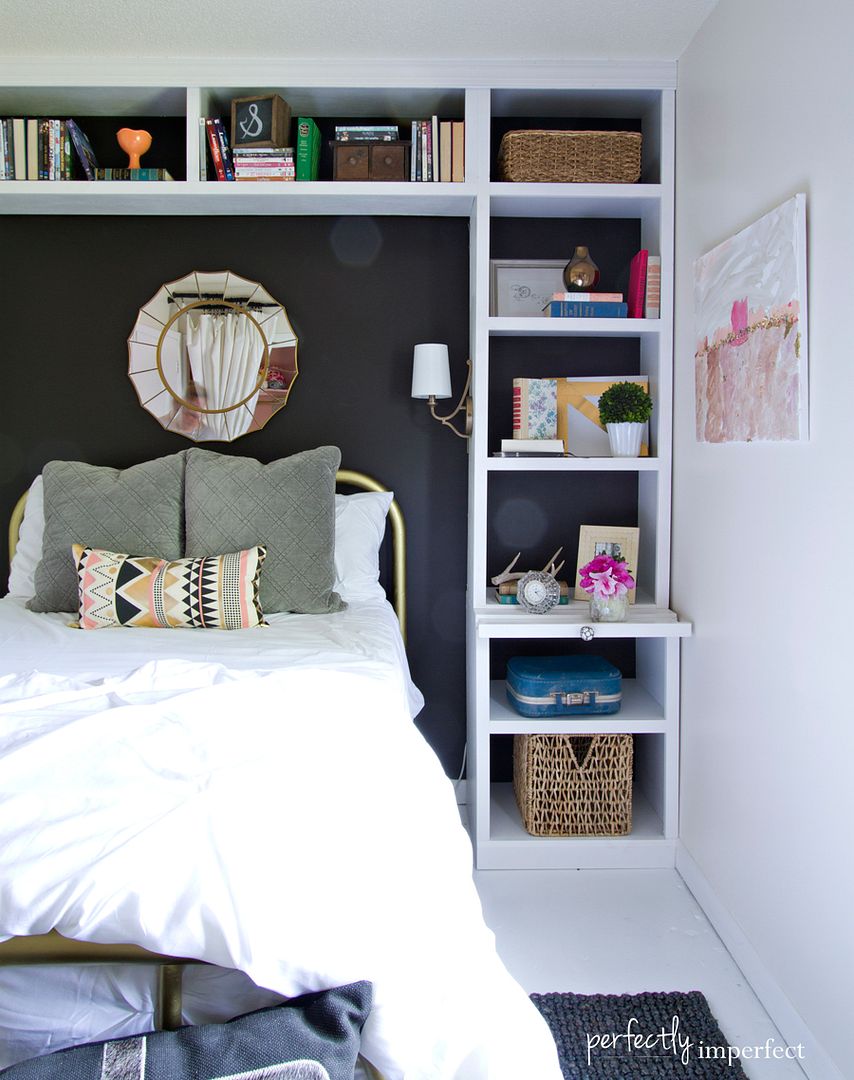 We had our work cut out for us, but the projects are relatively straightforward and not too complicated.  I'll share more on the inspiration soon, but for now here are some sources and projects.
I can tell you that Peppercorn is the best black you'll ever put on a wall.  Definitely black (even though it looks more charcoal online), but soft and approachable and not too harsh.  And truly the room started with that rose, gold, and black pillow.    The white pin tuck bedding came from Target, and will be the perfect backdrop for Julie's eclectic style.  We paired some simple gray velvet euro pillows from our shop with the white for a neutral backdrop. (Those pillows are sold out, but these gray linen cotton covers are only twenty bucks and would be beautiful as well!)
The sunburst mirror came from Target.  I wanted something simple and striking to stand as the focal point above the bed.  There was plenty going on in the built ins.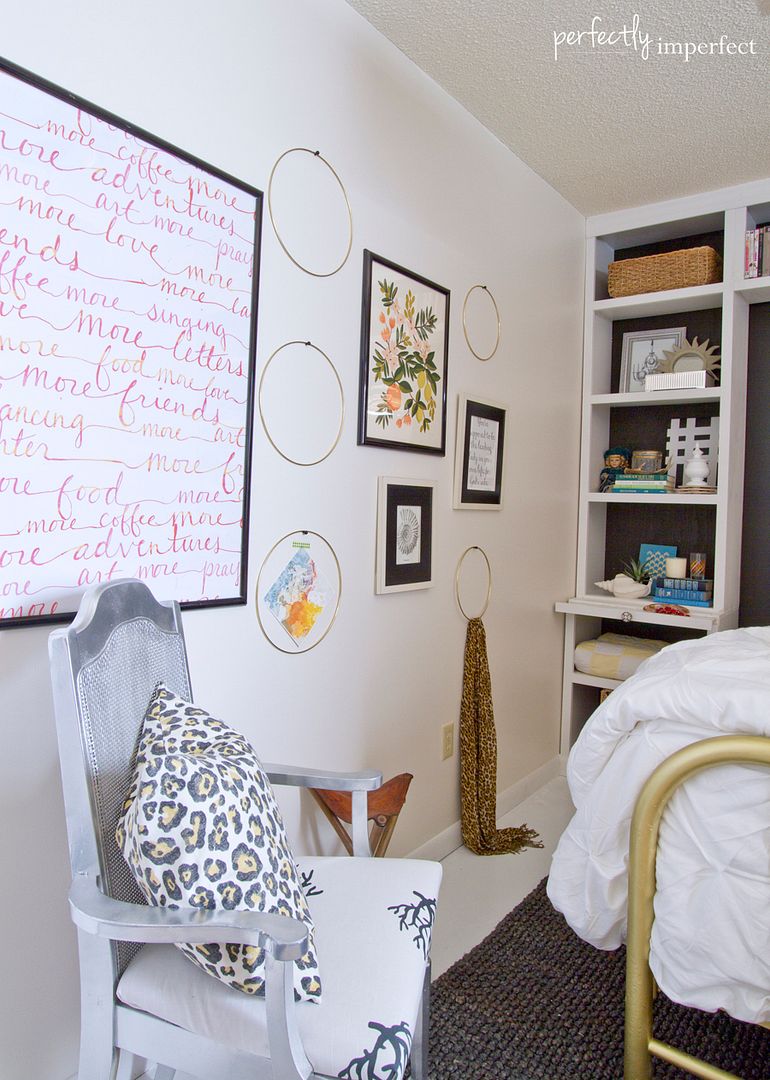 We spray painted the bed gold and the chair silver with my favorite metallic spray paints–these Krylon paints appear actually metal-plated, and not so much like metallic paint.  The silver especially is brilliant, and looks exactly like smooth silver leaf.  We covered the seat with some leftover white and black coral fabric for a fun graphic punch, and the the leopard print pillow cover is from Etsy.
The gallery wall is filled with art that's personal for Julie–the "More everything" art is actually gift wrap from Spoonflower.  I bought some for my new office revamp, and Julie fell in love with the paper.  Framed in an inexpensive poster frame, it works beautifully as a statement piece.  The Citrus Floral Print came from our shop–it's so happy!  Kaitlyn designed some art prints for Julie (those are coming soon for download!), and many of the small prints in the room came out of these amazing books by my friends at The Handmade Home.
We also hung gold sewing hoops on the wall for some fun (and cheap!) graphic punch.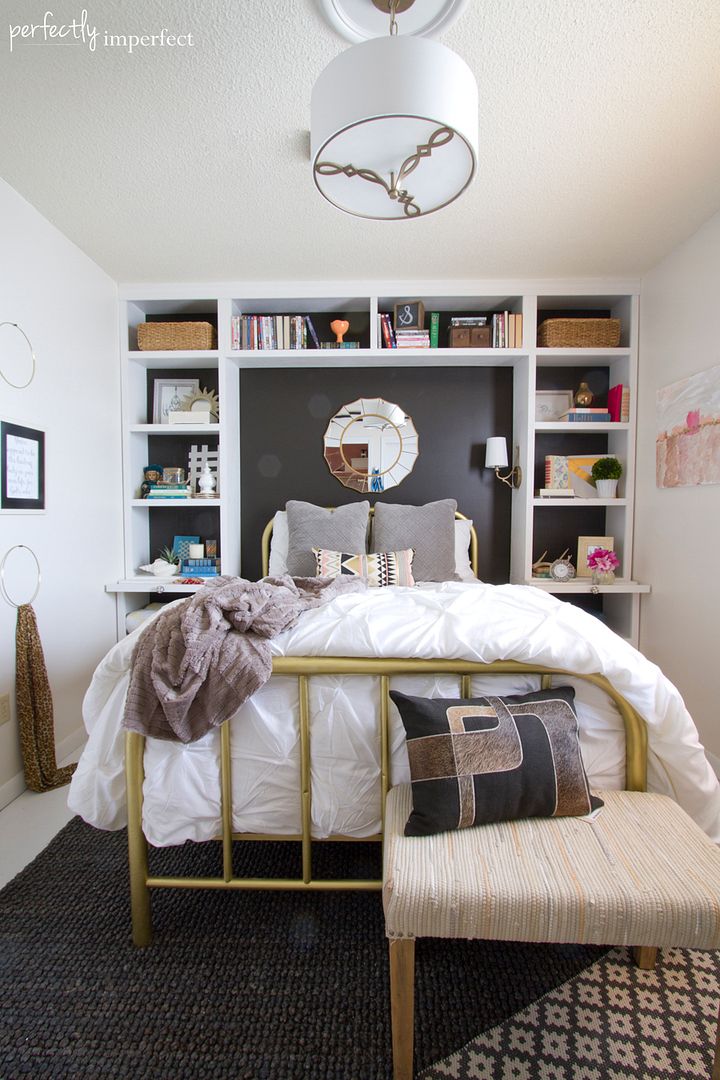 Yes, there is only one sconce.  We ordered two to act as bedside lamps, but only one made it in.  We rolled with it, and Matt went ahead and installed it anyway…speaking of that, the lighting is absolutely gorgeous.  Really…those little touches make the space.  We worked with Capital Lighting, and will soon carry their fixtures in our shop.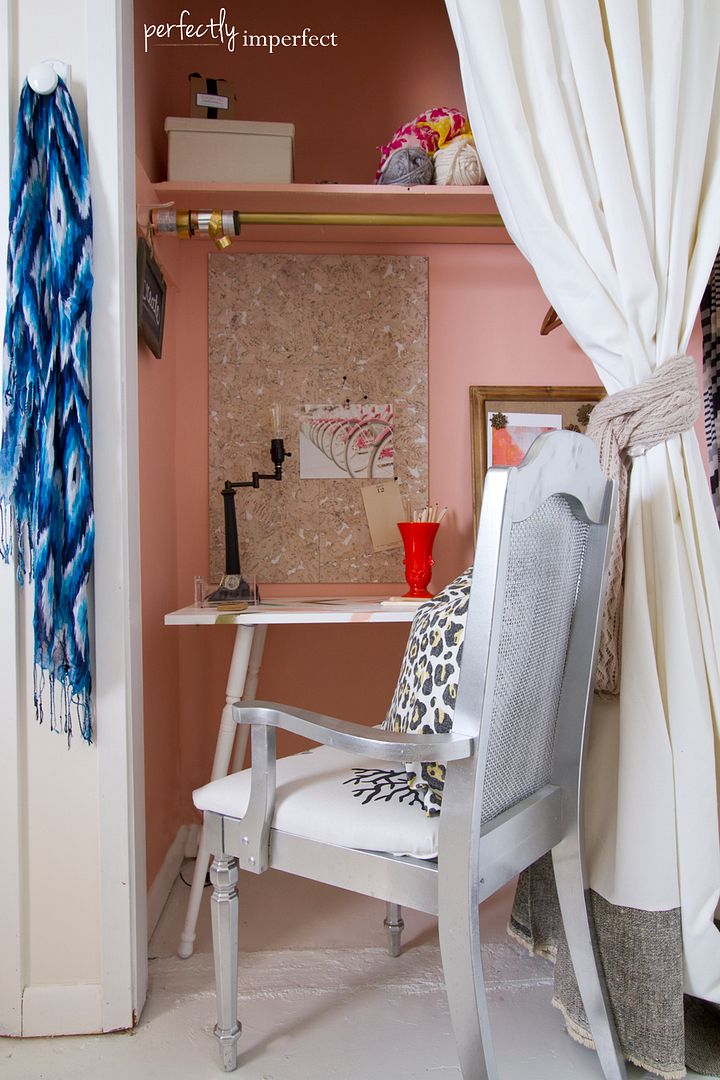 Since Julie's room was on the smaller side, we needed to maximize space.  We decided she didn't need all the closet space, but did need somewhere to work and study.  We turned the little closet into a simple office nook.  Simple white cotton duck plus a tweed border made wall to wall drapes for that side of the room.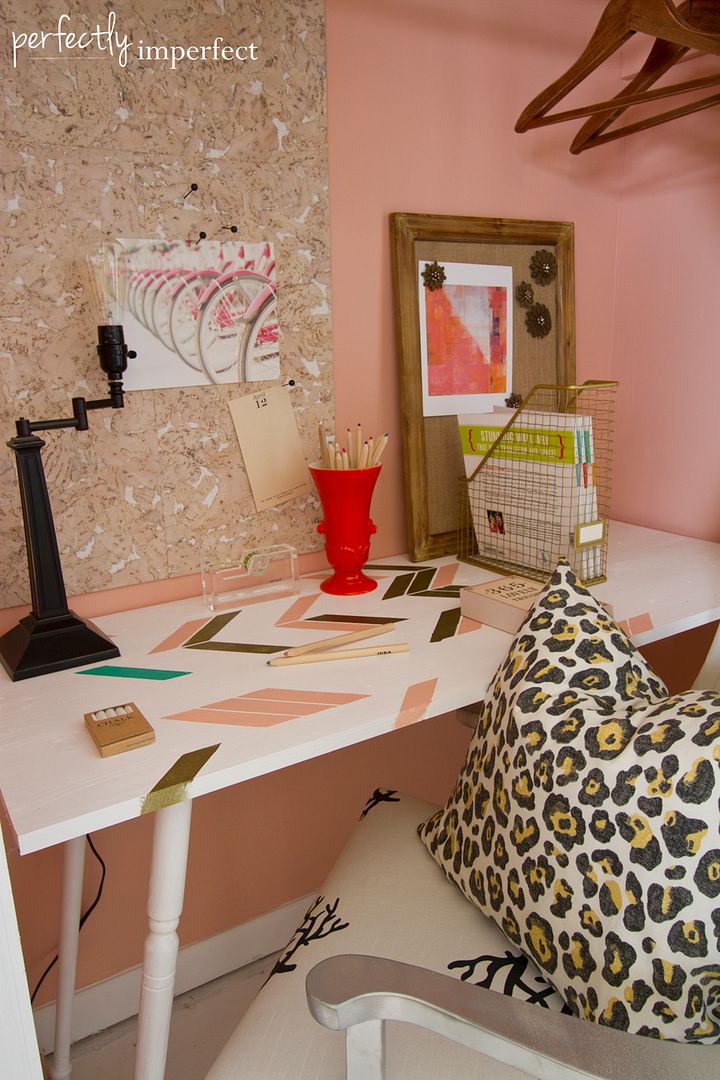 I had the gorgeous blizzard cork leftover from my recent book/office projects.  You can buy those cork panels here.  We also built a little desk…tutorial coming soon!
I stenciled the top using this herringbone stencil, placing it randomly around the desk top, and using Mellow Coral, Antique Brass, & some leftover emerald latex paint to create the pattern.  I had an extra swing-arm lamp around the house, and to make it more industrial/funky than traditional, we skipped the shade and used an edison bulb only.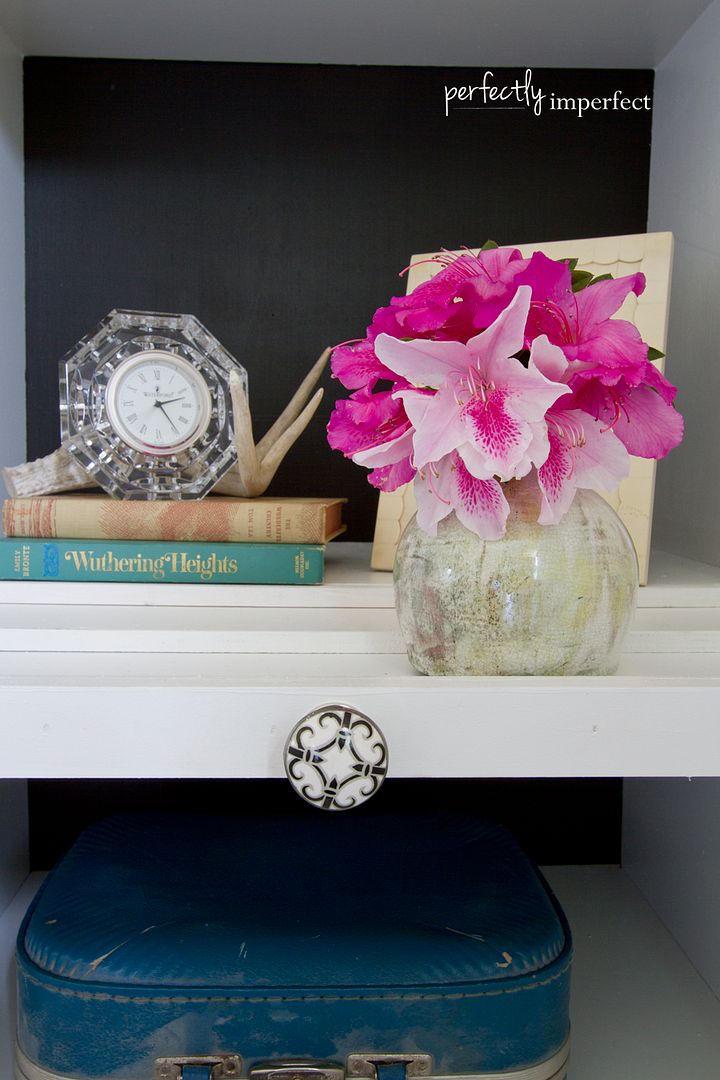 The built ins Matt built for her were perfect–we'll talk more about why they work on Tuesday, but I have to say, he outdid himself.  He even added pull out trays to act as extra side table surface space.  I had to add in one of my favorite Walter Black original vases, too.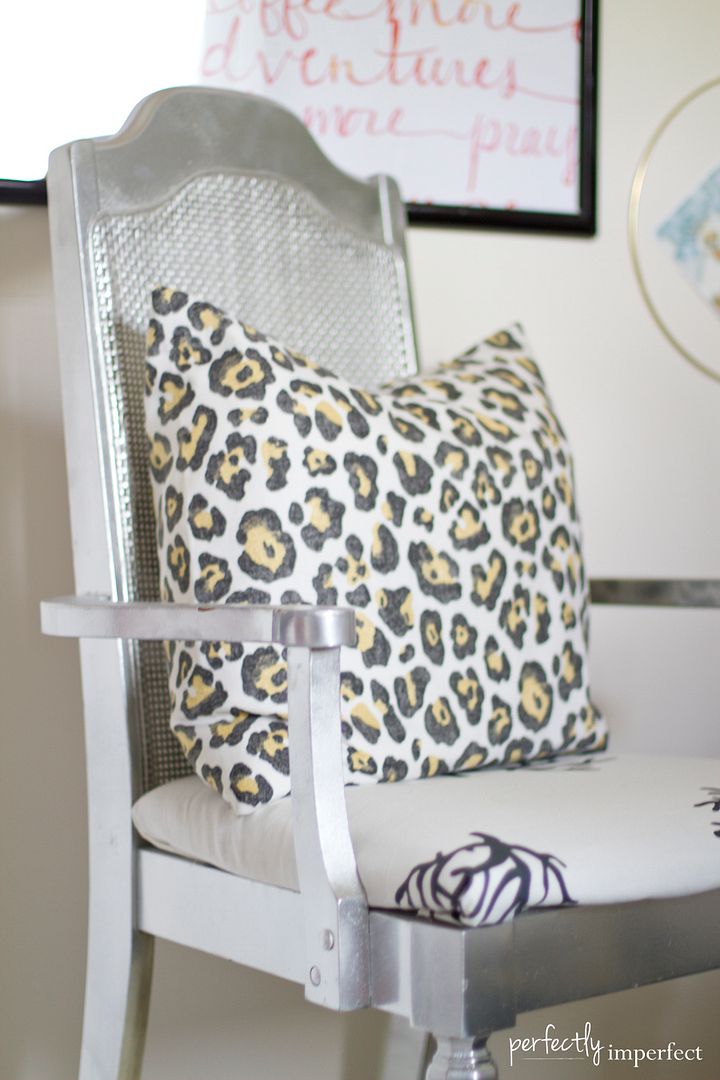 This pic is a little blurry–just caught that now (I must be jet lagged), but you can tell how gorgeous the finish of the chair is–that paint really is brilliant!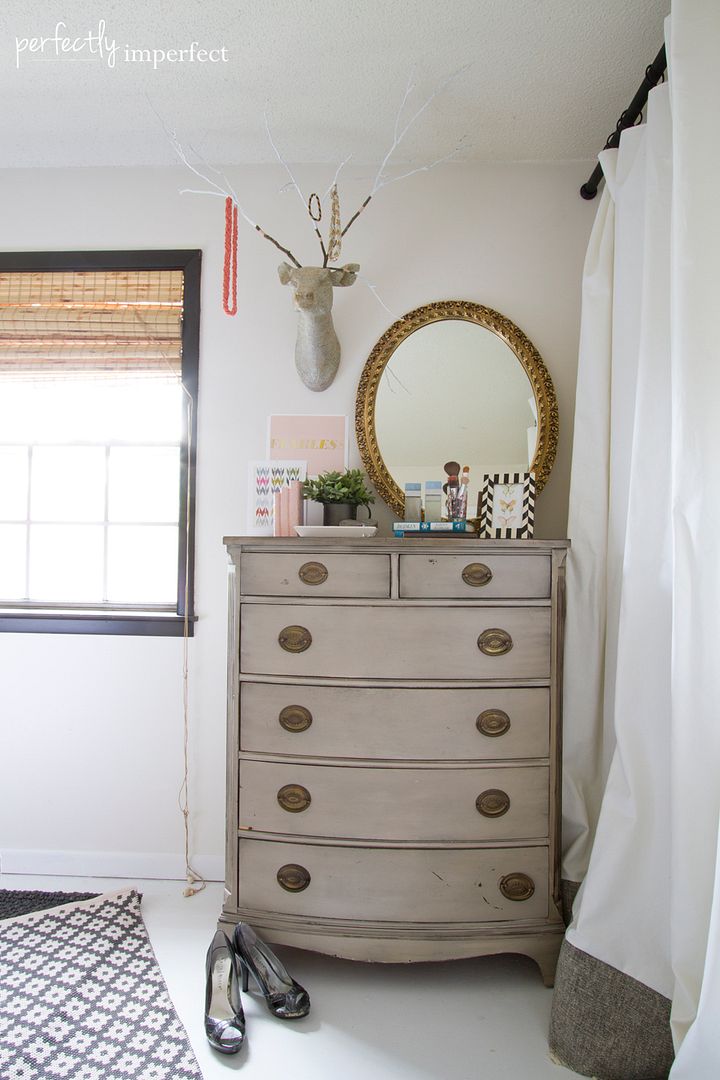 We hung the wall to wall drapes with a super chunky dowel rod, and Matt attached each end to some hardware made for the rod so Julie can slide her curtains closed when she'd like to hide the closet doors/office.
If you can believe it, that chest was painted by yours truly several years ago.  It's actually one of the pieces I'm painting in my ebook videos–fun fact!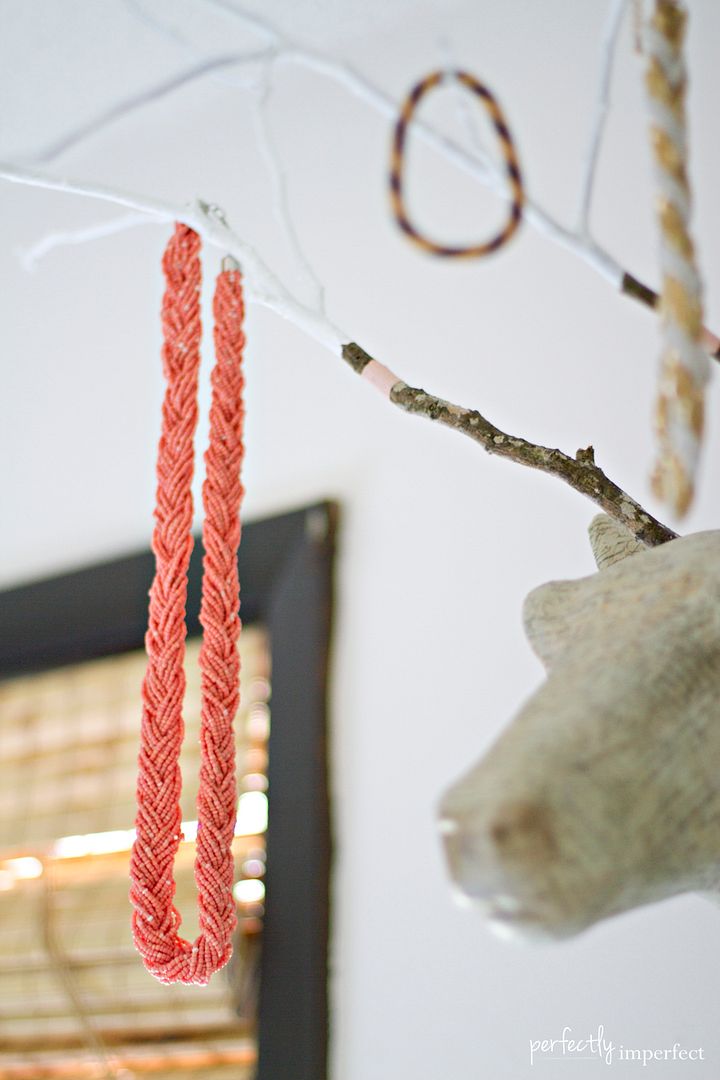 Stella, the deer head, made another appearance here.  She has become a go-to accessory for me. Amen.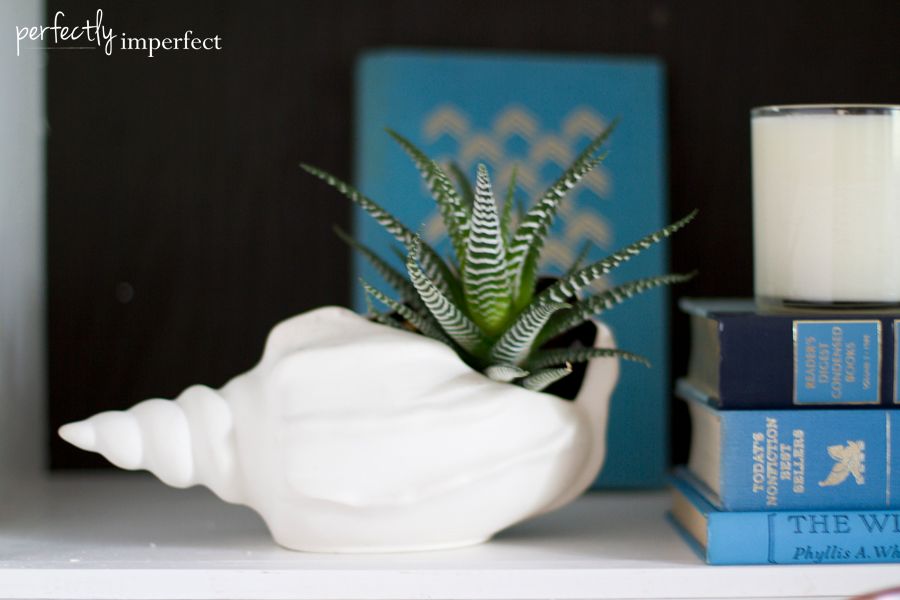 The rest of the room is filled with thrift and antique store finds, like this shell planter that cost 2 bucks.  I've got a couple more tutorials and ideas coming from this makeover, so stay tuned!
Psst…All these items below came from our shop, Perfectly Imperfect.  If you don't find something listed online, feel free to email us to ask about it!
Citrus Floral Art Print
Preserved Boxwood Ball
Small Square Chalkboard Cube
Sorority Hill Candle
Tin Cup Planter
Script Deer Head
Gray Quilted Pillows
Horse Hair Black Geometric Pillow
Charcoal Jute Rug
Indoor/Outdoor Dash & Albert Runner
Wooden Vintage Style Hangers
Magnet Board with Burlap Backing & Magnets