I know y'all love a good before and after, and this is a fun one.  I had a blast helping my best friend, Lisa, put together two spaces last week.  Like I mentioned when I shared her school room, I love that these spaces are perfect examples of how to start moving in the right direction and change your world with paint, creativity, and some budget-friendly purchases.
On to the before…
Their office is the first room you see on your left as you enter the front door.  While it was perfectly functional (this is where the girls take piano lessons and her husband works), it lacked their current personality and style.  See Lisa's inspiration pictures here.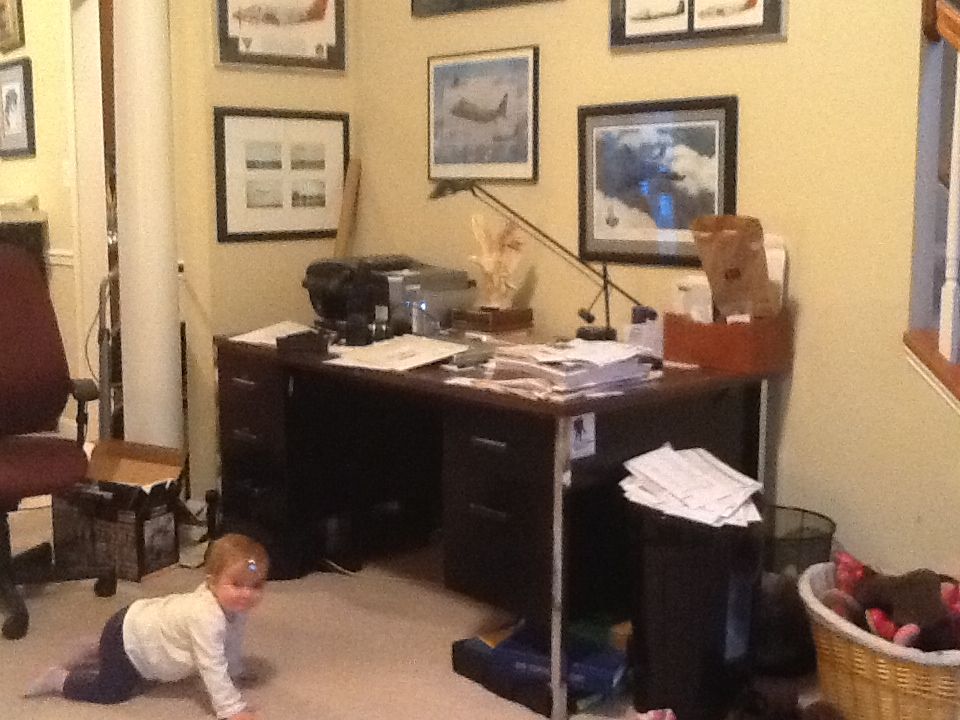 They want to tackle the paper system next (I have faith that you guys can do it!! Or do it, please, so that I know someone can?), so this makeover focused on changing the overall look of the space.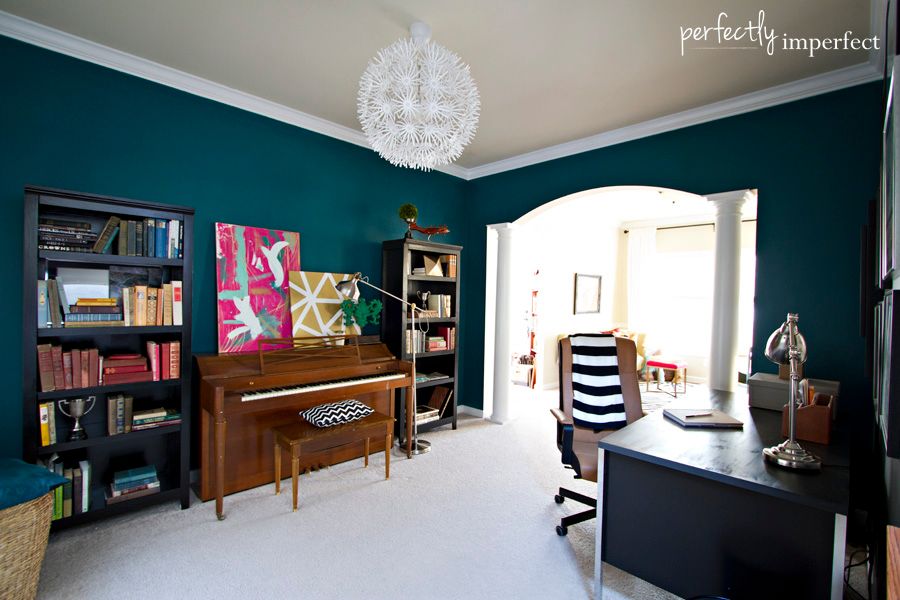 Major style improvement, right??
Lisa thinks one day they might add built ins to the entire wall opposite the front door, but for now, painting them in a high gloss black (Sherwin Williams), was the perfect way to score style quickly and inexpensively.
We went with a deep custom mixed teal for the walls (I'll try to get that color for you), and her local store just deepened it some.  P.S.  I always use the Emerald paint line now–it has beautiful coverage, dries quickly, and doesn't smell crazy.  I think the teal walls and funky light fixture set such strong bones for the space (my professional definition of bones: everything that's left when the room is empty–that's a great place to start making changes).  Anything they add/tackle next can only look amazing from here.
And yes, for now, we left the piano unpainted.  There was much debate back and forth, but at the end of the day, they loved the natural wood (and I did, too–especially the contrast against those teal walls).  We almost painted the bench, but we will leave that project for another day.
The white Ritva curtains flank either side of the windows, just like they do opposite the wall in Lisa's school room…love that grounding symmetry in the long space.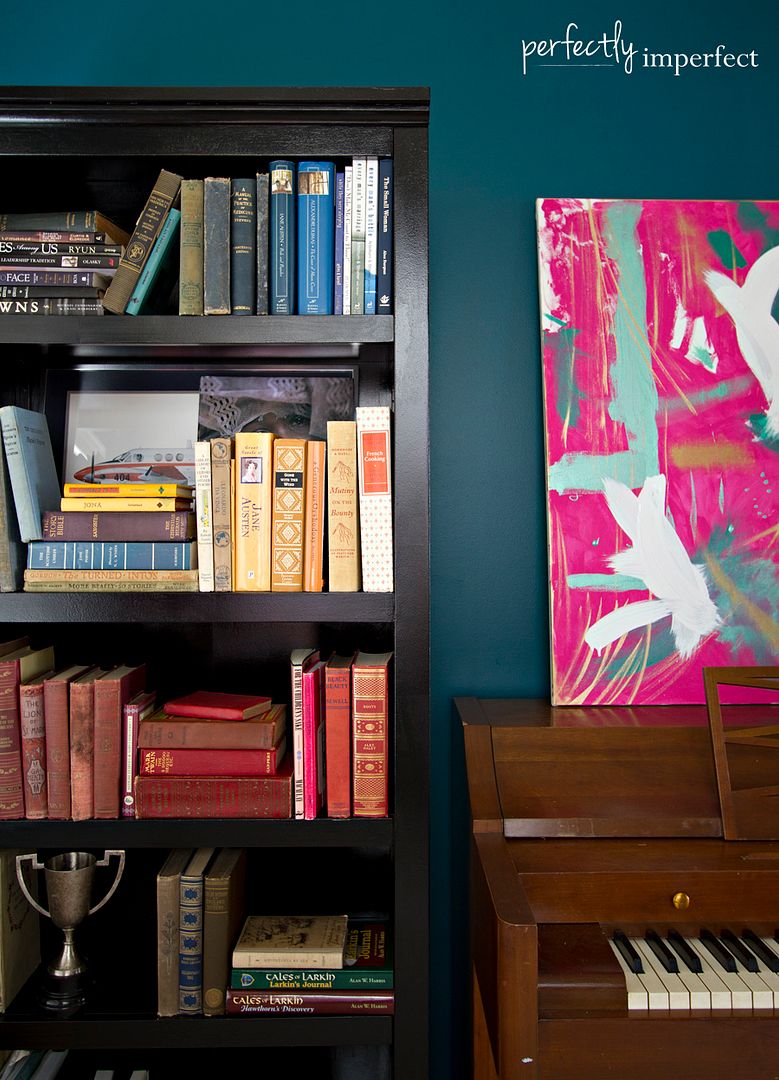 For some strong visual impact, I styled the bookcases by color–it was really striking, and it may need to be something I try at home.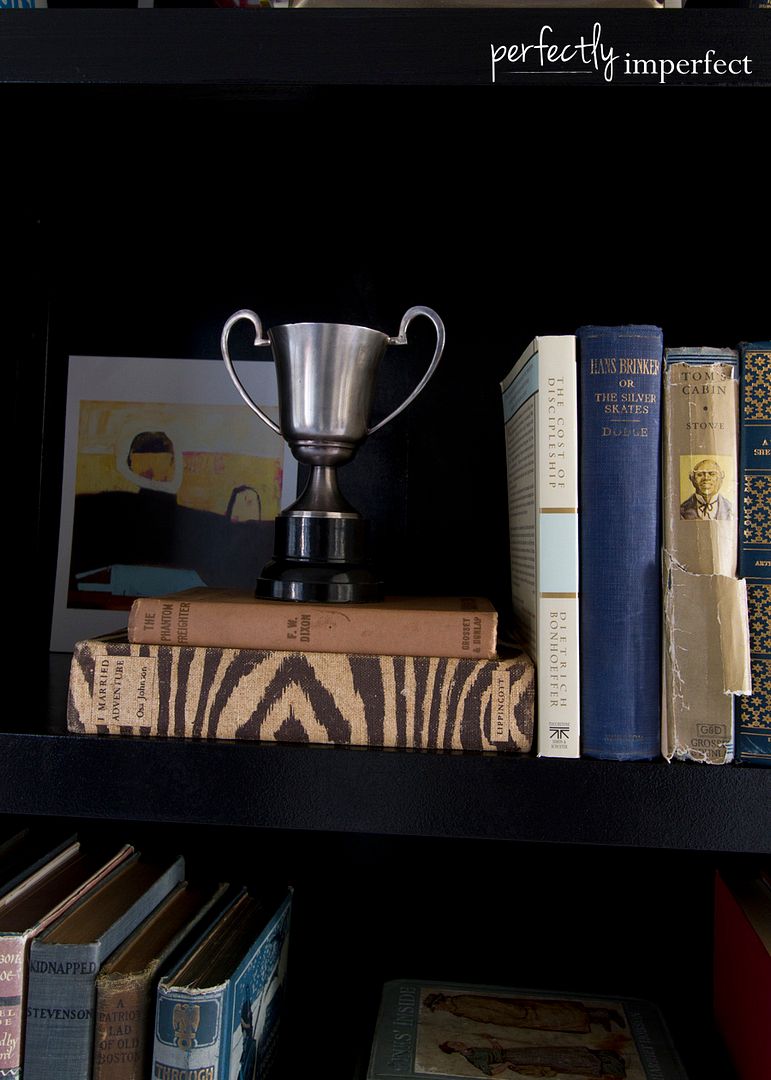 We propped some art in the back of the shelving.  We grabbed ours from Ashely and Jamin's art collection series.  Gotta go buy those books if you haven't yet!  I've used the art in 3 completely different spaces the last month, and plan to use some more for my office revamp in a couple of weeks.  #endlesspossibilities
We revamped a couple of pieces Lisa had already with a little emerald latex paint.  The silver floor task lamp came from Ikea.
For Jon's side, we kept things simple and very masculine.  While Lisa wanted color and style from the front door, she was also so cool about recognizing this was his space.  Let me tell y'all something.  I was almost on the floor the last night when Jon was dutifully hanging the giant flower pendant…he kept saying, "it's a flower made of paper."  Poor, awesome guy.
Jokes aside, they were so much fun to work with, and it's so refreshing to watch two married, committed people meld style and function and opinion with grace and kindness.  You guys were amazing!
Lisa surprised Jon with a new desk chair, and the beautiful caramel leather worked so well with the deep charcoal (Sherwin Williams Peppercorn) walls and metals.  I painted the top of his desk (which was laminate wood veneer before) with Chalk Paint in Graphite and sealed it with high gloss polyurethane.  We kept Jon's art, but hung all the frames on one wall for more impact and a tighter gallery–love the result!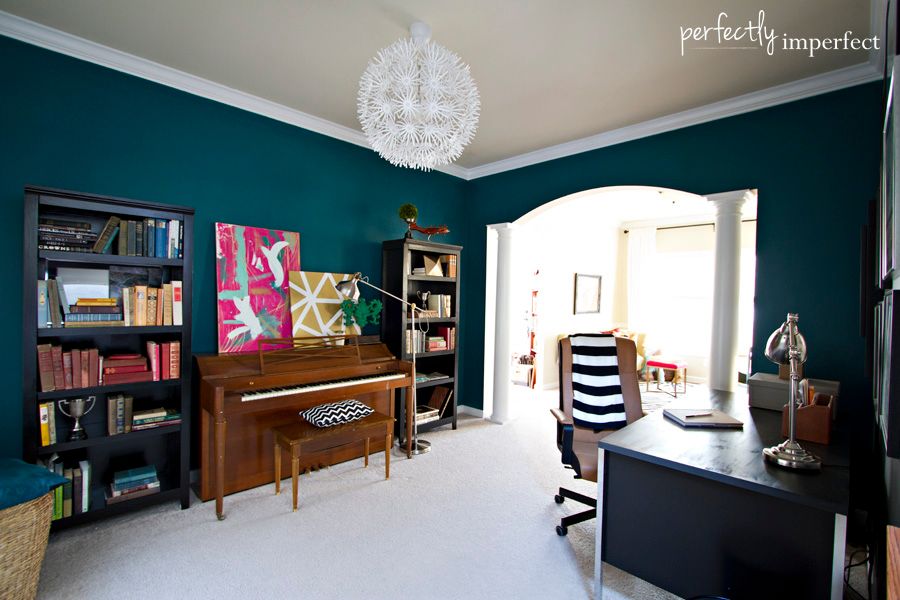 It was so much fun to pull these spaces together so quickly, and I can't wait to see what my friends add next to complete the rooms.
Have an amazing afternoon, y'all!  Up next for me are a couple of furniture makeovers, and I finally got my act together and photographed my living room yesterday for the first time in 2 years.
Slacker.