Speaking of Lisa, and her wonderful-ness, I couldn't wait to help her with a couple of spaces in her home.
First up today, the school room.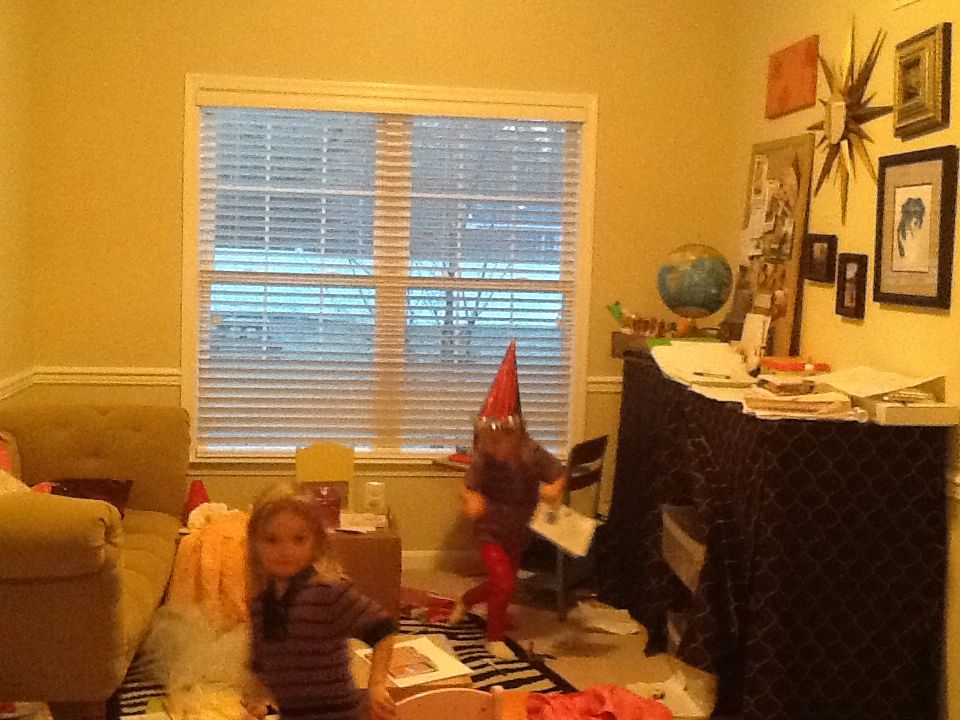 This room was already functioning well, as she has two little ones and one grade-school age child.  She uses it for school with the kids during the day, and sits in here in the evenings to work on her lesson plans, etc.  With a shoestring budget and a couple of days, we freshened the look up and infused so much personality for a few bucks.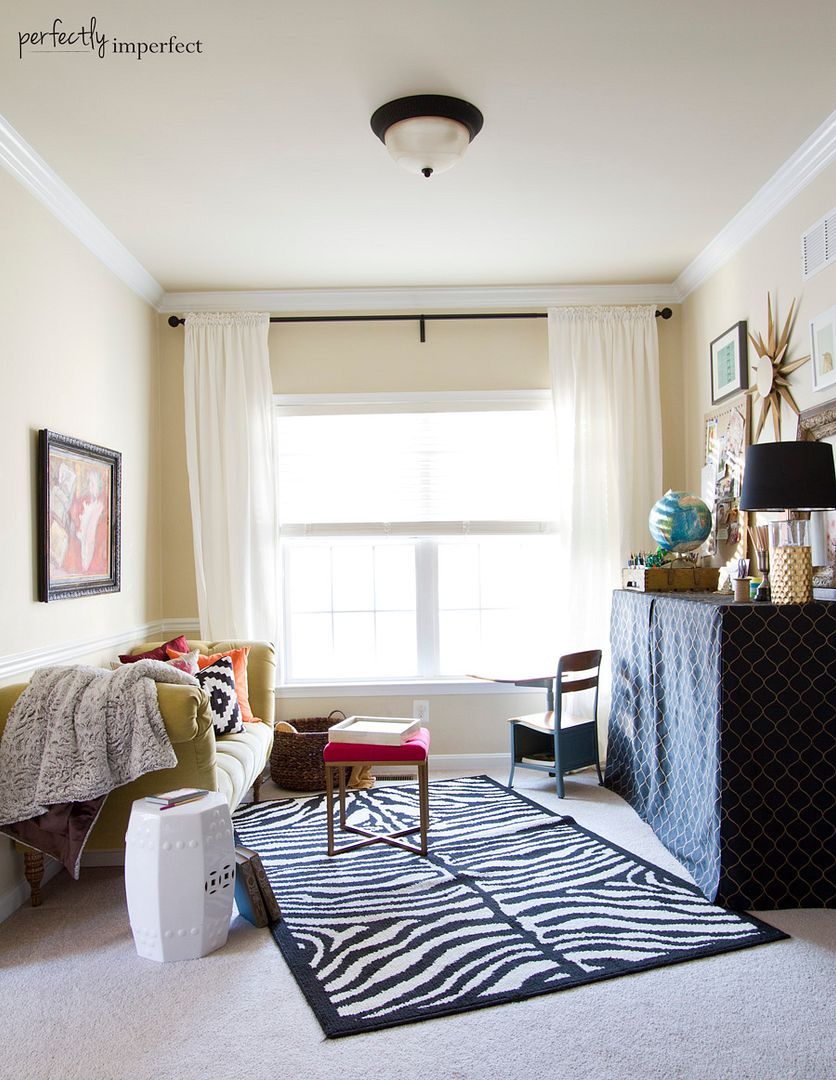 Here's what I love about this redo and the office redo you'll see next: these are real examples of how you move a space in the right direction.  In both spaces we made hard choices, but we chose to spend the budget on more things that would make a bigger impact with the style/glam factor.  You may not be able to deck your room from top to bottom as you begin, but you can get the space moving in the right direction (p.s. lots of my rooms are still in this phase).
There are lots of elements in Lisa's space that create the "look" she's going for:
bold, geometric black and gold fabric

gold plated lamp with metallic lined-shade
vintage settee
funky artwork
metallic accents
shots of color in the pillows and pink stool
They built this tall buffet to house schooling supplies and give Lisa a place to use as a workspace for curriculum during the week.  After covering it with fabric, all the supplies can be quickly tucked away.  Such a cool and affordable storage option!
We freshened up her gallery wall with some ikea frames and some art from The Handmade Home book series by my friends, Ashley and Jamin Mills at The Handmade Home.  The art and adding the ceiling height curtains pulls the eye upward, and really created such warmth and coziness.
I love that Lisa's style is so eclectic, and I hope she always goes with her gut, so to speak, when choosing accessories like the herbs crate she uses for school and art supplies.  It's such a great contrast for the modern, slick fabric.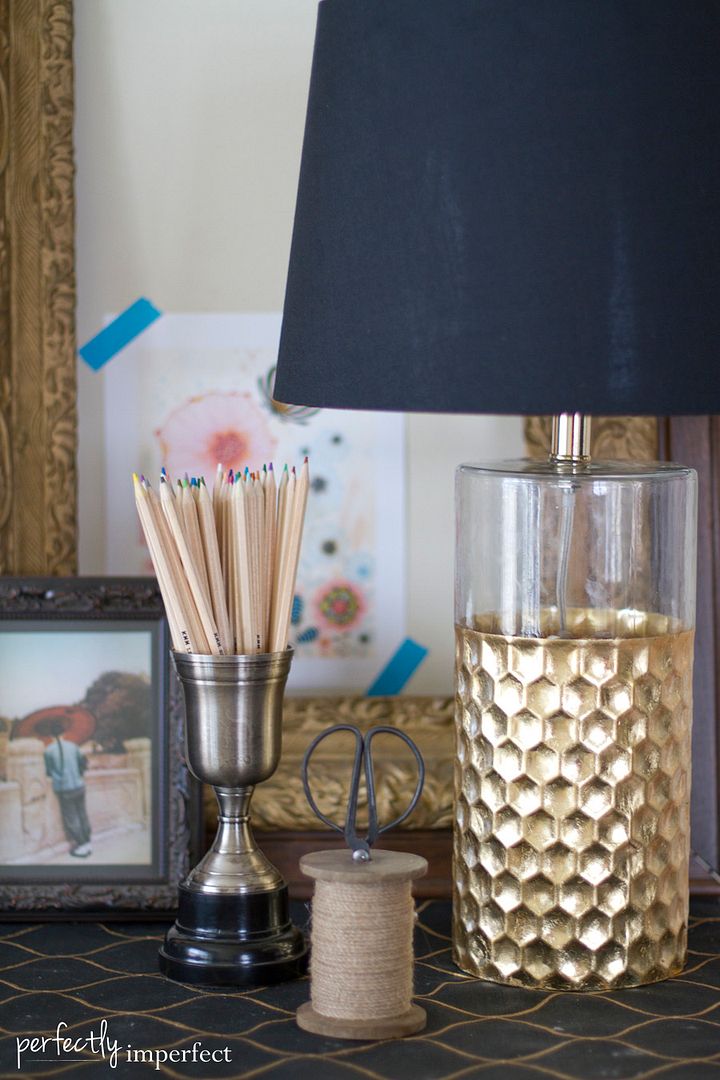 The lamp came from Target (it is sooo pretty in person!), and the twine and scissors and trophies came from our shop.
I love when style and function meet in the middle, and this space does just that.  It can serve little people all day and tidy up for mom at night.  I can just see Lisa sitting in this pretty spot at night…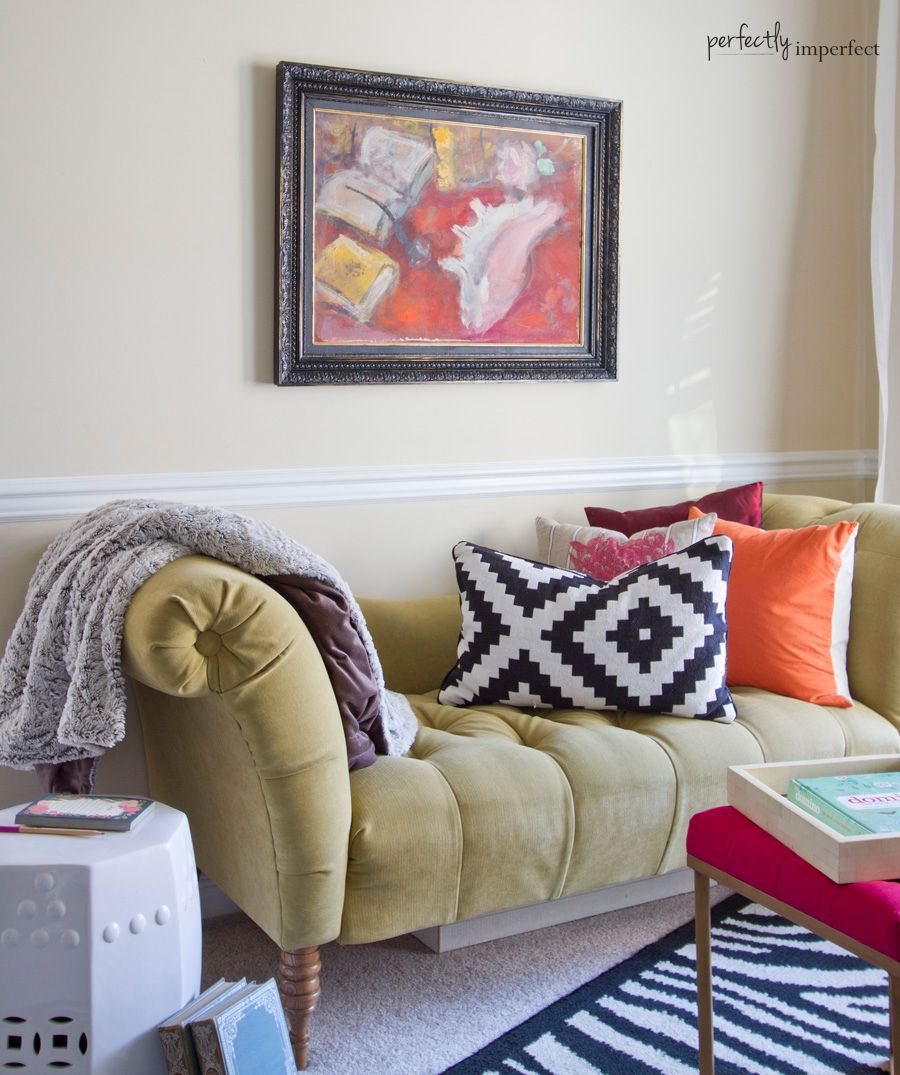 We picked up the black and white pillow from Ikea and the garden stool from TJMaxx. to mix in with her current accessories.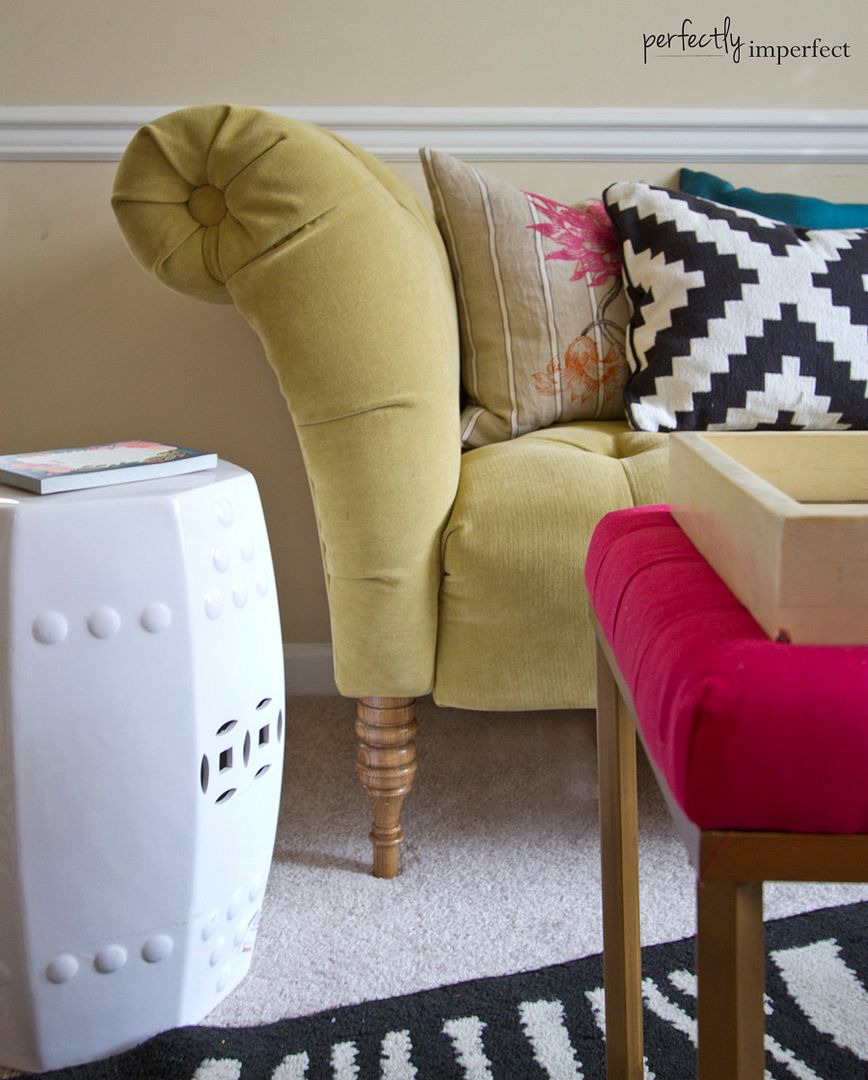 We also nabbed this gorgeous pink tufted ottoman and boned tray from Target, and I sent the funky pink pillow from our shop.  While I'm a big neutrals and blues gal, this riot of color is energizing and so much fun!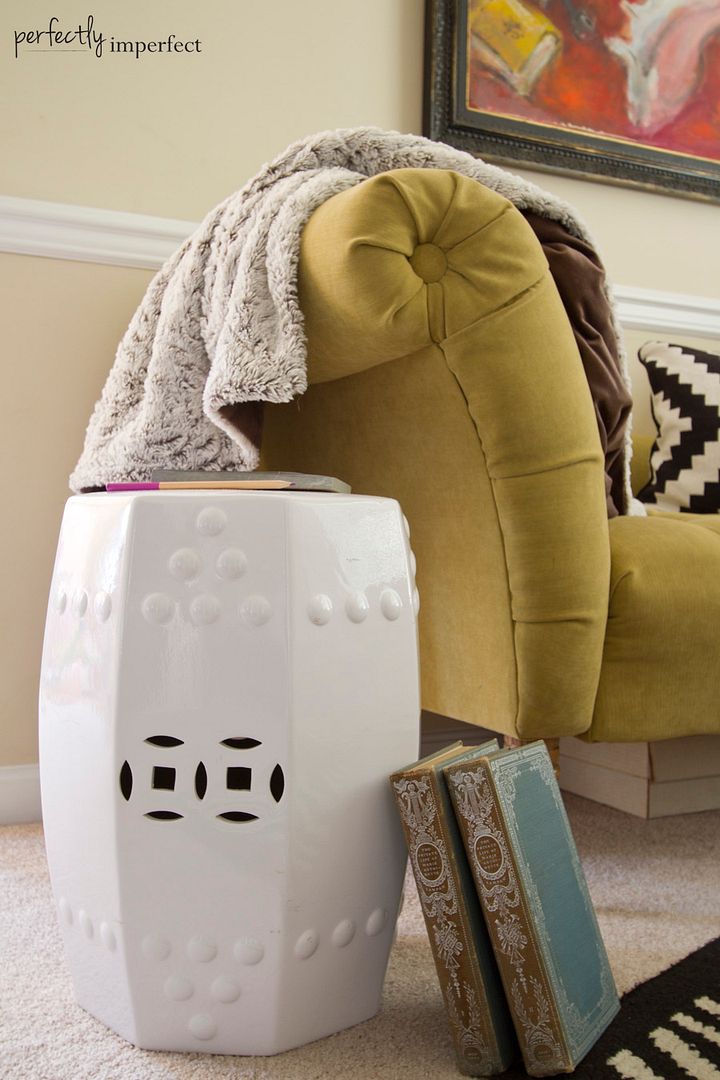 More on those gorgeous books later.  Be still my old book loving heart.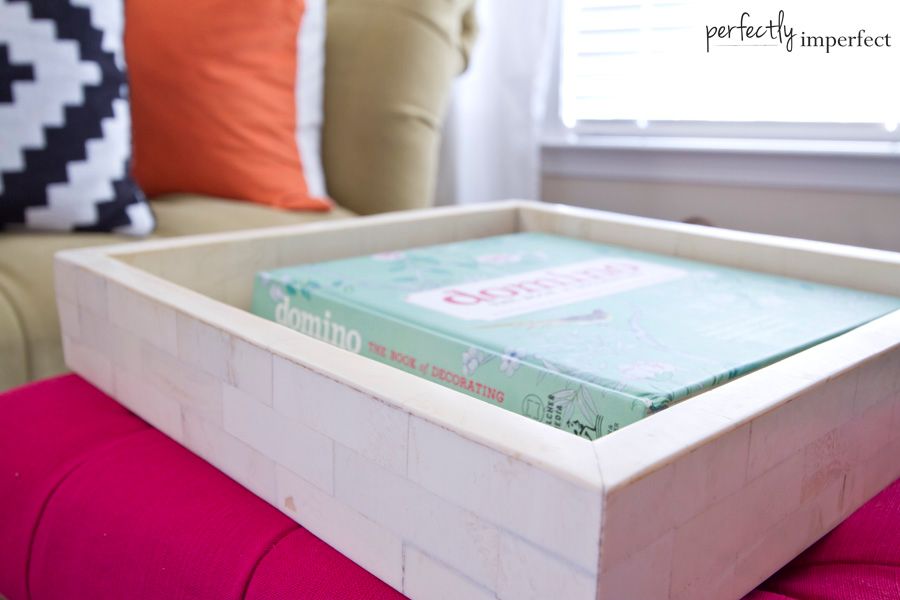 So what do you think?  Did we take the space in the right direction??  It's so much fun to pull spaces together on any budget, and it has me thinking about doing a fun makeover with a blog reader.  Major thanks to Lisa who let me be a part of her redo's.  More soon!
Have an awesome day, today, friends.  The boy and I are going to (hopefully) hop on a plane back to 'Bama.

Sources:
Pink & Orange pillow- Perfectly Imperfect
Pink Tufted Ottoman- Target
Boned Tray- Target
Garden Stool- TJMaxx
White Curtains- Ikea
Black & White Pillow- Ikea
Gold Lamp & Metallic/Black Shade- Target
Trophies-Perfectly Imperfect
Twine/Scissors- Perfectly Imperfect
Artwork- The Custom Art Collection by The Handmade Home