Well, I hope your weekend was fantastic.  I got to celebrate the birth of my best friends' twins this weekend and really couldn't believe what a miracle it all was.  My sweet friend, Jenny, I'm convinced you need to see more of around here.
She's one of the good ones.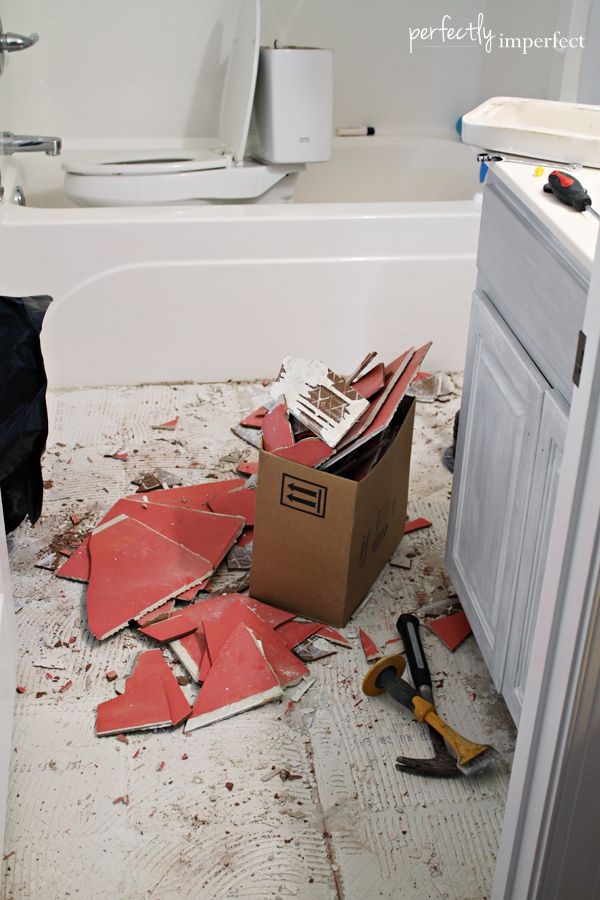 Remember back when I decided to paint our ceramic tile, and then, well, that didn't go so well?
Yeah, I remember too.
We decided if we were laying new floor, and it was a small space, we'd go with the good stuff and went with a marble hex from Home Depot.  I fell in love with it, and even though the cabinets had already been painted, I changed the hardware to pick up on the black and white.
Oh, and funny story: so we finished this space in July.  I went to Haven in early August and while my good buddy Marian and I were hanging out, I showed her these two pictures I wasn't happy with.  I thought they were too shadowy, or overexposed in other areas.  But, this was even after shutting off all weird light, and shooting in complete darkness (and yes, they all were).  She laughed and said they weren't so bad, but (and I quote), "Dude! You gotta shut the toilet lid!"
Yep, she's not only talented but really funny.
And so I planned for ever and ever ago to reshoot the bathroom for better lighting and I also planned to shut the toilet lid.  But then life happened, and I kept putting it off and I completely forgot that we had this whole makeover I hadn't even shared yet.
So, I got over myself and perfect picture expectations, and I'm sharing the toilet lid lifted photos and all.  I give you our guest bathroom…
or at least, our bathroom in early July.
I had a lot of fun pulling the space together, and I really, really wanted to keep it clean and simple.  So while I was thinking in my head that it would "photograph better with a striped shower curtain", there's plenty of contrast in real life.  That's the downside of what I do…it's tempting to start tackling spaces for how they would photograph.
After laying the tile floor, we added texture to the walls, just simple tongue and groove pine planks. I was really dreading painting them this time and decided to try a new paint this time.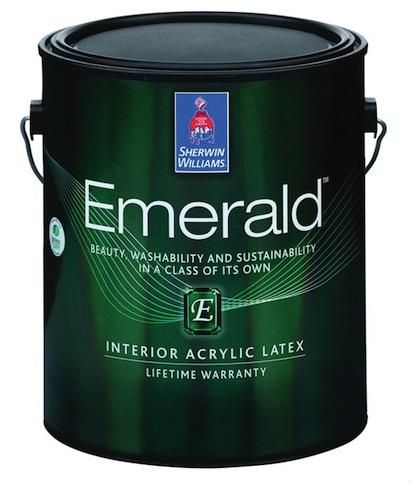 I love Sherwin Williams paint, but had not tried their new Emerald paint line, and I fell in LOVE with it.  I'm a Pro Classic girl to the death, but for color and walls, this paint was so rich in color that it covered the knotty planks in one decent coat.   We went with a pale green/gray, Glimmer.
I've since used it in our bedroom and have been just as happy with it…it's my new fave for interior walls.
I wanted a simple, white shower curtain but went with a ruffled one I had lying around for just a bit of texture.  (maybe I snagged this at Target?)
This bathroom gets used a ton for little ones' baths, so their stool hangs out in here at all times.  I love using turkish towels these days, as they are not only super absorbent, but they are just the perfect dose of cottage/stripe-y charm.
I pulled in some rustic touches like the braided jute rug and woven baskets to warm the space up a bit and play well with our reclaimed oval mirror.  I also pulled the black and white knobs in to bring pick up the black in the marble tile.  I painted the cabinets two coats of Paris Grey with a wash of Pure White and waxed it with Clear Soft Wax.
When it came time to style the bathroom, I brought some of my favorite things home from the shop, like baskets, wooden toothbrushes, and pretty soaps.  To save some dough, we didn't replace any of the fixtures except the light above the vanity.  We went with this chrome vanity light by Delta.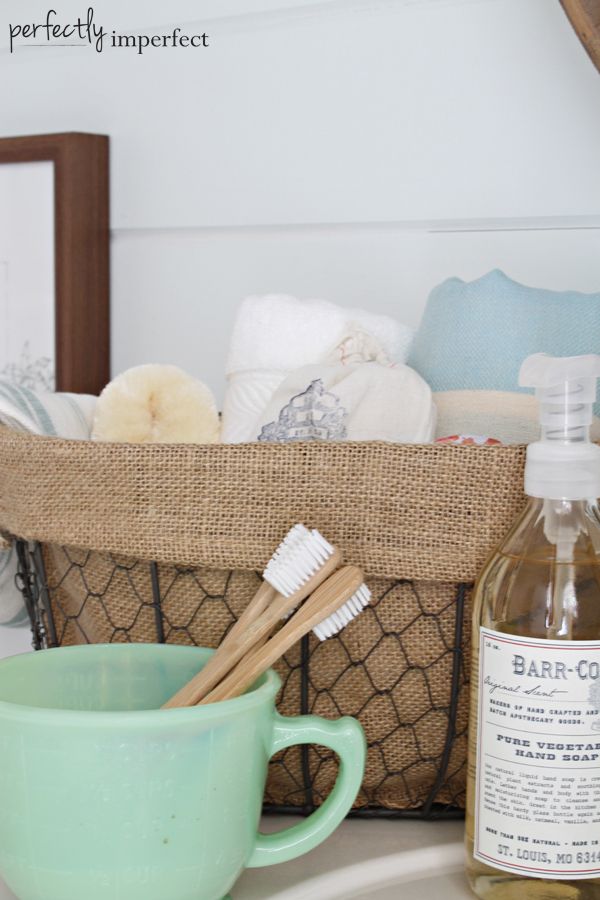 And speaking of pretty things, we LOVE these wooden toothbrushes (and the entire line) we carry in the shop.  It made me pretty happy to have extra toothbrushes, soaps, and lotions for our guests…I've never thought as purposefully about what they would need and what would help them enjoy their time with us as when I decorated this space.
Oh, another funny story.  Fast forward 3 months later, two of the things pictured in this photo are now broken…the big bottle of soap & my vintage jadeite juicer.
Insert sad face on losing that juicer.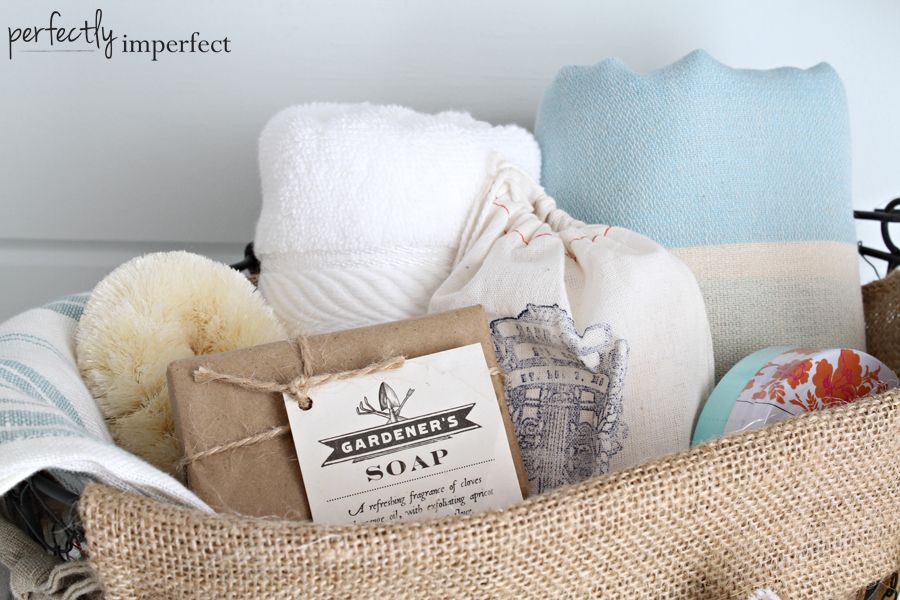 I collect vintage sketches and this one of a nantucket beach house is my favorite.  I have to get a white board to place in the frame, but that'll happen eventually.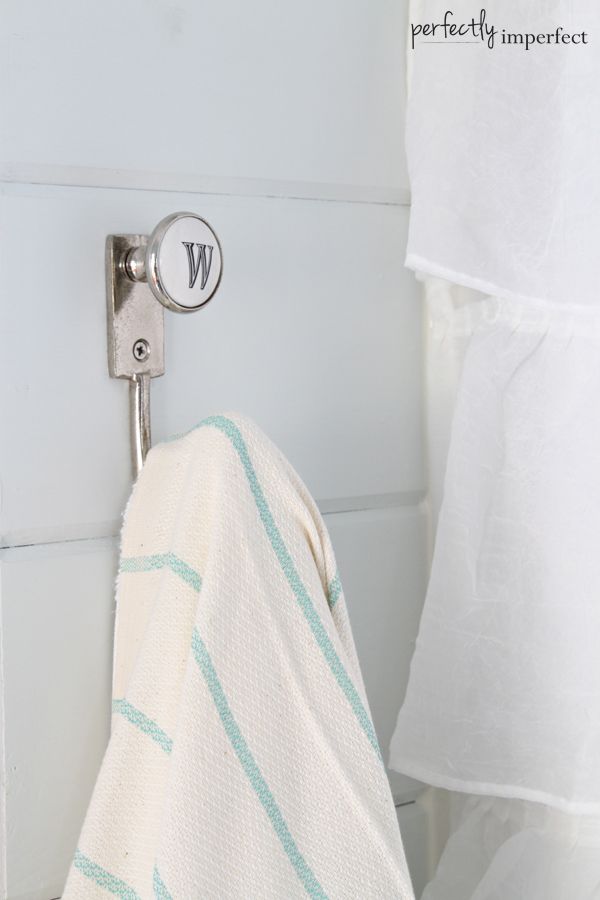 This tiny space works so well for us, and now it's a lot more stylish and "us."  We love, love doing this…but I always like to take time off in between room makeovers now.  We worked on this one at the same time as Ava's room, and it was actually finished beforehand.  I'm trying to make myself wait until the book is finished, but I really want to get my hands on Gray's room to get it organized and working a little harder for him.
I'm trying to keep calm, though.  We'll live to decorate another day.

Resources:
Glimmer by Sherwin Williams (walls/planks)
Pure White & Paris Grey (cabinets)
W wall hook (they don't have our exact hook listed any longer, but this one is similar)
Gardener's Soap
Wire Basket w/ Liner- our shop