Once upon a sad, sad time, our guest room looked like this…
That desk was the first piece Matt ever built, marble inlay top and all.  We basically threw a bunch of office furniture in there and called it a day.  Choosing the red was a grave mistake…red can be done, of course, but not this red, in this south facing room.  Put a satin finish on it and you're in business for a questionable lounge-y vibe.  Yikes.
So a few years ago, we transformed it a bit…
We loved it, and many of the changes were thrifted and repourposed finds we added for very little $$.  The chest of drawers quickly became my trademark piece, both for my blog and at home…I still swoon over it!
While things aren't totally different in there now, we've made some little updates and changes.  I decided I was tired of the $12 trellis headboard, so we sold those last year at our yard sale.  We had a college student live with us last year for about 4 months and eventually our bedding ripped (he was an excellent roomie, but alas, the duvet cover was used, and it just gave out with use).
We've slowly been making some changes, adding and taking away.  It remained empty for a while with no headboard, and the other day, I propped our oversized framed bead board behind the bed and voila…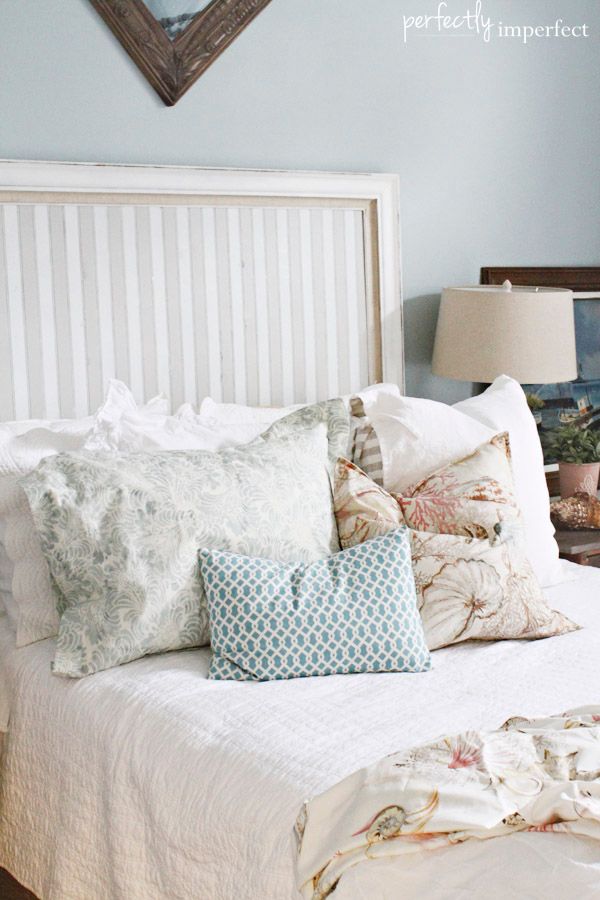 I was craving a little pattern and texture in here throughout the year, so I pulled pillows from around the house and bought a couple.  The watercolor sham and shell pillow came from Pottery Barn, and the small pillow is Waverly Ellis in Turquoise.  The white euro sham with gray stripes & ties came from Ikea and I have them all over the house.   Don't worry, I'll be showing you full shots of the room so you can see other ways it's changed, and when we're ready, Matt and I are going to build a new headboard.
It's going to be spectacular…I cannot wait to show you!
And yes, we're painting that guest bath as we speak.  One day, my friends, one day, we'll finish that sucker.
And Ava's room, & re-floor the downstairs, & redo our master….
One lazy day at a time.