Well, it's Friday again, and we're sooo looking forward to a little weekend getaway with the kids, but I couldn't leave you hanging on yesterday's spring table ideas.
As I said yesterday, it all started with that yellow punch bowl.
It's made by American Pottery, and I happened to run across it when my friend, Lisa, was in town.  She pointed out its fabulousness, and I think regrettably told me I should snag it since she couldn't tow it on the plane back home.
I probably would have tried, but I appreciated her handing over the treasure all the same.
I mean, does it get much cuter than these cups?!?
In entertaining our family, I'm sort of known for a laid-back approach to the tablescape.  I'll throw dishes on the table, but the flatware doesn't always wind up perfectly placed.  This time I plopped them in a glass jar and placed them right in the center of the table.
Since I was working with the bold mustard yellow, I wanted to keep most of the rest of the palette clean and simple to let that bad boy shine–mixing white dishes and simple patterns did just that.
I have to give mad props to my friend, Layla, who knew I was tablescaping it up & found some fab napkins.  They were (big sad face) all sold out–but I found Jessica from The Burnt Creative on Etsy, and she came to the rescue, making me four almost identical to my inspiration pic.
Don't you love it when that sort of thing happens??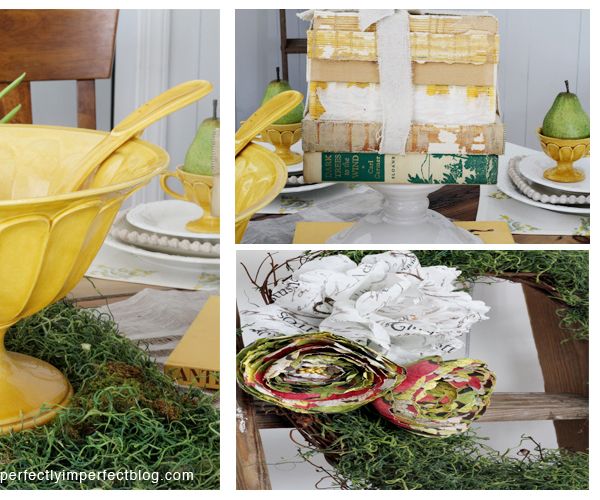 I mean, the bowl even came with a resting ladle.  I just can. not. get. enough. of. that. cutie.
For fun & whimsy,  I piled vintage books on top of a compote I turned upside-down…cause I don't really follow many rules, as you know.
But I do follow this rule…sometimes, a flat table is in danger of being a boring table.  In came the stacked books & cake stands.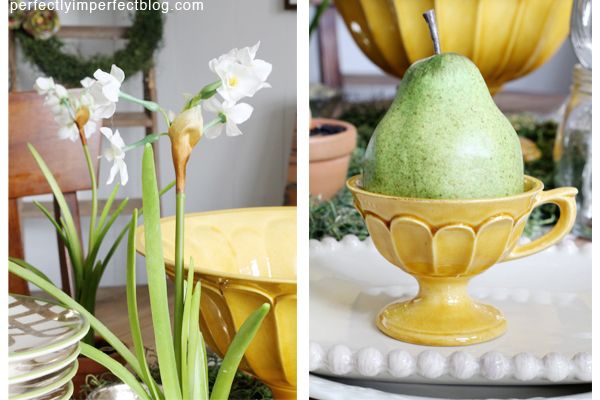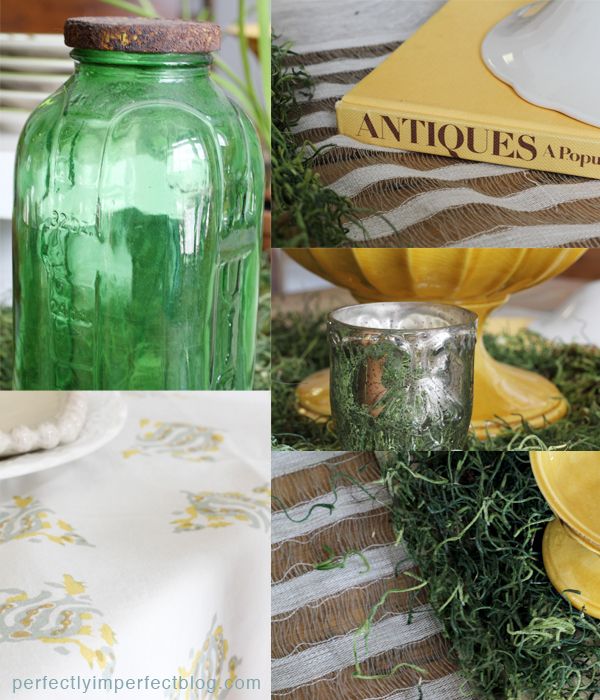 The two little plants came from Pottery Barn (I picked them up on sale in December).  The other napkins I picked up at World Market a few weeks ago–so pretty!  The linen table runner and mercury glass on the table were given to me by my sweet cousin & Aunt–they carry them in their store, La Bella Vita.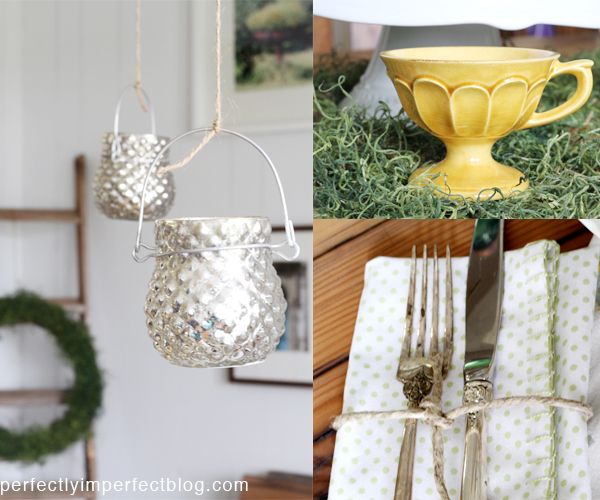 The hanging mercury glass votives were another Pottery Barn purchase…I couldn't help but hang them from the chandelier.  There's nothing like flickering candlelight floating above you in the springtime.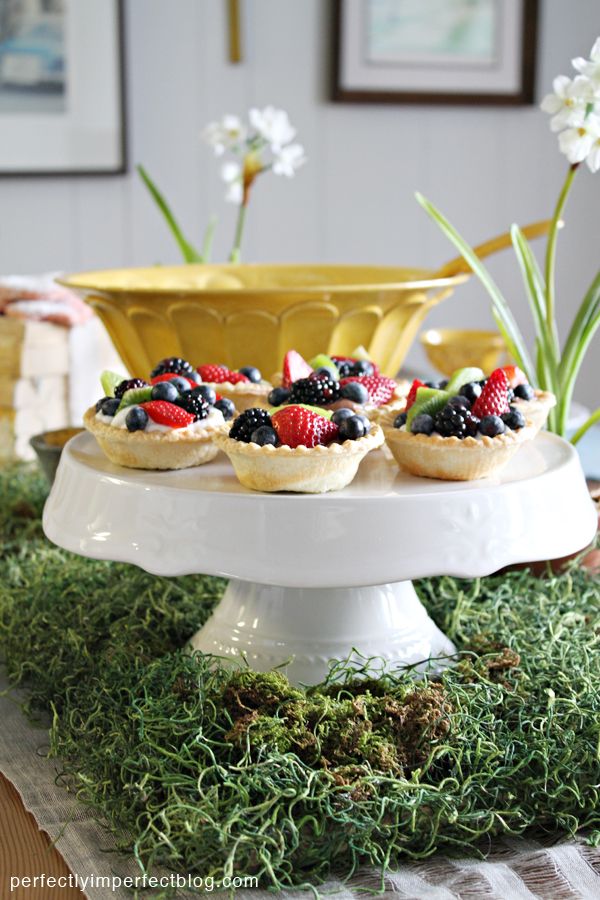 I made the moss runner by layering 2 kinds of moss from the craft store–I just hot glued it straight to a scrap board we had in our garage, using the same "place then glue" method I did for my semi-handmade spring wreath.
I couldn't resist piling some treats on the table, either.
And you can't go wrong with lemons & raspberries in mini-mason jars, right?  Add in some stripe-y straws & I'm going bananas over their makin-me-happy-power.
I'll post the recipes for our Strawberry Whipped Cookies & Simple Fruit Tarts next week.
Happy Spring, peeps!