Good Monday morning to y'all!
I'm sure most of us agree that our kitchens are the heart of our homes.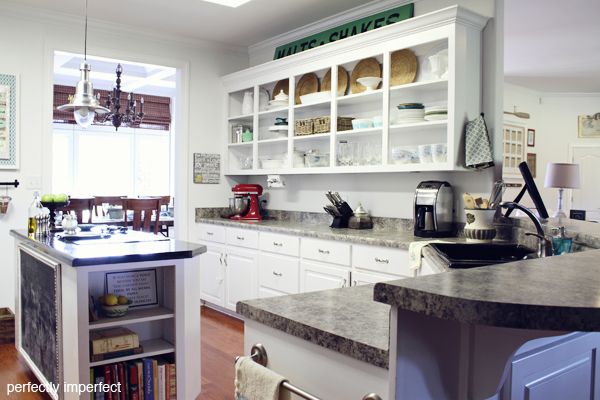 Our kitchen doesn't house all of my favorite materials (i.e. I'm a marble fantasizing gal), but it is certainly the room I spend much time in–and where lots of beautiful, messy memories are made.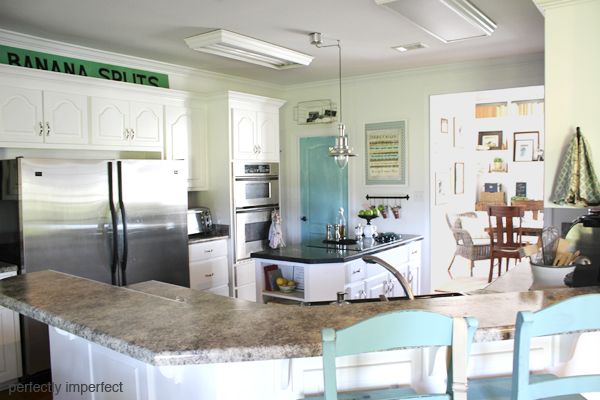 It was because of this that I made and hung our family rules art in the kitchen.
Remember our Family Rules?
I first saw this idea at Lindsey's…and fell in love.  I pulled from some of her rules, and created some of my own.
You guys completely blew me away with your responses–and still do.  You comment on them, email me about them, and beg me for a template.
As I cut out every piece of single scrapbook paper in that original craft, I knew I'd never want to do that again.  Matt and I scanned them into his computer at work, and I added my fonts/rules in InDesign.
Somewhere along the way, though, the rules were lost out in cyberspace (or Matt's space).
But guess what??
I found them!!!
Because we were working with what we had, we printed these on 11 x 17 paper at Matt's office-using landscape settings.  I also knew it would be much easier to mod podge the two smaller sized papers, rather than one large print.
Once you print off your two pieces, trim away excess paper to craft with your (roughly) 16 x 20 Family Rules Print!!
You can download Family Rules 1, here
Download Family Rules 2, here.
That's it–they're all yours for free!  And do let this family-rules-lovin' gal know if you create something with it.  This project was so special for me & still is for our family–hope that feeling extends into your homes as well!


P.S.  The winner of the Ella Lane giveaway is #1, Penny from The Comforts of Home!    Email me at shaunna@harristire.com to claim your gift card!