Since I'm up to my eyeballs in paint (paint for my HUGE black hutch, to be exact), I thought today I would pop in to show you some furniture eye candy.
I keep a Pinterest board filled with furniture inspiration and these are currently at the top of my "wow moments" list.
Peacock Blue Dresser by DecorAdventures
Whether or not you know how to paint furniture, we can all appreciate these beauties.
Is it crazy I love furniture like some women love shoes?
I love shoes too, though.
Rustic Workspace by Maple & Magnolia
That must make me all kinds of high maintenance.
Edie's Teal Beauty (Check out her WHOLE house, by the way!)
I've been swooning over this one for a couple of months now.  See, I'm not choosy.
Nope, not picky at all.
Just like with my shoes (I like Toms and I like 4 inch heels), I'm not hard to please.
Furniture just makes me happy.
As would a pair of those chairs for the living room.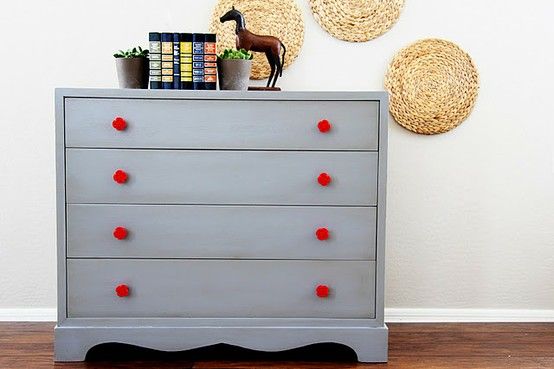 Gray Dresser by Natty by Design
We all know I'm obsessed with gray lately.
My hutch can attest to that–or, at least half of it can.
Card Catalog by Urban Farmgirl
I dream of furniture.
Especially card catalogs.  Bring it on, 2012.
Bring me a card catalog.
What about you? Any furniture calling your name lately?