I'll start by saying that thank you will not come close to doing justice what I felt yesterday by your warm, uplifting, and cheerful comments.  I was blown away by your support and encouragement–thank you, friends, for being mine…and for letting me be yours!
Whenever we've gotten our room redo on, the most frequently asked questions always involve paint.  I also received a lot of questions yesterday, so…
I decided it was time to have all of our paint colors in one place.
The playroom– Valspar's Sea Breath
On a side note, I get tons of questions on our flooring upstairs.  We found this laminate whitewashed flooring at a lumber liquidation center on clearance and being discontinued.  If I ever run across it again, you guys will be the first to know!
Writing Room– Benjamin Moore's White Diamond (my go-to fav)
The writing room bath is painted another Benjamin Moore color, and that one I'll have to look into.  I've literally forgotten, but no worries.  I'm sure there is a paint can with a name on it.  Somewhere.
All of our trim and cabinetry was painted a bright white when we built our home 8 years ago.
Kitchen– (and all other main living areas) Benjamin Moore White Diamond
The barstools were given a coat of Annie Sloan Chalk Paint in Provence.
The painted laundry room door– Olympic Alpine Valley
Guest Room– Olympic Misty Surf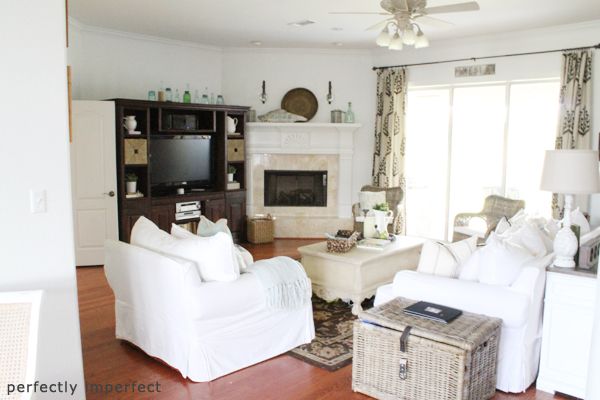 Living Room– Benjamin Moore White Diamond
Coffee Table– Annie Sloan Chalk Paint in Old Ochre
Dining Room– Can you guess?  Benjamin Moore White Diamond
The recess bits in the coffered ceiling are Benjamin Moore Crushed Ice.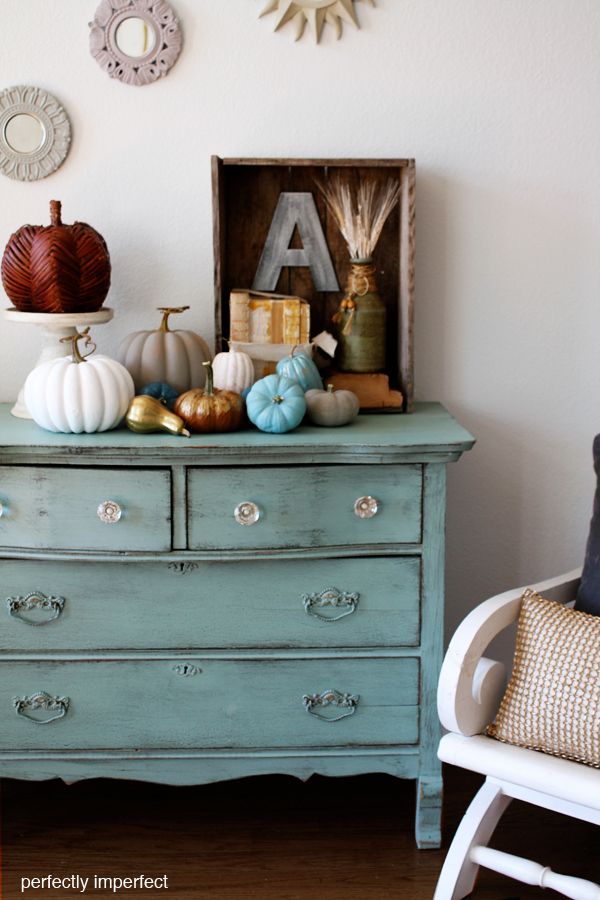 I don't actually know the color of this dresser, BUT, the closest I've found to it is Provence chalk paint…and if you want a little more green, mix in some Duck Egg Blue chalk paint.
I hope that answers all of the paint questions of the casa de West.  Let me know if you have any more!
Before we change them all.
🙂