I've been putting it off.
Organizing the pantry, I mean.  When the fabulous Shelley from House of Smith's prettied up her pantry, I was totally inspired.
And overwhelmed.  Really?  My pantry needs to look that good?  I mayyy not be able to pull that off.
Now…the fabulous (because she really is fab!) Shelley wasn't telling us we all had to stencil our pantries…she was creating a functional and beautiful space that worked for her family.
And that I totally dig.
We began hosting/cooking for teens and college kids on Wednesday's the fall of 2003 (yep, we did).  We took about a year off after having Gray, and the last few years we've been having them only in the summer months.
We LOVE having them….but because we never cleaned out our need-to-feed-30-teens-at-any-given-moment stocked pantry, and we had two additional little people to feed, it got out of hand.
Like this out of hand….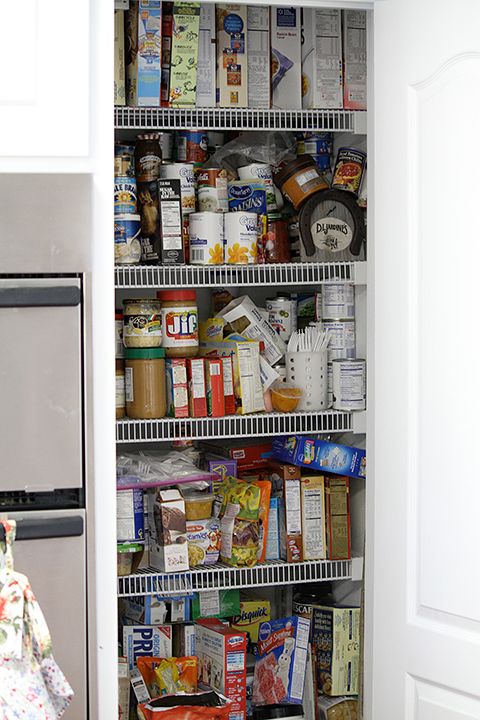 Uh-huh.
So last week, after a regular trip to the grocery store, I physically had nowhere to unpack the groceries.
I proceeded to sort of lose it, ripping expired food and multiples outta there.
Poor food.  It may have been mistreated in the making of this post.
But….I channeled my inner-Shelley, and although I had zero intention of painting or prettying, I was ready to get to work.
13 bags of trash/multiples/canned food to donate later….
Now we're talkin'.
Wanna hear some things I learned along the way?  Ideas I had on how to make a small pantry work for my entertaining fam of 4?
And if I've kept it that way the last 2 weeks?
–Go on and empty your pantry.  TOTALLY.  Make 3 piles….to keep (which also is the "find a container for it" pile), to toss, and to donate.
Think TLC's Clean Sweep with less dust and paint.
–Be brutal.  If it's been in there for more than a year, it needs to be tossed or donated.  Really.  I know one day you might have someone over who needs key lime jello mixed into some recipe, but you know what?  You can go to the store that day and get some.  Or fix them something else.
This part was exceptionally hard for me and Matt…but at the end of the day, one family doesn't need to stock 14 cans of evaporated milk for the one time a year they make fudge for the neighbors.  Someone else can be using/enjoying it instead of it wasting on our shelves.
–Assign each shelf a food group/type.  Y'all know how it goes….if it doesn't have a place, then it doesn't have a place.  And it will love to clutter your counter.  I decided on these
paper goods/pitchers/cereal
dry goods (rice/flour/sugar/oatmeal, etc.)
pasta/adult snack tray (I realize that sounds kind of wrong…but you know what I mean…this is where I keep my oatmeal, protein bars, etc.)
cooking (boxed mixes/quick rice/soup mixes/canned goods) & 2 more snacks the kids can reach
baking (cake mixes/jello mixes/choc chips, etc.) & jars (syrup, peanut butter, honey, etc.)
kids snack drawer
I should also interject that we live in our home.  It's almost never very tidy, and when it is, I feel like I've worked all day to keep it that way.  BUT…we are working on purging things we don't need so everything has a place, and can be put away.  I find I'm much more creative and excited to tackle projects when it doesn't look like Taz has flown through my living room.
So….this is do-able.  I promise.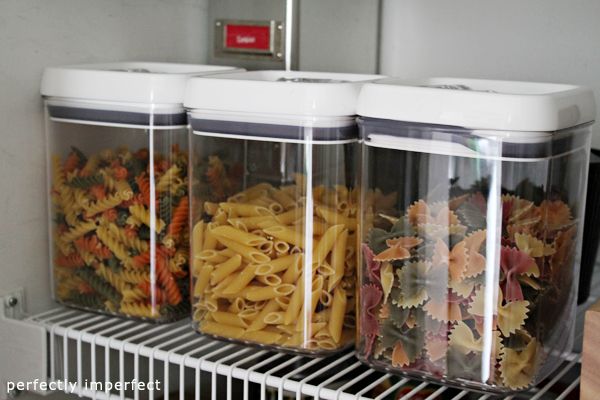 –Invest in some decent storage.  This is, I believe, key to almost any good organizational system out there.  For instance, before this little redo, I would buy a box of pasta (or any type of food, for that matter) and as it scooted to the back, it scooted its way out of my mind.  So…I would buy another.  However, if you only have 3 containers for pasta, it's quite easy, number 1) to find and number 2) to see when you're out or running out, and number 3) only buy what will fit into your containers–because that's all we need anyway.
–This is random and not pantry-related…but invest in some good, organic veggie pasta.  You gotta get the good kind…that doesn't just contain food coloring.  Seriously, it tastes exactly the same and it sneaks in another serving of veggies for you and the fam.
–You can buy a few specific snack/cereal/pasta air-tight containers, but also shop your house!  I used an air tight canister I wasn't using for the kids' goldfish (or snack of the week), a rattan caddy for sauces and peanut butter, and an Ikea basket to hold all of my clutter-y mixes/bags.
Again, now I find myself looking directly into that basket when it's time to bake.  If chocolate chips aren't there, well then, they're not there.  They're not hiding in the deep abyss of the pantry.
–Give your kids a shelf or a spot in the pantry.  A place they can learn to serve themselves snacks, with your approval, of course.  We're big into teaching our kids to learn how to take care of themselves (and others) early on…this includes meal time.  They help cook, (obviously Ava less than Gray), take food to the table, bring plates to the dishwasher, etc.  It seemed natural to have a place for them so they can continue to learn independence.
With this does come the grabbing a capri sun and a handful of goldfish every 1/2 hour, but that's just another opportunity to teach them about eating healthfully and to ask permission before helping themselves.
This also helps mama out when she's packing lunches/snacks.
No, we don't just feed the kids goldfish and cheezit's….these go alongside their fruit and veggies.  🙂
I'm sure some of you have seen that incredible fridge snack drawer, too.  We're working on some to-go fridge snacks, too.
You can't stop me now!
–If the task of creating a gorgeous pantry seems daunting, work on function first.
This makeover was strictly functional, with a little pretty thrown in with the containers.  If I had wanted to do something amazing, I would have painted or stenciled, or added some wallpaper.  For the time being, we needed function over form.
I needed to be able to unload my groceries, y'all.
I did throw in a little personal touch.  I'm working really hard on losing the rest of baby-Ava weight (and it's been a long, slow go, but it's happening!), and I loved the idea of filling my pantry with motivational quotes (Leen The Graphics Queen, here I come!), but until then, I propped one of my favorite vintage books on the snack shelf.
"Do Something.  Be Something."
You got it.
–Stick to your system.
Now that this pantry is all organized, I think we're actually saving money at the grocery store.  I certainly haven't had to buy any pasta or snacks…because I can see them.  They're right there, on shelves 3 and 4.
–Be flexible.  Obviously, I'm going to buy something every now and then that doesn't fit into a specified container.  If it's random, that's fine….the pantry now has room to accommodate specialty items.
But if it becomes a regular in the casa de West, it's getting it's own spot.
I sure hope that helps you tackle the state of your pantry!
I'm sure now that we can close it, we'll paint the pantry door to match the laundry room door.
And you've GOT to watch on Facebook today for a sneak peek of something new and super cool in the kitchen!
And I know, I know, you're ready for the dining room reveal.  It's coming, I promise.  We ran into a little issue with the table (not the one pictured above)…it's all good, but I'm sure it will be Monday before you see the whole she-bang.
I'll be back later today with the J & A Giveaway Winner and don't forget to get all your furniture projects and features ready for All Things Furniture tomorrow!