I'm SO excited to share this project with you!  I've partnered with Krylon to give you the lowdown on their new product, Krylon Dual Paint + Primer.
Here's the thing.  You know I usually don't use spray paint on furniture I sell.  Definitely love it, but I usually add several steps for proper coverage.
Well, this paint might be changing my mind.  See what you think…
Do you have any of these? Tray tables?  Or something like them in your home…something that sits untouched.  Something you're uninspired by?
That's how this little project began.  These tables could be used for nearly everything.  But I don't like them, therefore, I never look at them.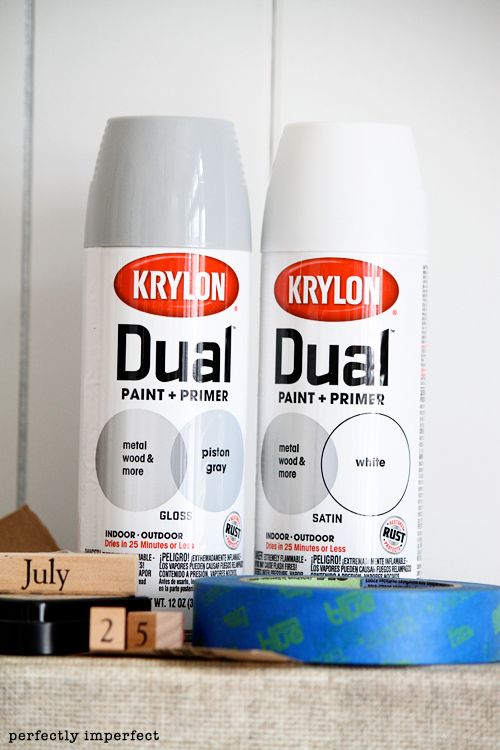 Want to turn your tray tables (or piece of furniture) from drab to fab?  Here's what you'll need:
Krylon Dual Paint + Primer
Edging tape
220 Grit Sandpaper (or sanding block)
Stamp with Ink (or any other personal touch)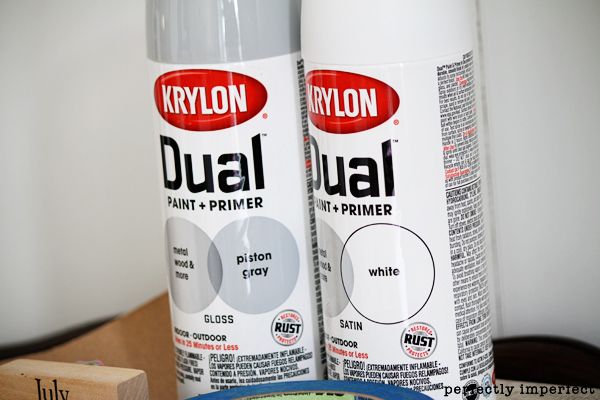 Krylon sent me Dual paint in White in Satin, and Piston Gray in Gloss.  This is a GORGEOUS gray, by the way, and this will definitely not be the last time I'll use it.  I was also super excited that the nozzle rotated, allowing me to get into every corner and difficult-to-reach spot.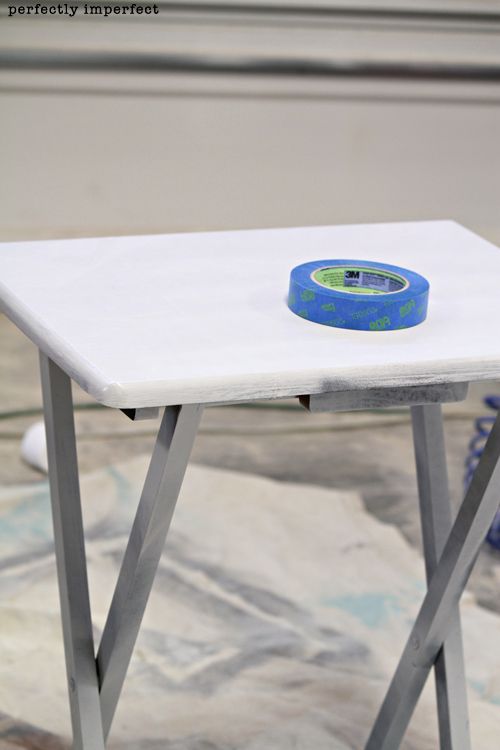 Start by spraying your table in a base coat–in my case, 2 coats of Piston Gray.  Because we'll be taping for a pattern, allow your piece to dry for several hours or overnight.
Here is where I also must interject that 2 coats with this paint is nothing like 2 coats with other spray paint.  I almost left my table as is….a beautiful glossy gray after 2 applications.
Tape off your pattern.  In my case, it was a simple rectangle.  Here's a tip:  When taping off to spray a pattern, use a putty knife to gently nudge the edges to form straight lines and sharp corners.  No cutting necessary.
Leaving the legs alone (coated in gray), spray the table top with your top coat twice.  In my case, I added 2 more coats of White.
While the paint is still wet, gently lift tape corners with your putty knife and remove.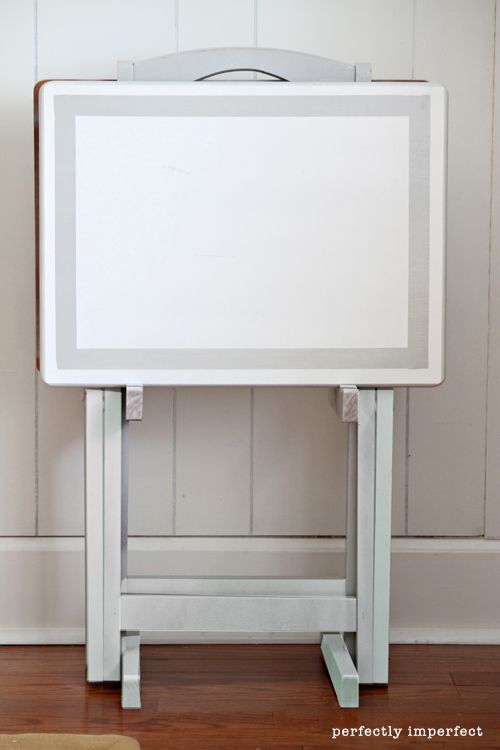 See what I mean??  This paint is so rich in pigment, easy to apply, and fast-drying.  I was hooked after this first table.
For the second table…
Choose what colors you'll work with…I chose White for my base coat and legs.
After painting 2 coats of your base, tape off your top in another pattern.  This time it was all about the stripes.
As a matter of fact, this set of barstools inspired this table….
I just couldn't get those chippy lines out of my head….so why not chippy stripes on my table?
Get ready….this is good info.  Or, at least, I think it is.  Chippy paint finishes are super easy to create with spray paint…especially good spray paint.
Use tape to pull off pieces of the finish while the paint is still tacky.  The picture above?  The paint was still tacky to the touch when I applied the strips of tape.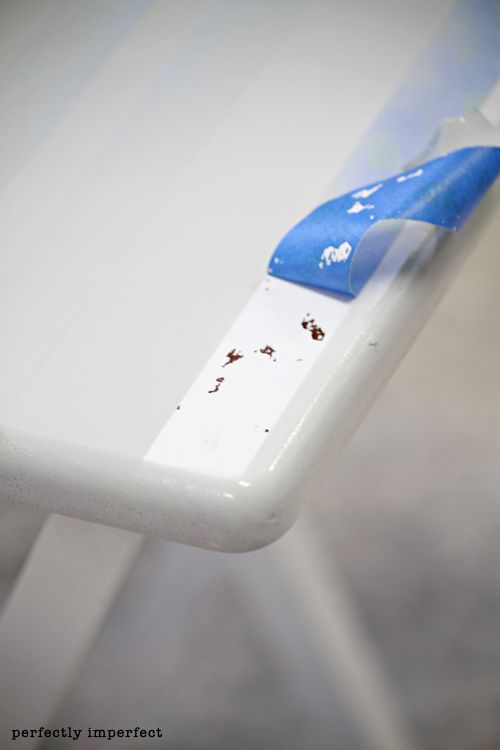 Spray with an immediate top coat (in my case, Piston Gray).  When you begin pulling off the tape, you'll see it will pull off flecks and chunks for an authentic chippy-looking finish.
This one makes my heart go pitter-pat.
You can even take some tape and dab it in other spots to remove more flecks as you go.  Easy, right?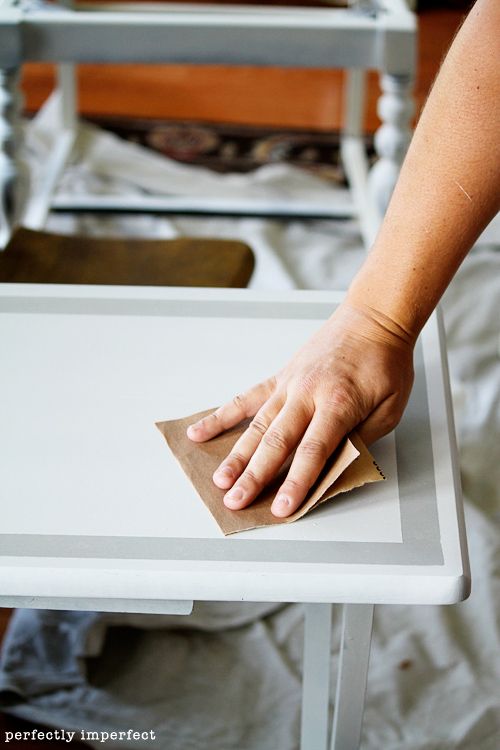 After your tables are completely dry (a few hours later), use a piece of 220 grit sandpaper to subtly distress edges and smooth your finish.
This is also when I stamped the small touch of our favorite number to the top of my table-stand….also painted in Piston Gray.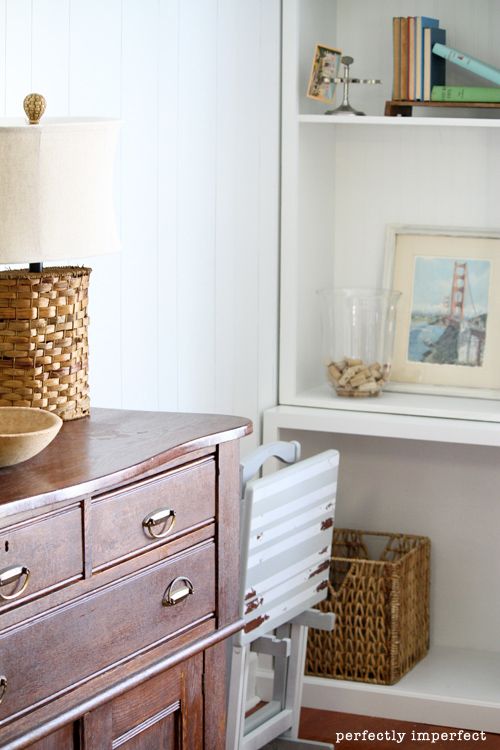 Don't these make such a cool addition to the almost-completed dining room?  You're getting quite a sneak peek, aren't you? What do you think of the finish?  I just may have fallen for Dual Paint +Primer.  I do love the tables there…
But I especially love them here.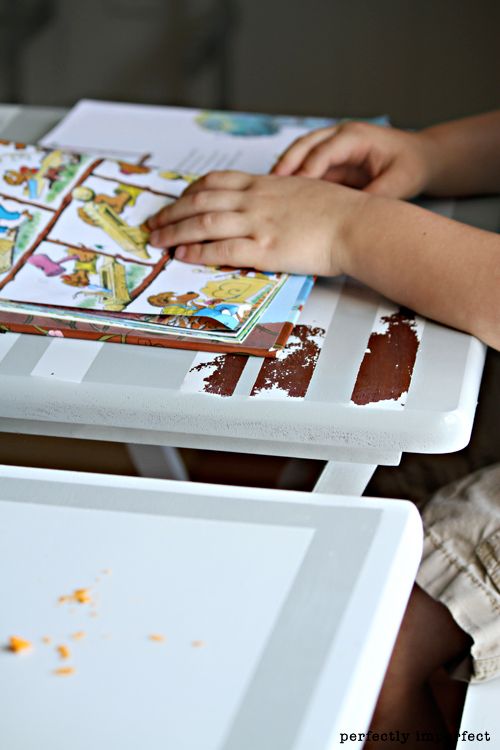 All it took was a little Dual spray paint to get them out of the corner and into the sunlight.
Crumbs, books, and little hands are just bonus points.
🙂
*Krylon sent me the new Dual Paint to try out, but opinions are 100% my own….I LOVE it! Check out their latest promotion, The Dual Duel, where Krylon is looking to find The Ultimate Restorer. To win this title, enter your spray paint restoration project and encourage friends and family to vote for your project as their favorite for their chance to win too.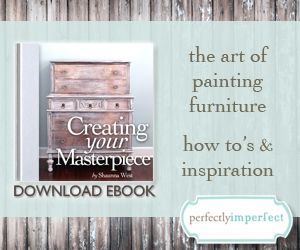 *linking this post to Under the Table and Dreaming's Sunday Showcase, Primitive and Proper's Piece of Work Wednesday, Domestically Speaking's Power of Paint Party, Home Stories A to Z Tips and Tutorials