Thanks to all of you for your sweet comments yesterday on my spring mantel.
As I mentioned yesterday, my favorite part was the repurposed flea market frame.  It's certainly not a hard project, but one that appears tricky.  Not at all, though.
First, you'll want to blow up one of your pictures.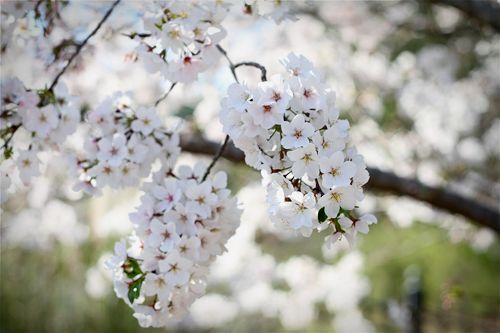 I chose this spring dogwood I shot a few weeks ago, and had it blown up to a 16 x 20 at Walmart…it was only $13!  Be sure to choose a matte, no-fingerprint photo paper.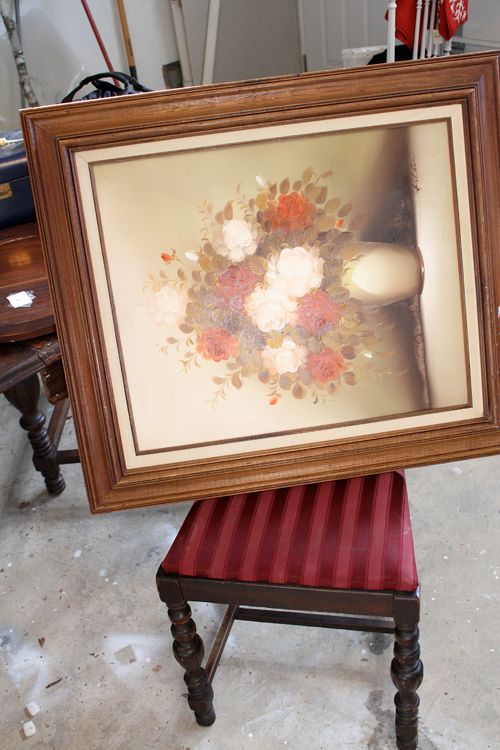 It'll be time to score a great flea market frame.  Luckily, they are literally all over the place.  It's probably best to find your frame before you order your photo, just in case.  Layla and I were on the lookout for a wooden frame to add some brown and natural texture to the mantel, and finally at 5:58 pm before a 6 o'clock closing time, we found it.  Some frames will be labeled on the back, but it's always a good idea to carry a tape measurer with you.
Time to get to work…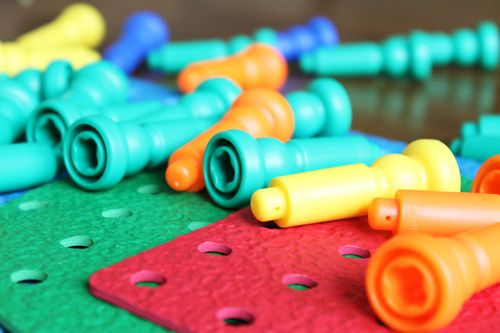 First, you're going to want to move the mound of stacker pegs, or whatever toy your little ones have covered your work surface (my dining table this time) with.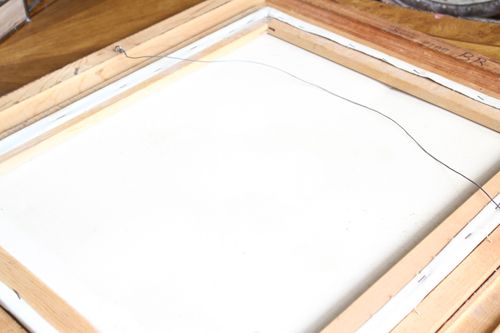 Turn your frame over and see how that thing is put together.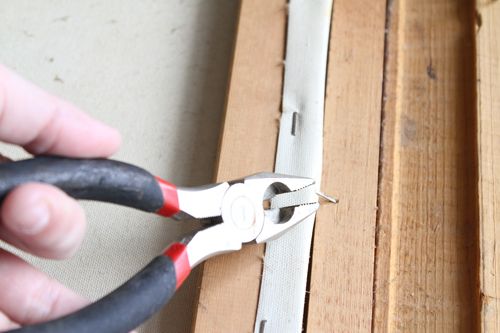 Most canvases are stapled in, so have your pliers handy.  Get to removing the 30 x 4 that are in there.
Maybe bring some bandaids along.
After you remove the staples, the canvas will pop right out.  This a good time to wipe down your gunky frame (if it's like mine).  This frame also had a built in linen mat with additional wood trim.  I liked the idea of the interest it would add, but the linen was a dingy beige and had little blue pen marks all over it…probably from another set of toddlers driving some mama crazy/happy until she gave up on the old thing and loaded it up to the local flea market.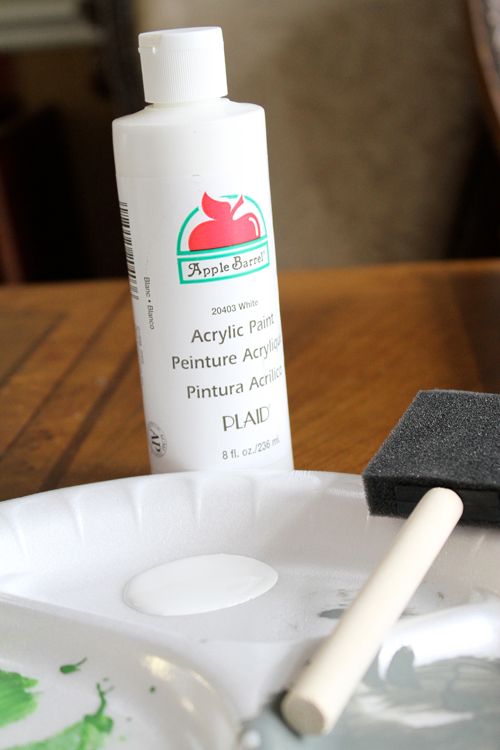 I just lightly painted a coat of white acrylic paint on the linen using a sponge applicator.  Not the first time I've painted fabric…in small doses like this, it's no biggie.  It will adhere perfectly.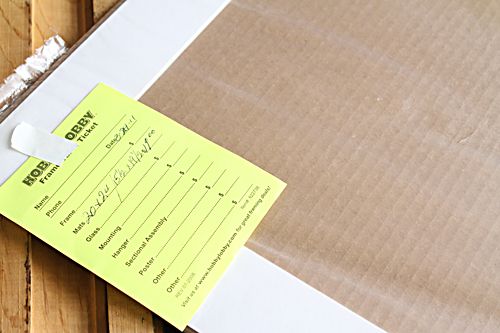 If you don't have one from a previous frame, have a mat cut for a 16 x 20 (or appropriate size) picture.  I got mine at Hobby Lobby for $11…they'll cut the opening a bit smaller so you can attach your photo.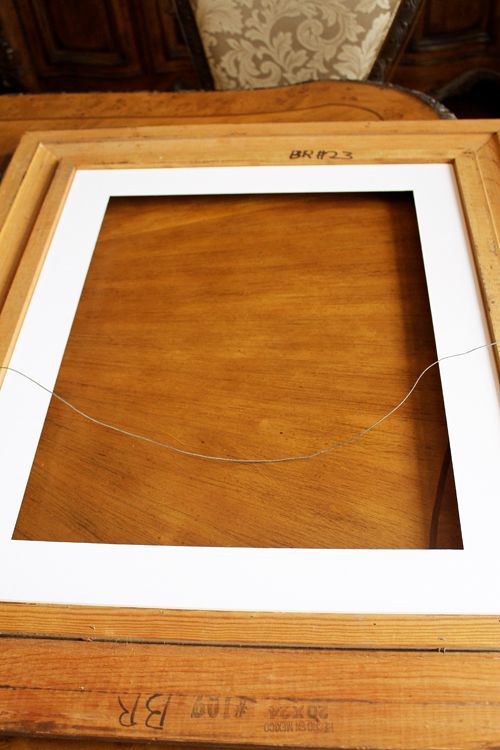 This is where you would normally place your glass in first.  I checked on one price, but it was going to be about $30, and that felt a little steep for a mantel project.  I decided to skip it, in hopes that I'll find another frame with glass.
So…place your mat inside the frame.
Since you're not going to be filling the back of your frame as thickly as a canvas would be (and if you're not including glass to press the picture down), it's a good idea to tape your photo to cardboard or foam board.  I decided to use the cardboard sheet that came with my mat.
Tape your photo to the cardboard on the underneath of your photo so no tape shows up once it's framed.
The cardboard was cut a little big for the frame, but I found while making my Family Rules Art that's a great way to secure your own artwork.  Three sides of the board fit perfectly into the frame and the fourth side is pressed down into it…just enough to make everything fit snugly.
Everyone likes a snugly frame.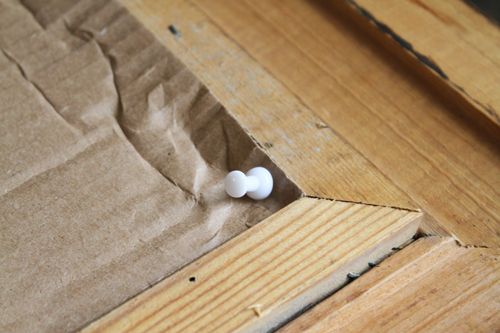 Ready for the sophisticated tip?  Just tack in that less than perfect side into the frame with a thumbtack.  You can always use duct tape, or any other very sophisticated form of stickery.
It works, though…and no one sees that part anyway, right?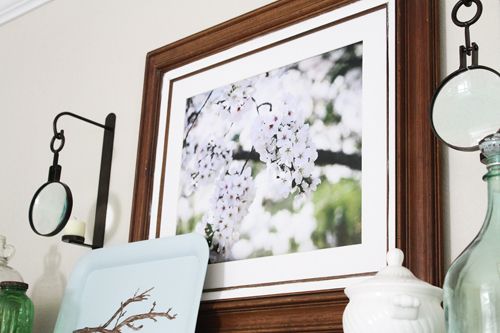 You've got yourself personal and meaningful (and much cheaper) artwork!  Now that I've done this a couple of times, you better believe it will be hard for me to buy a ready-made frame again.  Especially with the $30 price tag. Small art isn't too costly, but a frame like this could cost you well over $100.
I'm gonna admit it.  I've spent $30 on an 8 x 10 of my wrinkly-6 week old Grayson.  There may not be an adorable, wrinkly baby in that frame, but I'm pretty happy with it, all the same.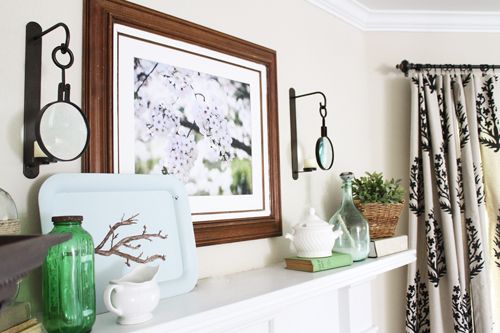 There you go…it's worth a little time to frame your own art.  If you have any questions, let me know…I'm going to get started on lots of framing projects for the dining room wall soon, so I'll share em' along the way.
Have a happy Tuesday!
*linking to Stories of A to Z