When the people at Sherwin-Williams asked if I wanted to work with their new palette, HGTV HOME™ by Sherwin-Williams Softer Side color palette, I began racking my brain to decide which space to makeover/improve/tackle.
I've been at a makeover stand-still in our home for a while, because honestly, sometimes you just need to live in your home and not work on it.  We've been gearing back up for makeovers and redo's, and planning things that will make our home work for us better, but in the meantime, I couldn't really decide on a space that needed painting now.
Enter Julie.
We had been talking about reworking her space repeatedly for months, and I had every intention of working on it with her, but we just hadn't nailed down a timeline.
I know Julie to be a few things: glamorous, sparkly, vibrant, and spunky.  What room should reflect your personality more than your bedroom??  It is all yours, after all.
She asked me if it would be crazy to paint an accent wall really, really dark??!  Why, NO, I said!  Then I began pinning and creating design boards and getting very excited about working on a space that was so different from my own.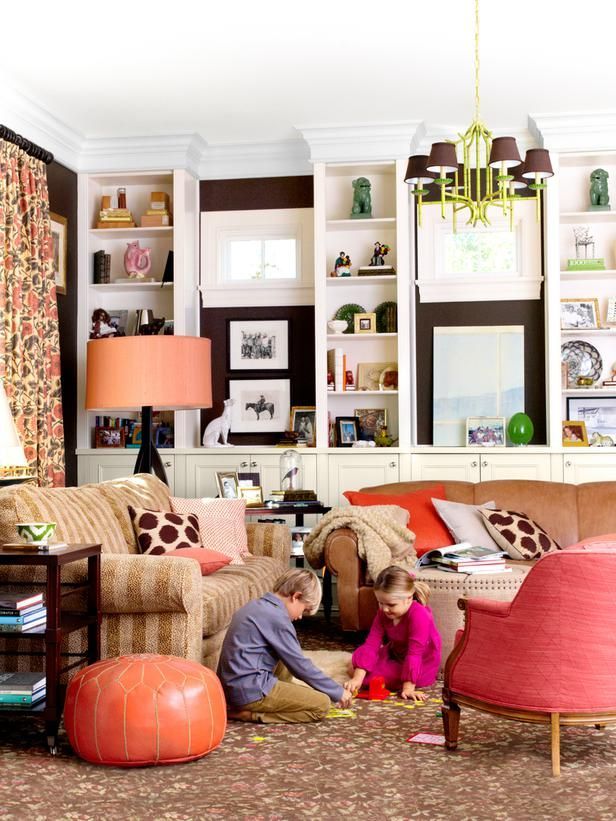 This was one of my favorite images in working on her space.  I knew we were definitely going with a dark accent wall–enter the moody, elusive Peppercorn.  It's such a gorgeous color.  In fact, I've used it in my last two makeovers…Julie's room & Lisa's office.  More than charcoal, but not solid black, it was the perfect starting point for the room.
Once I nailed down Peppercorn as the starting point, I knew we needed two more colors…a simple, light neutral for the other three walls, and a fun pop of color.
As I created Julie's design board, I found this gorgeous pillow, and knew we had our color scheme.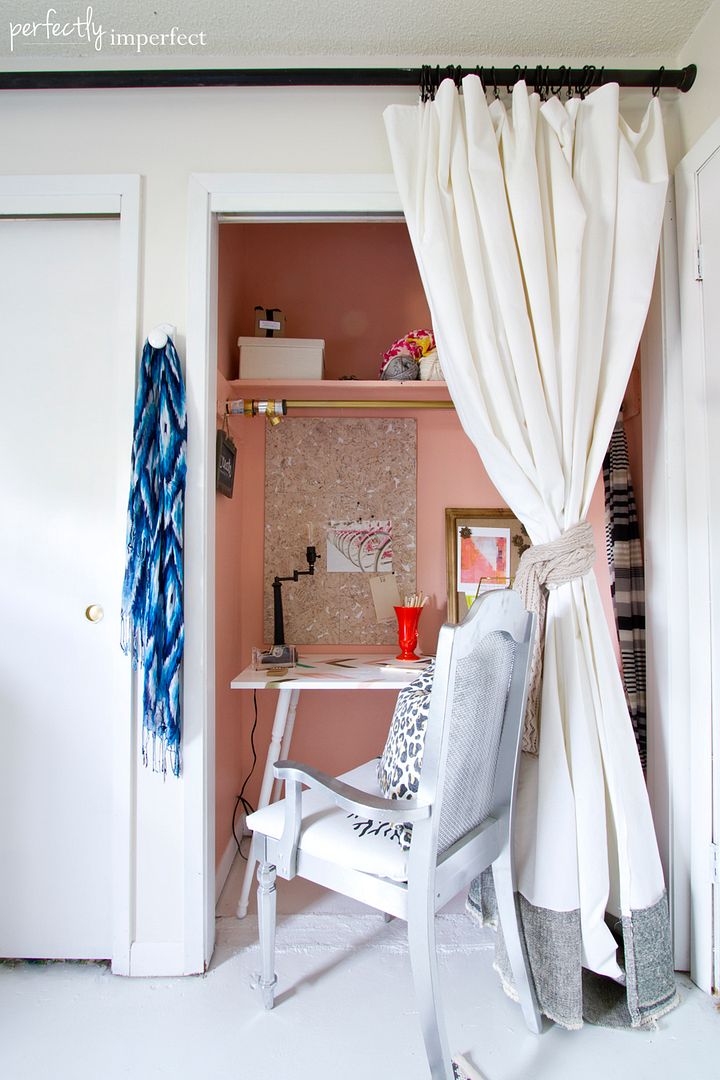 We chose Porcelain as our wall color…faint enough to pass for off white, but warm enough to create a clean, but cozy space.  I couldn't wait to get my hands on Mellow Coral for our fun pop in the room.  I had thoughts of painting a piece of furniture with it, but I was pleasantly surprised to need the color in our closet turned office nook.
Julie's space was absolutely thrilling to pull together, and it was such a transformation I hope she can enjoy for years to come.  I think we've covered a lot, but let me know if I left something out or if you have a question.
Ohhh, and there's something for YOU…Sherwin-Williams has graciously decided to give one U.S. reader 5 gallons of HGTV HOME™ by Sherwin-Williams Interior Paint!  Just leave a comment below telling me which room(s) you need to revamp in your home.
Happy re-doing, friends!
**Thanks to Sherwin-Williams for providing the paint for this makeover & for this giveaway!