Good morning!
We truly had so much fun yesterday showing you most of our Holiday home!  You all lavished us with kind and encouraging words.  Most of the time I feel like our house is completely a wreck, so it's a lot of fun to snap some pretty pictures and spend time working on corners that mostly hold dust and rarely sparkle.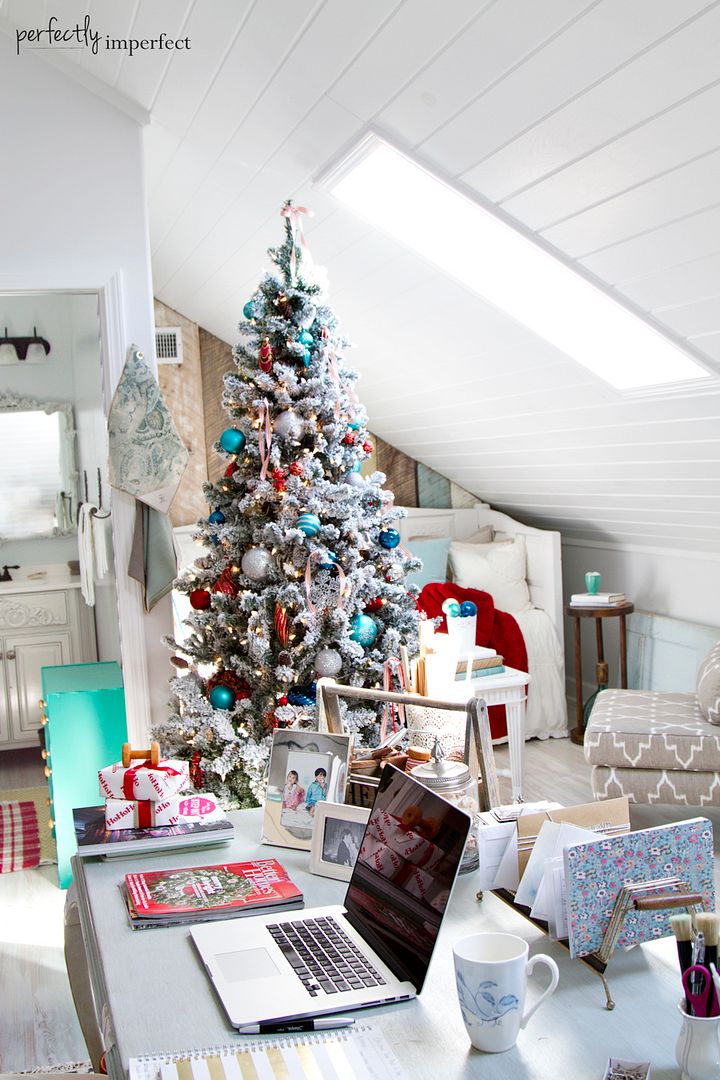 There were so many pictures that I wanted to break it up into a few days lest you fall into a coma while trying to read a three-mile long post.
Today, we're showing you the writing room a.k.a. my office.  This was one of  the three rooms we added in our attic renovation back at the beginning of writing my blog, and it really is my happy place.  I rarely get to work in here just because I'm wrangling kids or working in between lessons, but when I can spend time in here, it's absolutely therapeutic.
This view above is from the doorway to the office.  Rather than clearing off my desk, I left it as is, coffee and all.  Since I changed most of my home, this room boasts mostly white, natural textures, and blues and grays.  But, red has a place in my Christmas-decorating heart…I love the pop of red against all that white!
I had a bunch of turquoise ornaments from The Home Depot, too, so I decided to go a little funky in here and use them both.
My shelves are stocked with decor books, hardware, home decor magazines, brushes, ribbon, paint supplies, and all kinds of inspiration and crafting supplies.  I grabbed the fluffy red throw from Target…I just knew my kids would love how much it reminds them of Santa, and I was right.  They continue to grab that pretty thing and haul it all over the house.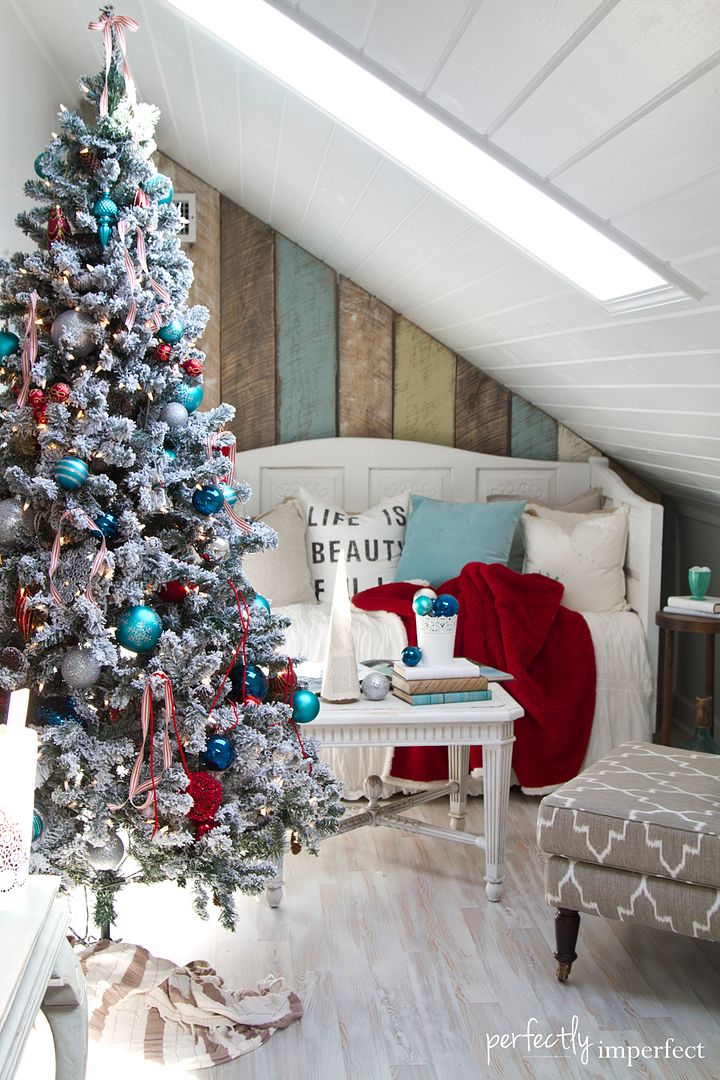 Y'all.  This tree.
She is a beauty.  I've wanted a flocked tree since I was in college…they are absolutely dreamy.  I got this 7 foot tree from Walmart, and it really is lovely and full for such a great price.  I used a simple thin throw we bought on our trip to Greece last year as a tree skirt.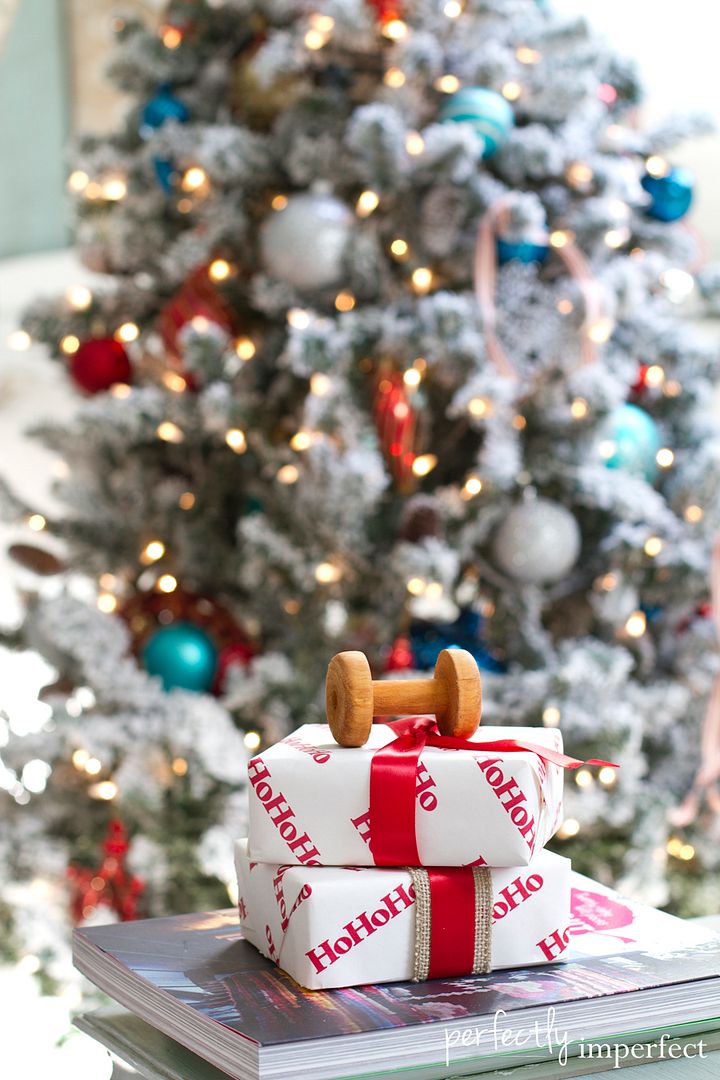 It's funny, I love a serene environment in my office space, but all this rioting color is so invigorating and happy.  I love the idea of switching up pillows, fabrics, etc. in the future to keep it fresh and lively.
Just like the downstairs tree, I didn't go for any garland but simply tied ribbon all over the tree.  And Ava added red shoelaces.
And her mama cried a little bit when she did.
This red and cream twill ribbon from Target is my FAVORITE this year.  I actually drove the hour (to the closest Target) after decorating this tree, but they were all sold out locally.  It reminds me of european grain sacks, and is just the perfect dose of red.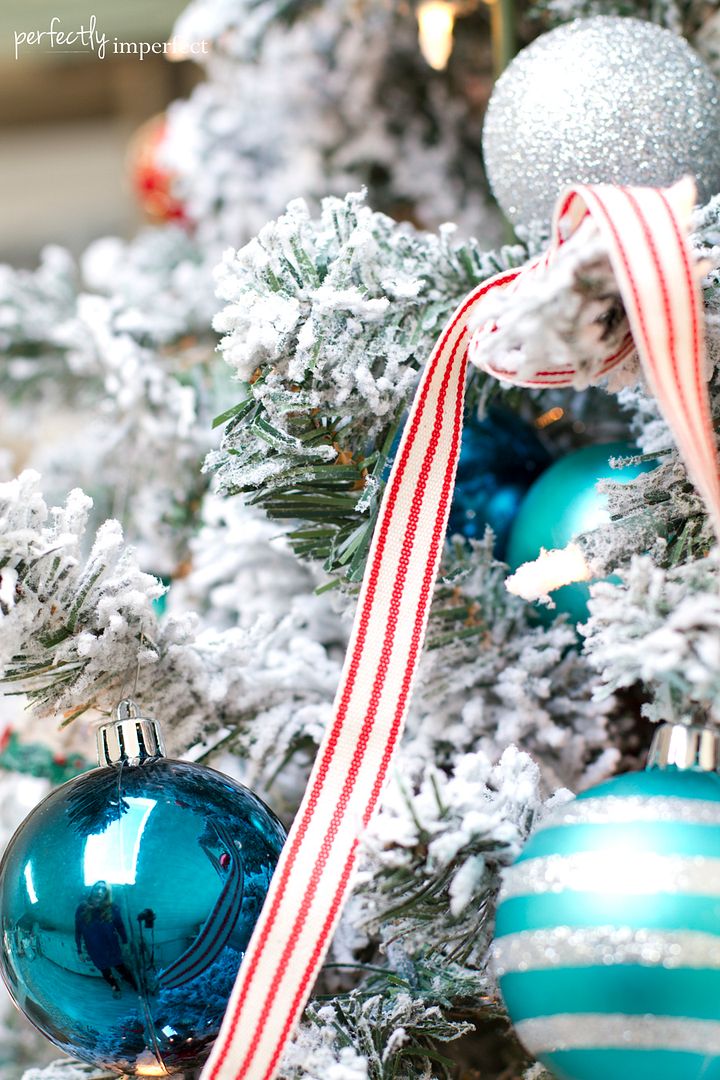 See how fluffy those snow-y branches are?!  I also thought my reflection was hilarious.  I almost took it out in Photoshop, but I thought it was too funny.  I look perturbed or just over what I'm doing.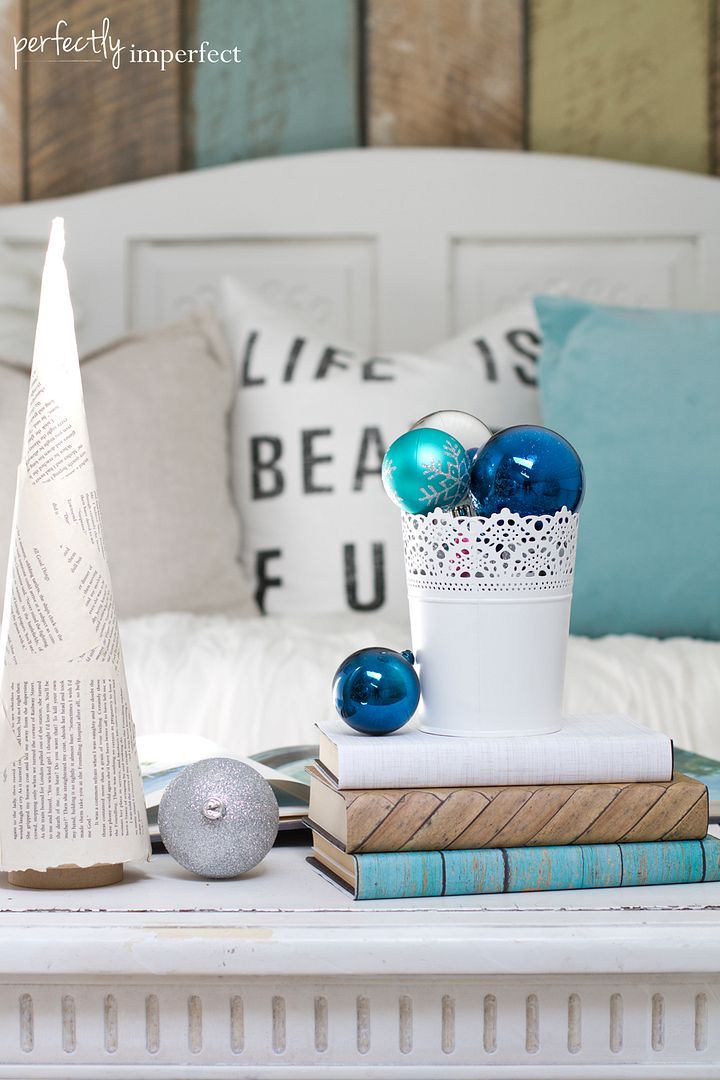 I sprinkled just a few more ornaments on the coffee table in front of the daybed, and that was it for major decoration.  Our family stays with us every Christmas Eve, and my brother will have to call this space home for the night, so I tried to keep it as un-fussy as possible.
I'm trying to make myself wrap our gifts upstairs this year so that I'm not making such a mess all over the kitchen table.  It probably won't last long, but it's a nice change to have most of the mess up here.
Except I tend to leave the bag of presents laying out while its waiting its turn to be wrapped, and today, just a moment ago, in fact, Grayson walked right in to see one of his presents lying on the ground.
#parentfail
I have love our wrapping paper and tags and ribbon this year, so I'll probably share a separate post on those.  I'm a simple wrapping gal–paper, ribbon, tape.
Done.
It's so surprising to me how detailed gifts can look when ribbons and tape are layered…it's kind of like sneaking sweet potatoes into your pancakes.
Win, win.
I introduced you to Stella yesterday.  Listen, this deer head is a little stretch for me.  I fell in love with her back at market last January when we were choosing the Christmas merchandise we'd carry in the shop.  She is a little funky for my style, but I hung her up while shooting a book project and fell in love.  Until now she had some of my special necklaces and keepsakes hanging on the branches, but for the holidays I decked her out a little bit.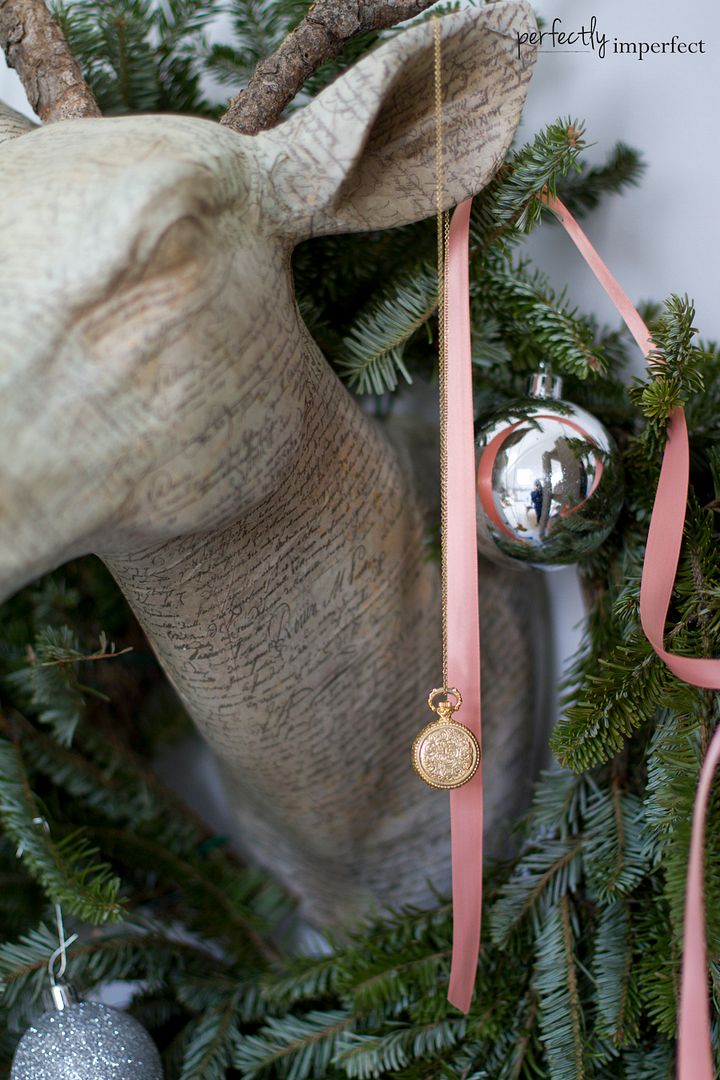 I draped a simple pink ribbon and a few silver ornaments on the fresh fir wreath.  She is officially bedazzled.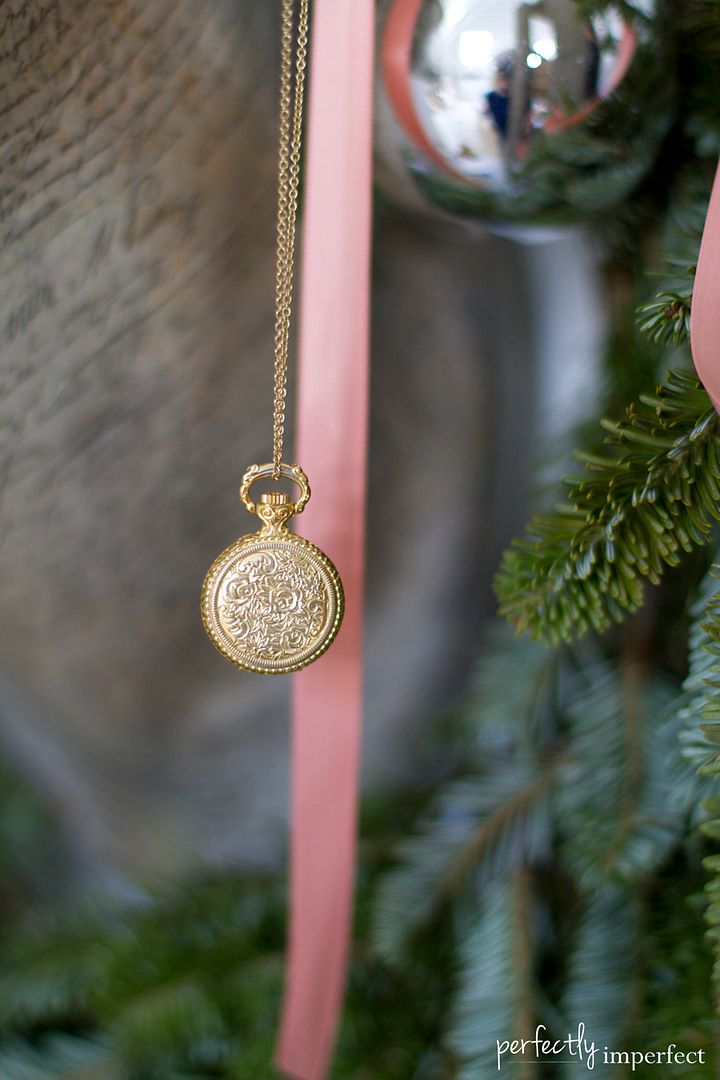 And I'm not sure why, but she reminds me so of my grandmother.  She passed away last year, and it left a hole in me.  Losing her just hurt, and while we are all happy she's well and Held Safely, it's bittersweet around the holidays, especially for my mama.
Maybe that's why.  I look at Stella (I had to name her because she's got too much spunk) and I see the women in my life who have shaped me.  She's just so feminine, I can't help but think of them.  And love them for all of who they are.
Whew, tears.
Anyway, I think I'll keep her.
At night, I've stopped more than once as I pass this room by, to simply sit in the warm glow of the lights.  Who knew a flocked tree from a discount store would create such pause in my life this Season?
I'll share more of our home on Monday, but for now, I think I'll sit here a while and take a moment.
I hear little feet coming up the stairs…