I have something weird to tell you.
So this summer, I started having these weird chest pains (all chest pain is alarming, right?).  I went to the doc, and after a whole bunch of tests, he determined I had this very long fancy word for "you-lifted-too-much-weight-working-out-and-tore-muscles-from-your-sternum-syndrome."  It is literally possible for your sternum to become severely inflamed and for all the tiny muscle fibers and joints to ache so much you are flat convinced you just might be having a heart attack.
Really.
Apparently, it's a reoccurring condition, too.  So I'm thinking I'm better and rested and begin working out like normal again, and well, here I am again.  Feeling like there might be a spiky boulder growing in the center of my chest and lying in the bed completely out of it due to the no-joke muscle relaxers.
Here's hoping a little R & R will get me back on my feet in no time.  P.S. There may or may not be some excerpts from the book written during this time.  I can't promise those are going to make the most sense.
Now that it's 7 p.m. and I'm finally awake/alert enough, I wanted to show you this little spot in little girl's room.  Ava's room makeover is one of my favorites, and finding the perfect accents has taken time.  While I was hanging up some clothes last week before Grayson's party, I found this little dress that Ava wore a few times…and it was mine when I was a little girl.
It was just so simple and sweet, and I'd been planning on using this new wrapping paper we carry at the shop in her room…the stripes just make me happy and are instantly artful.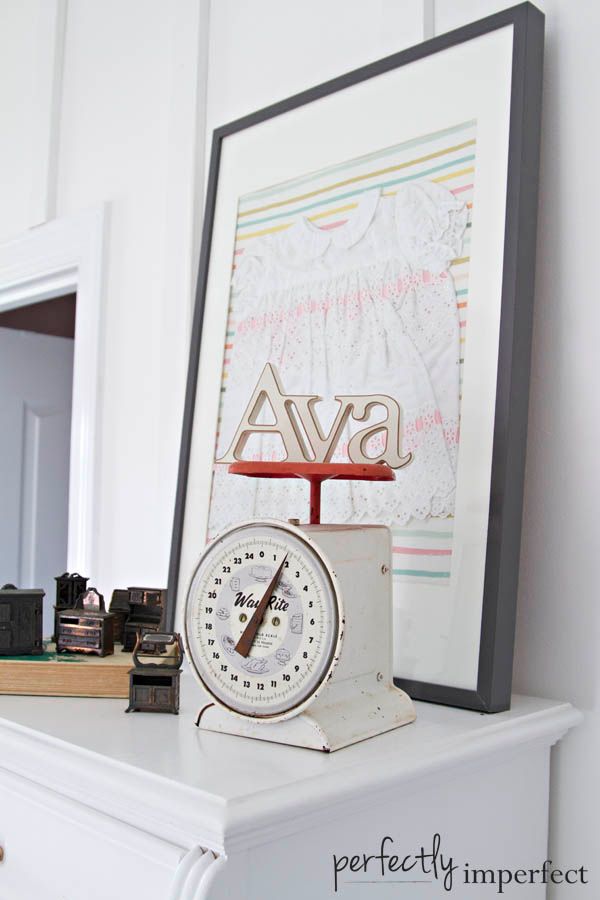 And no framing/shadow box piece was necessary.  I just opened the (Ribba) frame up, plopped the dress and paper in, and voila.
Done.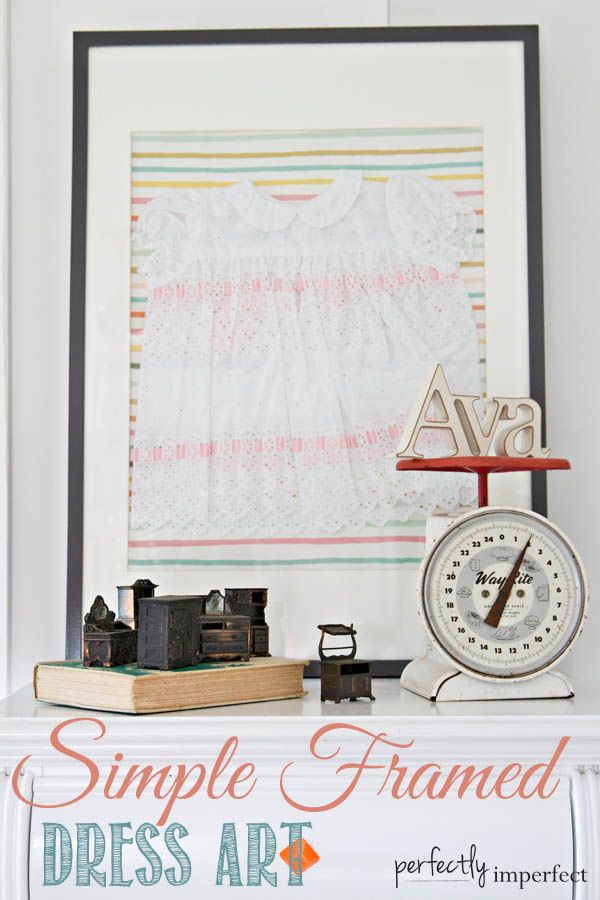 I love it so much, it has me eyeing all of Grayson's jerseys and baby clothes and even some other textiles for the office.
Hope you have an amazing weekend and let us know if you decide to frame something simple yourself!
P.S. Stay tuned for more of our awesome new finds/paper products.
#suckerforanythingpaper