I've been collecting notecards, paper, journals, & little notebooks for years.  I am what you would dub a list-maker, and much of what I accomplish in a week's time should be attributed to what I refer to as the list.
If you know me at all you know I travel everywhere with one or several…to the shop, to a doctor's appointment, and well, for a weekend getaway, rest assured there will be an entire handbag reserved for my notebooks and the like.
A while back, I began thinking about all those old stacks of notecards & journals, laughing about my little addiction that I've had all these years.  Pause on that a moment.
Because of my love for all things paper, I asked my crazy talented friend Lauren (graphic designer who designed my ebook, photographer, & mom extraordinaire) to begin designing monthly printables for you guys.  I know, right??
Imagine my surprise when my sweet friend designed these notecards…
In Lauren's own words (in reference to her grandmother)…
"She has written me letters since I left for college.  I have received one about every three months for the last 10 years- a hand-written note scribbled on a piece of stationary catching me up on our family, the weather and her garden.  I have treasured them and kept every single one to this day.  I have occasionally responded, but usually justify not with how busy I am, until now.  I have tried to write her everyday she has been in the rehab center, because I know how much she has missed being at home.
We seldom write people anymore.  We email, text and sometimes call, but I know how much I love getting actual mail…"
Lauren is right on…we rarely make the time to make such a personal connection with others.  Connection that, honestly, is what makes life worth the living.  After reading Lauren's email and printing my own cards out, I sat down to write a letter to one of the people that mean the most to me in this world.
I, for one, sometimes skip letters because I feel they should be full of news and events, stories, and well….I run out of time.  Writing a simple hello, though, seems doable.
Do you feel this way?  Enchanted by receiving mail but often failing to send some instead?
Can we start an accountability group?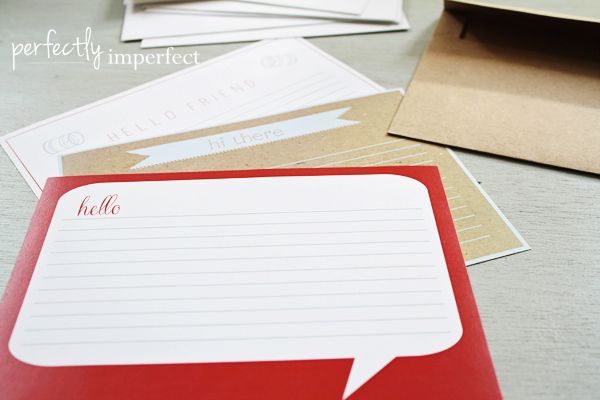 Lauren was kind enough to design us 3 styles of notecards (I'm CRAZY for all three), and you can print your own from our downloads page, here.
Let us know how you use these adorable prints, & I hope we'll all take a few minutes out of the hectic week and say a good old fashioned hello to someone we love.

P.S.  FUN update on the blog tomorrow…come back to see more of Ava's room progress!