Howdy, friends!
Welcome to another installation of our weekly Shop Talk.  I've been in the bed for a few days with the Flu, so it's taking me quite a bit of energy to pull out this post, but I was ready to share some pictures with you.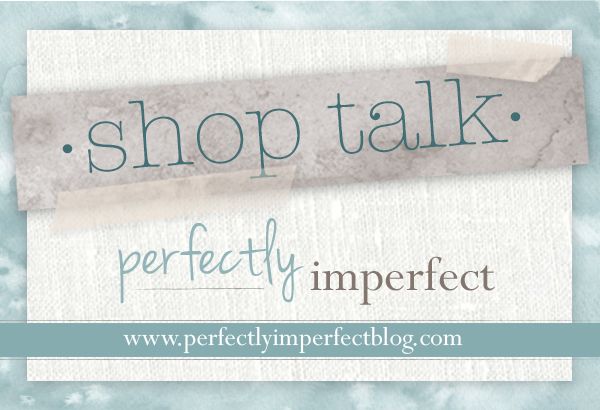 Much like decorating in our homes (especially tablescapes), creating displays in the shop is all about texture and layers.  I will say, though, that decorating our homes and styling a 3,000 square foot (open) shop space is a bit different.
Like we mentioned last week, we opened with our basics (sofas, furniture, pillows) covered, and also had smalls to fill in with.  However, twenty or thirty smalls are swallowed alive in 3,000 sq. feet.  Now that we are getting to know our niche and market, we've branched out to carry more home-related gifts and smaller decor accents.  We'll be able to create really interesting and artful displays now.  (p.s. antiques and vintage pieces are also wonderful for creating display & i feel a road trip coming so soon!)
Rather than trying to explain everything, I thought I'd show you a recent display I worked on.  P.S.  I wish you could see people's faces as I snap pictures all around the shop.  It makes them quite uncomfortable, I think.
I have one rule floating around in my mind for the shop: a flat table is a boring table.
Upon opening, I was trying to decide what kind of shop we would have–mercantile display or decor display.  Mercantile shops have things set up cleanly and neatly (i.e. all the cloches are on one shelf together neatly in a row) and decor displays are more random, displaying products together and in more artful ways.
We stuck with a cleaner system at first (again, we started within our budget for purchasing all the small things), only creating layered displays here and there.
P.S.  Isn't Nat so cute back there with her cinched PI tee & leggings on?
I don't wear leggings, y'all.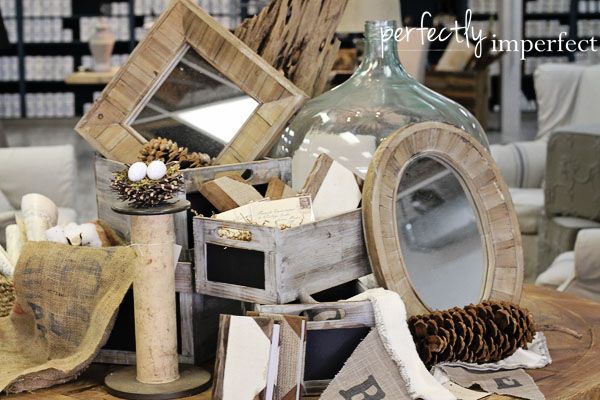 I'm so looking forward to creating more displays like this one.
Kraft krinkle paper is my new best friend & so are those blackboard crates.
Every single thing you see on the table is for sale, and I love that the layered display causes you to stop and touch lots of product & to see how beautifully they pair together.
Maybe the customers should be afraid when I'm walking around snapping pics.
Orders from Atlanta's Market are beginning to confirm & ship and I can honestly say, it'll be like Christmas morning when those boxes start coming in.   Styling and placement will be where I spend the bulk of my days–it will be like therapy for me.
If it would just hurry up and get here!
If you have any questions about styling/choosing products or topics we should cover in Shop Talk, ask me in the comments below.  I'm so enjoying sharing the process with you guys–thank you for always being the best readers out there!